Craving those iconic Burger King Chicken Fries? Dive into this delicious homemade version that captures the crispy crunch and savory seasoning of the original. They are perfect for snacking, dinner, or serving at your next get-together! Get the easy copycat recipe and find out how to make chicken fries like Burger King.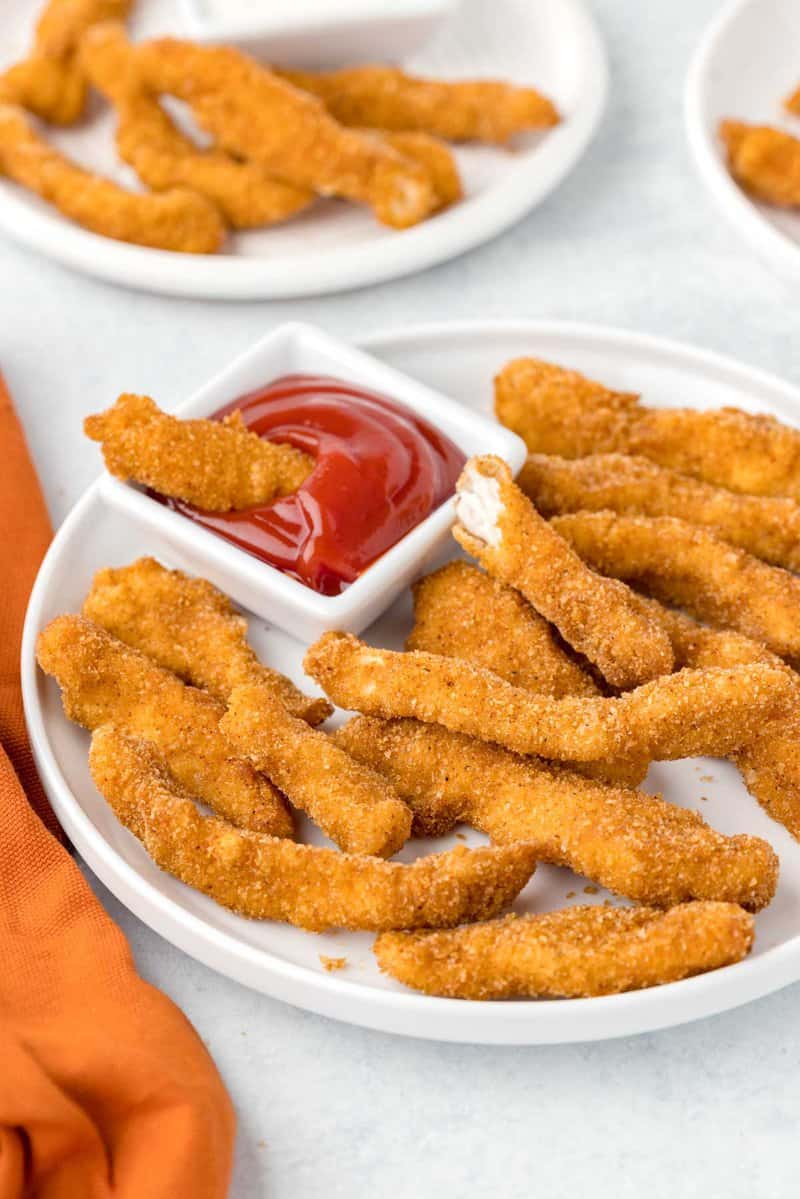 This post contains affiliate links. As an Amazon Associate, I earn from qualifying purchases.
What Makes Burger King Chicken Fries So Good?
It doesn't matter what shape breaded chicken comes in; what's important is the flavor and crunch level of the coating. And the crown for the best breading out there squarely belongs to the King, Burger King to be exact, for the chain's Chicken Fries.
But what are chicken fries? Don't worry. There are no potatoes here, just strips of tender, juicy chicken breasts coated in tasty seasoned breadcrumbs and deep-fried until light and crispy. BK Chicken Fries are sure to impress even royalty.
Why You Should Try This Recipe
Once you try Chicken Fries, you'll want to have them often. Sure, you could buy a few boxes of them at your local BK, but you'd wind up spending a King's ransom when you could cook them at home and save a lot of money.
If you feel comfortable deep-frying (it's much easier than you think), then you need to add this snack to your gameday menu.
Ingredients You Will Need
To make copycat Burger King Chicken Fries, you'll need:
Boneless, skinless chicken breasts
All-purpose flour
Eggs
Breadcrumbs
Paprika
Garlic powder
Onion powder
Salt – regular table salt or kosher salt
Freshly ground black pepper
Vegetable oil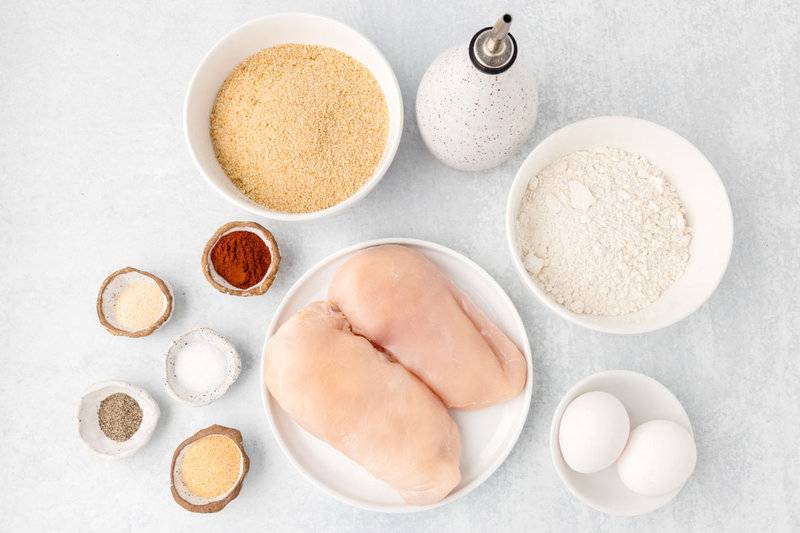 Special Equipment You May Need
A deep fryer will make frying these chicken fries much easier, but you don't have to use one. A heavy-bottom pot with a deep-fry thermometer that clips onto the rim of the pot will almost as well to ensure you keep the oil at the proper temperature. 
A skimmer is one of the best ways to remove the chicken fries from the oil. Tongs or a slotted metal serving spoon as work, though they won't be as easy or safe.
A meat mallet is almost essential for flattening the chicken, but you can use a rolling pin or a cast iron skillet in a pinch.  
How to Make Burger King Chicken Fries at Home
To prep the chicken for frying:
Trim any bits of skin, tendons, and fat from the chicken breasts and set them to the side.
Place a chicken breast between two pieces of plastic wrap. Using the flat end of a meat mallet, gently pound the chicken until it's a quarter-inch thick. Repeat with the rest of the chicken.
Cut the pounded chicken into half-inch wide strips. Pat the chicken strips dry with a paper towel and reserve for later.
Lay three wide, shallow bowls (pie tins work great here) in a row. Place a clean plate at the end of the line, or a wire rack over a baking sheet.
Put the flour in the first bowl. Crack the eggs into the second bowl and whisk them well. In the last bowl, stir together the breadcrumbs, paprika, garlic powder, onion powder, salt, and ground black pepper.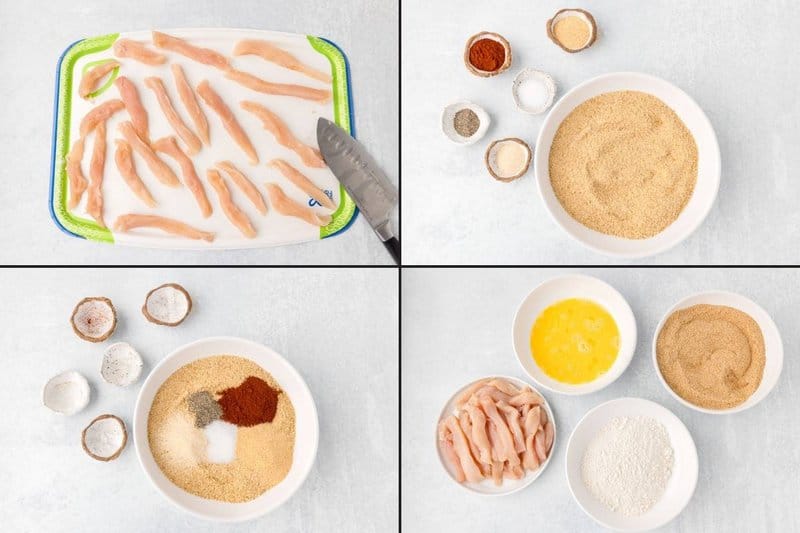 Dip chicken strip in the flour and shake off any excess.
Use one hand to coat the floured chicken strip in the egg and drop it in the bowl with the seasoned breadcrumbs. Use the other hand to coat the chicken strip in breadcrumbs and transfer it to the plate or wire rack.
Repeat the process with the remaining chicken.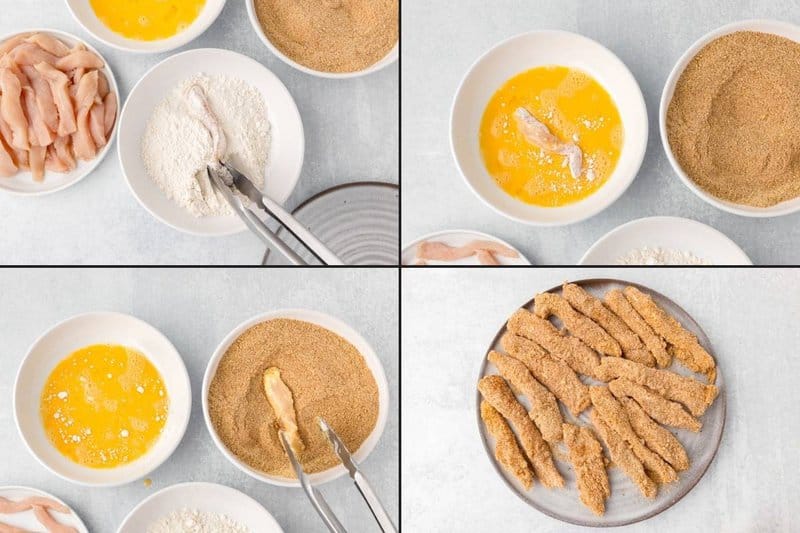 To fry the Chicken Fries:
Pour the oil into a pot or deep fryer. If you are using a pot, use a deep-fat thermometer.
Heat the oil over medium-high heat to 350°F.
Fry the breaded strips in batches until golden brown, about four to five minutes.
Remove the chicken strips from the oil and drain them on a paper towel-lined plate.
Repeat with the rest of the chicken. If you are frying a large batch, you can keep the cooked Chicken Fries on a baking sheet in an oven set to WARM.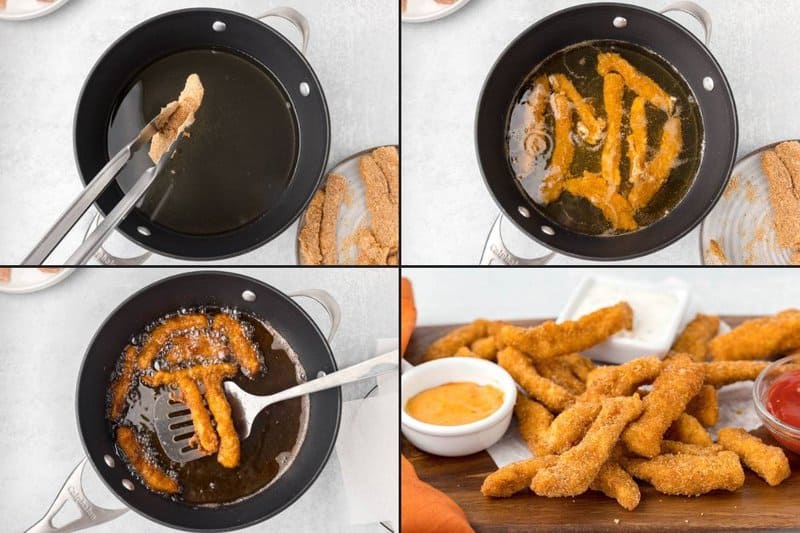 Sauces You Can Dip Your Chicken Fries Into
Stick with your favorite chicken nugget sauces, including BBQ, ranch, honey mustard, sweet and sour, and good old ketchup, or get a little more creative. Try these more unusual dipping sauces that may become your new favorite:
Outback Bloomin' Onion Sauce. This blooming onion sauce recipe combines mayo, ketchup, seasonings, and the zip of horseradish into one addicting sauce.
Honey-Sriracha Sauce. Mixing equal parts of honey and sriracha gives the ideal sweet heat. 
Curry Sauce: It's time to bring this popular condiment from other parts of the world to the US. Choose wisely if you are sensitive to heat because plenty of spicy curry sauces exist.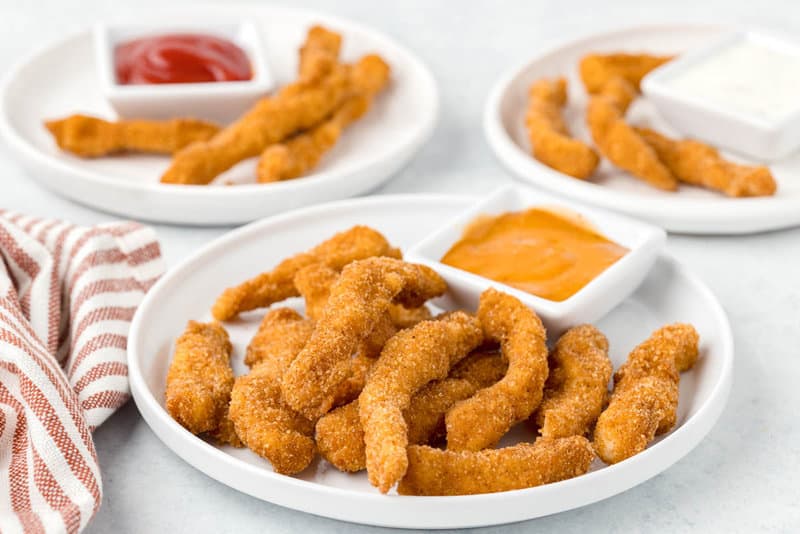 What to Serve Them With
Enjoy BK Chicken Fries as a main dish with mashed potatoes or mac 'n cheese, but they work better as a side or snack. Serve them as part of a hot party platter with other favorites, such as Beef Totchos, Big Mouth Bites, and Chili Cheese Dip.
How to Store BK Chicken Fries
Let the chicken cool to room temperature and put them in an airtight container in the refrigerator for up to three days.
You can flash-freeze the chicken strips in a baking tray and then transfer them to a freezer-safe container for up to a month. Thaw the chicken strips overnight in the fridge before reheating.
What Is the Best Way to Reheat Chicken Fries
Hands down, the preferred reheating method is heating them in a preheated 350°F air fryer for about five minutes. If you don't have an air fryer, try warming them up on a baking sheet in a 375°F standard oven for 8 to 10 minutes or until hot.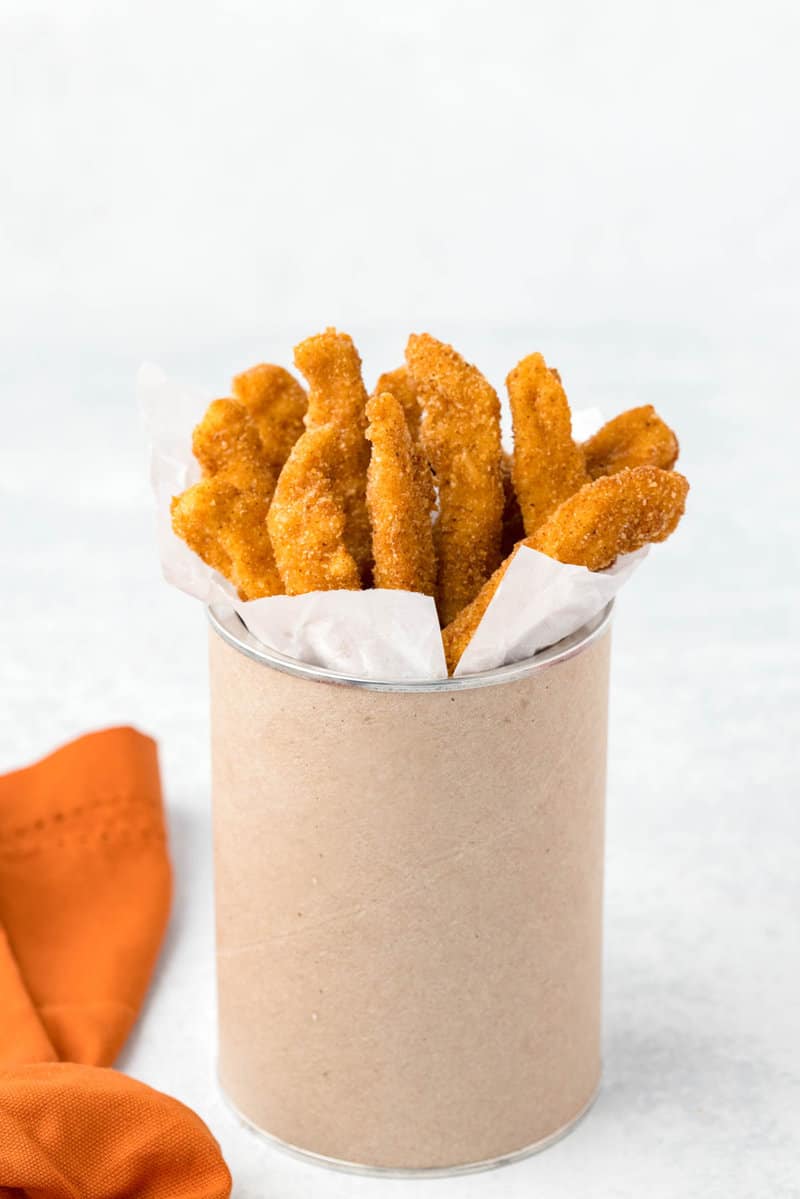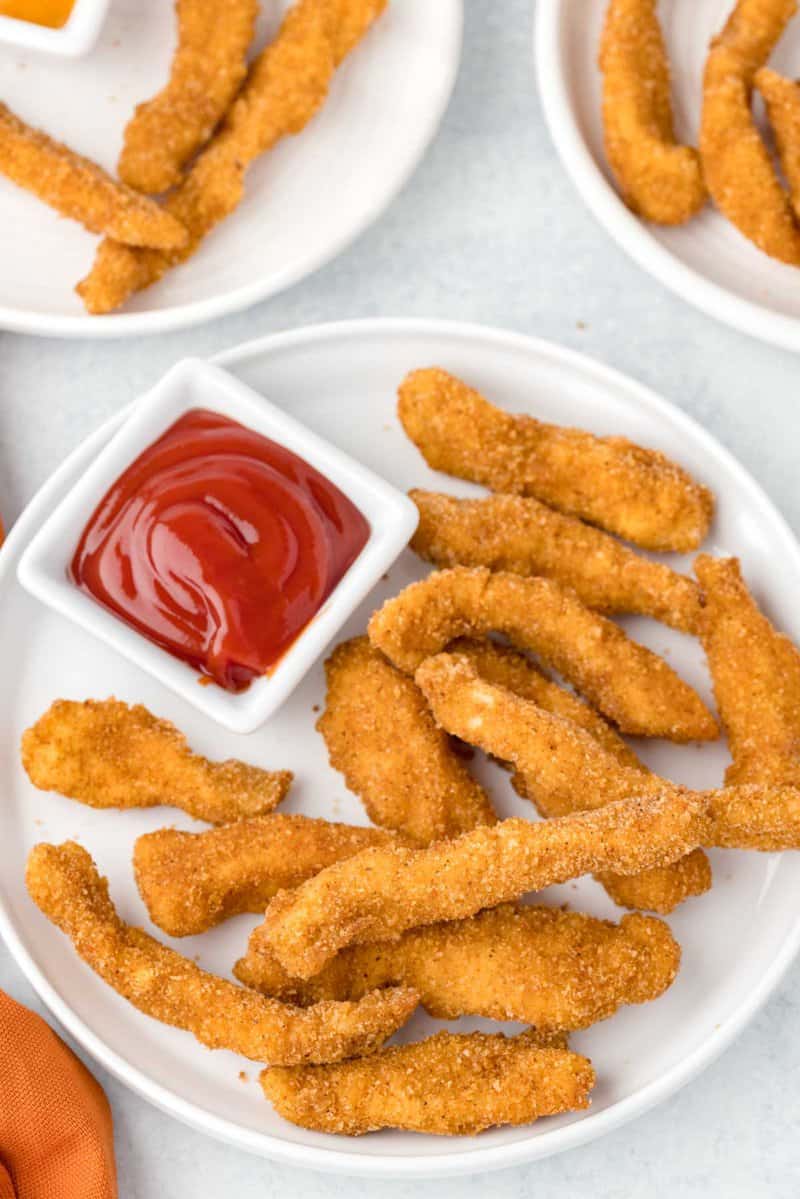 More Burger King Copycat Recipes
Favorite Fast Food Chicken Recipes
Check out my easy chicken recipes and the best copycat fast food recipes on CopyKat!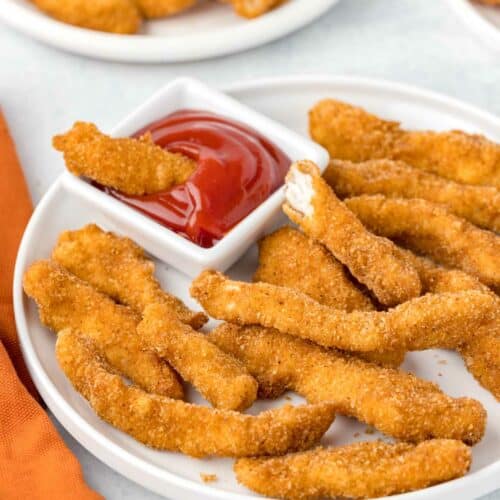 Ingredients
2

large

boneless skinless chicken breasts

about 1 pound

1

cup

all-purpose flour

2

eggs

beaten

1 1/2

cups

breadcrumbs

1

tablespoon

paprika

1 1/4

teaspoons

garlic powder

1 1/4

teaspoons

onion powder

1 1/4

teaspoons

salt

1/2

teaspoon

black pepper

vegetable oil for frying
Instructions
Cut the chicken breasts into strips that are 3 3/4 inches long, 1/2 inch wide, and 1/4 inch thick, aiming for a fry like shape. Avoid cutting the strips any thinner than 1/4 inch to prevent the chicken from tearing.

Prepare three shallow bowls: Place the all-purpose flour in the first, beat the eggs in the second, and mix the breadcrumbs, paprika, garlic powder, onion powder, salt, and pepper in the third.

Heat the vegetable oil in a deep fryer or heavy bottomed skillet to 350°F. Use a cooking thermometer to monitor the temperature.

Working in batches, dredge each chicken strip in flour, shaking off excess.

Dip the floured strip into the beaten eggs, ensuring it's fully coated.

Roll the strip in the breadcrumb mixture, pressing lightly to adhere.

Carefully lower the coated chicken strips into the hot oil using tongs.

Fry for about 4-5 minutes, or until golden brown and cooked through.

Remove the chicken fries with clean tongs or a slotted spoon/turner and drain on paper towels. 10. Serve immediately with your choice of dipping sauce.
Nutrition
Calories:
380
kcal
|
Carbohydrates:
28
g
|
Protein:
30
g
|
Fat:
16
g
|
Saturated Fat:
2
g
|
Polyunsaturated Fat:
4
g
|
Monounsaturated Fat:
8
g
|
Trans Fat:
0.1
g
|
Cholesterol:
113
mg
|
Sodium:
733
mg
|
Potassium:
521
mg
|
Fiber:
2
g
|
Sugar:
1
g
|
Vitamin A:
525
IU
|
Vitamin C:
1
mg
|
Calcium:
56
mg
|
Iron:
3
mg