You can make a Burger King Cheeseburger at home with simple ingredients. There's no need to go to the restaurant and homemade is so much better. Enjoy a tasty grilled burger with cheese, pickles, ketchup, and mustard on a sesame seed bun.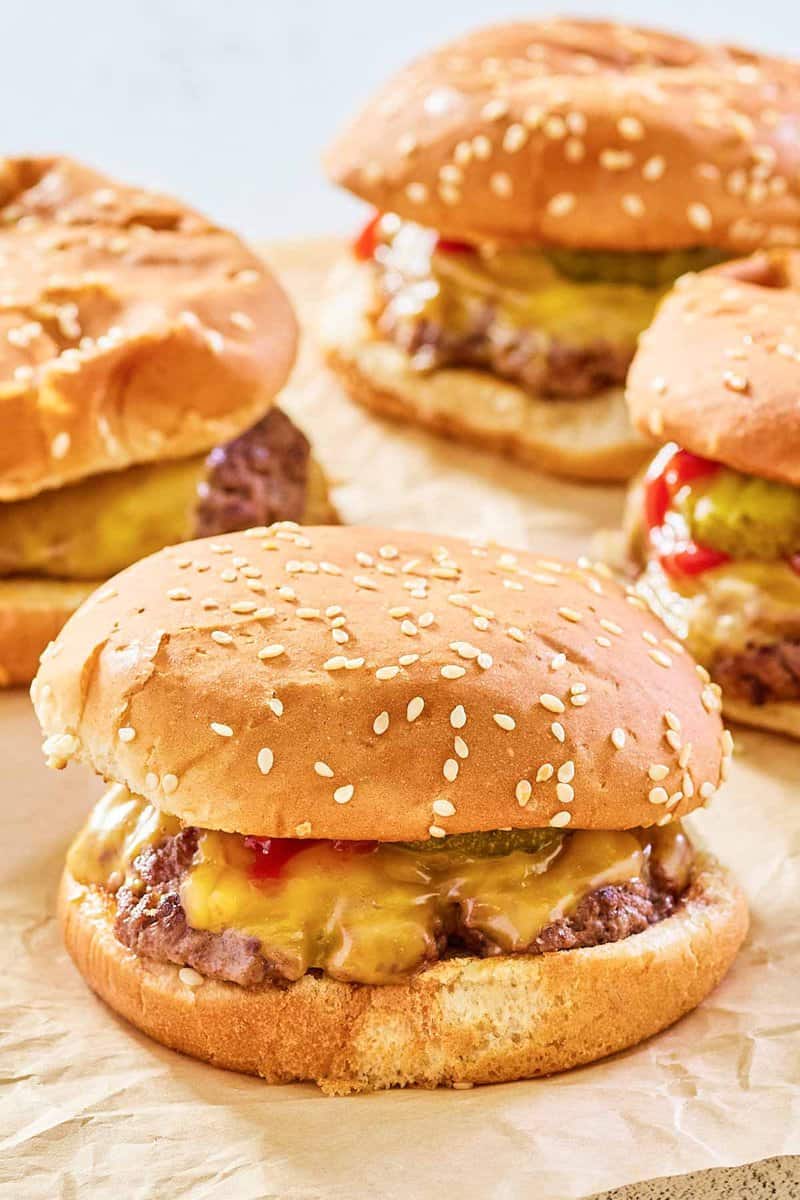 This post contains affiliate links. As an Amazon Associate, I earn from qualifying purchases.
What Makes the Burger King Cheeseburger So Delicious
Burger King Cheeseburgers are just about as basic as you can get. No fresh vegetables, exotic cheeses, or fancy sauces here. Just meat, orange American cheese, pickle slices, ketchup, and yellow mustard.
Keeping everything bare-bones is part of the charm of these old-school cheeseburgers and one reason why so many people find them so addictive.
The signature flame-grilled beef patty and toasted sesame seed bun give these cheeseburgers their famous flavor.
Why You Want To Try This Copycat Recipe for the Burger King Cheeseburger
Simplicity be darned; BK cheeseburgers are still delicious. Perhaps the secret is that all Burger King burgers are flame-grilled.
So, if you really want to reproduce the taste of Burger King's cheeseburger at home, you need to use a real charcoal grill. In a pinch, a gas grill will work as well. If you don't have a grill, a heavy-bottomed skillet will do.
Burger King Cheeseburger Ingredients
To make this cheeseburger, you'll need:
Ground chuck
Salt
Black pepper
American cheese
Sesame hamburger buns
Unsalted butter
Vegetable oil
Dill pickle slices (crinkle cut pickles)
Ketchup
Yellow mustard
Use 80/20 ground chuck to make the patties.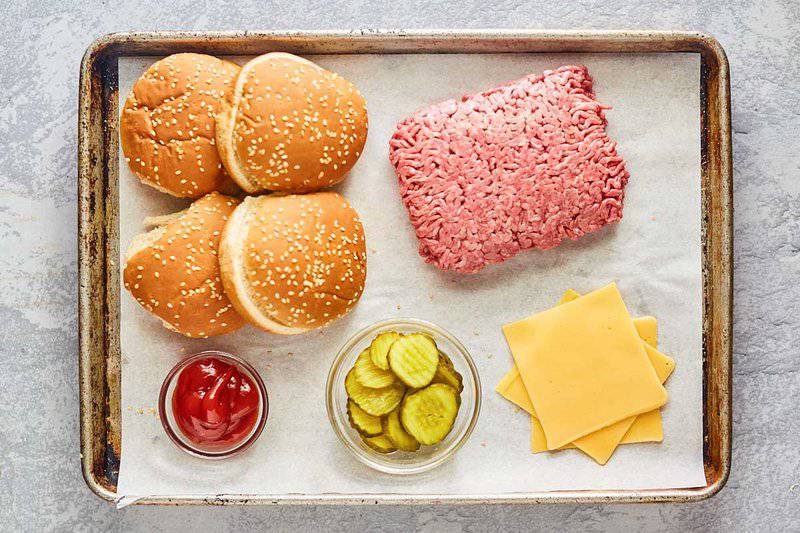 How To Make BK's Cheeseburgers at Home
To make the patties:
Put the ground chuck in a mixing bowl and season with salt and pepper.
Rub some vegetable oil on your hands to prevent the beef from sticking to them, and gently mix the seasoning with the meat.
Divide the ground beef into eight equal balls.
Use your hands to form thin patties that are slightly wider than the buns you will use.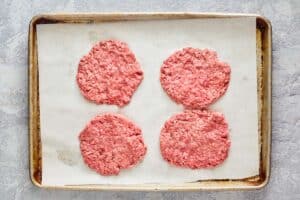 To cook the patties:
Heat your grill to medium-high.
Brush the grate of the grill with a bit of vegetable oil to prevent the burgers from sticking.
Sprinkle extra salt and pepper on top of the patties and cook for three minutes on the first side.
Flip the burgers and cook for an additional two minutes
Top each patty with a slice of American cheese and close the grill lid. Cook for another thirty seconds or until the cheese melts.
Remove the burgers from the grill and let them rest on a wire rack over a paper towel.
You can also cook the patties in a skillet if you don't have a grill:
To assemble the burger:
Butter the inside of the buns and grill for 30 seconds until they are lightly toasted. You can also broil them if you don't have a grill.
Place the bottom buns in a row on your work surface.
Put the patties on the bottom buns, add two slices of dill pickle, and a couple of squirts of ketchup and mustard.
Cover with the top bun.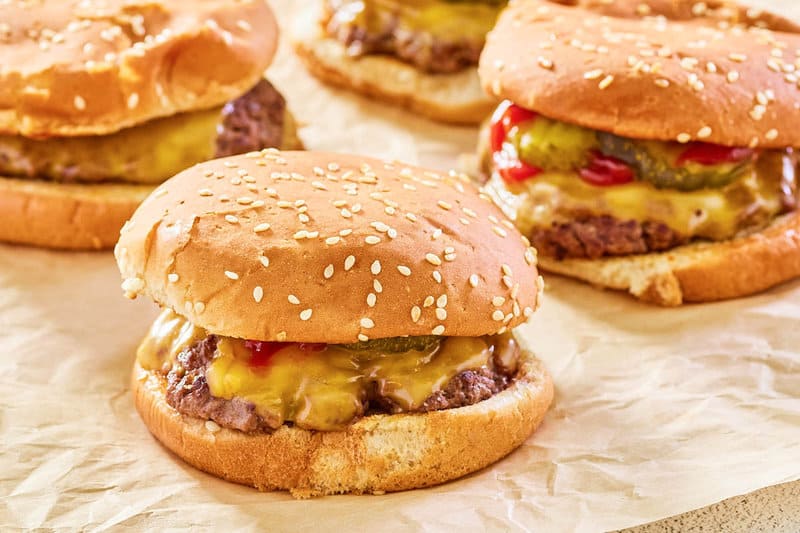 Recipe Variations
Change the toppings on your cheeseburger to suit your preferences. Here are a few suggestions:
Add another patty or two if you are really hungry.
Use slices of Cheddar cheese instead of American cheese.
Serve with lettuce, tomato, and onion for a well-dressed deluxe burger.
Everything is better with a slice or two of bacon.
What To Serve With a Cheeseburger
French fries and onion rings are natural side dishes, but why not try Loaded Tater Tots or a light Cucumber, Tomato, and Onion Salad?
How To Store Leftovers
This recipe makes eight burgers, so unless you're feeding a crowd, you'll have a few leftover patties.
It is easy to save uncooked beef patties:
Place a piece of square wax paper on top of each burger and stack them.
Wrap the stack of patties in plastic and keep it in the fridge for up to three days.
To store uncooked burger patties for more than a few days, wrap them as above and then add a protective layer of aluminum foil. Put the patties in an airtight container in the freezer for up to three months. Do not refreeze previously frozen meat.
You can also save cooked burger patties:
Wrap each cooked patty individually in plastic and put it in an airtight container in the fridge for up to three days.
It is best not to freeze cooked burgers because they won't maintain their taste and texture.
What's the Best Way to Reheat a Cheeseburger?
Follow the recipe above to grill uncooked patties. Let the patties sit on the counter for about 15 minutes before cooking to allow them to come to room temperature.
The best way to reheat a burger is in the oven:
Preheat the oven to 400°F.
Place one patty on a piece of aluminum foil.
Sprinkle a little water on top of the patty and loosely wrap it in aluminum foil.
Reheat directly on the wire rack in the oven until hot, about 10 minutes. Flip the packet over halfway through the cooking time.
Don't Forget to Celebrate Burger King National Cheeseburger Day
Do you fancy a free cheeseburger? On September 18th, also known as National Cheeseburger Day, Royal Perks members can receive a free cheeseburger when they spend at least a one-dollar purchase at Burger King. What a great way to get free burgers!
More Burger King Copycat Recipes
Popular Burger Recipes
Check out more of my tasty burger recipes and the best copycat fast food recipes on CopyKat!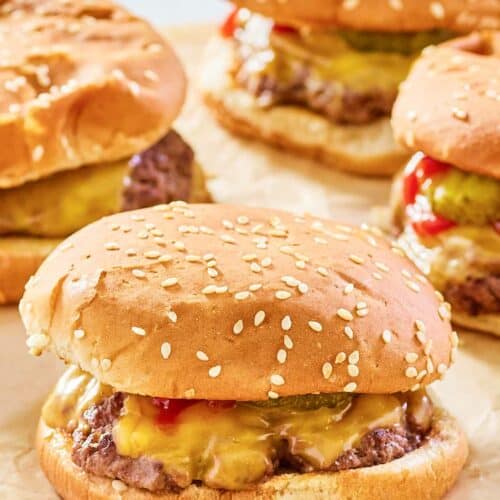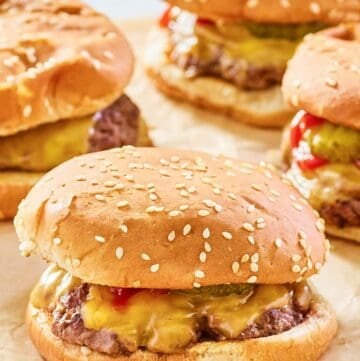 Ingredients
1

pound

ground chuck

1/2

teaspoon

salt

1/4

teaspoon

black pepper

8

sesame seed hamburger buns

8

slices

American cheese

16

dill pickle slices

4

tablespoons

ketchup

4

tablespoons

mustard
Instructions
Season the ground chuck with salt and pepper and form it into 8 patties.

Butter the hamburger buns and toast them in a skillet until lightly browned. Set aside.

Heat a grill to medium-high. Cook the burger patties for two to three minutes on each side. While cooking, add a dash of salt to the burger.

Build the burger by placing the meat on the bottom bun. Then add a slice of American cheese and 2 dill pickle slices. Squirt a small amount of ketchup and mustard onto the cheese, and cover with the top bun.
Nutrition
Calories:
351
kcal
|
Carbohydrates:
25
g
|
Protein:
18
g
|
Fat:
20
g
|
Saturated Fat:
9
g
|
Polyunsaturated Fat:
1
g
|
Monounsaturated Fat:
7
g
|
Trans Fat:
1
g
|
Cholesterol:
61
mg
|
Sodium:
953
mg
|
Potassium:
274
mg
|
Fiber:
1
g
|
Sugar:
5
g
|
Vitamin A:
265
IU
|
Vitamin C:
1
mg
|
Calcium:
301
mg
|
Iron:
3
mg