Air Fryer Hamburgers are a great way to cook juicy hamburgers (or cheeseburgers) inside without a grill. Perfectly seasoned burger patties are crispy on the outside and juicy inside. Air-fried burgers with fresh ground beef are a quick and delicious meal.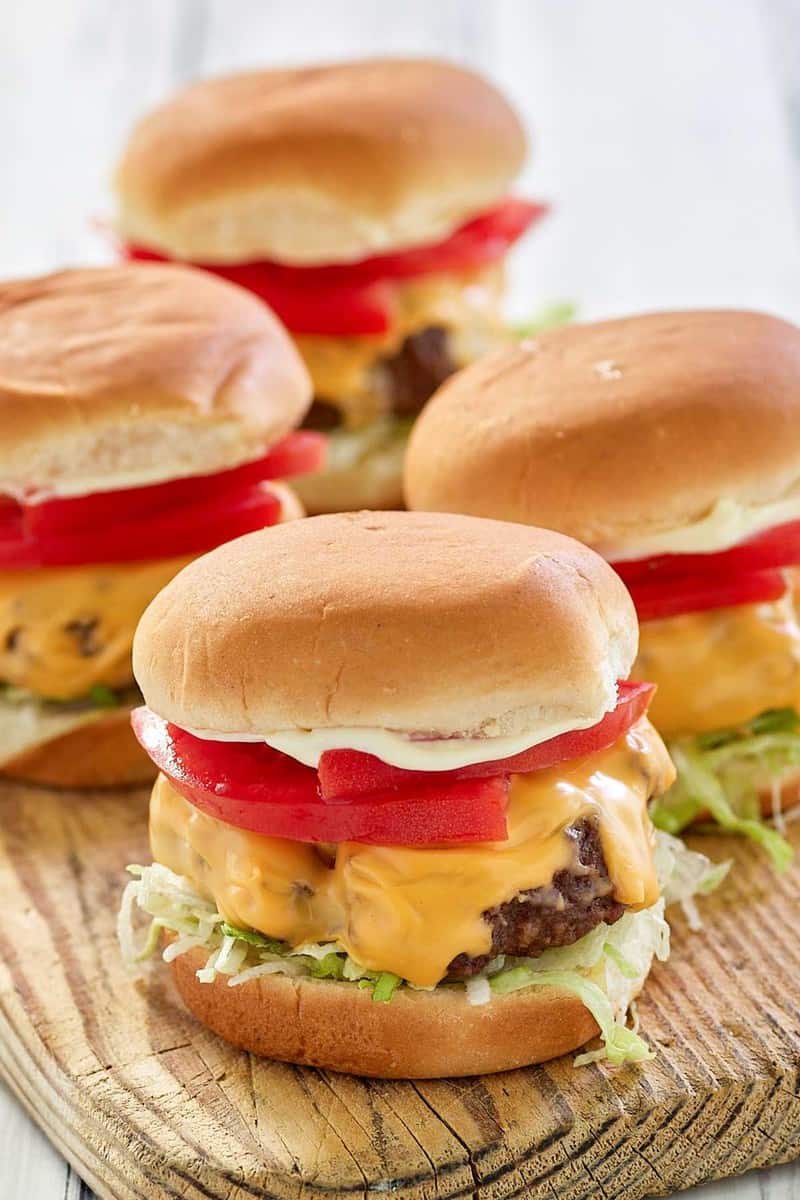 This post contains affiliate links. As an Amazon Associate, I earn from qualifying purchases.
Air Fryer Burgers
Air fryers are great at preparing typical fried food like chicken wings and shrimp tempura, but they are more versatile than you may think. You can cook everything from cheesecakes to corn on the cob in an air fryer.
AAnd once you try this recipe for making delicious burgers in the air fryer, you may never want to grill again. You are going to love this when you take a bite into a very juicy burger.
Why This Is the Best Air Fryer Hamburger Recipe
This burger recipe makes the most perfectly juicy and delicious patties you have ever had. If you are someone who hates to clean the grill after cooking, or your burgers turn out burnt on the outside and undercooked inside, you will love these simple to make air fryer burgers.
How Do You Make the Perfect Hamburger Patty?
Do you have trouble creating a hamburger that stays juicy when fully cooked and doesn't end up looking like a meatball? Here are a few tips for patty perfection.
The secret to avoiding a dense, dry burger is to handle the ground beef as little as possible. Too much squeezing and mashing will compress the meat, and you'll wind up with a hockey puck.
The edges of patties shrink, causing the centers to puff up when you cook them. Keep your burgers bun-sized and flat by making them about an inch and a half wider than the bun and creating a slight depression in the middle of the patty.
Bring your meat up to room temperature before cooking to avoid uncooked centers.
Air Fryer Hamburger Ingredients
To make burgers in air fryer, you'll need:
Ground beef (chuck is preferred)
Salt
Ground black pepper
Onion powder
Garlic powder
Your favorite toppings
Ingredient Notes
For the best results from the air fryer, you should select leaner beef than you typically use for grilled burgers. This lean beef would be something like ground sirloin, or even ground round. Ideally, you want to use an 85 percent lean chuck roast ground medium.
If your local supermarket can grind the meat fresh, it will make a huge difference in the texture and flavor of the air fryer hamburgers.
How to Cook Hamburgers in Air Fryer
Here are the easy recipe steps to make hamburger patties in an air fryer:
Preheat the air fryer to 375 degrees Fahrenheit.
Combine ground beef, salt, pepper, onion powder, and garlic powder in a medium bowl.
Use your fingertips to mix the ground beef and seasonings in a bowl gently. Be careful not to overwork the meat.
Form four equal-sized patties with a slight indentation in the center of each. Each patty should be about half an inch thick.
Place the patties in the air fryer basket in a single layer.
Cook in the preheated air fryer for between 8 and 10 minutes based on how well done you like your burgers. Flip midway through cooking. If desired, you can use a meat thermometer to check for doneness. Medium rare burgers have an internal temperature of 145 degrees, if you desire a is done cook to an internal temperature 160 degrees.
Add a slice of cheese 30 seconds before removing the burgers if you are making cheeseburgers.
Serve the air-fried hamburgers with buns and desired toppings.
What Sides Go Well With Hamburgers?
Sure, you can keep it old school with french fries and onion rings, but don't feel like you have to limit yourself. Other potato and onion sides like Outback's Bloomin Onion or the Cheesecake Factory's Loaded Baked Tater Tots are good, but why not try a few of these out-of-the-box sides:
What Toppings Can I Use for Hamburgers?
People are passionate when it comes to what should go on a burger. Are you a purist who thinks anything other than lettuce, tomatoes, pickles, and onions is pushing the boundaries, or someone open to new flavors?
Here are some flavor combinations that will please both the traditionalist and the gourmand:
Grain mustard, pickled jalapeño slices, mild cheddar, and shredded romaine lettuce
Bacon, sautéed mushrooms, and swiss cheese
Medium fried egg, avocado, bacon, and hot sauce
Blue cheese crumbles, bacon, arugula, and caramelized onions
Texas Roadhouse Butter and bib lettuce
Hamburgers in Air Fryer FAQs
What Other Meats Can I Use for Air Fryer Hamburgers?
With a few timing tweaks, you can make these burgers from other types of ground meat.
Ground chicken and Ground turkey burgers: Cook for 10 minutes or until well-done. You don't want to eat undercooked poultry.
Venison: Cook venison patties for 8 to 9 minutes.
Salmon: Make salmon patties and cook them at 400°F for 12 to 14 minutes.
Can You Cook Frozen Burgers in Air Fryer?
Yes, you can cook burgers directly from the freezer. Preheat the air fryer to 350°F and cook for about 9 minutes on each side for a total cooking time of 18 minutes.
How To Store Leftover Air Fryer Hamburgers
Keep uncooked patties wrapped in plastic or placed in an airtight container in the refrigerator for up to two days.
You can also freeze the patties and keep them fresh for three to four months.
To freeze:
Place the uncooked patties on a parchment-lined baking tray.
Put the tray in the freezer until the burgers are frozen solid, about two to four hours.
Use kitchen scissors to cut the parchment paper into squares with one patty on each square.
Stack the patties and put them in a freezer bag.
To separate the patties when you want to cook them, run warm water over the bag for about a minute.
Air-fry hamburgers are a new favorite.
No doubt, armed with this recipe, you will make a tasty burger, a perfect burger, and you won't even need to use a frying pan. This will soon become your favorite way to make a good burger, no, a great burger. In a couple of minutes, you will make the best burgers ever.
Favorite Air Fryer Recipes
Popular Burger Recipes
Check out more of my easy burger recipes and the best air fryer recipes here on CopyKat!
Ingredients
1

pound

ground beef

chuck is preferred

1

teaspoon

salt

½

teaspoon

ground black pepper

¼

teaspoon

onion powder

¼

teaspoon

garlic powder

cheese

optional
Instructions
Combine the ground beef, salt, pepper, onion powder, and garlic powder in a medium bowl and mix until incorporated.

Form into 4 equally sized patties about 1/2″ thick. Make a small indent in the middle of each patty with your thumb. This way the burgers will cook evenly.

Preheat the air fryer to 375°F.

Add the patties in a single layer to the basket

Cook for 9 to 11 minutes or until the beef reaches 160°F.

Add cheese if desired, and cook just until the cheese melts, about 30 seconds.
Nutrition
Calories:
290
kcal
|
Carbohydrates:
1
g
|
Protein:
20
g
|
Fat:
23
g
|
Saturated Fat:
9
g
|
Polyunsaturated Fat:
1
g
|
Monounsaturated Fat:
10
g
|
Trans Fat:
1
g
|
Cholesterol:
81
mg
|
Sodium:
658
mg
|
Potassium:
313
mg
|
Fiber:
1
g
|
Sugar:
1
g
|
Vitamin A:
1
IU
|
Vitamin C:
1
mg
|
Calcium:
23
mg
|
Iron:
2
mg