Burger King Impossible Whopper is a delicious meatless burger to enjoy for a healthy plant-based meal. You can make this tasty meat-free Whopper Sandwich at home with this easy copycat recipe.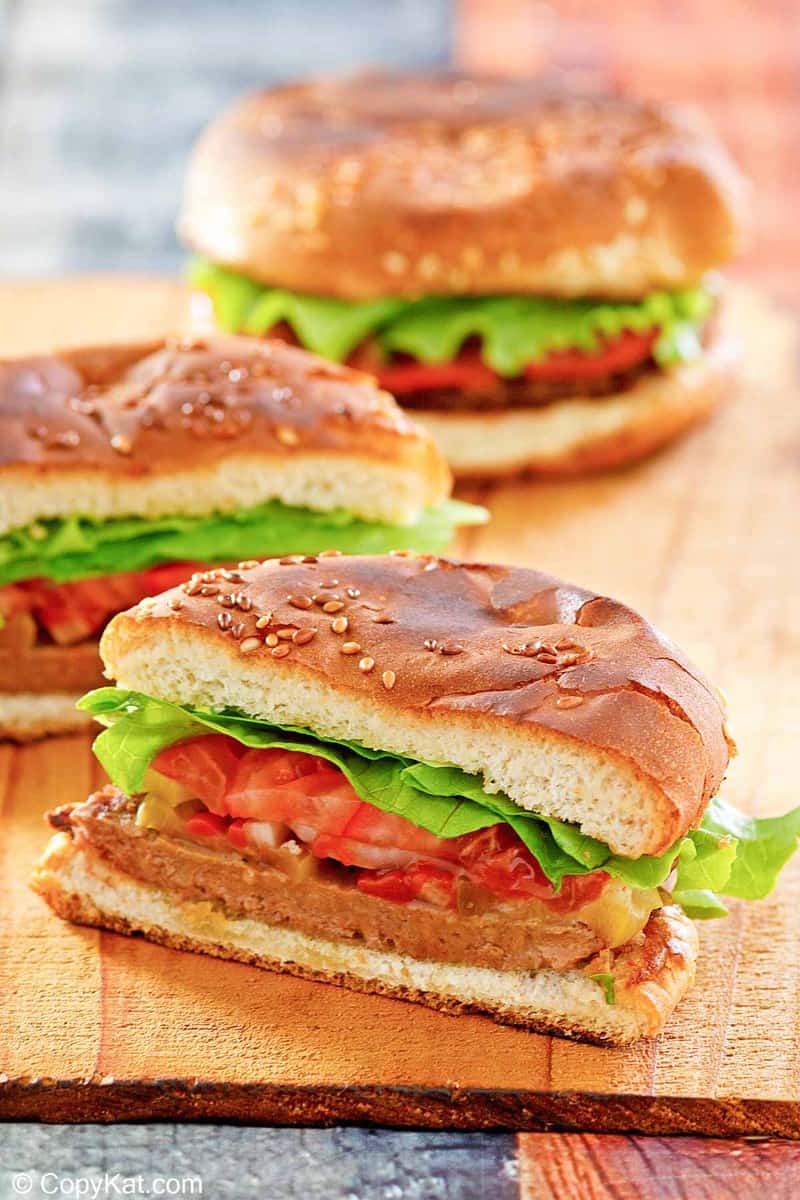 Burger King Meatless Burger
With everyone wanting healthier options these days, it was only a matter of time before a big-name fast-food giant added a vegetarian burger to the menu. While Burger King wasn't the first chain to feature meat alternatives, it was among the best well-known to do so.
When the chain introduced the new Burger King Impossible Whopper in the summer of 2019, many customers had their doubts. But the real beef taste of the Impossible patty in the meat-free Whopper converted a lot of skeptics to admit how close it tastes to a regular Whopper.
Whether you are a vegetarian or are just curious about how you can start consuming fewer animal products, you need to try this delicious recipe.
Impossible Foods Burgers vs Beyond Meat Burgers
The recipe below calls for using Beyond Meat patties and not the Impossible Foods patties that Burger King prefers for its meat-free option. That's because Beyond Meat patties are widely available in most areas of the country and until very recently.
Impossible Foods' burgers were not available for retail sale. Although now you can purchase Impossible burgers in some supermarkets, the number of stores that carry them is much more limited.
The Beyond Meat patty and the Impossible Foods patty do not have the same ingredients. Beyond Meat uses a mixture of vegetables, brown rice, and sunflower seeds. That means Beyond Meat is soy-free and gluten-free; good news for anyone who is soy or gluten sensitive.
Impossible Foods' patties contain soy and potato proteins, various oils, binders, and yeast. The current recipe for Impossible burgers is gluten-free, but it does have soy.
Use whichever brand of meat substitute you want. Most people can't tell the difference anyway, especially after adding all the toppings that come with a Whopper.
BK Impossible Whopper Ingredients
Here's a list of what you need:
Beyond Burger patties 
Salt
Pepper
Butter
Sesame seed buns
Dill pickle slices
White onions
Tomato
Iceberg Lettuce
Ketchup
Mayonnaise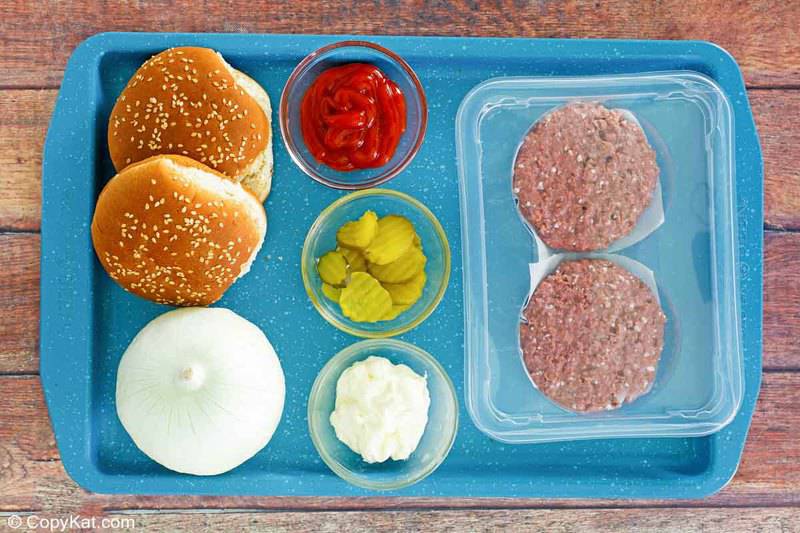 How to Make Burger King Impossible Whopper
Thaw and roll out the patties to 1/4-inch thickness. Season the patties with salt and pepper.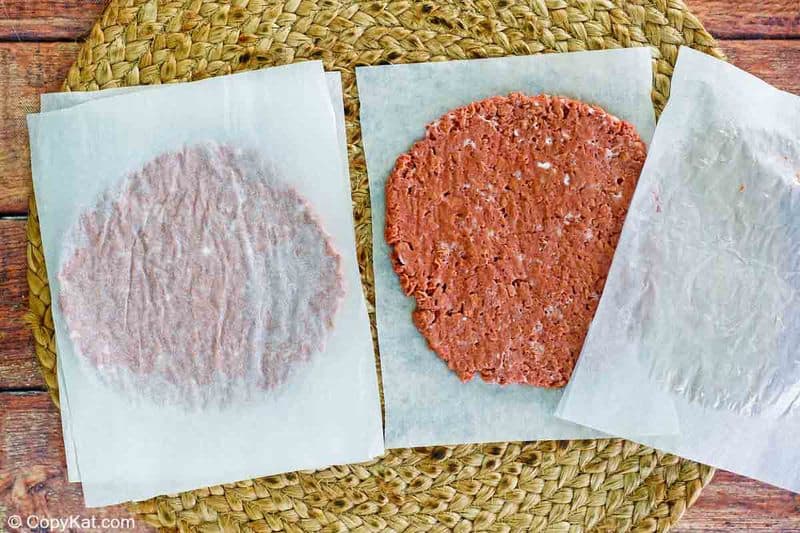 Butter the seasme seeded hamburger buns and toast them until browned.
Heat a grill or grill pan to medium-high heat. Cook the burger patties for 2 to 3 minutes per side.
Build the burger by placing a patty on the bottom bun. Top with dill pickle slices, onion ring slices, lettuce, and tomato slices. Spread mayonnaise on the top bun and a small squirt of ketchup. Place the top bun onto the burger and serve.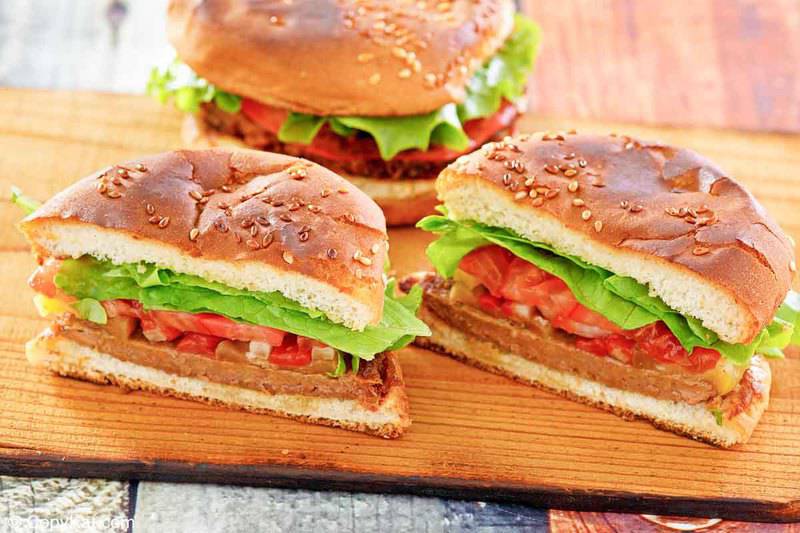 Cooking the Perfect Meatless Burger Patty
Burger King is famous for its flame-kissed burgers, and using a broiler method of preparation like they do in the restaurant, adds a unique flavor, but you can just as easily make them on a grill or in a skillet.
Just be aware that the meat-free burgers will cook more quickly than real beef ones. You can very easily overcook them if you are not careful.
To prevent the Beyond Meat patties from drying out, only cook them until they're hot, about 2 to 3 minutes per side over medium-high heat. Try lightly brushing both sides of the patties with a neutral oil such as canola to keep the burgers moist and help form a nice crust. I know you can enjoy this vegetarian-style with this meat-free patty burger from this famous burger chain.
Tips for Making a Burger King Impossible Whopper at Home
Use mayo on the bun instead of butter. Cold butter can tear the bun, but mayonnaise is easy to spread and helps toast the bread just as well as butter.
Don't forget to shred your lettuce. Believe it or not, shredded lettuce is easier to eat and less likely to cause a mess. Oh, and do yourself a favor. Stick with iceberg lettuce and save fancier lettuces for your salad.
Make it a cheeseburger. Top the patty with a slice of American cheese once you flip it over.
Check out more of our burger recipes on YouTube!
More Burger King Copycat Recipes
Popular Burger and Fast Food Recipes
Check out more of my easy burger recipes and the best fast food recipes here on CopyKat!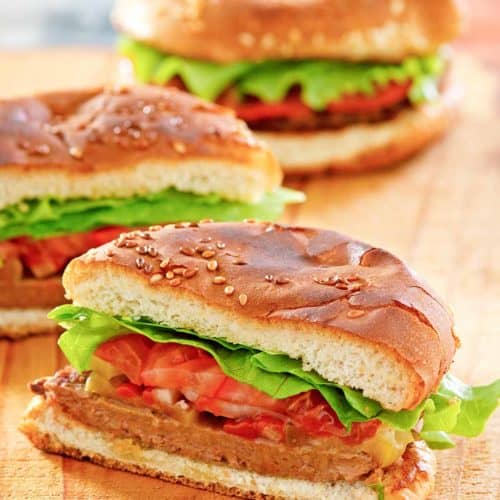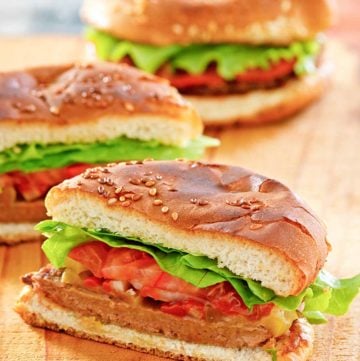 Ingredients
4

Beyond Burger patties

1/2

teaspoon

salt

plus extra

1/4

teaspoon

black pepper

1

tablespoon

butter, softened

4

sesame hamburger buns

12

pickle slices

1/2

white onion

sliced into rings cut 1/8-inch thick

1

large

tomato

cut into 8 slices about 1/8-inch thick

4

tablespoons

ketchup

8

leaves

iceberg lettuce

torn into pieces about the width of the buns

4

tablespoons

mayonnaise
Instructions
Thaw the Beyond Burger patties if necessary. Lay the thawed patties between two sheets of waxed paper, roll out the patties with a rolling pin to 1/4-inch thickness. Do not press too hard. Season the patties with 1/2 teaspoon of salt and black pepper.

Butter the hamburger buns and toast them in a skillet over medium heat until lightly browned. Set aside.

Heat a grill to medium-high heat. Cook the burger patties for 2 to 3 minutes per side. While cooking, add a dash of salt to each burger.

To build the burger, place the meat on the bottom bun. Then add 3 or 4 dill pickle slices, 3 or 4 onion ring slices, and 2 or 3 tomato slices. Squirt a small amount of ketchup onto the burger, add lettuce, and then spread mayonnaise onto the top bun. Place the top bun onto the burger and serve.
Nutrition
Calories:
398
kcal
|
Carbohydrates:
39
g
|
Protein:
16
g
|
Fat:
20
g
|
Saturated Fat:
5
g
|
Polyunsaturated Fat:
9
g
|
Monounsaturated Fat:
5
g
|
Trans Fat:
1
g
|
Cholesterol:
17
mg
|
Sodium:
1340
mg
|
Potassium:
509
mg
|
Fiber:
6
g
|
Sugar:
9
g
|
Vitamin A:
684
IU
|
Vitamin C:
12
mg
|
Calcium:
193
mg
|
Iron:
4
mg