Burger King Lucky Charms Milkshake is a creamy and delicious treat for kids of all ages. This tasty shake is made with marshmallow creme and Lucky Charms cereal.
This post contains affiliate links. As an Amazon Associate, I earn from qualifying purchases.
Burger King Milkshakes
A Lucky Charms-flavored milkshake? Yes, please! As crazy as it may seem, Burger King introduced several fun milkshakes in the summer of 2017. First, there was the Fruit Loop Shake, and then the Lucky Charms milkshake.
Unfortunately, it was part of a limited-time-only promotion that is now over. But, if you completely missed the promotion or wish you could enjoy it again, you can easily recreate Burger King milkshakes at home with this easy-to-follow recipe.
Your favorite cereals from childhood taste so good in ice cream. I bet as a child we all wanted to put ice cream in our cereal. Well, now you can do just that. I love the flavor combination and crunch of the cereal. It looks so good when poured into a glass.
Recipe Ingredients
Vanilla ice cream
Milk
Marshmallow creme
Lucky Charms cereal
Whipped cream for topping if desired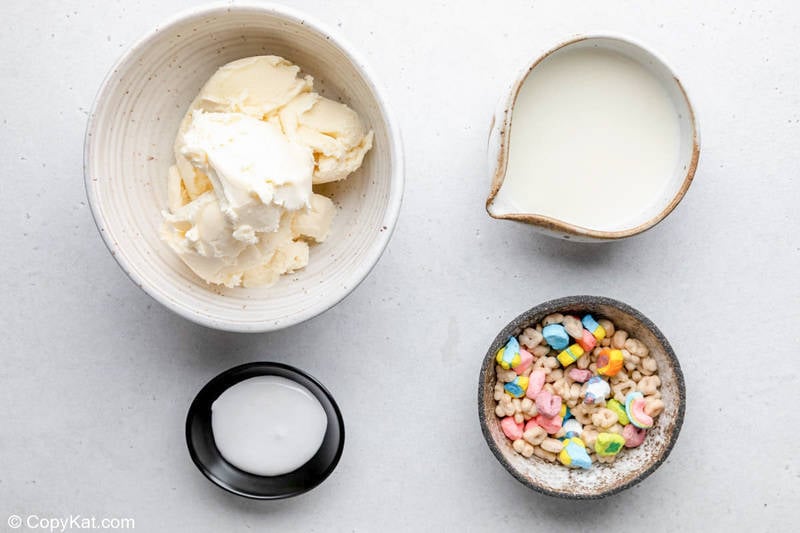 What Ice Cream Should I Use?
Burger King uses vanilla soft-serve ice cream as a base for all of its shakes. However, unless you happen to have a soft-serve machine at home, you'll have to substitute regular ice cream instead. The only problem is that regular ice cream doesn't produce the same creamy texture that made the original shakes so addictive.
Don't worry. There is a fantastic hack you can try that not only recreates the silky smooth texture of soft-serve ice cream at home but also lets you make a milkshake without the need for a blender!
Pop a tub of whipped topping, like Cool Whip, into the freezer for at least an hour. The whipped topping needs to be semi-frozen for the hack to work, so you may need to adjust the time accordingly.
Put a pint of vanilla ice cream into a large metal mixing bowl and add a 1/3 of a cup of the frozen whipped topping.
Use a rubber spatula to mix together the frozen whipped topping and ice cream. Try to avoid overmixing.
If you plan to make the cereal shake using a blender, press plastic wrap on top of the ice cream and put the bowl in the freezer for 2-3 hours to allow it to refreeze. Follow the original recipe and substitute this ice cream and whipped topping mixture for the regular ice cream to make the shake.
If you want to make the cereal shake without a blender, add a 1/4 cup of milk, a tablespoon of marshmallow creme, and a 1/4 cup of Lucky Charms to the bowl.
Stir and serve with optional whipped cream and Lucky Charms marshmallows on top.
How to Make Burger King Lucky Charms Milkshake
Place vanilla ice cream, milk, and marshmallow cream in a blender.
Blend for about 60 seconds then add the cereal.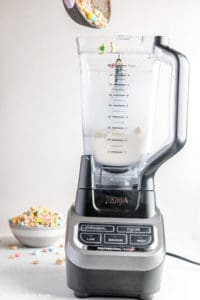 Pulse the mixture once or twice to blend in the cereal.
Pour the milkshake into a glass and top with whipped cream if desired. You may also want to sprinkle some of the colorful cereal marshmallows on top.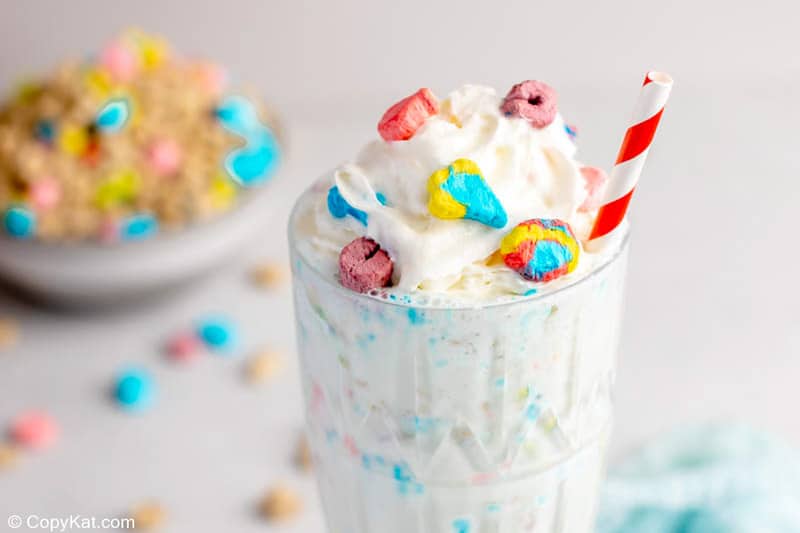 But My Favorite Cereal is ____. Can I Use It to Make a Milkshake?
Why the heck not? You can turn almost any cereal into a shake, but you may need to adjust the recipe slightly. Try making these variations, and then experiment on your own:
Froot Loop Shake: Skip the marshmallow creme and use Tutti Frutti ice cream instead of vanilla. Sprinkle crushed Froot Loops on top. Don't include the Froot Loops in the shake because the cereal will dye the ice cream.
Cinnamon Toast Crunch Shake: Use maple ice cream (or add a tablespoon of maple syrup to the vanilla ice cream), forget the marshmallow creme, add a pinch of cinnamon powder, and lightly crushed Cinnamon Toast Crunch cereal.
Corn Pops Shake. Start with sweet corn ice cream, leave out the marshmallow creme, and mix in crushed Corn Pops cereal.
Tips for Making and Serving a Lucky Charms Shake
Use cereal milk instead of regular milk. Cereal milk adds a more intense flavor to the shake. If you don't know how to make cereal milk, check out this cereal milk recipe from the Milk Bar.
Turn a Lucky Charms milkshake into the perfect St. Paddy's Day beverage. Before blending the milkshake, a drop of green food coloring is all it takes to show your Irish spirit.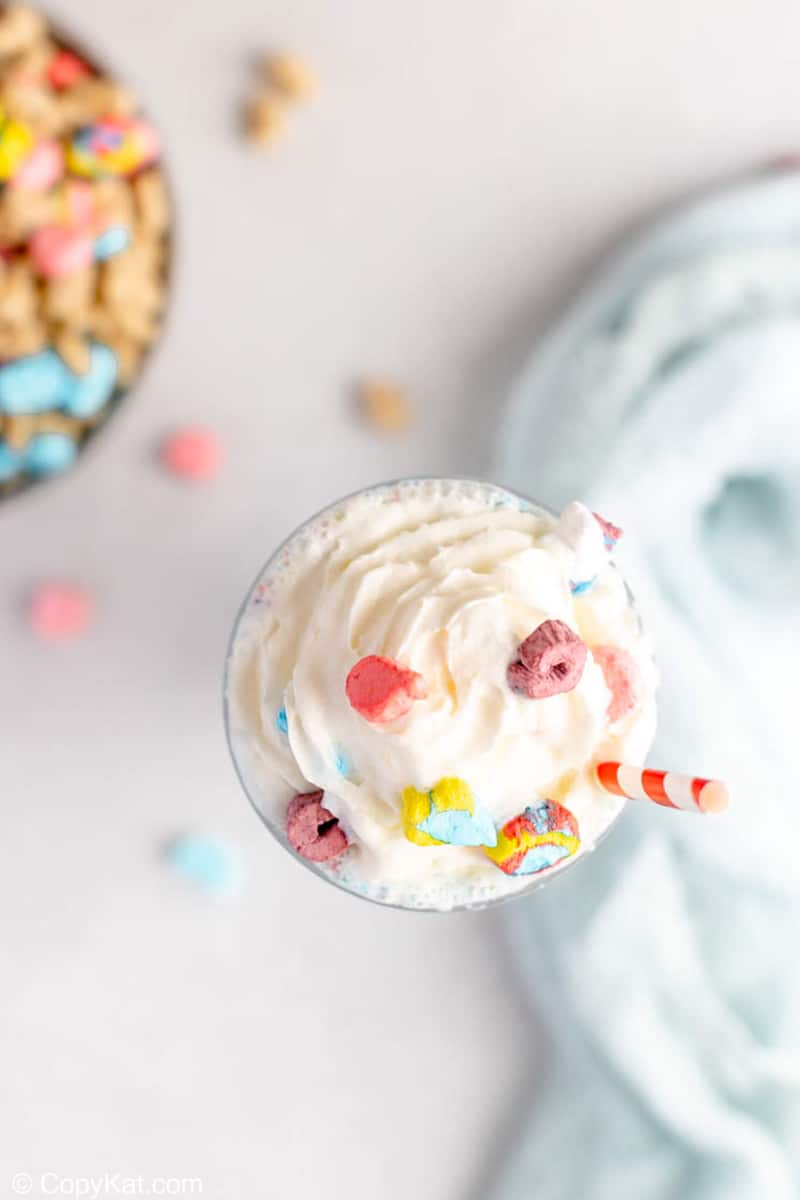 Favorite Ice Cream Treats
More Burger King Copycat Recipes
Check out more of my easy drink recipes and the best fast food recipes here on CopyKat!
Take a look at more of my ice cream drinks on YouTube!
Ingredients
2

cups

vanilla ice cream

1/2

cup

milk

1

tablespoon

marshmallow creme

1/4

cup

Lucky Charms cereal

2

tablespoons

whipped cream

if desired
Instructions
Combine vanilla ice cream, milk, and marshmallow cream in a blender. Blend for about 60 seconds.

Add the cereal and then pulse the mixture once or twice to just blend the cereal.

Top with whipped cream if desired. You can also sprinkle a few of the cereal marshmallows on top.
Nutrition
Calories:
696
kcal
|
Carbohydrates:
81
g
|
Protein:
14
g
|
Fat:
35
g
|
Saturated Fat:
21
g
|
Cholesterol:
135
mg
|
Sodium:
322
mg
|
Potassium:
686
mg
|
Fiber:
2
g
|
Sugar:
69
g
|
Vitamin A:
1625
IU
|
Vitamin C:
4
mg
|
Calcium:
515
mg
|
Iron:
2.3
mg