Fatburger Banana Milkshake is perfect for a hot summer day or anytime you have a craving. This thick, rich, and creamy banana shake is a delicious treat made with simple ingredients.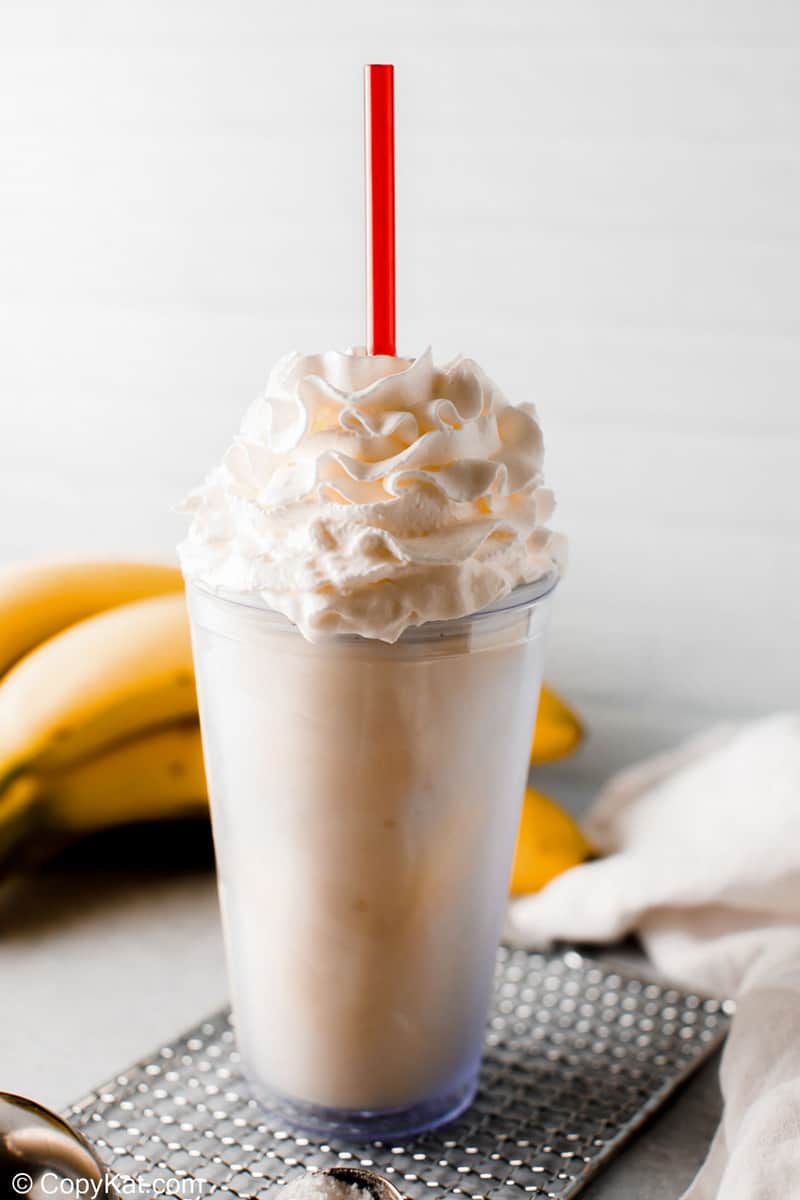 This post contains affiliate links. As an Amazon Associate, I earn from qualifying purchases.
Milkshakes may be retro, but this banana milkshake from Fatburger is much more than vintage kitsch. Fatburger Banana Shakes go beyond the ordinary milkshake by using half-and-half and instant banana pudding powder to ensure they are thicker and richer. If you are looking for something that is both delicious and just a little fun, you are definitely going to want to blend up a few of these outrageously good milkshakes.
Who Needs Bananas? Your Banana Milkshake does!
Alright, so, technically, real bananas don't appear anywhere in this banana milkshake recipe, and you can absolutely make it without using any, but why would you? Tossing a few chunks of bananas into the blender gives this shake an even creamier texture, and thin slices make the perfect topping.
A Better Bunch of Bananas
If you choose to add real bananas to this recipe, they need to be perfectly ripe. Sadly, finding good bananas is getting more difficult these days.
Try buying bananas when they are pale yellow, with a bit of green on both ends, and eat them once they darken slightly. Stay away from bananas with bruised or damp peels because that indicates they are starting to go bad. Bananas with a grayish appearance suggest they were probably frozen at some point.
Bananas are the only fruit that ripens after picking, and to extend their shelf-life, many markets prefer to order green bananas. That's fine in theory but can sometimes cause issues.
Have you ever bought some slightly unripe, green bananas home, but even after a few days, they still refuse to turn yellow? It is frustrating, but there is a trick you can use to speed the ripening process. Stick the bananas inside a paper bag along with a few red apples. The apples give off ethylene gas that forces bananas to ripen. Alternatively, if you want to slow down the ripening process, stick the bananas in the fridge, but let them warm up before eating.
How to Make a Pretty Freaking Good Milkshake
Scoop the vanilla ice cream into a bowl and leave it out on the counter for a few minutes. You don't want it to melt but soften enough to blend better. If you are using a weaker blender, you can leave the ice cream out a little longer to make things easier.
While the ice cream warms up a bit, mix the half-and-half with the instant banana pudding powder. Doing this ensures that there won't be any undissolved powder in your milkshake. It is normal for the mixture to thicken quickly.
Now, combine the ice cream and banana pudding mixture in the blender. Cover and turn the blender on low for a few seconds. Use a plastic spatula to scrape off any ice cream sticking to the sides. Now is a good time to add about half a banana to the shake. Cover, and continue to blend until smooth.
Pour into a tall glass. Use the plastic spatula to get every last bit of goodness out of the blender.
Tips for Serving a Fatburger Banana Shake
Use a thick straw. This stuff is thick, and an ordinary straw isn't going to work. For the best results, try using straws designed for drinking boba tea.
Don't forget the whipped cream and toppings. In addition to banana slices, why not add crushed walnuts, chocolate chips, or both?
See what we are up to on Facebook!
The Best Banana Shake Recipe Ingredients
Vanilla ice cream
Half and half
Instant banana pudding mix
Whipped cream, optional
How to Make Banana Milkshake
Place ice cream in a blender.

Add half and half.

Add banana pudding mix.

Blend until smooth and creamy.
Pour the milkshake into a glass.

Top with whipped cream if desired.
Love milkshakes and frozen drinks? Try these recipes!
Favorite Fast Food Ice Cream Treats
Check out more of my easy drink recipes and the best fast food recipes here on CopyKat!
Ingredients
2

cups

vanilla ice cream

premium

3

tablespoons

half and half

2

teaspoons

instant banana pudding mix

whipped cream

optional topping
Instructions
Place ice cream in a blender.

Add half and half.

Add banana pudding mix.

Blend until smooth and creamy.

Pour the milkshake into a glass.

Top with whipped cream if desired.
Notes
If you are diabetic, you may want to use sugar-free pudding and ice cream.
This shake also works well with light ice cream.
Nutrition
Calories:
642
kcal
|
Carbohydrates:
73
g
|
Protein:
10
g
|
Fat:
34
g
|
Saturated Fat:
21
g
|
Cholesterol:
132
mg
|
Sodium:
292
mg
|
Potassium:
583
mg
|
Fiber:
1
g
|
Sugar:
63
g
|
Vitamin A:
1270
IU
|
Vitamin C:
1.6
mg
|
Calcium:
385
mg
|
Iron:
0.2
mg