Microwave acorn squash is a real treat and you can make it in less than 20 minutes. Acorn squash is microwaved, topped with brown sugar butter sauce, then broiled to perfection.
Quick Acorn Squash Recipe
The one thing I have disliked about Acorn squash is that it can take a long time to cook if you want to bake it. It will take a little over an hour.
So I was reading one of my new cookbooks and it suggested microwaving the squash and then popping it under the broiler. And you know what? It worked. It worked wonderfully. Actually, I was amazed at the suggestion because this meant you can have an acorn squash in a reasonable amount of time.
With this microwave whole acorn squash recipe, you no longer have to wait a long time to enjoy this tasty winter squash. When using the microwave you can make acorn squash with brown sugar topping in under 20 minutes.
What Does Acorn Squash Taste Like?
Acorn squash is not something you see people making often. However, with this recipe where you can cook the acorn squash in the microwave, that might change things a bit. One of the reasons might be that people don't know what it tastes like.
It has a light, refreshing, yet not overpowering nutty taste with a little bit of sweetness as well. It does have a nice buttery taste when baked too. Some might find plain acorn squash a little bland, but not when paired with my pumpkin pie butter sauce.
Ingredients for Microwave Acorn Squash
Aside from the acorn squash, you should have most of the ingredients in your pantry. Here's a list of what you need:
Acorn squash
Butter
Brown sugar
Pumpkin pie spice
Salt
How to Pick Acorn Squash
Acorn squash may not be a regular item you buy at the grocery store so it might be difficult to know what makes a good acorn squash.
Look for the acorn squash that is free of blemishes and soft spots. The squash is ripe when it is dark green. A rind that is shiny can mean that the fruit was picked before it was fully ripe.
Next, look at the finish of the acorn. Does it have a waxy or matte look to it? You will want to find the one that has a matte look. Waxier-looking squash means that it was picked before they were ready to harvest.
Lastly, make sure the outside of the acorn squash as a whole looks okay. You don't want one that has a lot of gross blemishes and soft spots on it. It could be it is past the point of being ripe and no longer edible.
Acorn squash should be stored in a single layer and not stacked on top of one another. It can be stored at room temperature for up to three months in a dark area.
How to Cut Acorn Squash
For this microwaved acorn squash recipe, you will need to cut the squash in half from the stem to the bottom of the squash. This will give you a nice little center for the butter to settle when it is cooked.
Place the acorn squash on a cutting board. Use a sharp, sturdy chef knife to slice it in half.
How to Make Your Own Pumpkin Pie Spice
Now that autumn is upon us, all of the apple and pumpkin recipes are out so you will want to either make your own pumpkin pie spice or buy it if you don't already have it.
For this squash recipe, I use a delightful pumpkin pie spice butter sauce and it has pumpkin pie spice in it. If you do not have any yet, it is actually quite simple to make your own.
I have a great recipe for homemade pumpkin pie spice that you could give a try. You can store the remaining spice mix for another recipe.
How to Make Microwave Acorn Squash
Use a sharp knife to cut the squash in half and use a spoon to scoop out the seeds out of the insides of the quash, Be sure to remove stringy bits from the squash. Discard seeds.
Place the squash cut side down in a microwave-safe dish. Add water to the dish and then cook acorn in the microwave for 15 to 20 minutes, until fork-tender.
Melt the butter and stir in brown sugar, pumpkin pie spice, and salt. Drizzle butter sauce over the squash.
Broil the squash for 5 to 7 minutes. Serve immediately.
You may want to add a sprinkle of salt and pepper to the flesh of the squash just before serving.
How to Store Microwave Acorn Squash
Make sure the acorn squash has completely cooled down and then either wrap it with foil or plastic wrap. Place it in the fridge. It will last in the refrigerator for 4 to 5 days.
If you want to freeze leftover acorn squash, you need to remove the skin before freezing it. Then depending on your preference, chop it up or scrape it out of the skin and place it in a freezer-safe zip-top bag. You can freeze it for 8 to 10 months.
How Long Will Microwaved Acorn Squash Last?
When stored properly, the acorn squash leftovers will last in the fridge for up to 5 days or in the freezer for up to 10 months if stored in an airtight container.
Love winter squash? Try these recipes!
Favorite Fall Side Dish Recipes
Check out more of my easy side dish recipes and the best fall recipes here on CopyKat!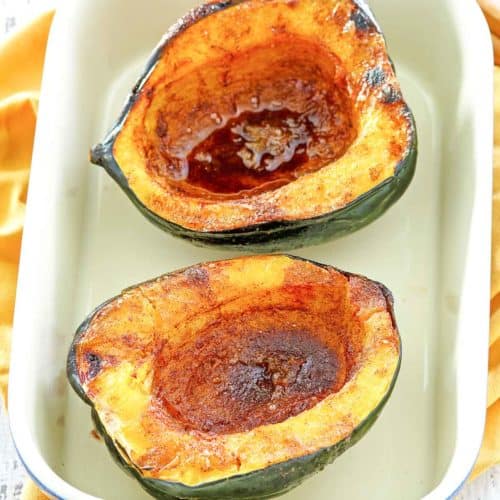 Ingredients
2

acorn squash

3

tablespoons

butter

3

tablespoons

brown sugar

1/2

teaspoon

pumpkin pie spice

1/2

teaspoon

salt
Instructions
Use a heavy knife to cut the squash in half from the stem to the end of the squash. Use a spoon to scoop out and discard the seeds and the stringy bits from the squash.

Place the squash cut side down in a microwave-safe baking dish. Add 1/2 cup water to the dish and microwave the squash for 15 to 20 minutes. The squash will be done when you can easily pierce it with a fork.

Set your oven to broil.

In the microwave or on the stovetop, melt the butter and stir in the brown sugar, pumpkin pie spice, and salt. Place the microwaved squash in an ovenproof dish, and drizzle the butter over the squash.

Broil for 5 to 7 minutes. The butter will begin to bubble and the brown sugar will begin to caramelize. Serve immediately.
Nutrition
Calories:
110
kcal
|
Carbohydrates:
9
g
|
Protein:
0
g
|
Fat:
8
g
|
Saturated Fat:
5
g
|
Cholesterol:
22
mg
|
Sodium:
368
mg
|
Potassium:
11
mg
|
Sugar:
8
g
|
Vitamin A:
315
IU
|
Calcium:
10
mg
|
Iron:
0.1
mg