The Outback Steakhouse Aussie Fries are honestly my favorite thing on the menu. Crisp french fries smothered in melted cheese and bacon, this appetizer can really make you salivate. I would hate to count the times my family has had these for dinner.
All about the Outback Steakhouse Aussie Fries
You can find an Outback Steakhouse without flying all the way to Australia. In fact, it's much easier to find one here as Outback Steakhouses are not common in Australia – I believe there are only eight in the entire gigantic country. And, there is probably a total of none in the vast open spaces of the Australian Outback. Wondering about where the Australian Outback is exactly? – click here to find out.
The Outback Steakhouse is Not Really Aussie
When you enter an Outback Steakhouse, you will see kangaroos and boomerangs as part of its décor. And, you may be enticed by its tasty appetizers labeled "Aussie-Tizers." However, the Outback Steakhouse began life far from the Outback – in fact in Florida in 1987, and the Aussie theme was chosen to give it a rugged Aussie ambiance. Read more about the non-Aussie beginnings of the Outback Steakhouse.
A Steakhouse for the Best Steak
At the Outback Steakhouse, you can get a steak that's cooked to perfection, whether you like it medium rare or well done. However, a steak needs fries and an Outback Steakhouse steak, even if it's not in Australia, needs Aussie fries.
The Aussie Fries
The Outback Steakhouse Aussie Fries are honestly my favorite thing on the menu. I have them every time I go to Outback, and I would hate to count the times I've made them at home and my family has had them for dinner. Crisp french fries smothered with melted cheese and bacon – these fries can really make you salivate. They are absolutely delish, and you may love the sauce so much you will find yourself making it go on other things, like fried chicken tenders – yum!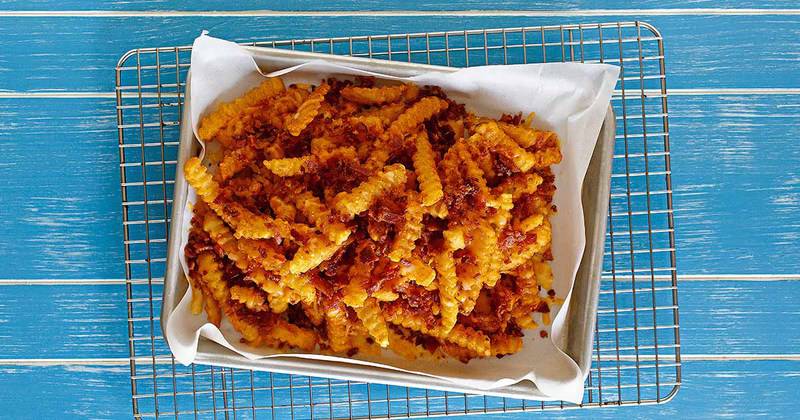 Love the Outback Steakhouse as Much as I do? Check out these Outback Steakhouse Copycat Recipes
You can find more Outback Steakhouse Recipes, here at CopyKat.com.

Ingredients
2

pounds

french fries

1

cup

colby jack

shredded

4

ounces

bacon

cooked crisp

vegetable oil for frying
Instructions
Divide the bag of fries in half and use the other half later. Heat oil to 350 degrees. If you do not have a thermometer, make sure the oil is hot enough so that when you set a French fry in the oil, it will cook immediately. If the French fry sinks to the bottom and barely bubbles, it is not hot enough. Fry the potatoes in small batches. They are done when they are golden brown and float to the top of the skillet. (I like to use a Dutch oven). Be sure to drain the potatoes on paper towels. You can keep them warm in the oven while the other fries cooking. When all French fries are cooked and drained, place them on a platter. Salt the French fries if you like and sprinkle on cheese and cooked bacon. Pop these back into a warm oven until the cheese begins to melt.



Here is what Jane Coyle suggested



1 16 ounce bottle Ranch Dressing

2 teaspoons paprika

1 teaspoon cayenne pepper

1 teaspoon dried thyme

1 teaspoon dried oregano

1 teaspoon white pepper

1 teaspoon black pepper

1 tablespoon kosher salt

1 tablespoon garlic powder

1 tablespoon onion powder



Combine all ingredients and let refrigerate overnight for the best flavor.
Nutrition
Calories:
961
kcal
|
Carbohydrates:
69
g
|
Protein:
17
g
|
Fat:
69
g
|
Saturated Fat:
21
g
|
Cholesterol:
50
mg
|
Sodium:
1498
mg
|
Potassium:
1073
mg
|
Fiber:
10
g
|
Sugar:
0
g
|
Vitamin A:
330
IU
|
Vitamin C:
14.3
mg
|
Calcium:
246
mg
|
Iron:
3.4
mg