Banana nut bread is a favorite of so many, you can make it a little healthier. Do you have overripe bananas laying around? Put them to good use and make homemade whole-wheat banana bread. This recipe is healthy and delicious, perfect for breakfast or a snack.
This post contains affiliate links. As an Amazon Associate, I earn from qualifying purchases.
Whole Wheat Banana Nut Bread
Everyone loves banana nut bread. It's perfect for breakfast or a snack. You can even make it a little healthier by making banana bread with whole wheat flour.
If you have overripe bananas lying around, put them to good use by making some banana bread. It's one of those classic, all-American comfort foods that fills the whole house with a warm aroma.
Why This Is the Banana Bread Recipe You Want to Try
Your search for the best banana bread recipe that is also healthy is over! This healthy whole wheat flour banana bread is deliciously moist and sweet. You don't even have to tell anyone it's healthy!
This banana bread with whole wheat flour has several things going for it:
It's wholesome, healthful, and hearty.
You get a tender and moist whole wheat banana bread.
It's not overly sweet, so the banana taste shines.
It's made with 100% whole wheat.
It's ready to bake in less than 15 minutes.
You will be surprised at how good it is.
Plus, your kids will love using the potato masher to mash the bananas. And they'll also love talking you into adding some chocolate chips!
Why Whole Wheat Banana Bread Is Healthy
This banana bread is comprised of many wholesome ingredients – whole wheat flour, mashed bananas, eggs, nuts, and more. This healthy whole wheat banana bread recipe is perfect for those overripe bananas we often don't want to eat (or even look at!).
Whole wheat flour adds lots of nutrition and fiber while giving the bread a hearty texture.
If you want a healthier diet, you can begin by switching from all-purpose flour to whole wheat flour. However, you will need to add a little more baking powder to help the bread rise high!
This whole wheat flour banana bread recipe calls for a reasonable amount of oil rather than whole sticks of butter.
Healthy Whole Wheat Banana Bread – Ingredients You Will Need
Satisfy your urge to bake and your tastebuds with a fluffy warm loaf of whole wheat banana bread. All you need are overripe bananas, eggs, and a few pantry staples. Here is a list of all the ingredients:
Bananas
Whole wheat flour
Baking powder
Eggs
Walnuts
Sugar
Oil
Salt
Test your baking powder before baking. If baking powder bubbles in warm water, it is good to use. If it does not bubble, it should be replaced.
How to Make This Whole Wheat Banana Bread Recipe
Like most quick bread, this moist whole wheat banana bread is very easy to put together. You simply mix the dry ingredients together and the wet ingredients together and then combine the two. Here are the simple steps:
Whisk together the dry ingredients.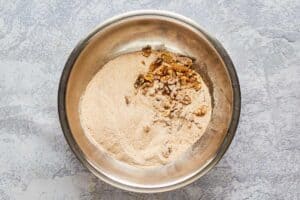 Combine the oil and eggs in a large bowl and then add in the bananas.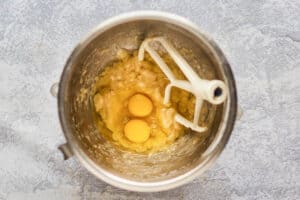 Combine the dry and wet ingredients.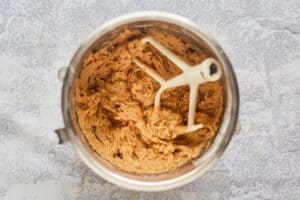 Pour the batter into a greased loaf pan and bake for approximately 45 minutes at 350°F.
Let it cool in the pan for a few minutes then remove it and place it on a wire rack. Allow it to cool to room temperature before slicing and serving.
CopyKat Tip: Mash bananas with your mixer. Place large pieces of bananas in the bowl of your stand mixer or use a regular mixing bowl and a hand mixer. Start beating on low, gradually increasing to medium-high as the bananas begin to break down.
Recipe Variations
Any number of mix-ins can be added to this whole wheat flour banana bread recipe. However, no matter what you choose, keep the amount of mix-ins to about one cup total. Here are some ideas:
Add chocolate chips to make whole wheat banana chocolate chip bread. You could also go for cinnamon chips or butterscotch chips.
Sweeten this banana bread with honey for whole wheat honey banana bread.
Add some fresh or frozen blueberries for whole wheat blueberry banana bread.
Add some raisins or chopped dried fruit such as dried sweetened cranberries.
Use chopped pecans instead of walnuts.
Vanilla extract adds some extra flavor. If you like to vary things a bit, try maple extract.
Add some spices – stir in a teaspoon of cinnamon and/or a dash of nutmeg.
To dress up the bread's crust and add flavor, mix 2 tablespoons of granulated sugar with 1 teaspoon of ground cinnamon and sprinkle it evenly over the top of the bread before baking.
If you are vegan or have an egg allergy, make egg-free banana bread by replacing the eggs with flax eggs or chia eggs. Here's a good vegan banana bread recipe.
Make gluten-free banana bread with a gluten-free flour blend or gluten-free oat flour.
How to Turn Ordinary Banana Bread Into Healthy Banana Bread
If you are not quite ready for 100% whole wheat bread, substitute half of the whole wheat flour in this recipe for all-purpose flour. Here are a few more things you can do to make healthier banana bread:
It's ok to decrease up to half of the sugar. However, reducing by more will mean your bread won't be as structurally sound.
You could also swap out regular sugar for coconut sugar.
Using honey or maple syrup gives you some trace nutrients not found in white sugar.
Consider replacing vegetable oil with coconut oil (a healthier fat).
Unsweetened applesauce can take the place of oil.
How to Serve Whole Wheat Banana Bread
Banana Bread FAQ
Can you use frozen bananas?
Yes, frozen and thawed bananas work in this whole wheat banana bread recipe. See notes below on how to freeze bananas.
How ripe should the bananas be?
The riper your bananas, the better for baking. You want brown, spotted, ugly-looking, super-ripe ones.
How many mashed bananas are in one cup?
You need about 2 medium-sized bananas to make 1 cup of mashed bananas.
Can you use this banana bread recipe for banana muffins instead?
Absolutely! Fill each muffin well about two-thirds full. Bake at 325°F for 22 to 25 minutes or until a toothpick passes the clean test. You can opt to sprinkle oats or raw sugar over the tops, along with some cinnamon.
How to Store and Freeze Banana Bread
This bread is moist, so it will only keep for 2 to 3 days at room temperature. It will be fine in the refrigerator for 5 to 7 days.
This whole wheat banana bread easily freezes for up to 3 months. Tightly wrap the loaf (or slices) in 2 or 3 layers of aluminum foil or plastic wrap and place it in a freezer-friendly storage bag or reusable container. This way, you always have a loaf of banana bread on standby in the freezer for when you need it.
Thaw banana bread overnight in the refrigerator before serving. Or just toss a frozen slice into the toaster, and you have breakfast or a snack in minutes!
How to Freeze Bananas
Freeze your ripe bananas to use in baking recipes. If you have spotted, almost black, heavily-ripened bananas but haven't had time to bake with them, freeze them to use in baking whenever you are ready. When ready to use, thaw and drain off excess liquid. (As bananas thaw, they expel a lot of liquid.)
You can leave the peels on when freezing, but peeling them first has a couple of advantages:
Peeled bananas take up less room in your freezer-friendly container.
Peeled bananas thaw a little quicker.
It's also best to freeze the bananas whole because:
Banana baking recipes usually call for a specific number of bananas.
Bananas can vary in size, so if you cut them up before freezing, it may be hard to determine how much you need.
Favorite Bread Recipes
Popular Recipes with Bananas
Check out more of my easy bread recipes and favorite family recipes on CopyKat!
This recipe is from the archives of my grandmother, Ethel Eynard. Jefferson City, MO. 1981.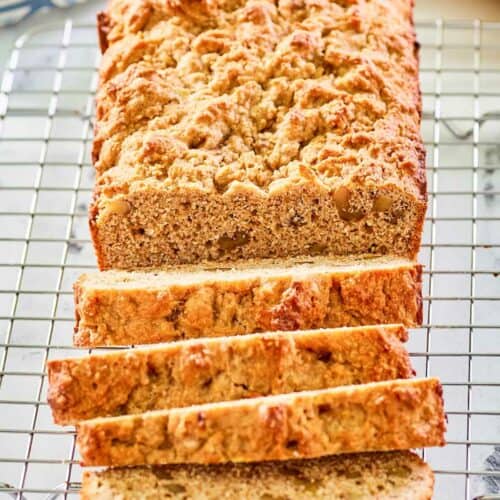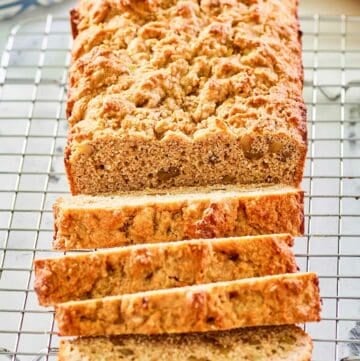 Ingredients
1 3/4

cups

whole wheat flour

1/2

cup

sugar

1

tablespoon

baking powder

1/4

teaspoon

salt

1/2

cup

chopped walnuts

1/3

cup

oil

2

eggs

2

bananas

mashed (about 1 cup)
Instructions
Preheat the oven to 350°F and grease a 9x5x3-inch loaf pan.

In a bowl, combine the flour, sugar, baking powder, salt, and walnuts. Mix thoroughly.

In a separate bowl, mix the oil and eggs. Then mix in the bananas.

Add the dry ingredients to the banana mixture and stir until just smooth.

Pour the mixture into the loaf pan and bake for 45 minutes.
Notes
This recipe is perfect for those overripe bananas that we often don't want to eat.
Test your baking powder before baking. If baking powder bubbles in warm water it is good to use. If it does not bubble, it should be replaced.
Add some mixins like mini chocolate chips or even cinnamon chips.
Nutrition
Calories:
249
kcal
|
Carbohydrates:
31
g
|
Protein:
5
g
|
Fat:
12
g
|
Saturated Fat:
1
g
|
Cholesterol:
32
mg
|
Sodium:
72
mg
|
Potassium:
319
mg
|
Fiber:
3
g
|
Sugar:
13
g
|
Vitamin A:
65
IU
|
Vitamin C:
2.1
mg
|
Calcium:
71
mg
|
Iron:
1.2
mg