The IHOP Banana Cream Pancakes are one of IHOPS fun and creative pancakes. These are made with their famous pancake batter, banana cream, caramel, and fresh bananas. The banana cream and the caramel are a magical combination that tastes heavenly. You won't be reaching for the bottle of syrup when you enjoy these pancakes they are perfectly sweet. You can now enjoy these pancakes straight from your own kitchen.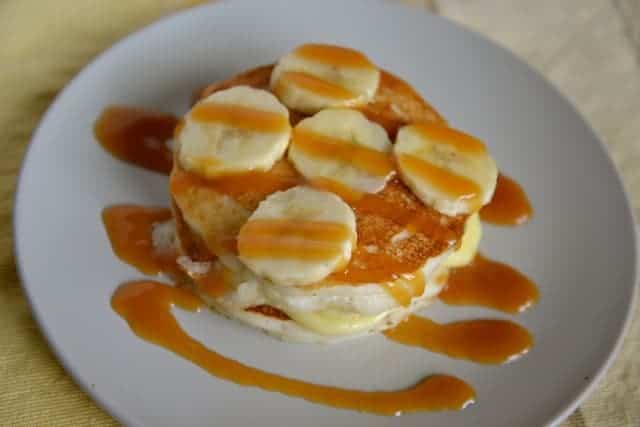 For me, pancakes always remind me of my father. He loved to make pancakes. I don't know why, but he always seemed happy when making breakfast. He also used to make him at Montgomery Ward when they used to have fundraisers at work. Department stores were so different in the late 70s and early 80s. My Dad was an assistant manager at the one in Pueblo, Colorado. I remember the candy counter, there, and they also had a cafeteria. You could get a hot cooked meal in their cafeteria. This is where my Dad would help make pancakes whenever there was a fundraiser.
For me, pancakes always evoke memories of childhood and the excitement of having pancakes. Pancakes in my house were a treat. I think most often we had bowls of cold cereal, so when a hot breakfast was made we always enjoyed those much more. My copycat recipe of the IHOP Banana pancakes is a sweet treat with the creamy banana filling, fresh bananas, and caramel sauce. It is my hope you enjoy these on a morning gathered with your family and that you create some of your own special memories.
Do you love the IHOP? Try these IHOP Copycat Recipes
IHOP Blueberry Cannoli Pancakes
IHOP Colorado Omelette
IHOP Cinn-a-stax Pancakes
IHOP French Toast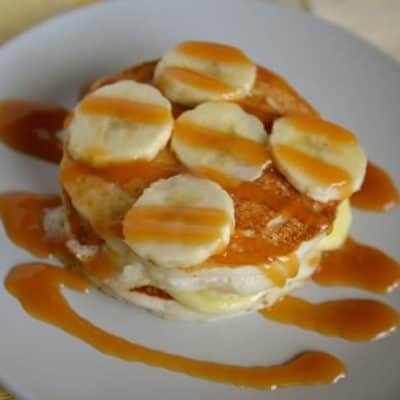 Ingredients
1 1/4

cup

all-purpose flour

1 1/2

teaspoon

baking powder

2 1/2

teaspoons

sugar

1/2

teaspoon

salt

1/2

teaspoon

baking soda

1/8

cup

vegetable oil

1

egg

beaten

1 1/2

cup

buttermilk

4

ounce

banana instant pudding

2

sliced bananas

1/2

cup

caramel topping

1

cup

whipped cream
Instructions
Prepare banana pudding according to package directions. Place first five ingredients into a bowl; add buttermilk, oil, and egg. With a spoon mix all ingredients and beat until smooth.

Heat a frying pan or a griddle to 375 degrees. Spray cooking surface with non-stick spray. Pour 4 ounces of batter for each pancake, cook until hot and bubbly one side, flip and then cook for about another 30 seconds or so and remove from the cooking surface.

Place pancakes on a plate until they are ready to be used. Turning pancakes is made much easier if you spray your pancake turner with a non-stick spray. The turner does not stick to the uncooked dough of pancake when you are turning them. If batter seems to be too thick, add a little more buttermilk and mix well.

To assemble, lay one pancake on a plate, add about 1/4 cup of banana cream and spread on a pancake. Place about 4 or 5 banana slices onto banana pudding. Top banana pudding layer with another pancake. Add 4 or 5 slices of banana to the top of the pancake. Drizzle with caramel sauce. Top with whipped cream if desired.
Nutrition
Calories:
553
kcal
|
Carbohydrates:
97
g
|
Protein:
9
g
|
Fat:
14
g
|
Saturated Fat:
9
g
|
Cholesterol:
62
mg
|
Sodium:
820
mg
|
Potassium:
586
mg
|
Fiber:
3
g
|
Sugar:
37
g
|
Vitamin A:
375
IU
|
Vitamin C:
5.1
mg
|
Calcium:
214
mg
|
Iron:
2.3
mg