Ihop Blueberry Cannoli Pancakes is a new menu item at IHOP. These pancakes for those who love blueberries is one you can't miss. Buttermilk pancakes are topped with blueberries and sweetened ricotta cheese for a wonderful breakfast treat.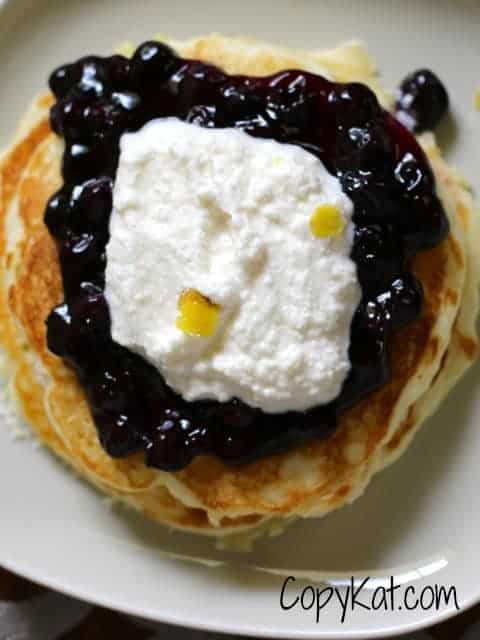 I personally love IHOP. They have really put a lot into their menu over the last couple of years. They continue to create more seasonal menu items. The IHOP Blueberry Cannoli Pancakes are simply wonderful. Fluffy buttermilk pancakes, blueberries, and a flavored and sweetened ricotta that tastes just like a cannoli. These are simple to make and just take a few extra ingredients to turn an ordinary pancake into something more.
Ihop Blueberry Cannoli Pancakes Ingredients
For this recipe I am using my IHOP Buttermilk pancakes, I think these are a wonderful fluffy pancake that you will find easy to make. For the Blueberry topping, I am using a can of pie filling so it will closely mimic what the IHOP does. For the ricotta topping, I am going to suggest that you go with the whole milk ricotta. I think the whole milk ricotta holds up better in case you can't eat this all at once. I also suggest using superfine sugar if you have it on hand. Superfine sugar dissolves better than regular sugar, and it has more structure than powdered sugar. This is a tip I got from Chef Dennis, and it is one I have loved ever since he told me about it.
If you don't want to serve the whole recipe at once, do not add the blueberries and the ricotta topping until you are ready to serve them. These are so tasty you may even want to make a double batch.
More IHOP CopyKat Recipes
IHOP Banana Caramel Pancakes
Ihop Buttermilk Pancakes
IHOP Cinn-a-Stack
IHOP Pumpkin Pancakes
IHOP Colorado Omelette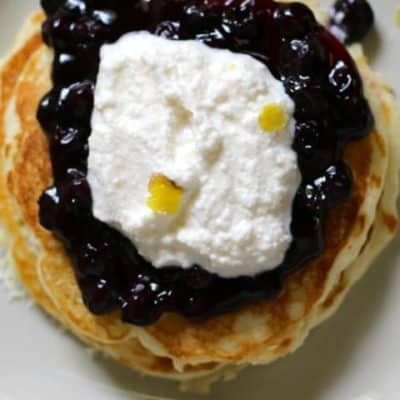 Ingredients
Pancake

Recipe

1 1/4

cups

all-purpose flour

1 1/2

teaspoons

baking powder

2 1/2

teaspoons

sugar

1/2

teaspoon

salt

1/2

teaspoon

baking soda

1 1/2

cups

buttermilk

2

tablespoons

vegetable oil

1

egg

lightly beaten
Ricotta filling
15

ounces

whole milk ricotta cheese

3

tablespoons

sugar

(super fine sugar if available)

1/4

teaspoon

vanilla extract

1/2

teaspoon

lemon juice

21

ounces

blueberry pie filling
Instructions
Place the flour, baking powder, sugar, salt, and baking soda in a bowl; Whisk them to mix. Add the buttermilk, oil, and egg. With a spoon, mix all ingredients and beat until smooth. If batter seems to be too thick while you're cooking the pancakes, add a little more buttermilk and mix well.

Heat a skillet or a

griddle

over medium-low heat. Brush with a little oil or spray with nonstick cooking spray. Pour in batter until it spreads to the desired size. Let the batter start to show small bubbles on top before you turn the pancake over to finish cooking. Turning pancakes is made much easier if you spray your pancake turner with a nonstick spray.

The turner does not stick to the uncooked pancake batter when you are turning them. Cook the pancakes until golden on both sides. Cannoli topping In a small bowl combine ricotta, 3 tablespoons sugar, 1/4 teaspoon vanilla, 1/2 teaspoon vanilla. Stir to blend well. How to assemble Place two pancakes on a plate. Top with blueberry pie filling, and then add about 1/4 to 1/3 cup of the cannoli topping. Garnish with some lemon peel if desired. Suggestion: I suggest that you add a tablespoon or two of the ricotta filling between the pancakes. This adds a really nice touch.
Nutrition
Calories:
775
kcal
|
Carbohydrates:
115
g
|
Protein:
20
g
|
Fat:
25
g
|
Saturated Fat:
16
g
|
Cholesterol:
105
mg
|
Sodium:
647
mg
|
Potassium:
612
mg
|
Fiber:
4
g
|
Sugar:
72
g
|
Vitamin A:
715
IU
|
Vitamin C:
1.3
mg
|
Calcium:
441
mg
|
Iron:
3.7
mg