Boston Brown Bread is a classic New England bread enjoyed for generations. This simple quick bread is nutty, sweet, and loaded with raisins. It's great for breakfast or a snack. And it's perfect for Easter or any holiday.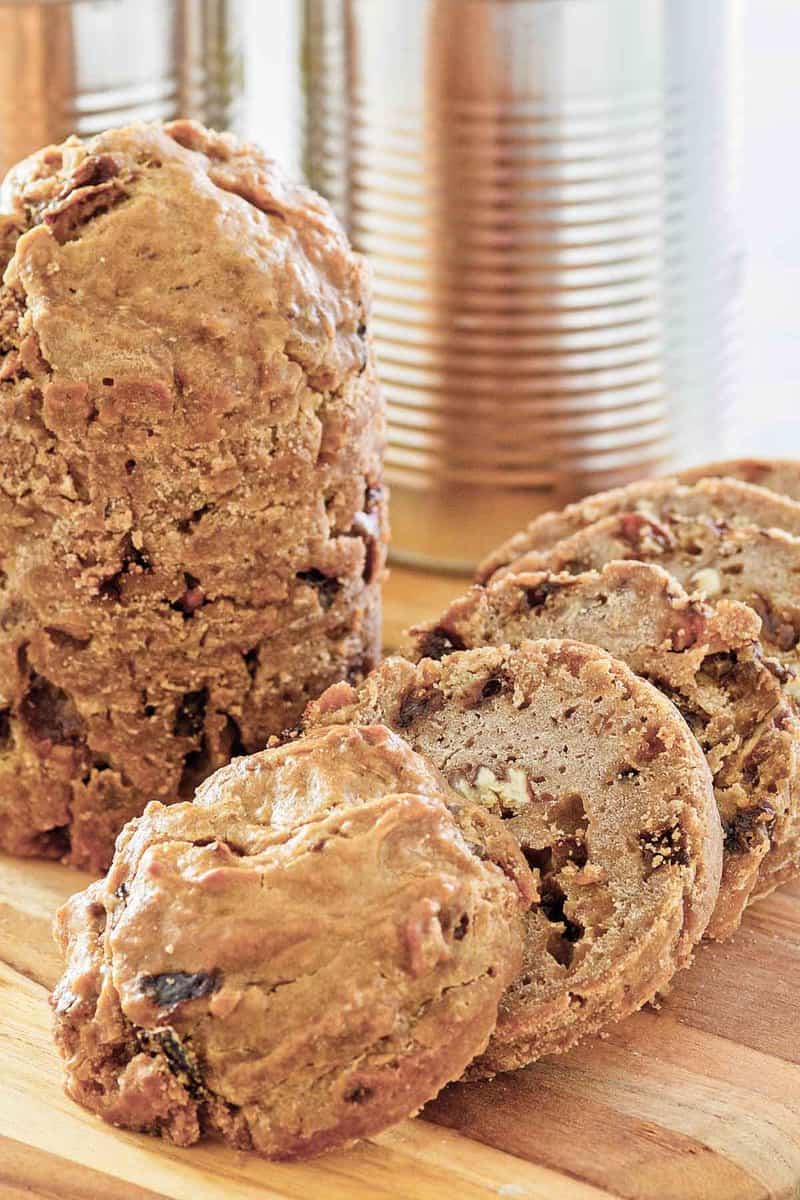 This post contains affiliate links. As an Amazon Associate, I earn from qualifying purchases.
Boston Brown Bread Baked in a Can
Have you ever heard of or tried Boston brown bread? It's a classic New England staple that doesn't seem to have caught on in other regions, but really everyone should know about it.
Boston brown bread has a satisfying flavor that's a little sweet and nutty. It's a sweetened brown bread that's moist and chock full of raisins.
What's different about this bread though is how you bake it. You could easily make it in a regular loaf pan, but traditionally this New England bread is steamed or baked in a can.
While originally made in baked bean cans, any clean can will do.
A Brief History of Boston Brown Bread
Boston brown bread, known simply as brown bread in New England, made its appearance on New England tables in the early 1800s. It was initially made with cheaper coarse flours and sweetened with molasses, making it affordable for everyone.
Traditionally, this rustic bread was steamed on the stovetop, usually in cans. This way, even home cooks who had no wood-burning ovens could make this bread.
Nowadays, one of the most popular varieties of brown bread is B&M Boston Brown Bread, made by B&M in Portland, Maine, and it's sold in a can.
Why This is the Best Boston Brown Bread Recipe
Of course, you can buy ready-made B&M Boston Brown Bread, but everything tastes better when it's homemade, and this bread is no exception. This is a wonderful quick and easy recipe for old-fashioned Boston brown bread. You will love how moist and chewy this bread is.
Since this is a quick bread, there's no yeast necessary, no rising or proofing time, no kneading, and no mixer to haul out onto the countertop. The entire loaf comes together in about 10 minutes, with just one bowl to wash at the end.
You and your family will be in love with this bread! The rustic look and old-fashioned flavor of this hearty Boston brown bread will take you back to earlier times.
Your kids will have fun helping to put the batter in the cans, and you can enjoy giving them a little history lesson.
Recipe Ingredients
All-purpose flour
Butter
Baking soda
Sugar
Eggs
Raisins
Pecans
Ground cinnamon
Vanilla extract
Ingredient Substitutions
For gluten-free bread, use a gluten-free all-purpose flour substitute.
If you want to make vegan brown bread, check out this vegan Boston brown bread recipe.
How to Make Boston Brown Bread in a Can
Mix together the raisins, butter, baking soda, and boiling water in a large bowl and let sit overnight to plump up the raisins.
Add the remaining ingredients and mix to make a very thick batter.
Fill greased tin cans 3/4 full with the batter.
Bake at 350 degrees for about 35 minutes.
Allow it to cool completely before removing the bread from the cans.
Note: The cans function as Boston brown bread molds. See the equipment list below for alternative ideas for molds.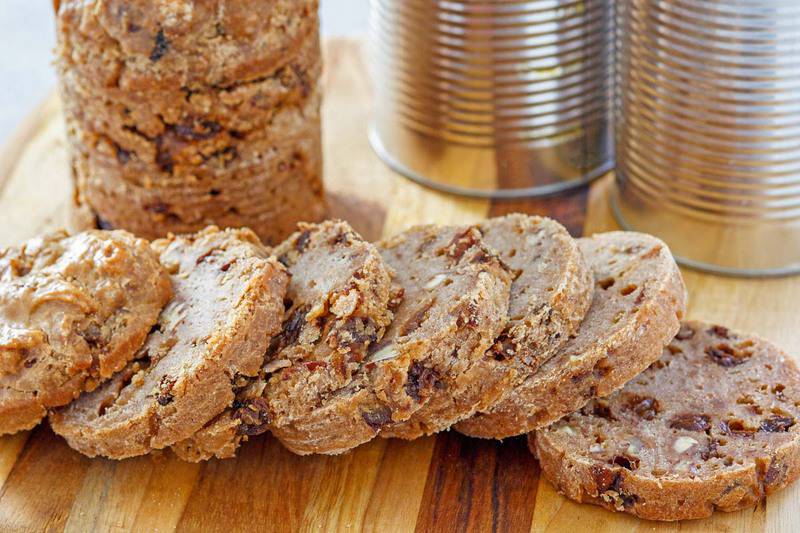 Recipe Variations
Use dates, dried cranberries, or currants instead of raisins
Substitute walnuts for the pecans.
Add a little rum.
Recipe Tips
Don't overmix the batter. The key to keeping a quick bread moist is not over-mixing.
Grease the cans really well so that the bread pops right out.
To make it easier to get the baked bread out, place a round piece of parchment paper in the bottom of each can.
Use the clean toothpick method to test for doneness.
Equipment
Boston brown bread molds. This recipe utilizes 6 tin cans the size of Campbell's large chunky soup (coffee cans can also work).
Note that you can also buy baking can molds although they tend to be expensive. Take a look at a cylindrical vertical baking pan or an aluminum bread mold.
How to Serve Boston Brown Bread
Serve it for breakfast, topped with butter or cream cheese. It's also good drizzled with maple syrup or honey or topped with a dollop of orange marmalade.
CopyKat Tip: Warm the bread up a little at first, so your topping of choice melts into the bread a bit.
This bread is also perfect for making little tea sandwiches to serve at a party. Here are a few flavor fillings to get you started:
Mix Dijon mustard and cranberry butter and add smoked turkey.
Cream cheese and fresh dill finished off with smoked salmon.
Cream cheese thinned slightly with milk and mixed with crushed or diced pineapple.
Cream cheese mixed with apricot preserves and topped with ham.
How to Store Boston Brown Bread
Wrap your leftover bread in plastic wrap or foil to prevent it from drying out. The bread will stay fresh at room temperature for 2-3 days or in the refrigerator for up to 5 days.
To Freeze: When completely cool, wrap the bread tightly, and freeze for up to 3 months.
What Goes With New England Brown Bread?
Boston brown bread is perfect served the traditional way alongside baked beans and/or hot dogs. A warming dinner for a cold winter's night.
Also for dinner, the bread goes well with any of these meals:
Favorite Quick Bread Recipes
Check out more of my easy bread recipes and family favorite recipes here on CopyKat!
Many thanks to Sue A. Mertens Minick, a family member from Hazelwood, MO, for this recipe.
Ingredients
16

ounces

raisins

1

tablespoon

butter

2

teaspoon

baking soda

2

cup

boiling water

4

cups

all-purpose flour

2

cups

sugar

2

teaspoon

ground cinnamon

1/2

cup

chopped pecans

2

eggs

beaten

1

teaspoon

vanilla extract
Instructions
In a heatproof bowl, combine the raisins, butter, baking soda, and boiling water. Let it sit overnight to plump up the raisins.

Preheat the oven to 350°F.

Add the remaining ingredients to the raisin mixture, and mix well. The batter will be very thick.

Transfer the batter into tin cans (Campbell's chunky soup size) that have been greased with shortening, until they are 3/4 full. This should yield about 6 cans.

Bake for 35 minutes or until done.

Remove from oven and let cool for a while before taking the cakes out of the cans.
Nutrition
Calories:
222
kcal
|
Carbohydrates:
47
g
|
Protein:
3
g
|
Fat:
2
g
|
Saturated Fat:
0
g
|
Cholesterol:
14
mg
|
Sodium:
107
mg
|
Potassium:
192
mg
|
Fiber:
2
g
|
Sugar:
16
g
|
Vitamin A:
35
IU
|
Vitamin C:
1
mg
|
Calcium:
14
mg
|
Iron:
1.6
mg