Indulge in the sweet symphony of an Olive Garden Brownie Banana Funtastico dessert masterpiece! A decadent brownie in a bowl with a split banana is adorned with pineapple, creamy banana mousse, and a dollop of whipped cream, then drizzled with luscious chocolate, sprinkled with crunchy nuts, and crowned with a cherry. It's not just a dessert; it's an experience in every bite.
This post contains affiliate links. As an Amazon Associate, I earn from qualifying purchases.
What Makes the Olive Garden Brownie Funtastico a Throwback Recipe You Should Try
Although you won't find the Brownie Banana Funtastico on the menu at your local Olive Garden these days, you may remember trying (and loving) them in the past. Fortunately, you can relive your memories by recreating this unique and tasty dessert in the comfort of your own kitchen.
For those who have never tasted a Brownie Funtastico before, think of it as a delightful twist on the classic banana split with layers of fudgy brownie, ripe bananas, a rich banana mousse, chocolate drizzle, pineapple topping, chopped nuts, and crowned with a maraschino cherry. As good as it sounds, it tastes even better!
What Makes It So Good
A Brownie Funtastico is everything you love about a banana split without all the trouble of ice cream. That makes it way easier to prepare a batch with multiple servings for a kids' party because you can prepare it in advance, and you don't have to worry about the ice cream melting.
But it's not only for kids. This is an impressive dessert to serve to adults at a dinner party. You can also take it in a cooler to a potluck.
Ingredients
For the brownie base, you'll need:
Instead of using boxed brownies, save time by buying store-made brownies or use your favorite brownie recipe instead.
For assembling a brownie banana split, you'll need:
Brownies
Pineapple topping
Banana
Banana mousse
Whipped cream
Chocolate topping
Chopped nuts
Maraschino cherries
Chocolate sauce and chocolate ganache are both fine to use for the chocolate topping.
Use a pineapple ice cream topping like this one from Smuckers.
Choose your favorite type of nuts. Crushed pecans, walnuts, and almonds are all excellent options.
For the banana mousse, you'll need:
Dry whipped topping mix
Instant banana pudding mix
Whole milk
Dream Whip is a name brand of dry whipped topping mix, but it is a little pricey. Chef's Companion offers a better value for a similar product.
Jello or Royal instant banana pudding mixes will both work in this recipe.
How to Make an Olive Garden Brownie Funtastico
To prepare the brownies:
Bake the brownies in the oven according to the directions on the package.
Allow them to cool before you start to assemble a Brownie Banana Split.
You can keep any leftover brownies in an airtight container at room temperature for up to three days or until they begin to dry out.
To prepare the banana mousse:
Prepare the whipped topping according to the instructions on the package.
Transfer the whipped topping to a large mixing bowl, cover with plastic wrap, and place in the fridge to chill.
Prepare the banana pudding mix according to the package instructions in the same bowl you made the whipped topping in. Since you will combine the two later, there is no need to clean the bowl.
Gently fold the banana pudding into the chilled whipped topping until well combined.
Cover the bowl with plastic wrap and place in the fridge.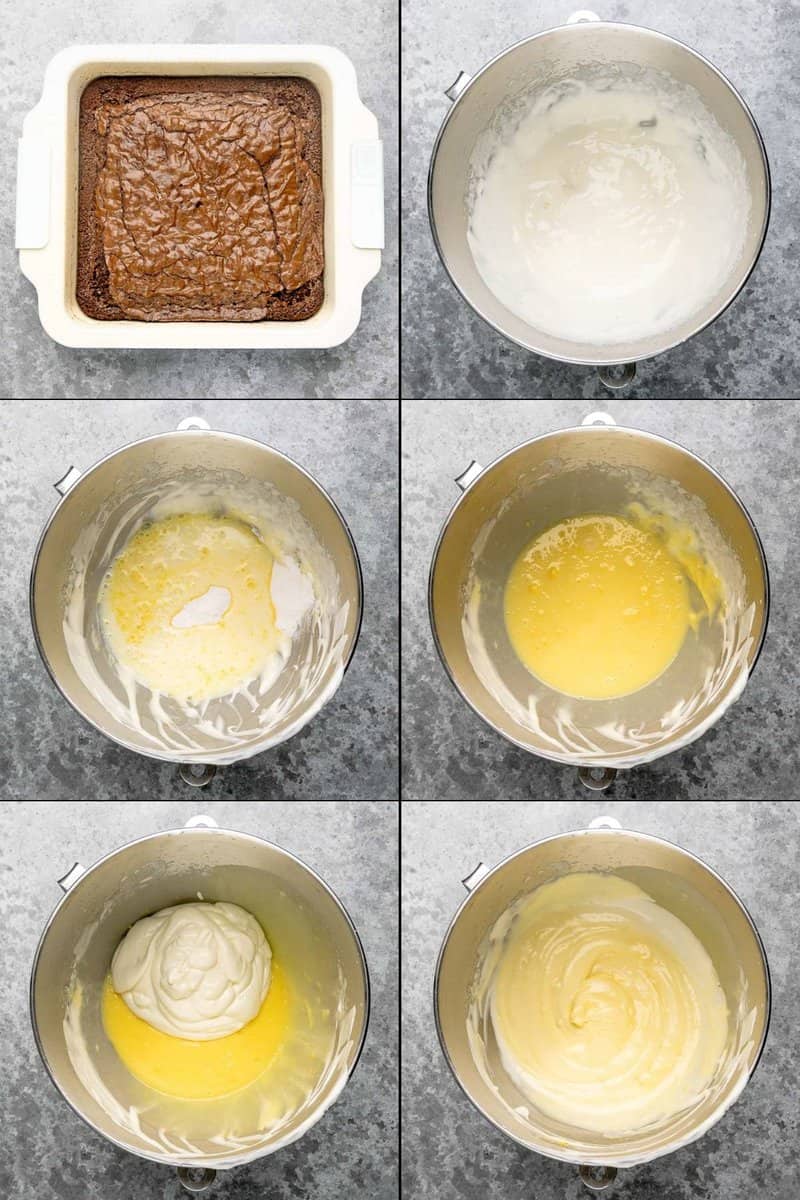 To assemble a copycat Brownie Funtastico:
Place a brownie in the middle of a large bowl.
Spread a thin layer of pineapple topping over the brownie
Cut a banana in half and place half on either side of the brownie.
Cover it with a dollop of banana mousse.
Drizzle on the chocolate sauce.
Sprinkle on the chopped nuts, and top with a maraschino cherry.
What to Serve With It
This treat pairs well with all your casual favorites. Here are a few suggestions for you to try:
Chicken fingers. Chicken fingers are easy to make, and they please just about everyone. Why not make Captain Crunch Chicken, a recipe that elevates this kid-friendly classic by using one of your childhood's favorite breakfast cereals?
Hamburgers. What is more All-American than burgers? Whether you prefer to snack on half a dozen Kystal's Mini Burgers or wolf down a Homemade Big Mac, a Brownie Funtastico is a great way to end the meal.
Hot dogs. Call them wieners, red hots, or Coneys; hot dogs are delicious, and there are so many ways you can serve them that you'll never get bored.
Possible Recipe Variations
Like a standard banana split, you have many options to make this recipe your own. Here are some to help get you started, but why not experiment and comment with your favorites?
Swap out the banana pudding for another flavor. Chocolate and vanilla flavors are tasty, but perhaps you are a little more adventurous than that. Maybe pistachio or cheesecake pudding?
More toppings. Everyone loves toppings, so why not pile them on? Chocolate chips, chocolate shavings, or rainbow sprinkles are old standbys, but a few culinary torch-toasted mini marshmallows would be truly impressive.
Replace the cherries with macerated strawberries. Macerated strawberries add a sweet burst of freshness and a bit of tang that helps to bring out the other flavors in this dessert.
More Olive Garden Dessert Recipes
Favorite Brownie Recipes
Check out more of my easy dessert recipes and the best copycat Olive Garden recipes on CopyKat!
Ingredients
1

package (16.3 ounces)

brownie mix

plus ingredients on the package

1

envelope

Dream Whip Whipped Topping Mix

1 1/2

cups

milk

divided use

1

package (4 serving size)

instant banana pudding mix

1/2

cup

pineapple topping

8

bananas

1

cup

whipped cream

1/2

cup

chocolate topping

1/2

cup

chopped nuts

1/2

cup

maraschino cherries
Instructions
Prepare the brownie mix according to the package directions.

To make a banana mousse, add the pudding mix and 1 cup of milk to the

mixer

bowl. Mix on low speed for 2 minutes. Fold the whipped topping into the pudding by hand or on very low speed until well mixed. Chill while assembling the banana splits.

Place a brownie in the bottom of a large bowl and spread pineapple topping over the brownie. Split a banana in half lengthwise and place it next to the brownie, on either side. Spoon the desired amount of banana mousse over the brownie and top with whipped cream, chocolate topping, nuts, and a cherry.
Nutrition
Calories:
548
kcal
|
Carbohydrates:
91
g
|
Protein:
6
g
|
Fat:
17
g
|
Saturated Fat:
3
g
|
Cholesterol:
4
mg
|
Sodium:
354
mg
|
Potassium:
162
mg
|
Fiber:
1
g
|
Sugar:
60
g
|
Vitamin A:
75
IU
|
Vitamin C:
1.9
mg
|
Calcium:
72
mg
|
Iron:
2.4
mg