Looking for a classic Italian dessert for your next dinner? Look no further than this Olive Garden Tiramisu! Espresso, chocolate, and mascarpone cheese make for a delightful and uplifting dessert. It's a wonderful and easy tiramisu recipe!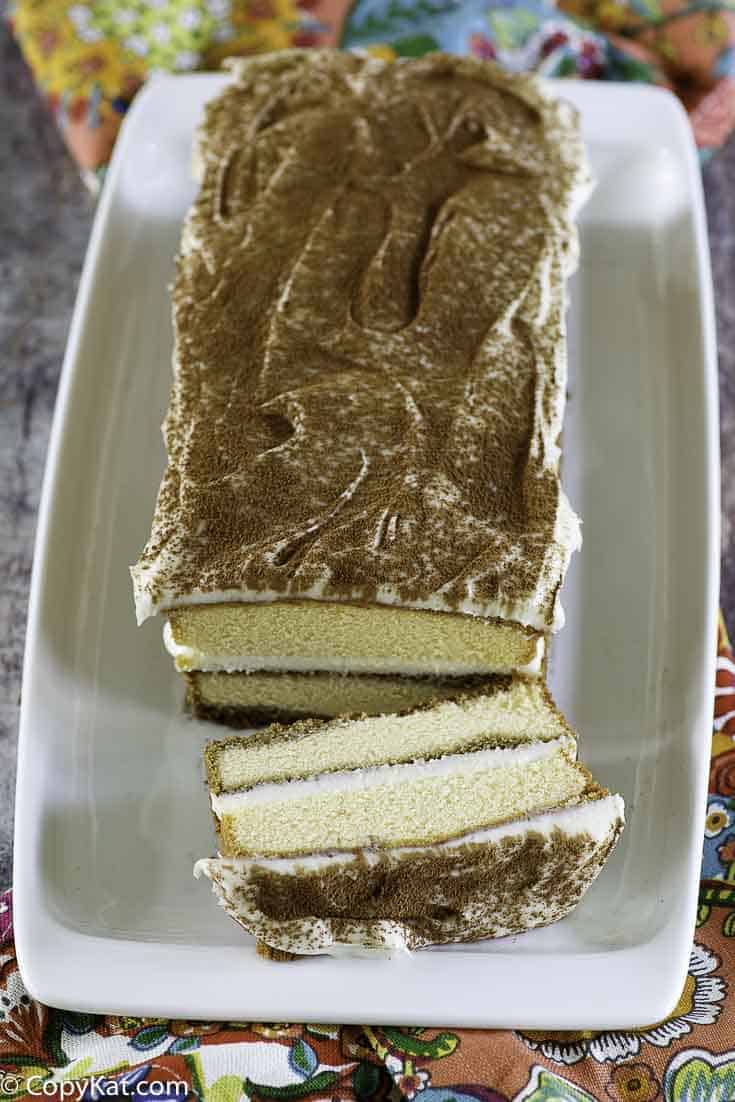 What Makes this Olive Garden Tiramisu so Good
Tiramisu is a classic! And what's not to like? It's a beautiful combination of cake, coffee, and brandy or rum. Substitute cream cheese for the mascarpone cheese and you have the perfect dessert.
And you can actually make this dessert ahead of time so you are not rushed the day you have your friends and family over for a special meal.
This dessert has been on the menu at the Olive Garden for as long as I can remember and for good reason. It's the perfect ending to an Italian meal.
History of Tiramisu
The legend of tiramisu is thought to have started back in the 17th century in Siena, Italy. A dessert similar to the tiramisu recipes we know now was made for a Grand Duke who brought the recipe to Florence.
The modern-day recipe was actually created in the 1960s by a confectioner in Veneto, Italy. A traditional tiramisu is a coffee-flavored dessert made of ladyfingers dipped in coffee and layered with a mixture of eggs, sugar, and mascarpone cheese topped with cocoa.
How to Make this Olive Garden Tiramisu
This recipe strays just a bit from the classic tiramisu but the wonderful flavor remains the same.
Here's what you need:
Sponge Cake
Strong Black Coffee
Brandy or Rum
Cream Cheese
Superfine Sugar
Cocoa
How to Make Olive Garden Tiramisu
The entire recipe is in the printable recipe card further down. But here's a really quick overview of how to make one of my favorite Olive Garden desserts of all time.
Cut the sponge cake in half lengthwise to make 2 layers.
Blend the coffee and brandy together and pour enough over the bottom half to slightly moisten it.  Be careful not to over moisten the cake.

Beat the cream cheese and sugar until completely combined.

Spread half of the cream cheese mixture over the bottom layer.
Add the second layer and top with the remaining cream cheese.
Sprinkle the top with sifted cocoa and refrigerate for at least two hours.
What is a substitute for mascarpone cheese?
An authentic tiramisu recipe will use mascarpone cheese. But if you can't find any, you can use cream cheese instead.
What liquor is in tiramisu?
Normally bakers use brandy in this Italian dessert. Rum has a similar flavor profile and can easily be used if you don't have any brandy in your home.
How do you serve and store tiramisu?
Tiramisu is known as an icy Italian dessert. It should always be served cold.  Make sure you refrigerate for at least 2 hours before serving.
Leave it out at room temperature for 20 minutes before serving. You can do another dusting of cocoa powder on top before serving. It makes it look fancier and gives it a deeper flavor too.
Tiramisu can stay in the refrigerator for up to 2 days. The cake will get too mushy if left longer than that. But you'll probably eat it up well before those two days are up!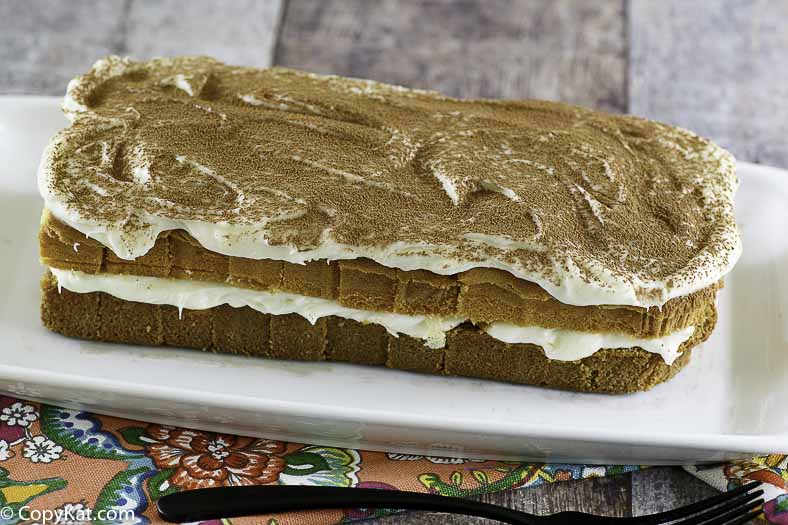 More Olive Garden Dessert Recipes to Try
Whip up any of these yummy Olive Garden desserts next.
Popular Dessert Recipes
Check out more of my easy dessert recipes and the best Olive Garden recipes here on CopyKat!
Ingredients
1

sponge cake

(10 to 12″ and about 3″ tall)

3

ounces

strong black coffee

3

ounces

brandy or rum

1 1/2

pounds

cream cheese

1 1/2

cups

superfine sugar

cocoa powder

for sprinkling on top
Instructions
Cut across middle of sponge cake, forming two layers, each about 1 and 1/2 inches thick.

Blend coffee and brandy. Sprinkle enough mixture over the bottom half of the cake to flavor it strongly. Don't moisten the cake too much or it may collapse.

Beat room temperature cheese and 1 cup sugar until sugar is completely dissolved and cheese is light and spreadable. Test for sweetness during the beating, adding more sugar if needed.

On the cut surface of the bottom layer, spread half of the cheese mixture.

Place the second layer on top.

Spread the remaining cheese mixture on top.

Sprinkle top with sifted cocoa.

Refrigerate the cake for at least two hours before cutting and serving.
Notes
An original Tiramisu recipe uses mascarpone cheese but if you can substitute cream cheese instead.
Rum is a great alternative to brandy if you don't have brandy in your home.
Tiramisu is served cold.  So make sure you refrigerate for at least 2 hours before serving.  Leave out at room temperature for 20 minutes before serving.  You can do another dust of cocoa powder before serving.
Tiramisu can stay in the refrigerator for up to 2 days.  The cake will get too mushy if left longer than that.
You can find more Olive Garden Recipes at CopyKat.com, the web's most popular destination for copycat restaurant recipes.
Nutrition
Calories:
2621
kcal
|
Carbohydrates:
610
g
|
Protein:
5
g
|
Fat:
24
g
|
Saturated Fat:
13
g
|
Cholesterol:
105
mg
|
Sodium:
385
mg
|
Potassium:
139
mg
|
Fiber:
0
g
|
Sugar:
601
g
|
Vitamin A:
960
IU
|
Calcium:
94
mg
|
Iron:
1.4
mg