Craving the delicious Captain Crunch Chicken from Planet Hollywood? Find out how to make this iconic dish with this easy copycat recipe! Juicy, tender chicken tenders encased in a crispy Cap'N Crunch cereal crust are the perfect balance of sweet and savory flavors. Level up your next family dinner or game night with crunchy chicken fingers cooked in a deep fryer, skillet, oven, or air fryer.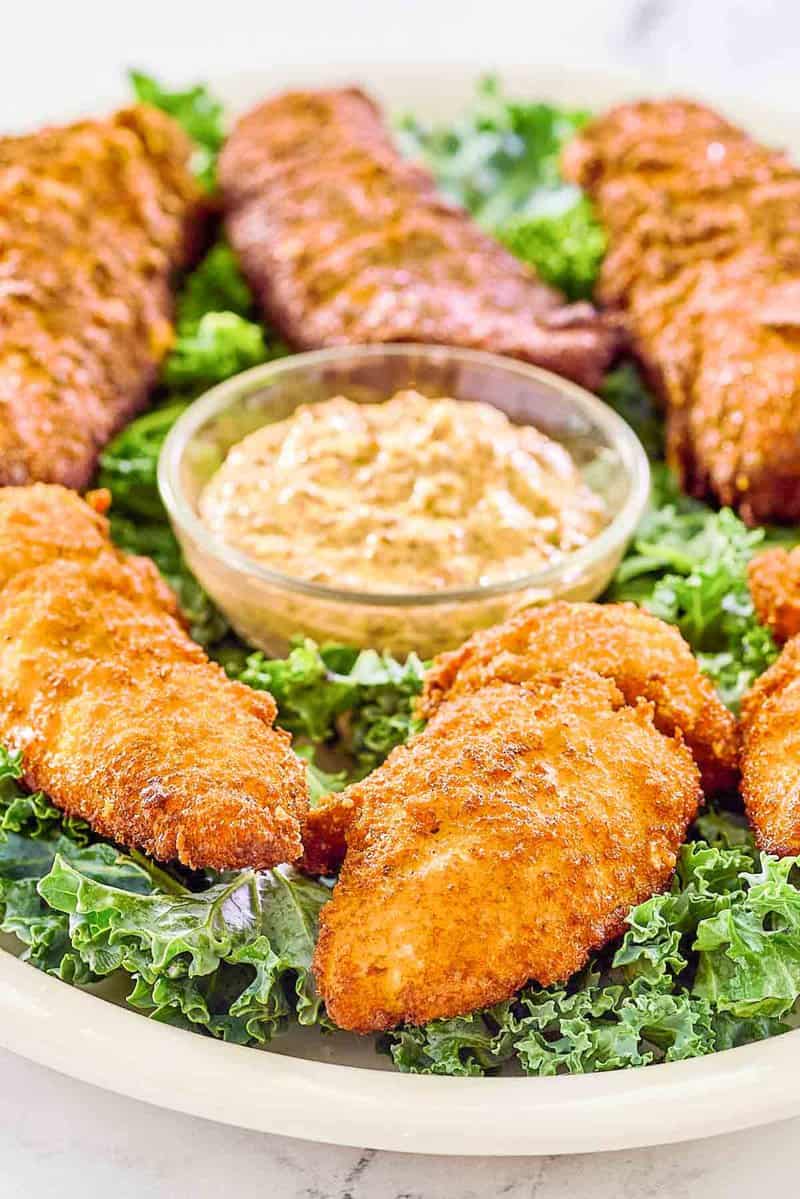 This post contains affiliate links. As an Amazon Associate, I earn from qualifying purchases.
Captain Crunch Fried Chicken
Planet Hollywood may have fewer locations than formerly, but you don't have to forgo their wonderful Captain Crunch Chicken. In fact, you can make Captain Crunch fried chicken in your very own kitchen.
This Captain Crunch breading is a sweet alternative to the usual (and some would say boring!) breadcrumb breading. Planet Hollywood Captain Crunch chicken is simple, sweet, and crunchy. The chicken is juicy and tender, while the Cap'n Crunch breading is crispy and sweet – it really is such a delightful combination!
This Captain Crunch chicken recipe gives you crispy, slightly sweet chicken tenders. The breading for the chicken includes Cap'n Crunch cereal. You might think oh, that cereal's sweet as all get-out, but once you add some salt for balance, you get a super delicious unique coating that's both crispy and slightly caramelized.
Why You Should Try This Recipe for Captain Crunch Chicken
Your kids will love these fried chicken tenders, especially if you tell them they're coated with Cap'n Crunch cereal to pique their interest. Believe it – this Captain Crunch fried chicken recipe has a delicious savory sweet crunch and is a real kid pleaser!
However, this Captain Crunch chicken recipe is not just for kids. It also makes a great snack when you have friends over to watch your favorite team play.
Captain Crunch Chicken Recipe – Ingredients
This recipe for fried chicken tenders needs the following simple ingredients:
Chicken breast tenders
Milk
Eggs
Cap'n Crunch cereal
Corn Flakes
Flour
Salt and pepper
Vegetable oil
Creole mustard (optional)
Using Peanut Butter Crunch will send you over the moon!
Instead of Creole mustard, serve with ketchup, your favorite dipping sauce, or other sauces (see below).
Equipment Needed
How to Make Captain Crunch Chicken
This Captain Crunch fried chicken recipe is quite easy to make. Here's what you do:
Make crumbs from the cereals.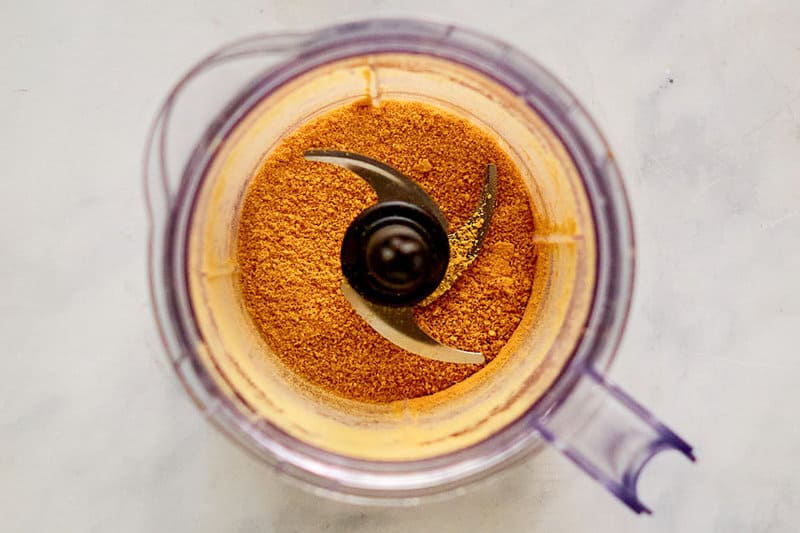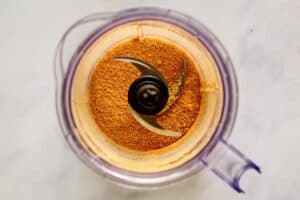 Combine the flour, onion, garlic, and pepper.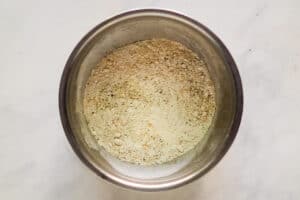 Beat together the eggs and milk.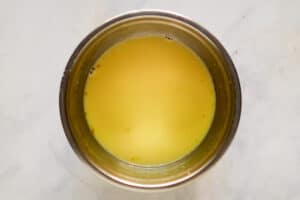 Dip the chicken in milk/eggs, flour, and cereal crumbs. Remember to shake off the excess flour and crumbs.
Deep fry at 325°F for 3 to 4 minutes.
Drain the chicken on a wire rack.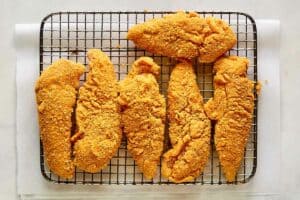 Serve with Creole mustard sauce if desired.
Recipe Notes and Tips
Cereal Crumbs: Another way of making cereal crumbs is to place the cereal in a resealable plastic bag. Then seal, carefully pressing out as much air as possible. Use a rolling pin to smash the cereal into crumbs.
Breading Tips: When breading, it's a good idea to use one hand for wet ingredients and one hand for dry ingredients. This will keep the ingredients from combining and getting clumpy. You may want to coat the chicken twice to ensure it stays nice and moist.
Heat: Do not cook the chicken at too high of heat. Because of the sugar in the cereal, it will burn. Keep the heat at medium and keep an eye on the chicken.
Alternative Cooking Methods
Skillet: If you don't have a deep fryer, you can use a large heavy skillet over medium heat or an electric skillet. The amount of oil will vary depending on the size of your skillet. Your goal should be to have approximately one inch of oil in the skillet, and the oil should be about halfway up the chicken. Cook the chicken in batches until golden brown and cooked through, about 5 to 7 minutes, turning them to prevent burning.
Only flip the chicken once in the skillet. It will get too greasy if flipped back and forth. Use a fork to lift up one corner to see how it looks before flipping it or removing it from the oil.
Air Fryer: Preheat your air fryer to 350°F. Spray each side of the coated chicken strips with a little cooking spray. Cook for 8 to 10 minutes, flipping halfway through.
Oven Baked: If you don't want deep-fried chicken, you can make baked chicken tenders. Here are the instructions:
Preheat your oven to 375°F.
Bread the chicken as per the recipe.
Place the breaded chicken strips on an oiled wire rack on top of a baking sheet.
Bake for 30 minutes.
How to Serve Planet Hollywood, Captain Crunch Chicken
This Planet Hollywood Captain Crunch Chicken is fantastic with Creole mustard, but you can use whatever dipping sauce you want. Suggestions are:
BBQ sauce
Dijon mustard
Maple syrup
Sriracha
You could also serve your fried chicken with mashed potatoes and baked beans. And once you've learned how to make Captain Crunch Chicken, try pairing it with homemade waffles for a super kid-friendly meal.
How to Store Fried Chicken
Refrigerator: Store leftovers in a shallow airtight container or wrap each piece in foil. It will last for up to 5 days. Fried chicken tenders actually taste really good without being reheated. However, if you have an air fryer, use it to reheat at 400°F for 5 to 7 minutes.
Freezer: Use either a shallow airtight container or wrap pieces individually in foil and place them in a freezer bag. Your frozen chicken tenders will be good for 3 to 4 months.
Reheating: If frozen, allow the chicken to thaw to room temperature before warming. Reheat in the microwave or oven. Note that refrying could cause your chicken to get an overcooked flavor or become slightly soggy.
Microwave – Wrap individual pieces of fried chicken in a paper towel and microwave in 30-second intervals.
Oven – layer a baking sheet with aluminum foil and place your fried chicken in a single layer on top. Cover with more foil and place in a preheated 400°F oven for about 20 minutes.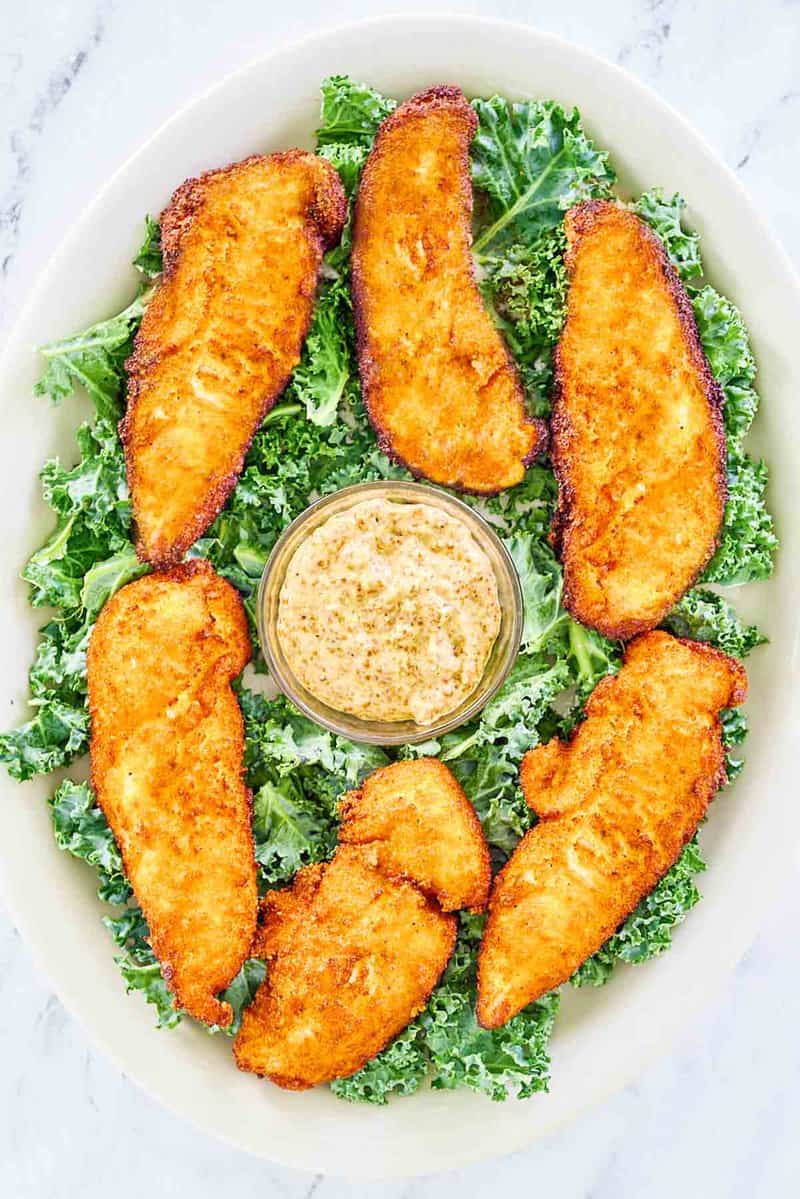 More Delicious Chicken Recipes
And if you can't get enough of fried chicken, here are some recipes to keep you busy frying:
More Savory Recipes with Cereal
Check out more of my easy chicken recipes and the best restaurant dinner ideas on CopyKat!
Ingredients
1

cup

Captain Crunch cereal

1

cup

cornflakes

1

cup

all-purpose flour

1

tablespoon

granulated onion

1

tablespoon

granulated garlic

2

teaspoons

ground black pepper

1

cup

milk

2

eggs

1

pound

chicken tenders

vegetable oil

for frying

creole mustard

to serve
Instructions
Pulse the Captain Crunch cereal and cornflakes in a

blender

until they reach the consistency of fine crumbs.

Set up a dredging station for the chicken: Mix the flour, onion, garlic, and pepper in a shallow bowl. Beat the eggs and milk in a second bowl. Place the cereal crumbs in a third bowl.

Dredge the chicken tenders first in the eggs, coating thoroughly, then in the flour, and finally in the cereal crumbs.

Deep fry at 325°F for 3 to 4 minutes, until the chicken is golden brown and reaches an internal temperature of 165°F. Serve with Creole mustard.
Nutrition
Calories:
383
kcal
|
Carbohydrates:
44
g
|
Protein:
34
g
|
Fat:
7
g
|
Saturated Fat:
2
g
|
Cholesterol:
160
mg
|
Sodium:
303
mg
|
Potassium:
686
mg
|
Fiber:
3
g
|
Sugar:
5
g
|
Vitamin A:
625
IU
|
Vitamin C:
3.2
mg
|
Calcium:
108
mg
|
Iron:
7.3
mg