No need to go to the restaurant when you can make Chick Fil A spicy chicken sandwich at home with a few simple ingredients. This delicious spicy fried chicken sandwich is perfect for lunch or dinner. Add lettuce, tomato, and pepper jack cheese to make it a deluxe.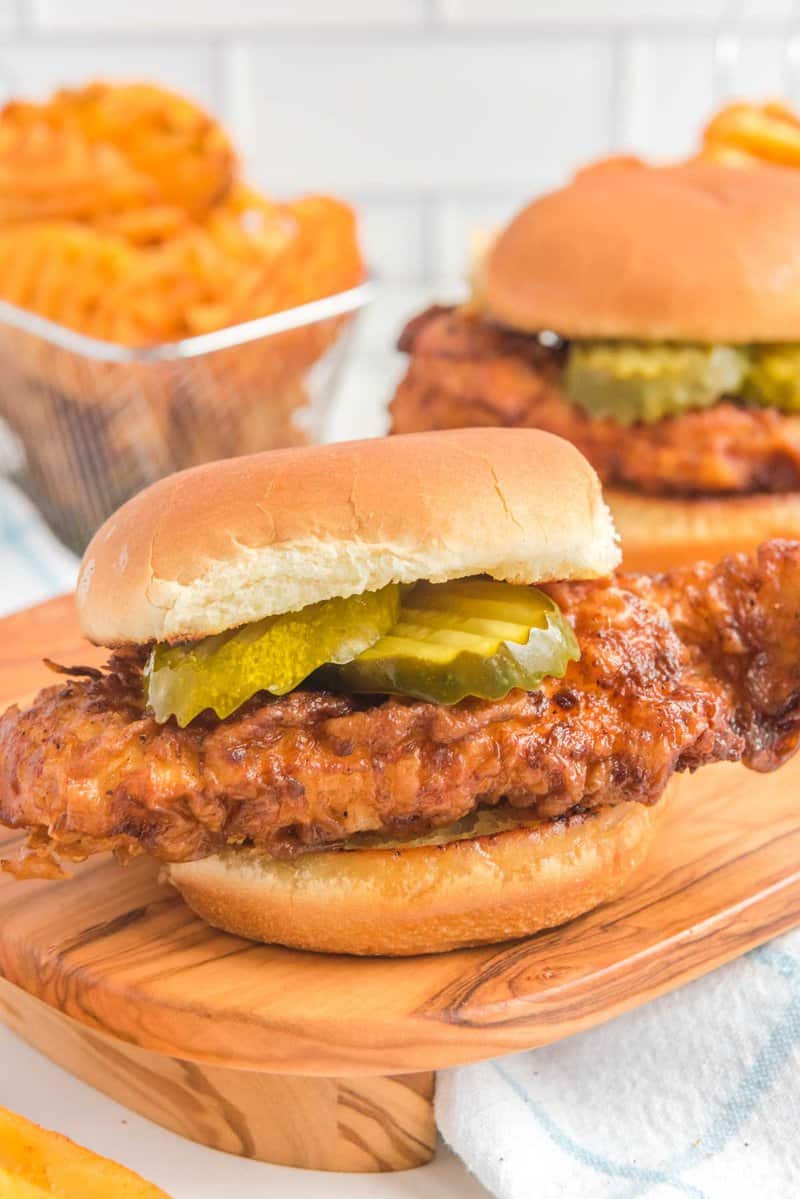 This post contains affiliate links. As an Amazon Associate, I earn from qualifying purchases.
What Makes the Chick Fil A Spicy Chicken Sandwich So Delicious?
This Chicken fil A Spicy Chicken Sandwich recipe is the perfect combination of heat, sweet, and tang. The spiciness of the hot sauce-flavored egg wash and the tang from the pickle juice chicken marinade provides the zip, while the brioche bun offers a sweet counter-balance.
Add a shaggy breading that not only delivers an extra crunch factor but helps keep the chicken perfectly tender, and you have one darn-good spicy crispy chicken sandwich.
Why You Should Try This Recipe
The little bit of effort it takes to make this spicy chicken burger at home is definitely worth it once you have your first bite. If you are nervous about frying, don't be. It's easier than you think. Just get yourself a good deep-fry thermometer or an inexpensive deep-fryer, and you won't have any problems.
Once you master this copycat Chick-Fil-A recipe, it's sure to become one of your go-to recipes when you are craving fast-food restaurant-style meals at home.
Spicy Chicken Sandwich Ingredients
For this Chick fil A Spicy Chicken Sandwich recipe, you'll need:
Chicken breast, boneless and skinless
Dill Pickle juice
Whole milk
Hot sauce
Egg
All-purpose flour
Powdered sugar
Salt
Freshly ground black pepper
Smoked paprika
Cayenne pepper
Oil for frying
Brioche hamburger buns
Butter
Pickle chips
To make it a deluxe spicy chicken sandwich, you'll need:
Lettuce
Tomato, sliced
Pepper Jack cheese slices
Peanut oil is best in this recipe for its high smoke point, but if you are concerned about allergies or other health concerns, you can use your favorite cooking oil instead.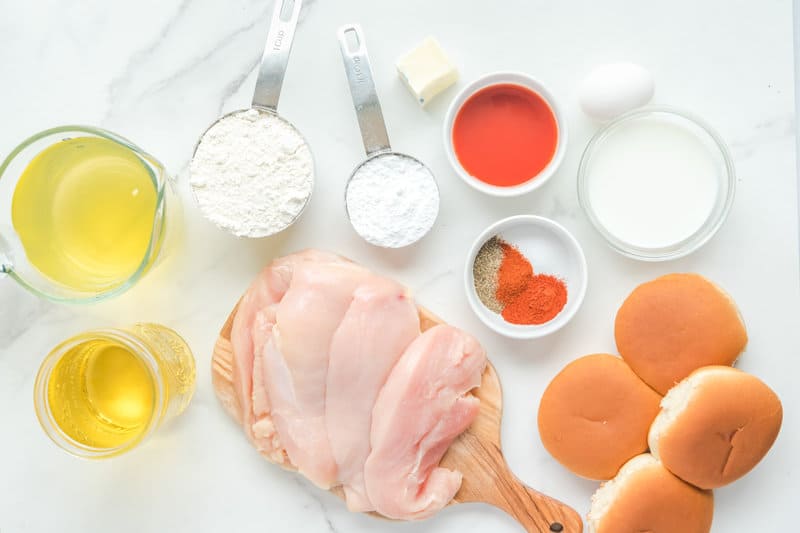 Ingredient Substitutions
Instead of a white brioche bun, you can use a toasted multigrain brioche bun or whole wheat bun.
For an extra bit of flavor, you can add some garlic powder to the spice mix.
Instead of pepper jack cheese, you can use Colby-Jack cheese or Cheddar Cheese.
How to Make a Spicy Chicken Burger
To prepare the chicken:
Trim any extra skin or fat from the chicken breasts.
Cut the boneless breast of chicken in half horizontally. If you use smaller chicken breasts, use four instead of two and pound them flat to ensure they cook evenly.
Marinade the chicken breasts in a covered bowl of pickle juice for about 2 hours in the fridge.
To bread the chicken:
Place two large shallow bowls and a wire rack on a rimmed cooking tray on the work surface.
Pour the milk, hot sauce, and egg into the first bowl and whisk well.
In the second bowl, stir together the flour, powdered sugar, salt, black pepper, smoked paprika, and cayenne.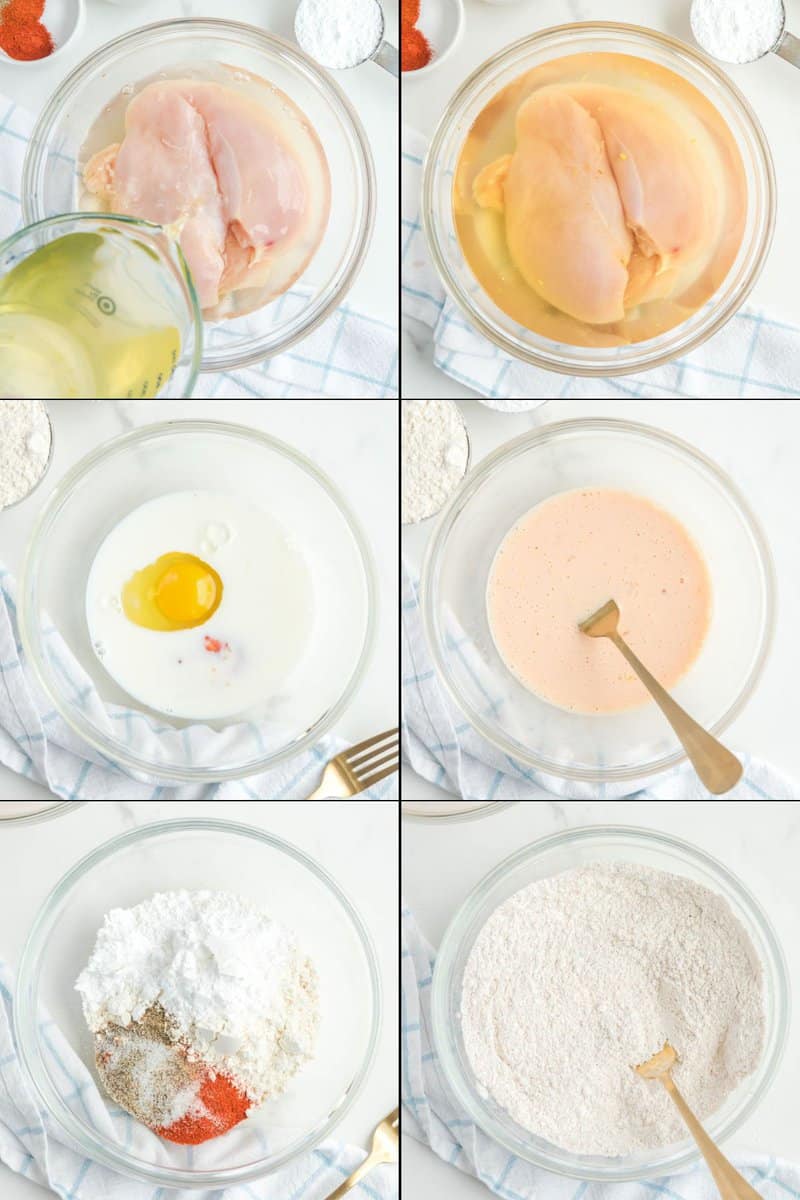 Remove the chicken pieces from the pickle juice and pat them dry on paper towels. Discard the pickle juice.
Dip one piece of chicken into the bowl with the wet ingredients. Shake off any excess and transfer the chicken to the bowl with the dry ingredients. Coat the chicken well with the flour mix and lightly shake off the excess.
Place the breaded chicken on the wire rack and repeat with the remaining chicken pieces.
Place the baking tray with the breaded chicken in the fridge to set up while heating the oil.
To fry the chicken:
Place a clean wire rack over a rimmed cooking tray close to where you will fry the chicken.
Pour the oil for frying into a Dutch oven-style pot. Attach a deep-fry thermometer to the side of the pot. You can also use a deep-fryer for this recipe.
Heat the oil to 350°F.
Remove the chicken from the fridge and carefully add one or two pieces to the hot oil. You will need to work in batches to prevent the oil temperature from falling below 325°F.
Fry the chicken for three to four minutes per side. The chicken should be golden and very crispy.
Remove the chicken from the hot oil using a spider. Use an instant-read thermometer to double-check that the interior of the chicken is at least 165 degrees. If it isn't, put it back in the oil for a minute or two oil longer.
Repeat with the remaining chicken pieces.
To assemble the chicken sandwich:
Butter the buns and toast them butter-side down in a skillet over medium-low heat.
Place the breaded chicken and pickle slices on the toasted bottom bun.
Cover with the top bun and serve.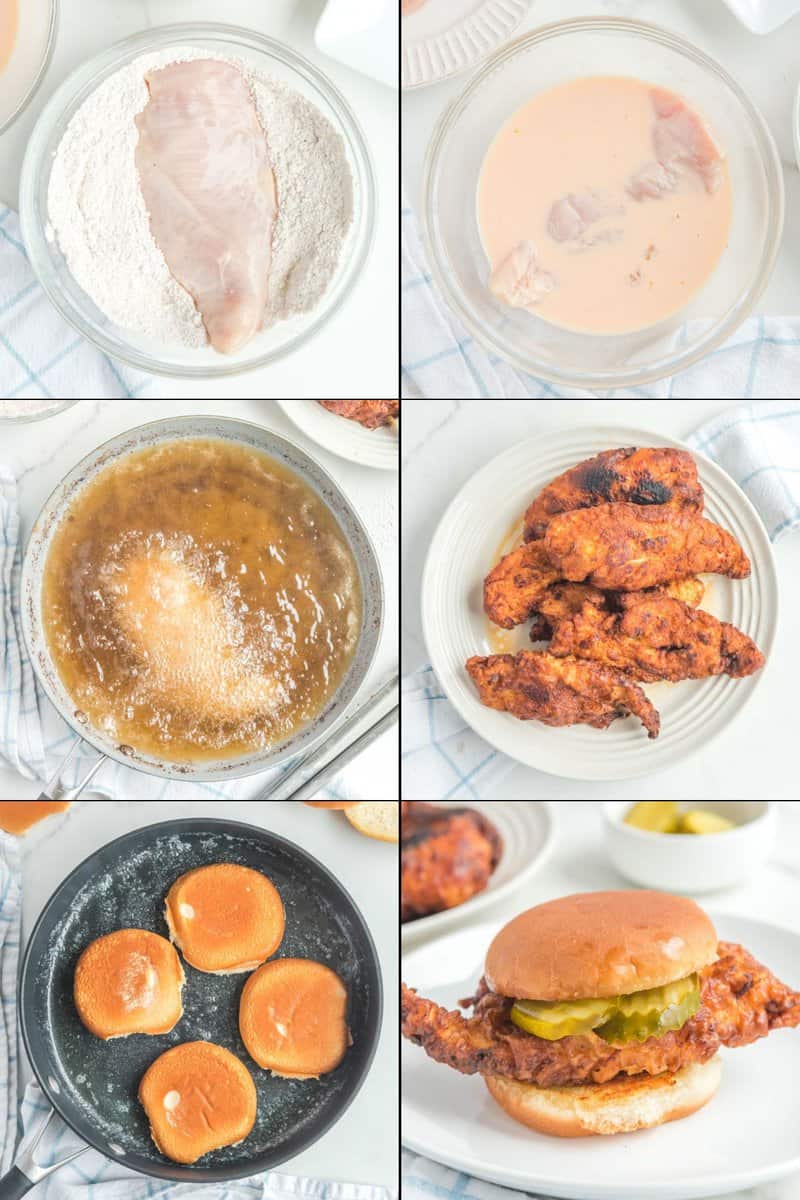 For a spicy deluxe chicken sandwich:
Place lettuce, sliced tomato, breaded chicken, pepper jack cheese, and pickle slices on the toasted bottom bun.
Cover with the top bun and serve.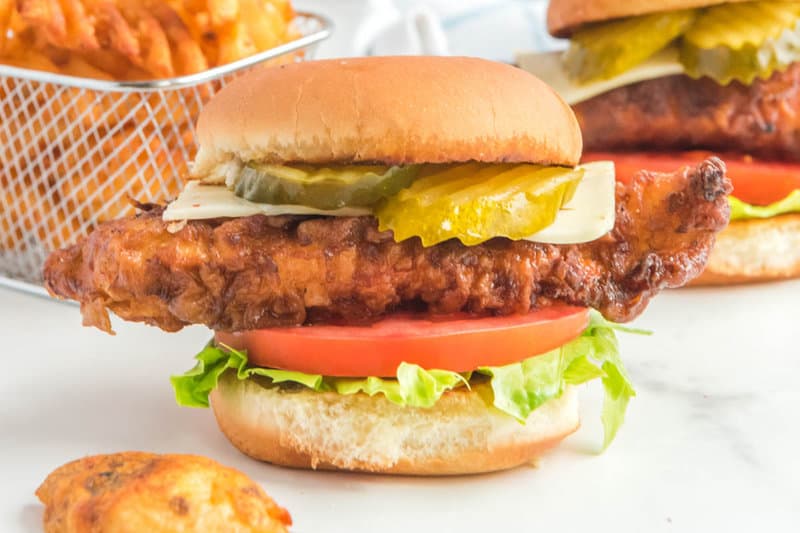 What to Serve With This Spicy Chicken Sandwich
Chick-fil-A is famous for its waffle-cut fries, but regular fries will taste just as good. You can also serve the chicken burgers with onion rings, cole slaw, or a salad.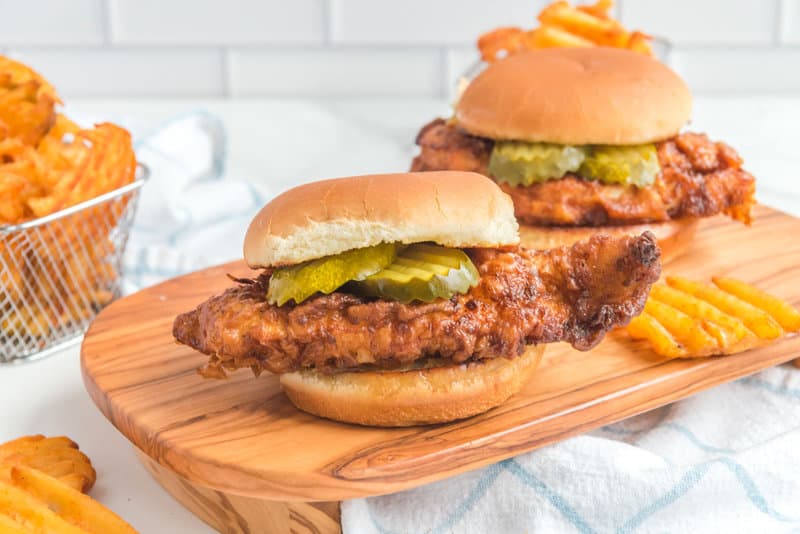 How to Store the Leftovers
Keep any extra fried chicken patties in an airtight container in the fridge for a maximum of three days. You can freeze leftovers for up to two months in a freezer-safe bag.
What Is the Best Way to Reheat a Spicy Chicken Sandwich
Reheating in an air fryer is ideal:
Preheat the air fryer to 365°F.
Heat the thawed fried chicken burgers for about five minutes or until hot.
If you don't have an air fryer, you can reheat the chicken in the oven:
Preheat the oven to 400°F.
Lay the fried chicken burgers on a baking sheet and cover the baking sheet with aluminum foil.
Bake for 10 minutes. Remove the foil, flip the chicken patties, and cook them for five more minutes or until heated through.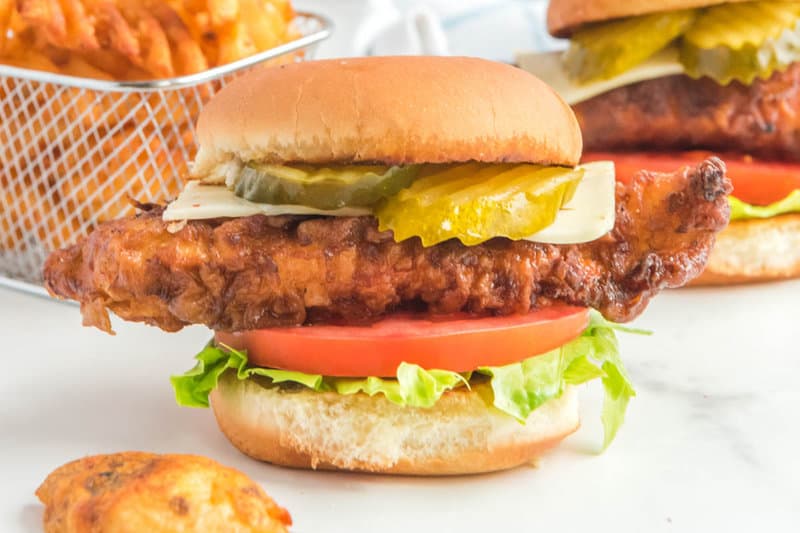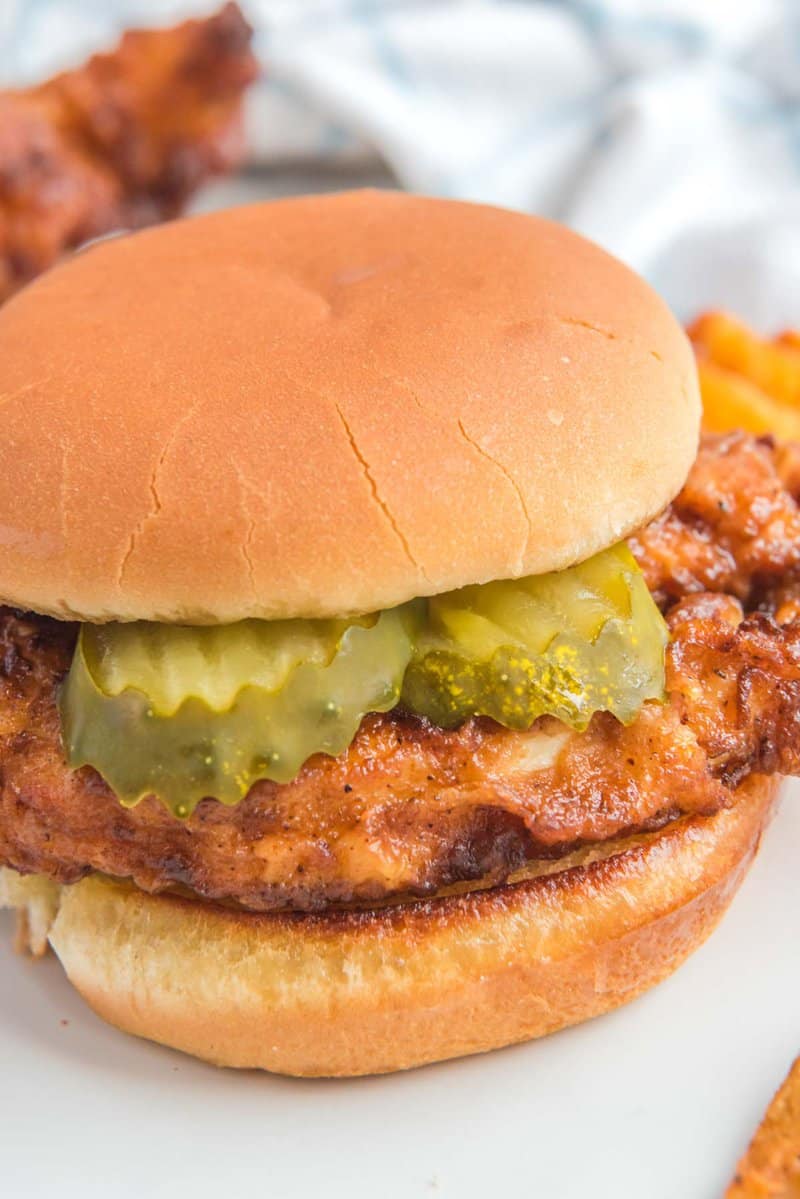 More Chick-Fil-A Copycat Recipes
Favorite Fast Food Burgers and Sandwiches
Check out more of my easy sandwich recipes and the best copycat Chick Fil A recipes on CopyKat!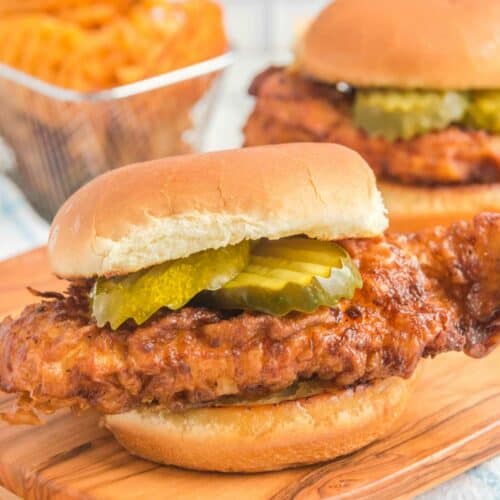 Ingredients
2

boneless skinless chicken breasts

butterflied

2

cups

pickle juice

total juice from a 32-ounce jar of pickle chips

1

large

egg

1/2

cup

milk

1

tablespoon

hot sauce

1

cup

all-purpose flour

2

tablespoons

powdered sugar

2

teaspoons

salt

1

teaspoon

pepper

1

teaspoon

paprika

1/2

teaspoon

cayenne pepper

peanut oil

for frying

2

tablespoons

butter

4

brioche hamburger buns

8

hamburger dill pickle chips
Optional Toppings
4

leaves

iceberg or green leaf lettuce

4

tomato slices

4

slices

pepper jack cheese
Instructions
Place the chicken into a large mixing bowl with pickle juice. Cover and refrigerate for 2 to 3 hours. Then drain the chicken and pat dry.

Set up a dredging station for the chicken: Beat the egg, milk, and hot sauce in a medium bowl. In another medium bowl, Mix the flour, powdered sugar, salt, pepper, paprika, and cayenne pepper in another medium bowl.

Heat the oil to 350°F in a heavy-duty pot over medium heat.

Working one chicken breast at a time, dunk one butterflied chicken breast into the egg mixture and shake off any excess. Then dredge in the flour mixture, covering completely. Immediately place the chicken into the oil and fry for 3 to 4 minutes on each side until golden brown. Then remove from the oil and let drain on paper towels. Repeat this process for each chicken breast. Be sure to fry each chicken breast immediately after dredging.

Butter the cut side of the brioche buns, and toast them cut-side down in a separate skillet over medium-low heat.

Assemble the sandwiches by placing one piece of fried chicken on each bottom bun. Add 2 pickle slices over each piece of chicken and cover with the top bun. You can also make this a deluxe sandwich by adding lettuce, tomato, and pepper jack cheese.
Notes
Make sure the oil doesn't get too hot, or the breading will burn before the chicken cooks. Test a small piece before frying an entire breast.
This recipe works best with butterflied chicken breasts. The chicken will expand while cooking, so an entire breast may be too large to use.
Nutrition
Calories:
582
kcal
|
Carbohydrates:
52
g
|
Protein:
24
g
|
Fat:
31
g
|
Saturated Fat:
16
g
|
Polyunsaturated Fat:
2
g
|
Monounsaturated Fat:
4
g
|
Trans Fat:
0.2
g
|
Cholesterol:
219
mg
|
Sodium:
1348
mg
|
Potassium:
270
mg
|
Fiber:
1
g
|
Sugar:
1
g
|
Vitamin A:
1051
IU
|
Vitamin C:
1
mg
|
Calcium:
78
mg
|
Iron:
2
mg