Love Red Robin Onion Rings? You can make these crispy Panko encrusted onion ring at home.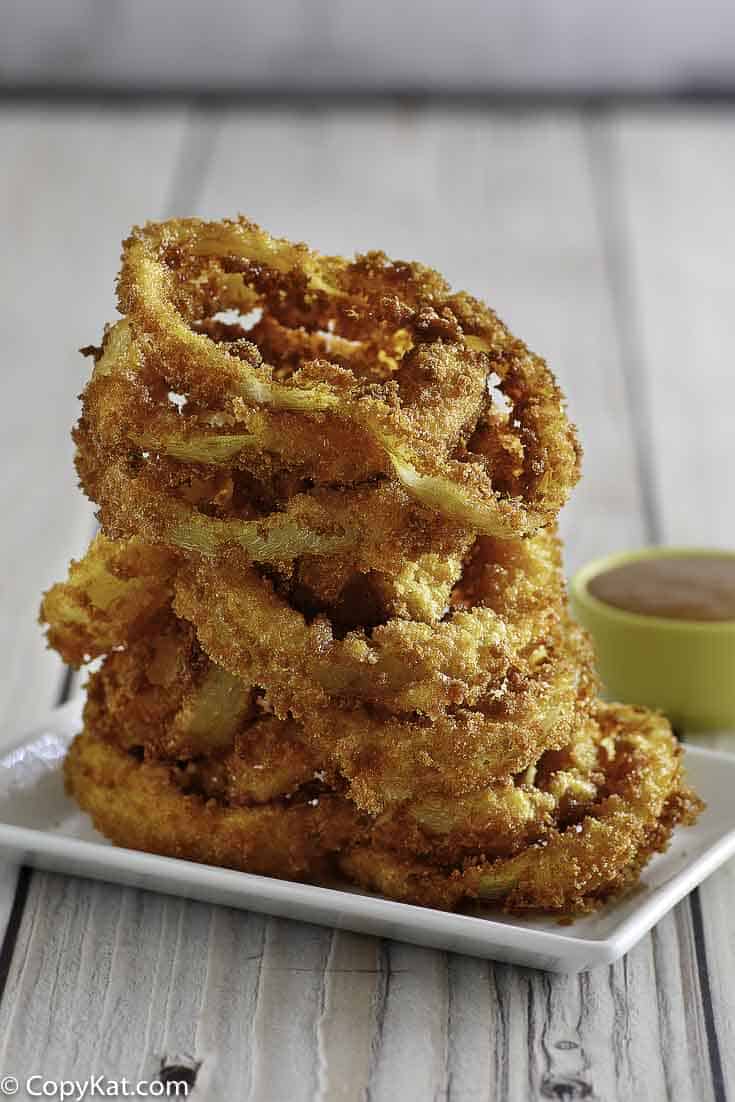 Red Robin is renowned for its wide array of burgers that can satisfy just about any burger lover – you can even get a veggie burger. Along with your burger, you have a choice of sides including onion rings. When I go to Red Robin, I always order their onion rings. They are thickly cut and evenly breaded which makes them so crunchy. And, they taste really good! You can even order a tower of onion rings that your kids will love to help make lower.
The Name Red Robin Came From the Song
Red Robin got its start around 1940 when the owner (Sam) of a Seattle tavern changed its name to Sam's Red Robin. This was because he loved to sing When the Red, Red Robin Comes Bob, Bob, Bobbin' Along with the barbershop quartet that he was part of. In 1969, Gerry Kingen bought the bar and dropped "Sam's" from the name but kept Red Robin. After ten years of success, Kingen decided to sell franchises, and today there are more than 550 Red Robins bobbin' along across the United States and Canada.
What Type of Onions are Best for Onion Rings?
There is really no right answer to this question. A sweet onion like Vidalia or Walla Walla is an excellent choice, but if you prefer a milder taste, red or white onions will be just fine. If you want a bit more "bite" in your onion ring, go for a yellow onion. Click here for a guide to cooking with every type of onion.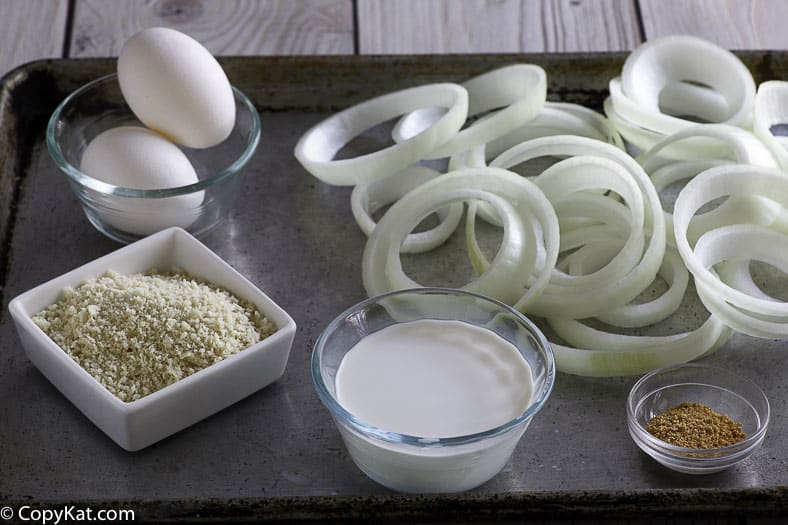 What is Panko?
Panko is a type of breadcrumbs, but a little bit different from your average breadcrumbs – Panko is lighter, crispier and flakier. Because of its comparative lightness, Panko will absorb less oil and grease making it perfect for breaded fried foods like onion rings. The word panko is a translation of a Japanese word and panko is widely used for light breading in Japanese dishes. If you would like to learn more about panko breadcrumbs and how to make your own, copykat will tell you – just click here.
Like more Copykat Red Robin recipes? Just Check out all of these recipes
Red Robin Campfire Sauce
Red Robin Pickle Nickels – Fried pickles – why not?
Red Robin Screaming Zombie Drink – Warning – highly alcoholic!
Red Robin Freckled Lemonade
And, if you really love onion rings, try these CopyKat onion ring recipes.
Dairy Queen Onion Rings
Fat Ronnie's Fried Onion Rings
Simon and Seafort's Onion Rings
Sonic Onion Rings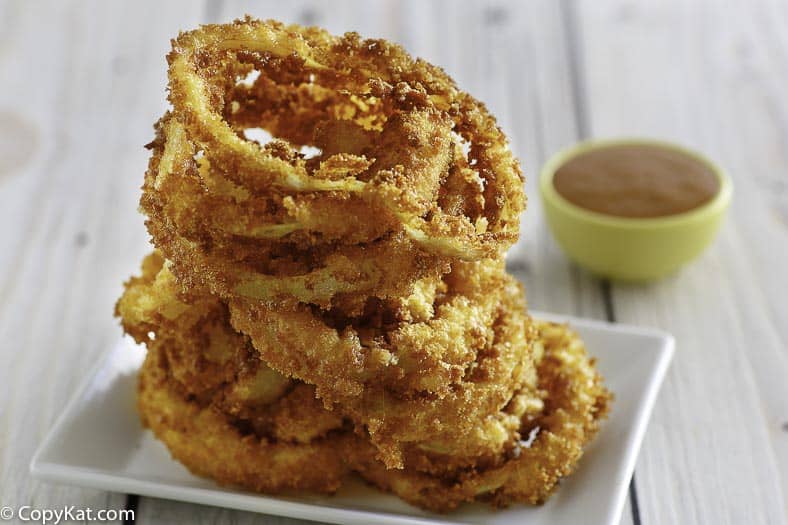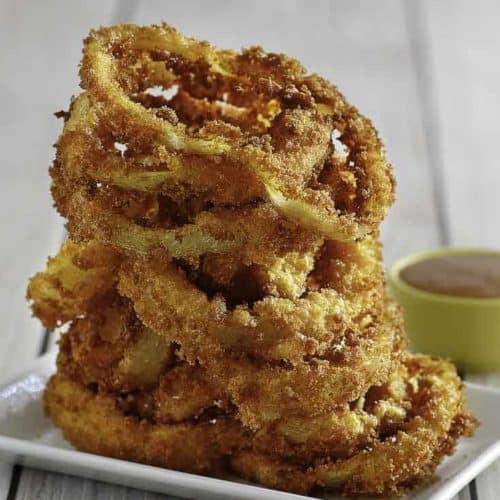 Ingredients
2

large

sweet onions

1

cup

flour

1/2

teaspoon

seasoned salt

1/4

teaspoon

ground black pepper

1

cup

whole milk

2

eggs

2

cups

panko breadcrumbs

vegetable oil for frying
Instructions
Preheat vegetable oil to 350 degrees. Add enough oil to fill the cooking container to 3 inches deep.

Peel onions, and cut into ½ to ¾ inch rings. Separate onions into rings. Take the center rings and save for another recipe. You can chop those small rings for chopped onions in another recipe.

Set up a breading station by placing three small bowls or dishes into a row. In the first shallow container add flour, seasoned salt, and black pepper, stir to combine. In the second dish combine the eggs with 1 cup of milk. Whisk the eggs and the milk together until they are well-combined. Finally, in the third container, add the panko breadcrumbs.
Breading the Onion Rings
First, dip the rings into the flour, and allow them to rest a couple of minutes on a wire rack. Then dip the floured onion ring into the egg wash mixture. Shake the onion ring gently to remove the excess egg wash, then place into the panko breadcrumbs. Coat the panko breadcrumbs over the onion ring well. Place the onion ring back onto a wire rack and allow it to rest a minute or two before cooking. This will help keep the coating in place.
Cooking the Onion Rings
Make sure you heat the oil to 350 degrees. You can use a deep fryer, or you can simply use a frying pan with 2 or 3 inches of oil in the frying pan. Cook for two to three minutes filling flipping half way through cooking. Remove onion ring and drain on a wire rack before serving.
Recipe Tips for the Cook
Sometimes panko breadcrumbs aren't very uniform coming out of the package. You can place your panko crumbs into a plastic bag and gently roll a rolling pin over them to make them more uniform. The Panko crumbs will coat the onions better this way.
Nutrition
Calories:
446
kcal
|
Carbohydrates:
60
g
|
Protein:
10
g
|
Fat:
18
g
|
Saturated Fat:
2
g
|
Cholesterol:
6
mg
|
Sodium:
550
mg
|
Potassium:
369
mg
|
Fiber:
3
g
|
Sugar:
13
g
|
Vitamin A:
100
IU
|
Vitamin C:
7.9
mg
|
Calcium:
162
mg
|
Iron:
3.3
mg