Are you looking for a soft cheese spread with a creamy texture that goes well with everything? Well, look no further – Boursin cheese is delicious. It's a versatile spread great for crackers, a charcuterie board, and sandwiches.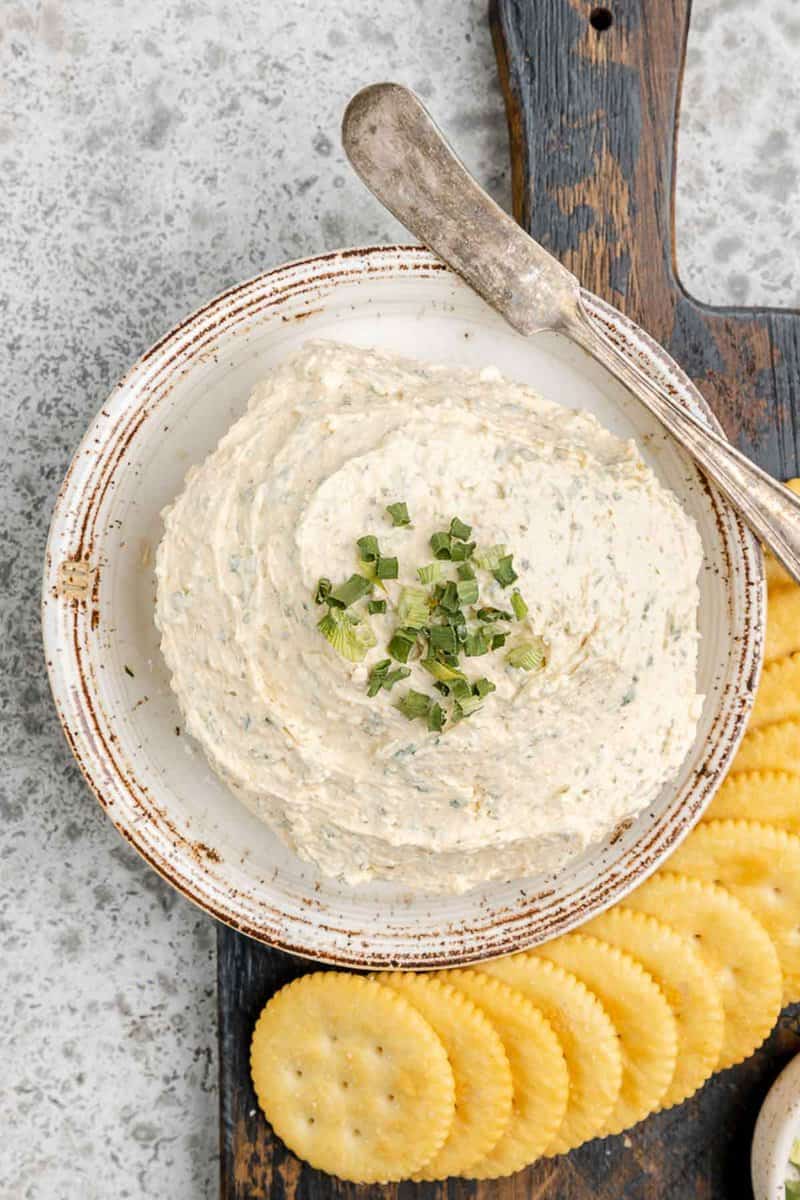 This post contains affiliate links. As an Amazon Associate, I earn from qualifying purchases.
What Is Boursin Cheese?
Boursin is the brand name given to a creamy, soft French cheese called Gournay that is flavored in various ways. This delicious cheese, with its creamy texture, was created by François Boursin in 1957.
Originally, Boursin named it Gournay after his small hometown in Normandy, and production was very limited. Later, Groupe Bel acquired Boursin's company, and production began in the United States. However, even though Boursin is now available in over 30 countries, it has achieved its maximum popularity in France.
The original Boursin was made from fresh cream and soft cheese flavored with herbs and spices. Today, this creamy-textured cheese is available in a variety of flavors – herbs, tomato, onion, chive, figs, nuts, garlic, pepper, shallots, cranberries, and more.
Why You Should Try This Recipe for Boursin Cheese
A few ounces of Boursin cheese in the store will set you back seven dollars or more. However, you can enjoy this delicious cheese spread anytime at home without breaking your food budget. You get a cheese that's not just more economical but fresher, tastier, and healthier – no preservatives!
This homemade Boursin recipe has cream cheese as its base instead of the classic (and expensive) Gournay cheese which most of us don't have access to. All you need is inexpensive creamy cheeses to create a really mouthwatering copycat Boursin.
You don't have to be a professional chef to make creamy Boursin garlic cheese your guests will love. Putting ingredients in a food processor and processing it is all it takes. This copycat Boursin cheese recipe makes a fabulous spreadable cheese; everyone will ask you how to make it.
Homemade Boursin cheese is also an excellent idea for a gift. Pack it into a cute Weck Jar, and don't forget to attach the recipe.
Ingredients You Will Need to Make This Soft Cheese
This homemade Boursin cheese recipe is made with simple ingredients as follows:
Garlic
Cottage cheese
Cream cheese
Dried chives
Dried parsley flakes
Salt
Red Pepper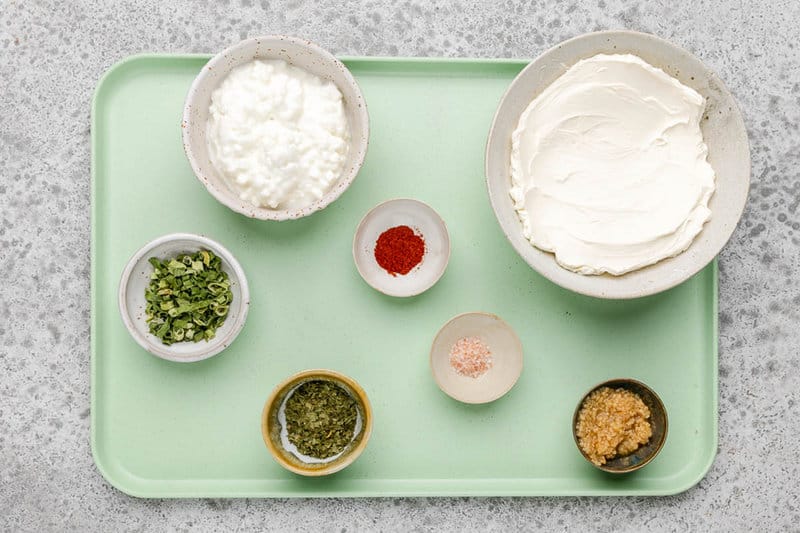 How to Make Homemade Boursin Cheese
If you have a food processor, nothing could be simpler than making this delightful creamy-textured cheese. Here are the steps:
Using a food processor, finely chop the garlic.
Add the remaining ingredients and process until smooth.
Use a rubber spatula to transfer the cheese to a dish.
Cover and refrigerate until serving.
Tip: Rubbing dried herbs between your fingers helps to release their flavors.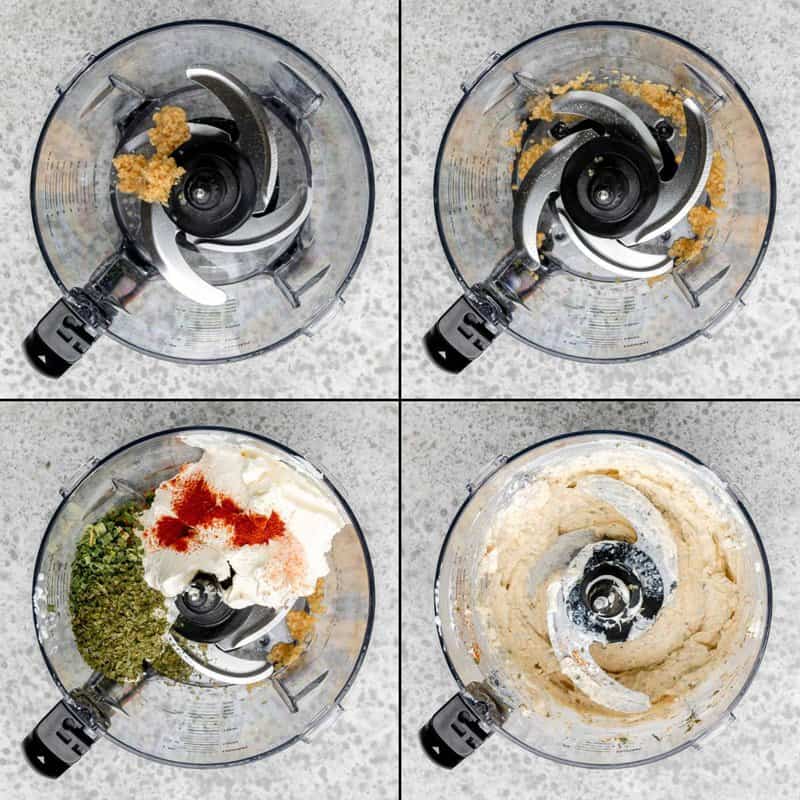 Recipe for Boursin Cheese – Variations
You can easily customize your Boursin cheese and even create your very own signature blend. For instance, you could use:
Basil, marjoram, or thyme.
Caramelized onions and herbs.
Chopped figs and a drizzle of balsamic.
Onion powder to give your soft cheese a little extra oomph.
Pumpkin spice or cinnamon sugar for a sweet Boursin spread.
Shallots and chives.
Red pepper flakes for an extra kick of heat.
For the holidays, dried cranberries, a touch of fresh rosemary, and a little honey. Some toasted pecans add an extra seasonal flair.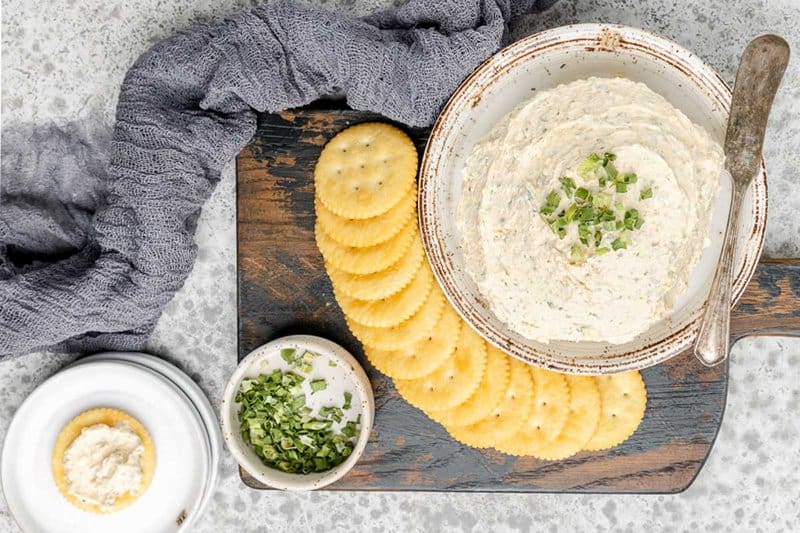 How to Serve Boursin Cheese
One of the great things about this soft herb cheese with its delightful creamy texture is that it goes well with so many things. And this Boursin cheese recipe gives you a cheese that's perfect for a gathering, especially a cheese and wine party. Here are some ways to use it:
Boursin cheese, with its creamy texture, makes a perfect appetizer. It can be used like butter and spread on bread, crackers, crostini, and bagels.
Perfect as a dip for raw vegetables such as broccoli, celery, carrots, and peppers on your crudité tray.
Stuff it into hollowed-out grape tomatoes or cherry tomatoes.
Boursin will always be a hit on your cheese board. Drizzle it with some olive oil for an extra touch.
Serve it with salty prosciutto on a charcuterie board.
Place it in a baking dish and bake it in the over for a hot cheese dip.
Add it to salads.
Boursin cheese melts well to create a creamy sauce for pasta. Mix it with some pasta water to make a sauce for Boursin cheese pasta.
Spread it over chicken and bake it.
Use it to add wonderful flavor to baked potatoes, scalloped potatoes, or mashed potatoes.
Try mashing it up with cauliflower.
You can confidently pair this cheese with either a dry white wine or a fruity red wine such as Beaujolais. See these Boursin wine pairings.
How to Store Boursin Cheese
This Boursin cheese recipe is ideal for making ahead as it will keep in the fridge for 10 to 12 days. Store in an airtight container, just large enough to hold the cheese so there is as little air as possible. This way, you can always have some ready when unexpected company drops by.
Because this cheese tastes best at room temperature, let it sit out for a bit before serving.
Freezing homemade Boursin cheese is not recommended. The texture will change during the freeze/thaw process, giving you a grainy spread.
Favorite Cheese Appetizer Recipes
Popular DIY Recipes
Check out more of my easy appetizer recipes and the best DIY recipes on CopyKat!
Many thanks to Karen for sharing this recipe.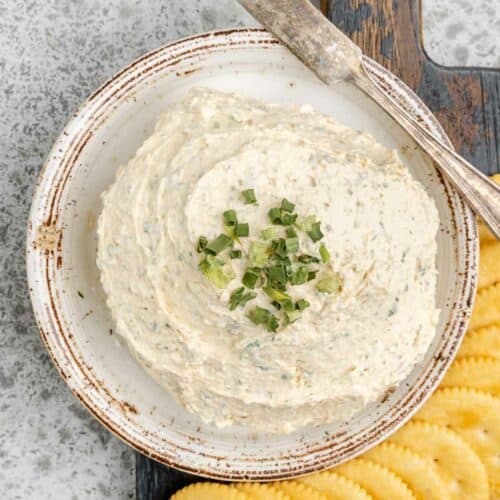 Ingredients
3

teaspoons

chopped garlic

1/2

cup

cottage cheese

6

ounces

cream cheese

softened

2

teaspoons

dry chives

2

teaspoons

dry parsley flakes

1/8

teaspoon

salt

1/8

teaspoon

ground red pepper
Instructions
In food processor bowl add garlic. Process until finely chopped, stopping once to scrape down the sides.

Add remaining ingredients and process until smooth stopping twice to scrape down sides.
Nutrition
Calories:
70
kcal
|
Carbohydrates:
1
g
|
Protein:
2
g
|
Fat:
6
g
|
Saturated Fat:
3
g
|
Cholesterol:
20
mg
|
Sodium:
122
mg
|
Potassium:
38
mg
|
Sugar:
0
g
|
Vitamin A:
260
IU
|
Vitamin C:
0.4
mg
|
Calcium:
27
mg
|
Iron:
0.1
mg