Indulge in the warm, luscious comfort of Cracker Barrel French Toast, easy to recreate at home with this copycat recipe. Start your day by soaking thick slices of tangy sourdough bread in a creamy egg mixture. A sizzle in the skillet later, you'll enjoy golden-brown slices begging to be slathered with rich butter and drizzled with sweet syrup. A homemade breakfast classic perfect for weekends and brunch.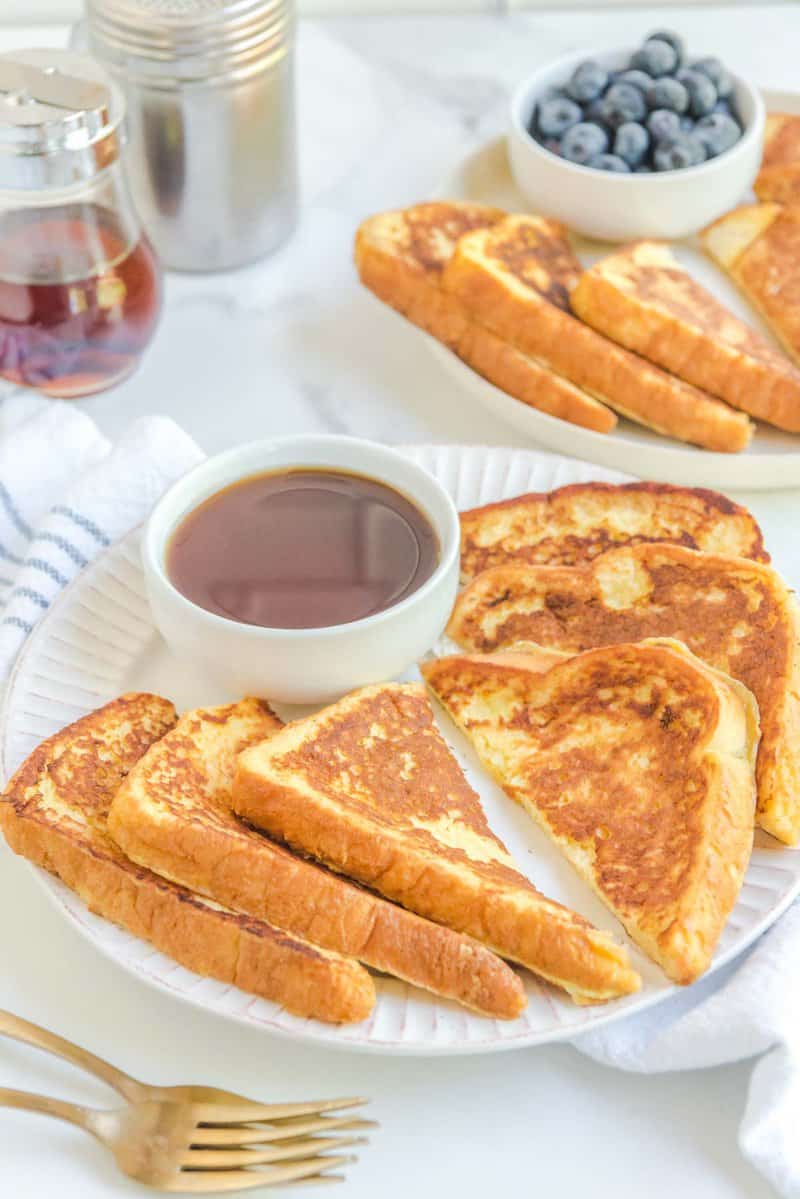 This post contains affiliate links. As an Amazon Associate, I earn from qualifying purchases.
What Makes Cracker Barrel French Toast So Good?
Cracker Barrel Momma's French Toast Breakfast is much more than your everyday French toast. The slight tang of sourdough bread is softened by the sweetened egg and milk custard base flavored with a hint of vanilla.
Momma's French Toast is a favorite breakfast item at the restaurant, and now you can make your own version at home with this copycat Cracker Barrel French Toast recipe.
Why You Should Try This Recipe
This breakfast is all about taste and convenience. Mornings are hard enough without trying to whip up an all-natural and satisfying breakfast. But if you have about an hour of extra time on the weekend, you can prepare enough portions of Sourdough French Toast to carry you through the week!
Check out the section below on "How to Make It Ahead and Serve It Later" for tips on preparing breakfast for a crowd in advance.
Sourdough French Toast Ingredients
For Cracker Barrel French Toast, you'll need:
Eggs
Milk
Vanilla extract
All-purpose flour
Powdered sugar
Salt
Sourdough bread
If possible, get a loaf of uncut sourdough bread and slice it to your preferred thickness. Extra thick French toast allows the exterior to get crispy while the center stays soft.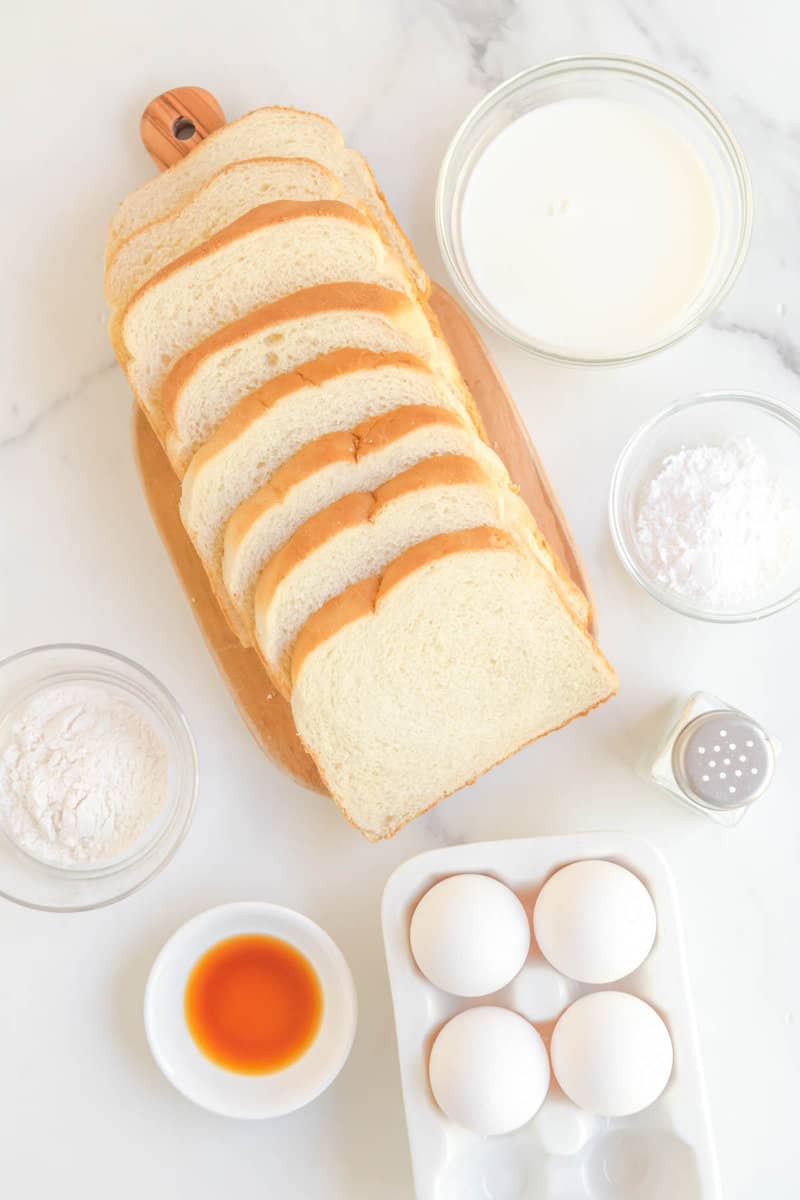 How to Make Cracker Barrel Sourdough French Toast
To make the custard mixture for Momma's French Toast:
In a mixing bowl, whisk the eggs, milk, and vanilla extract until smooth and without any visible streaks of egg yolk remaining.
In a separate bowl, whisk together the flour, powdered sugar, and salt.
Gradually add the dry ingredients to the wet ingredients while whisking.
Strain the custard mixture through a fine sieve into a large bowl or large container with a flat bottom.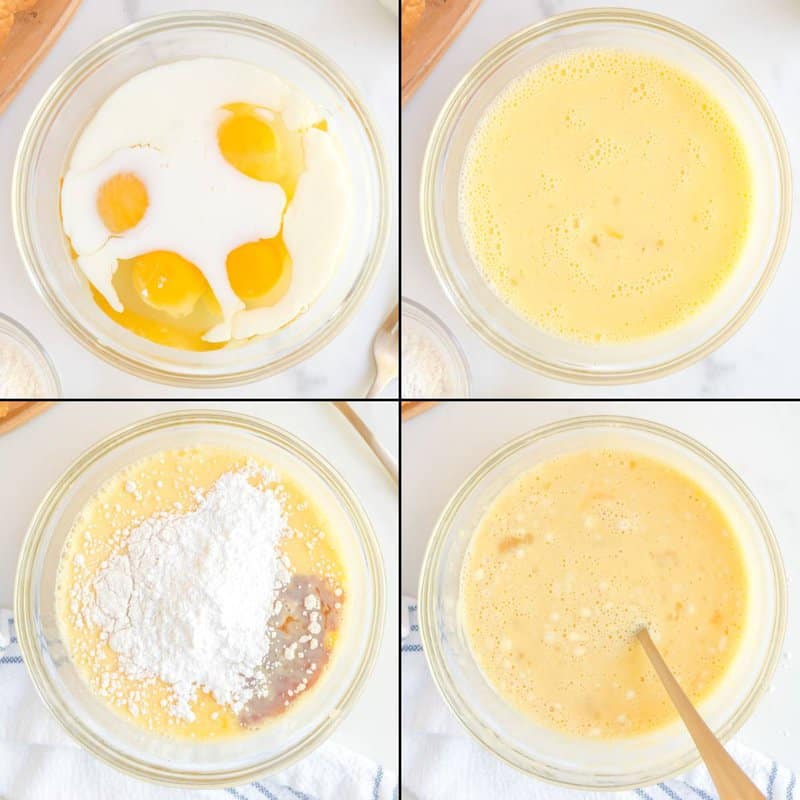 To cook the sourdough French toast:
Heat a heavy-bottom pan, large skillet, or a griddle over medium-high heat. The secret to great French toast is the proper temperature, so it's a good idea to use a temperature gun to check the cooking surface throughout the cooking process.
While the cooking surface is heating, place slices of sourdough bread in the container with the custard mixture.
Allow the bread to soak in the custard mixture for about a minute per side. The exact time will depend on the thickness of the bread, but you want the liquid to soak through to the center so it isn't dry after cooking.
Grease the cooking surface with butter and cook the custard-soaked slice of bread on each side until golden brown. Repeat with the remaining slices. Adjust the temperature to maintain a steady 350°F so you won't get burnt French toast.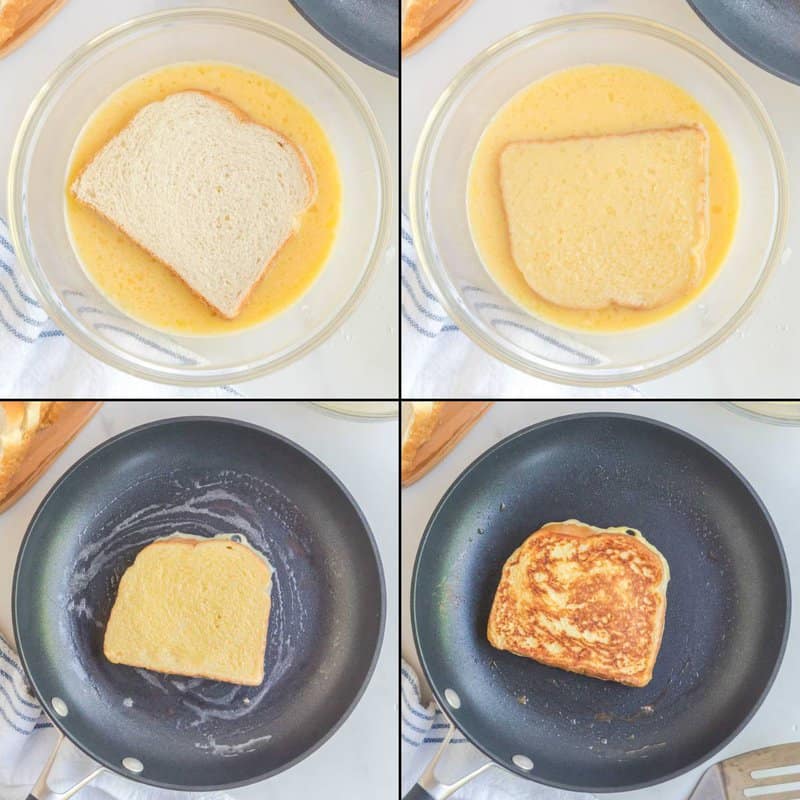 Sprinkle the French toast with powdered sugar and diagonally cut each slice in half. Arrange the pieces on a serving platter. If you have to cook in batches, cover the platter with aluminum foil to keep the food warm while making the remaining French toast.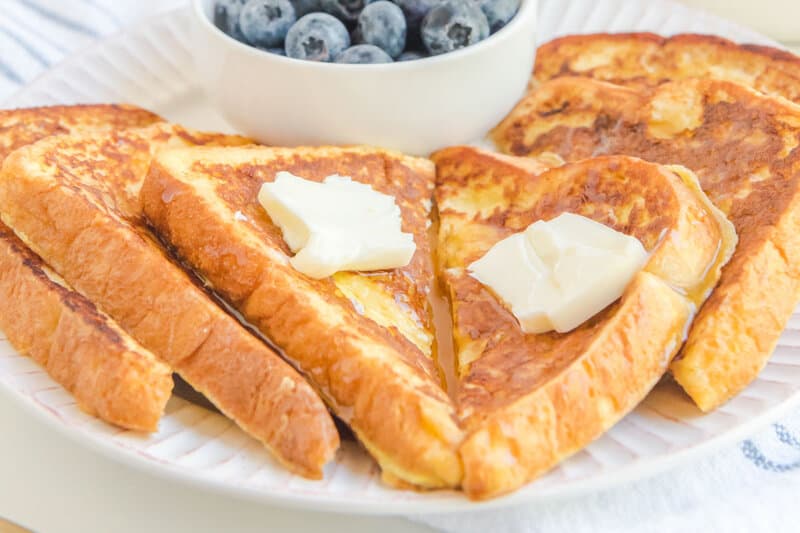 What Can You Serve Sourdough French Toast With?
Real maple syrup and softened butter or margarine are standards, but you can get even more creative. Try Texas Roadhouse Butter or a favorite fruit-flavored syrup for even more flavor.
French toast with sourdough bread is great on its own but even better when served with other breakfast favorites like candied bacon, sugar-cured ham, scrambled eggs, cinnamon apples, a slice of hashbrown casserole, or creamy grits.
How to Make It Ahead and Serve It Later
Feeding a crowd for breakfast doesn't need to be stressful. You can easily make this recipe beforehand and hold the cooked French toast in the oven until serving.
Preheat the oven to the warm setting and line a baking tray with parchment paper. Place the cooked French toast on the baking tray and tent with aluminum foil. Place the tray in the oven to keep warm. Serve within an hour.
How to Store Momma's Sourdough French Toast
Stack the pieces of cooled French toast with paper towels between them and put them in a plastic bag in the fridge. Store for up to three days.
French toast with sourdough bread freezes wonderfully, too. Lay the slices of room-temperature French toast on a wax paper-lined baking tray and pop them in the freezer for about an hour. Stack the slices of frozen French toast between waxed paper and place them in a freezer bag. Store for up to a month in the freezer.
How to Reheat Cracker Barrel Momma's French Toast Breakfast
Reheat thawed pieces of French toast in a preheated 400-degree Fahrenheit oven for about four minutes. Turn midway through the cooking time. For frozen French toast, add another minute per side.
You can also reheat the French toast in a microwave. Wrap one slice loosely in a paper towel and heat for 30 seconds. Increase the time to 45 seconds for a frozen slice.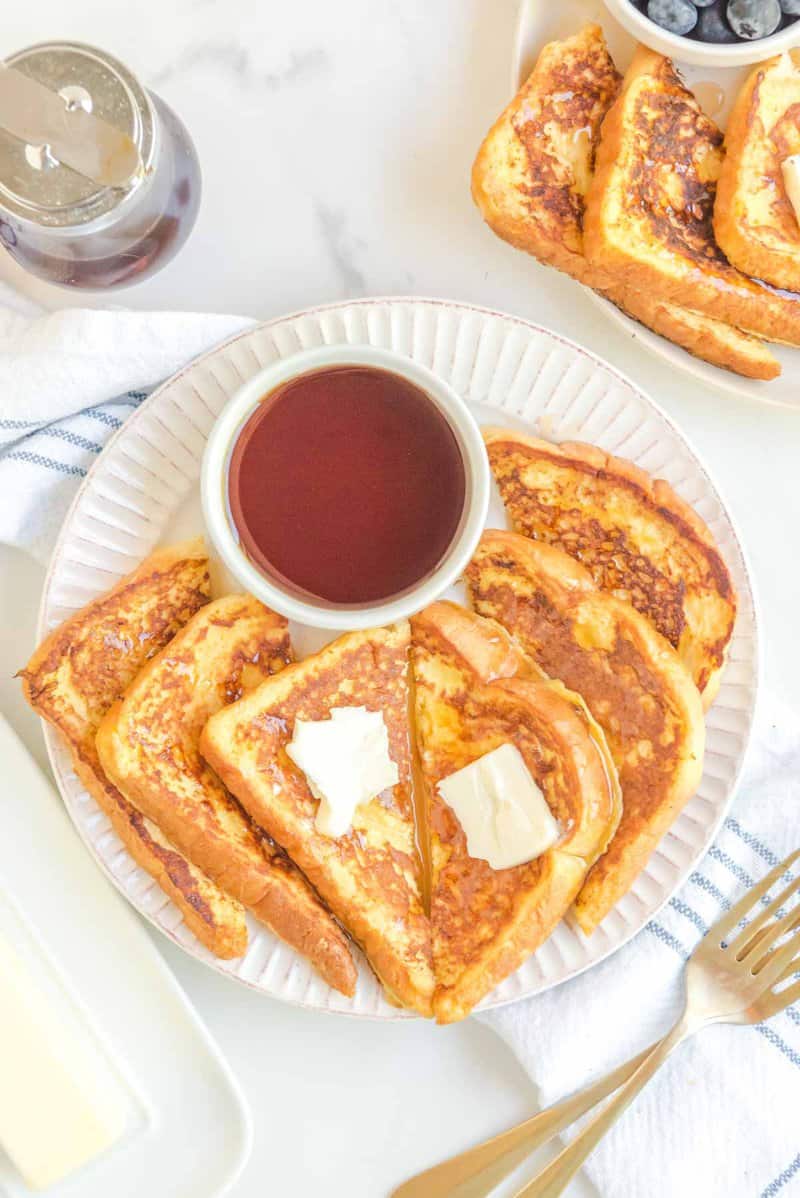 More Copycat Cracker Barrel Recipes
Favorite Breakfast Recipes
Check out more of my easy breakfast recipes and the best Cracker Barrel recipes on CopyKat!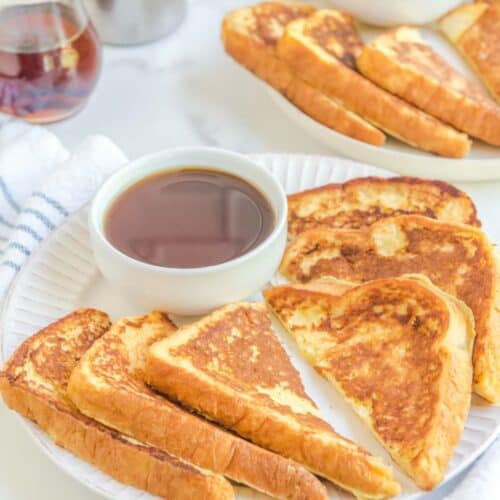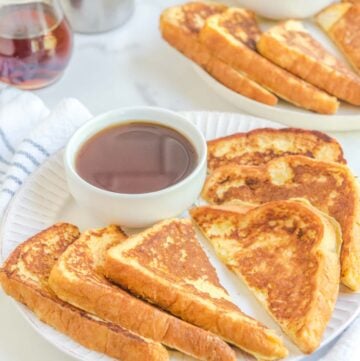 Ingredients
4

eggs

2/3

cup

milk

2

tablespoons

all-purpose flour

2

tablespoons

powdered sugar

plus more for garnishing

1

teaspoon

vanilla extract

1/4

teaspoon

salt

8

slices

sourdough bread
Instructions
In a medium-sized bowl, beat the eggs and milk.

Add the flour, powdered sugar, vanilla, and salt and beat to combine. Strain the custard mixture through a wire mesh strainer into another bowl.

Dip the bread into the custard mixture, coating both sides, and place the bread onto the hot cooking surface. Cook for 1 to 2 minutes on each side until the bread is golden and cooked through.

Remove the bread from the skillet and sprinkle with powdered sugar.

Cut the French toast diagonally if desired and serve with butter and maple syrup.
Nutrition
Calories:
475
kcal
|
Carbohydrates:
78
g
|
Protein:
21
g
|
Fat:
9
g
|
Saturated Fat:
3
g
|
Polyunsaturated Fat:
2
g
|
Monounsaturated Fat:
2
g
|
Trans Fat:
0.02
g
|
Cholesterol:
169
mg
|
Sodium:
994
mg
|
Potassium:
277
mg
|
Fiber:
3
g
|
Sugar:
14
g
|
Vitamin A:
303
IU
|
Calcium:
142
mg
|
Iron:
6
mg