Satisfy your bacon cravings with this easy Dunkin Donuts Snackin Bacon copycat recipe. Homemade candied bacon is a perfect combination of sweet and salty. Bacon strips are coated in a delicious blend of brown sugar and black pepper and baked in the oven until crispy. It's great for snacking or as a breakfast side dish.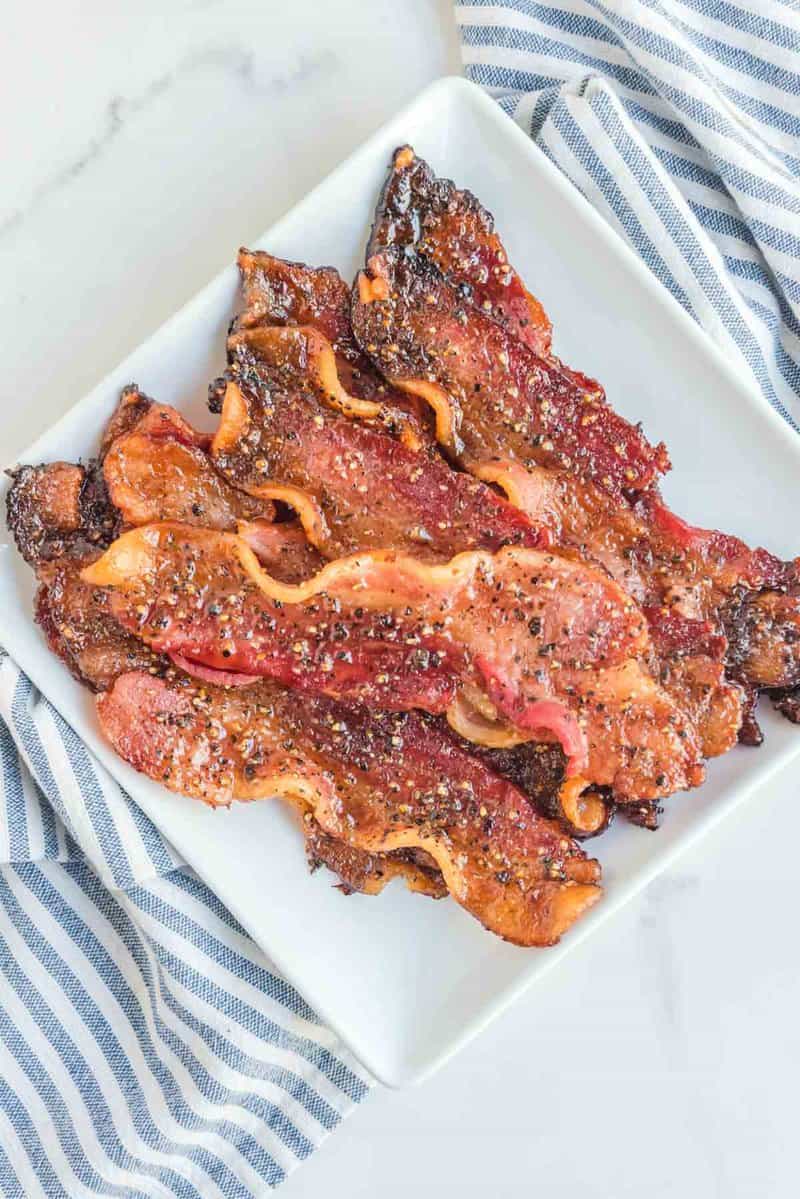 This post contains affiliate links. As an Amazon Associate, I earn from qualifying purchases.
What Makes Dunkin Snackin Bacon So Good?
A hit of sweetness transforms bacon into the ultimate meaty treat. Dunkin's super-addictive Snacking Bacon inspired this candied bacon recipe that will undoubtedly become a new favorite around your house.
Sure, you can serve it at breakfast, but it is perfect any time of the day or night. Eat it slightly warm, at room temperature, or straight from the fridge. It's all equally amazing!
Why You Should Try This Recipe
Besides tasting delicious, this is one recipe that even newbie cooks can manage. If you know how to turn on the oven, you can be munching on the best bacon you ever had in less than 20 minutes.
The flavor, versatility, and simplicity of pepper and brown sugar bacon make it one of those recipes that you really should print out and keep for easy reference.
Ingredients for Snackin Bacon
To make this Dunkin Donut Snackin Bacon Recipe, you'll need:
Thick-cut bacon
Light brown sugar
Freshly ground black pepper
Some people love to use applewood or even hickory-smoked bacon for a complex sweet, salty, and smoky flavor combination.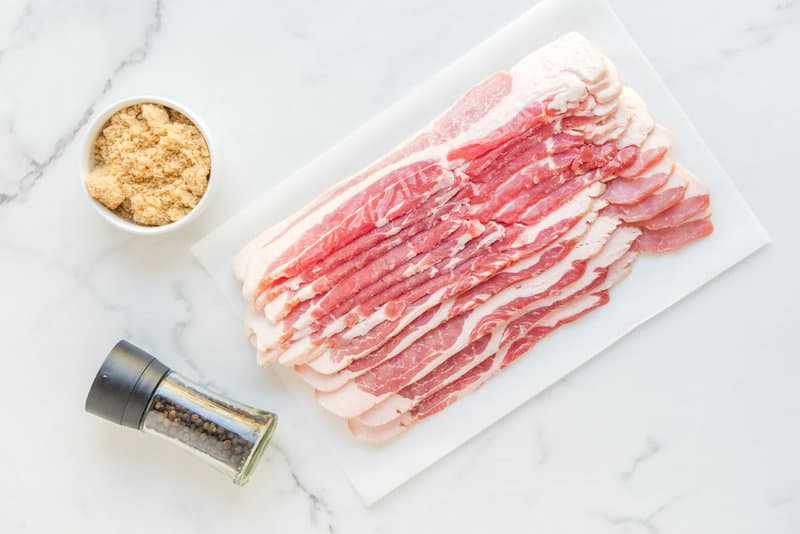 How to Make Dunkin Snackin Bacon
To prepare this Snackin Bacon recipe:
Preheat the oven to 400°F.
Line two rimmed baking trays with aluminum foil to make cleanup much easier.
In a large mixing bowl, whisk together the light brown sugar and about one to one and one-half teaspoons of freshly cracked pepper.
Press one side of each slice of bacon into the sugar and black pepper mixture. Place the seasoned side of the bacon facing up on the prepared baking trays. Make sure not to overlap or crowd the pieces of bacon.
Repeat until one baking tray is full.
Bake one tray in the oven for 16 to 18 minutes. Start checking the bacon often after 12 minutes to prevent it from burning. Rotate the baking tray after eight minutes if your oven has hot spots.
While the first batch of bacon is in the oven, fill the second baking tray with seasoned bacon slices.
Once the first tray of bacon is done, remove it from the oven and let it cool on a wire rack so the brown sugar glaze can set before serving.
Bake and cool the second batch like you did the first.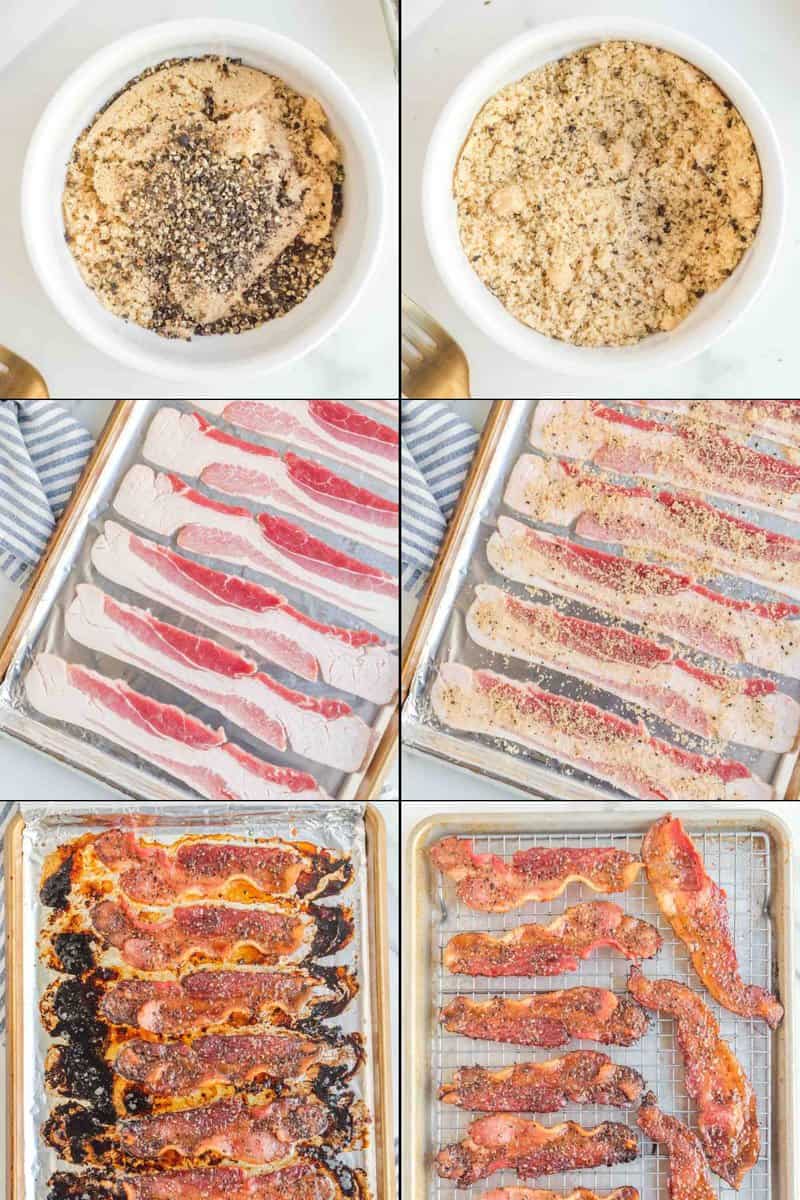 What to Serve with Snackin Bacon
There are so many options! Here are just a few:
Eat it on its own like jerky.
Make the most amazing BLT or bacon, egg, and cheese sandwiches.
Crumble a slice over a salad.
Chop the bacon and mix the bits into waffle batter or the filling of a quiche.
Sprinkle minced bacon bits over maple ice cream.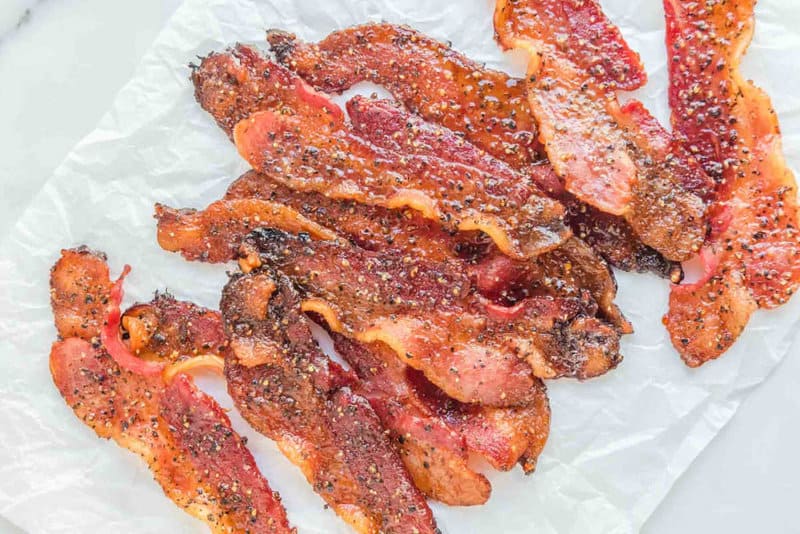 How to Store Candied Bacon
Keep the bacon in an airtight container in the fridge. Candied bacon does not freeze well.
How Long Does Brown Sugar Bacon Last?
The bacon will probably get a bit soggy before it goes bad. Try to use it within a day or two for the best crunch, but it should stay fresh for up to three or four days.
How to Reheat Cooked Bacon
If you want to serve leftover Snackin Bacon warm, heat it in the microwave for 10 to 15 seconds. Cover it with parchment paper because it may splatter. Avoid overheating.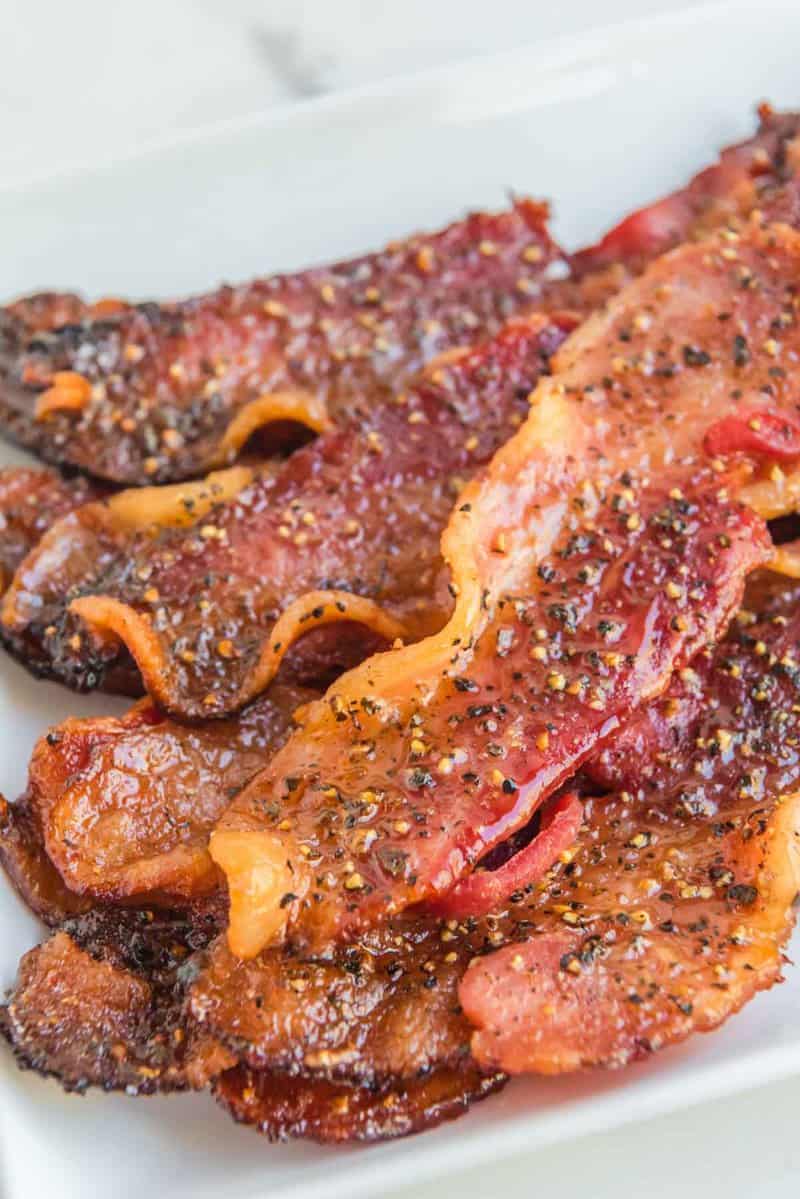 More Dunkin Copycat Recipes
Favorite Snack Recipes
Check out more of my easy snack recipes and the best copycat fast food recipes on CopyKat!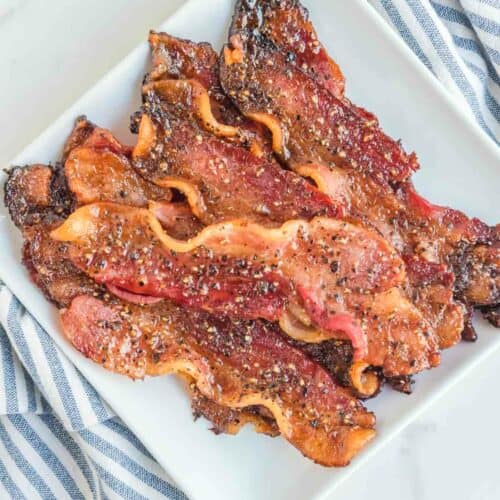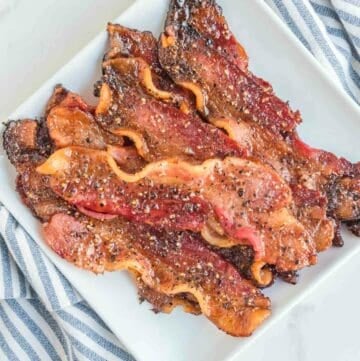 Ingredients
1/2

cup

firmly packed light brown sugar

1 to 1 1/2

teaspoons

freshly ground black pepper

1 1/2

pounds

thick-cut bacon
Instructions
Preheat the oven to 400°F and line 2 baking sheets with aluminum foil.

In a small mixing bowl, combine the brown sugar and black pepper. Mix well.

Place the strips of bacon flat on the baking sheets. Be sure not to overlap or crowd the bacon.

Liberally sprinkle with the brown sugar and pepper mixture, pressing it into the bacon pieces to cover.

Bake one sheet at a time for 16 to 18 minutes, checking often. Allow the bacon to cool on a cooling rack before serving.
Notes
The bacon will be slightly sticky.
Be sure to use thickest cut bacon you can find for the best results.
Do not use pre-ground pepper. Freshly ground pepper with a pepper grinder works best for this recipe.
Nutrition
Calories:
272
kcal
|
Carbohydrates:
10
g
|
Protein:
7
g
|
Fat:
23
g
|
Saturated Fat:
8
g
|
Polyunsaturated Fat:
4
g
|
Monounsaturated Fat:
10
g
|
Trans Fat:
0.1
g
|
Cholesterol:
37
mg
|
Sodium:
378
mg
|
Potassium:
128
mg
|
Fiber:
0.1
g
|
Sugar:
9
g
|
Vitamin A:
22
IU
|
Calcium:
12
mg
|
Iron:
0.3
mg