Recreate the magic of Chick Fil A Chicken Minis at home with this quick and easy copycat recipe! Dive into these mouthwatering, air-fried Southern-style chicken nuggets tucked into soft, freshly baked yeast rolls glazed with honey butter. These mini chicken sandwiches are perfect for breakfast or any time you crave a delightful bite.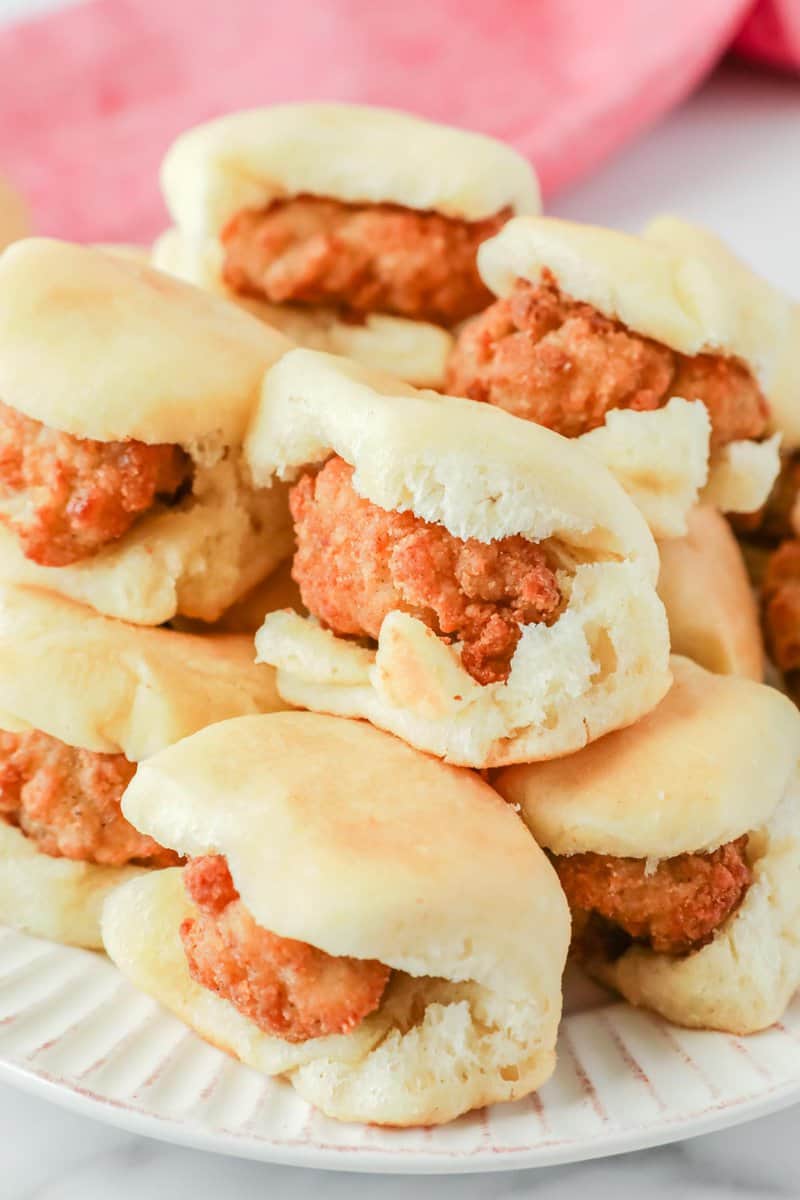 This post contains affiliate links. As an Amazon Associate, I earn from qualifying purchases.
What Makes the Chick fil-A Chicken Minis Perfect for a Party Appetizer or Your Next Tailgate
Everyone loves sliders. Everyone loves chicken. Therefore, it shouldn't be any big surprise that whenever anyone serves these copycat Chicken Minis, they're gone in minutes.
Chick fil-A Chick-n-Minis are small sandwiches with a big taste. It all starts with a piece of tender white meat chicken in a crispy coating flavored with just a hint of dill pickle. Add a freshly baked yeast roll brushed with Brown Sugar Honey Butter for a touch of sweetness, and you have the perfect crave-worthy sandwich.
Why This Recipe Is the One You Should Try
Sometimes, you want to cook a meal at home, but from scratch, cooking isn't in the cards. Whether you are a little too busy or don't want the hassle and dirty dishes, it doesn't mean you can't put good food on the table.
This Chicken Minis recipe utilizes frozen Chicken Bites and ready-to-bake yeast rolls to save time but then gussies them up for something extraordinary. Try this Chicken Minis recipe the next time you are in a rush, want an easy snack or light dinner, whenever your craving strikes, or on Sunday when Chick-fil-A is closed.
Copycat Chicken Minis Ingredients
For these Chicken Minis, you'll need:
Member's Mark Southern Style Chicken Bites or Costco's Bare Naked Chicken Bites, or Kirkland Brand Chicken Bites
Sister Schubert's Dinner Yeast Rolls
Honey
Butter
Brown sugar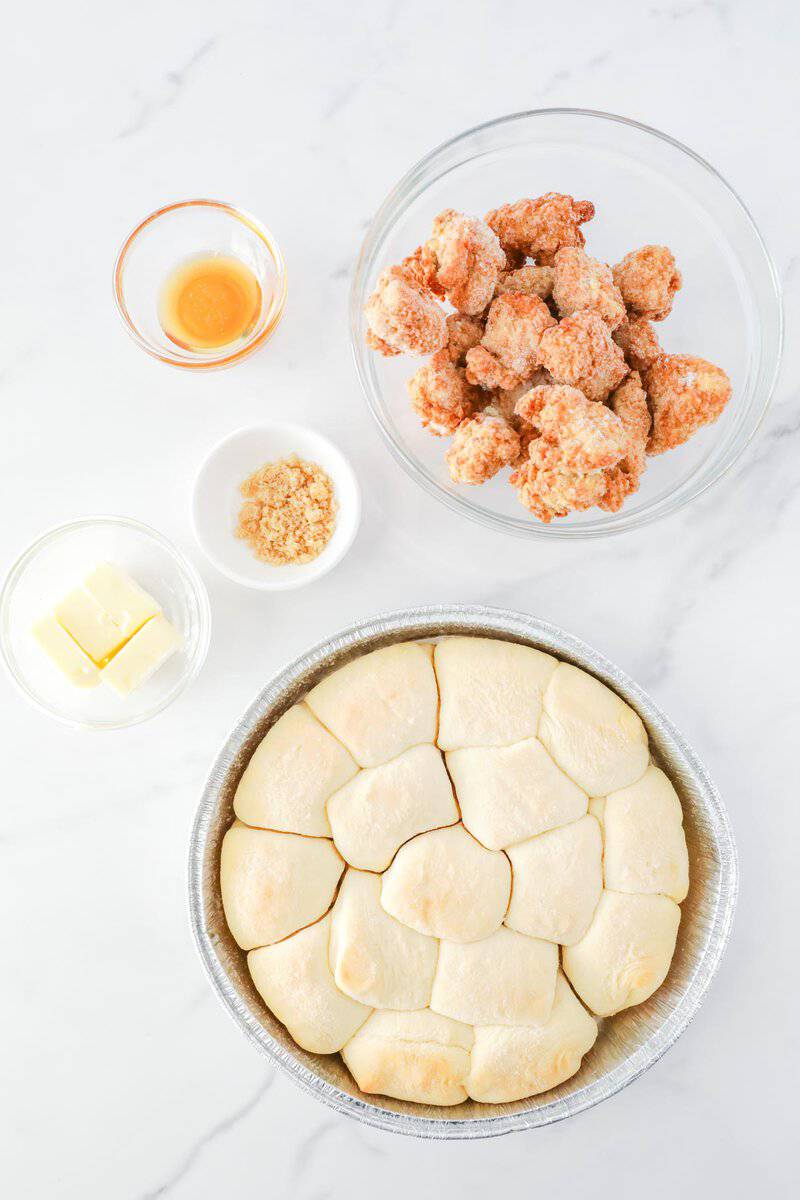 How to Make Chicken Minis Chick fil-A Style
Follow the directions below to cook Member's Mark Southern Style Chicken Bites. If using a different product, read the instructions on the packaging:
Preheat your air fryer to 400°F.
Add nuggets to the air fryer in a single layer, leaving some space between them.
Cook for 8 to 10 minutes or until crispy and hot. Flip the nuggets after six minutes.
To prepare the Brown Sugar-Honey Butter:
Melt the butter in the microwave.
Stir in the honey and brown sugar, and continue stirring until the brown sugar dissolves.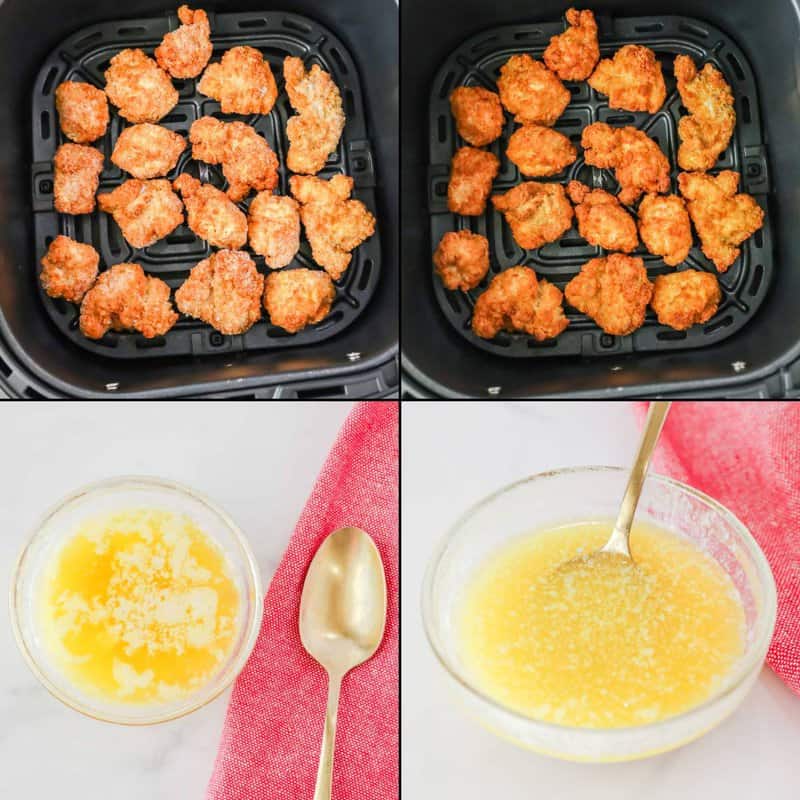 If you use Sister Schubert's Dinner Yeast Rolls, follow the instructions below. Otherwise, prepare your rolls according to the directions on the package and skip to step four:
Preheat the oven to 300°F.
Cover the pan of dinner rolls with a sheet of aluminum foil.
Bake in the preheated oven for 15 minutes.
Brush the tops with the melted Brown Sugar-Honey Butter using a pastry brush.
Return rolls back into the oven uncovered for five minutes until they are golden brown.
Cool the rolls on a wire rack.
Remove the rolls from the pan and separate them.
To assemble Chick fil-A Chicken Minis:
Cut the cooled rolls in half horizontally.
Place a piece of chicken on the bottom roll. Drizzle some of the Brown Sugar-Honey Butter on a piece of chicken and put it on the bottom bun. Cover with the top bun and plate.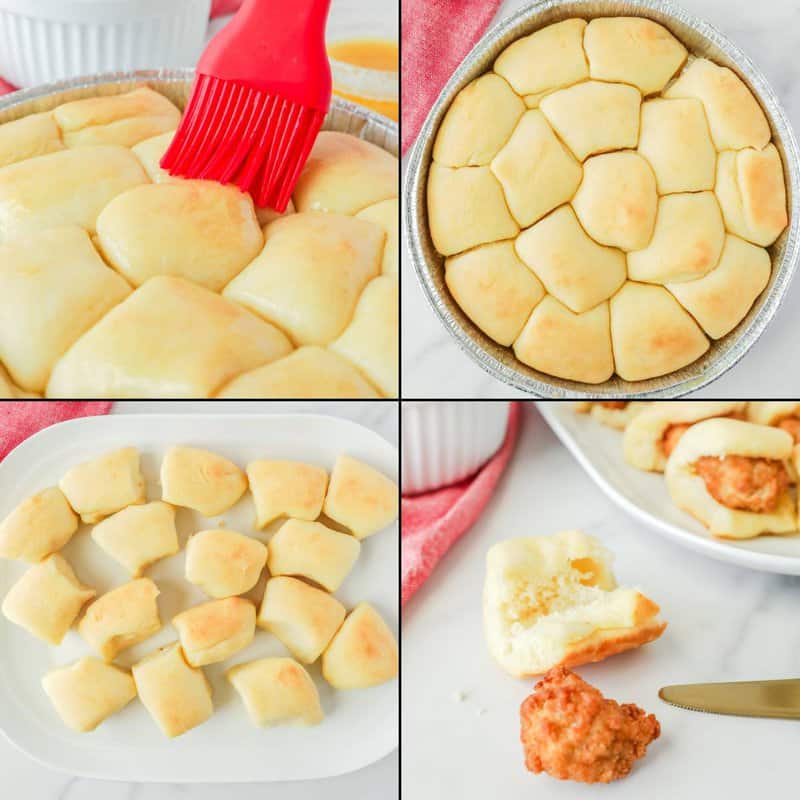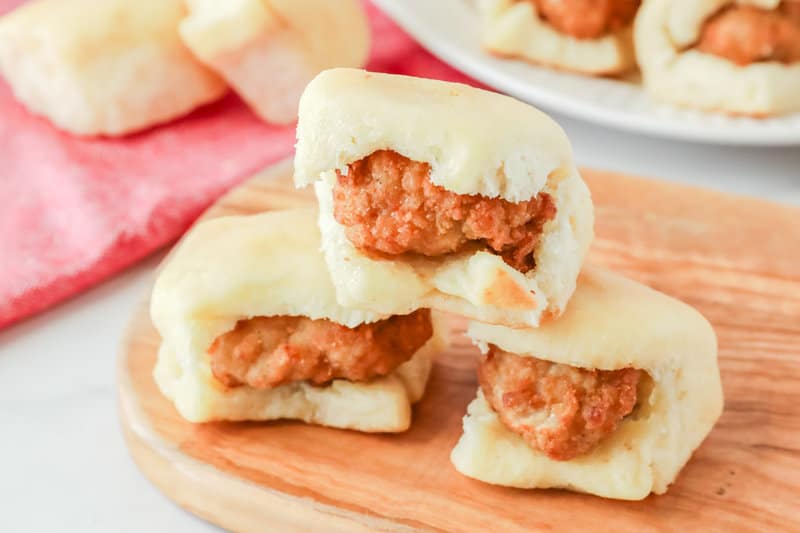 Recipe Variations
Although this recipe was tested using Member's Mark Southern Style Chicken Bites and Sister Schubert's Dinner Yeast Rolls, you can use similar products or cook everything from scratch. Since suggested chicken bites have dill pickle flavoring, try sprinkling a few drops of dill pickle juice on regular chicken nuggets to get the correct flavor profile.
You can use this Chick Fil A Chicken Nuggets recipe with boneless skinless chicken breast to make the crispy chicken nuggets from scratch.
Are you craving a little variety in your life? Skip the Brown Sugar Honey Butter and dip some of the cooked chicken bites in Buffalo or BBQ sauce for a sweet, spicy, smoky trio of flavors.
Make a chicken biscuit and use biscuits instead of dinner rolls.
What to Serve Them Chicken Minis
You can keep it traditional with a side of straight-cut or waffle fries, but why not think outside the box by pairing your chicken sliders with one of these?
Greek Yogurt Parfait. A parfait may sound like a dessert, but its tangy, sweet flavors complement these chicken sliders perfectly.
Fried Cheese Curds. Okay, so cheese curds may not be on your list of top snacks, but these Fried Cheese Curds from Culver's restaurant are darn tasty and sure to expand your culinary horizons.
Fried Pickles. Lean into the pickle flavor of these chicken sandwiches and take it to the next level with this copycat Hooter's Fried Pickles recipe.
How to Store Them
To save time, cook the chicken for the Chicken Minis Chick fil-A style sandwiches ahead of time and keep them cold until you're ready to heat and serve them.
Let the chicken bites cool to room temperature and store them in an airtight container in the fridge for up to three days.
Keep the baked buns whole in a paper bag on the counter overnight, or better yet, bake them the same day you plan to serve the sandwiches.
To keep the cooked sandwich for up to 30 days, try freezing the chicken and buns separately on baking trays. Then, reassemble the sandwiches and store them in a freezer bag.
How to Reheat Them
For warming up a bunch of thawed Chicken Minis, use the oven:
Preheat the oven to 350°F.
Place the sandwiches on the baking tray and cover with aluminum foil.
Heat in the preheated oven until hot, about 10 to 15 minutes.
You can use the microwave to reheat one or two sandwiches if you don't mind a less crispy sandwich:
Wrap each sandwich in a paper towel.
Heat for 25 seconds (40 to 50 seconds, if frozen) at 50 percent power.
Let the sandwiches sit for about a minute before opening the door.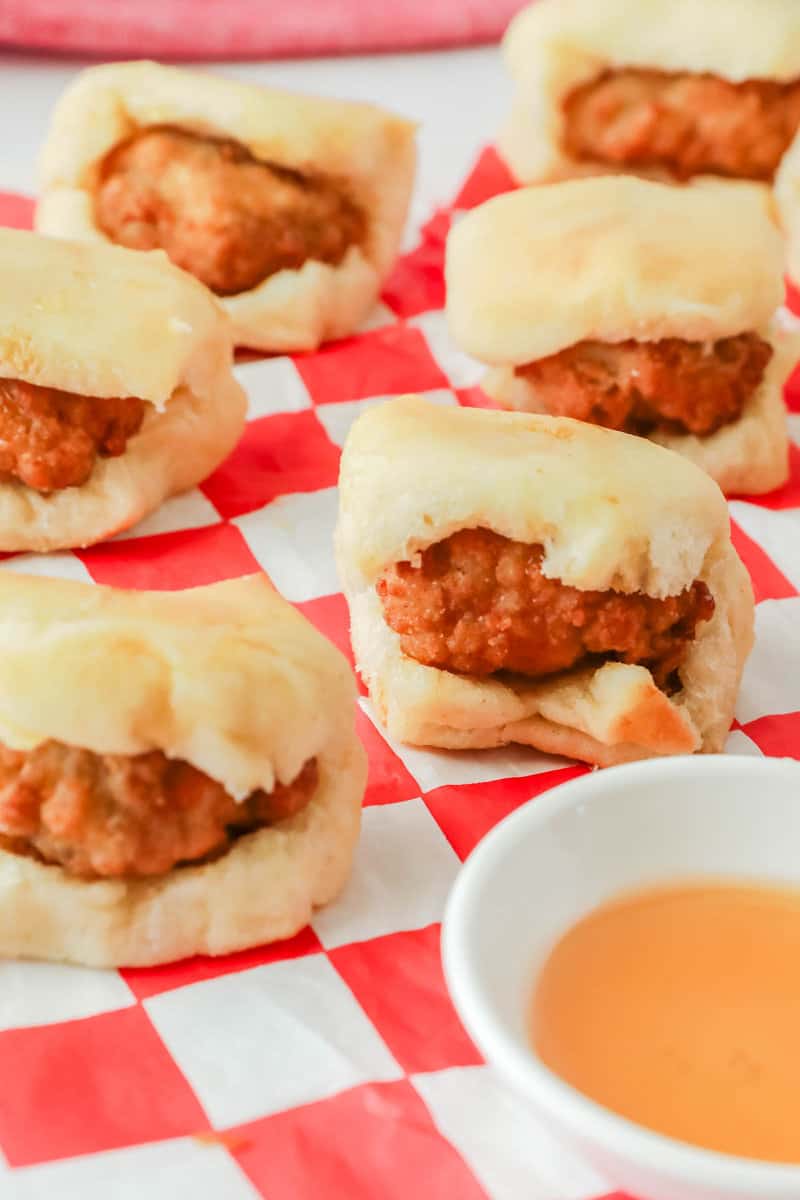 Favorite Chick Fil A Recipes
Popular Chicken Sandwich Recipes
Check out more of my easy sandwich recipes and the best copycat Chick Fil A recipes on CopyKat!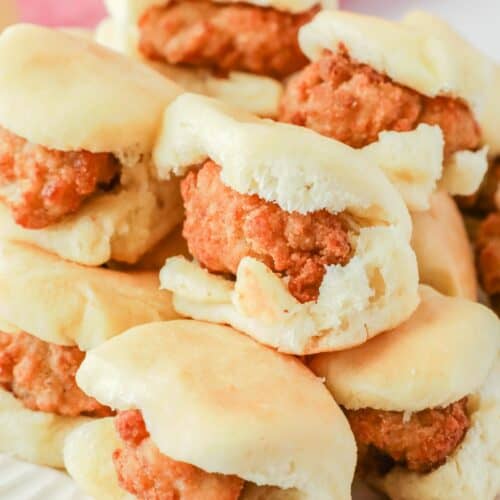 Ingredients
1

package

Sister Schubert's yeast dinner rolls

16 rolls

2

tablespoon

honey

3

tablespoons

butter

1

teaspoon

brown sugar

16

Member's Mark Southern Style Chicken Bites
Instructions
Preheat the oven to 300°F.

Carefully, place your rolls on a pan and cover them with aluminum foil. Bake for 15 mins or until lightly browned.

In a small microwave safe bowl, carefully heat up your butter in 10-second increments until fully melted. Add honey and brown sugar to the melted butter and stir until combined.

When the rolls are done, remove from oven and coat the tops evenly with the honey butter mixture using a silicone basting brush.

Preheat air fryer for 390°F.

Add chicken nuggets to air fryer in a single layer and cook for 5 minutes.

Place rolls back into oven uncovered for 5 minutes. Remove from oven and let cool.

Once the rolls have cooled, remove them from the pan and place on a separate plate or serving tray. Remove nuggets from air fryer as well.

Using a butter knife, make a horizontal cut halfway through each roll and open. Place a chicken nugget inside each roll.

Drizzle more honey on top of the chicken minis if desired. Keep warm until ready to serve.
Notes
Member's Mark Chicken Bites can be found at Sam's Club.
Nutrition
Calories:
65
kcal
|
Carbohydrates:
5
g
|
Protein:
3
g
|
Fat:
3
g
|
Saturated Fat:
2
g
|
Polyunsaturated Fat:
0.1
g
|
Monounsaturated Fat:
1
g
|
Trans Fat:
0.1
g
|
Cholesterol:
16
mg
|
Sodium:
125
mg
|
Potassium:
57
mg
|
Fiber:
0.01
g
|
Sugar:
2
g
|
Vitamin A:
66
IU
|
Vitamin C:
0.01
mg
|
Calcium:
1
mg
|
Iron:
0.02
mg