Also known as hot poppers or simply jalapeño poppers, these cheddar cheese stuffed jalapeño peppers are a popular appetizer at many eateries. They are so tasty, especially when served with ranch or blue cheese dressing. Wonderfully crispy on the outside with a contrasting gooey cheese filling.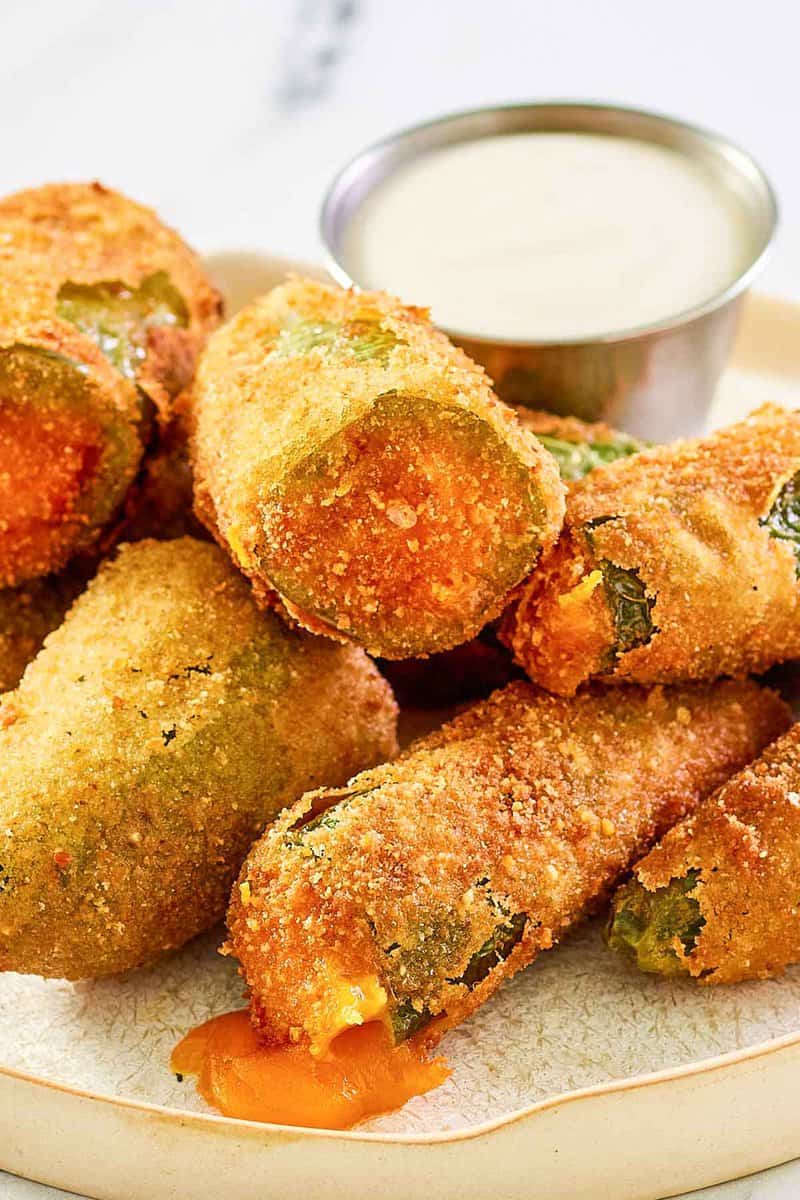 This post contains affiliate links. As an Amazon Associate, I earn from qualifying purchases.
Why You Should Try This Homemade Cheddar Jalapeño Poppers Recipe
Cheddar stuffed Jalapeños poppers are so hard to resist, so why would you even try? They are really easy to make, and everyone will love them and want to eat them until they burst!
This cheddar jalapeño poppers recipe gives you a quick and easy appetizer that's perfect for hosting any crowd. Your guests will definitely be impressed that you made these yourself!
Cheddar Jalapeño Poppers – Ingredients You Will Need
To make this recipe for cheddar cheese jalapeño poppers, you will need the following:
Jalapeño peppers
Cheddar cheese
Eggs
Breadcrumbs
Vegetable oil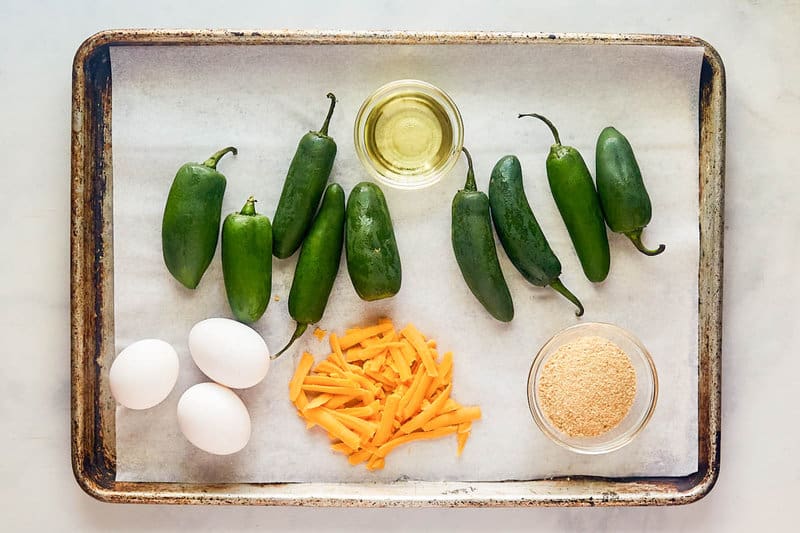 How to Make Cheddar Cheese Jalapeño Poppers
Jalapeño poppers with cheddar cheese are easy to make. Here's what you do:
Cut the stem ends off the peppers and remove the seeds and white membrane.
Stuff the peppers with cheddar cheese.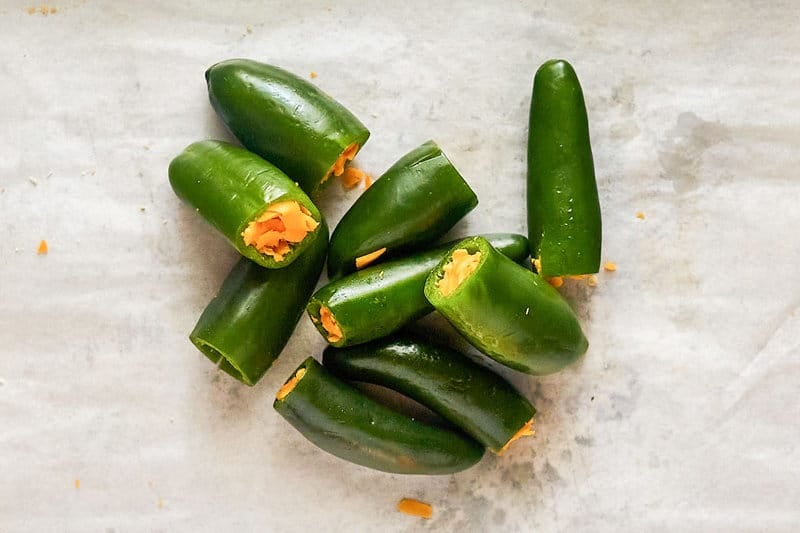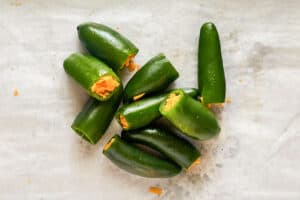 Coat each pepper with egg and then breadcrumbs.
Allow to dry for 15 minutes.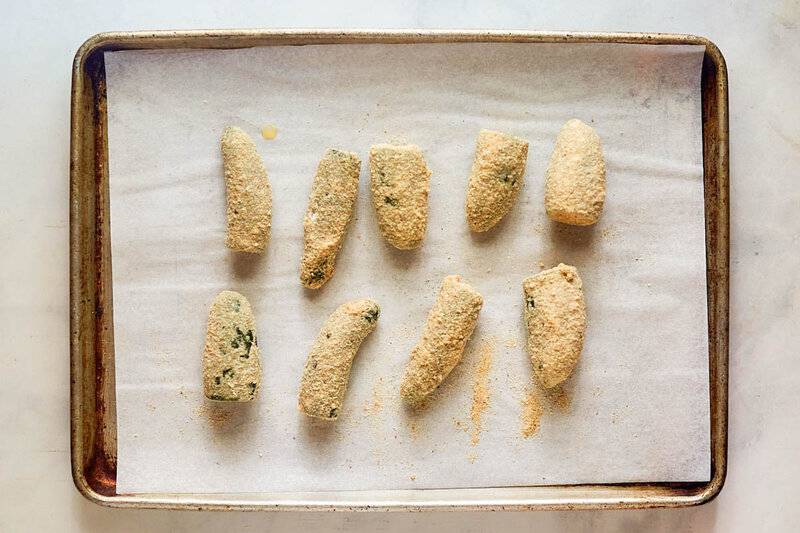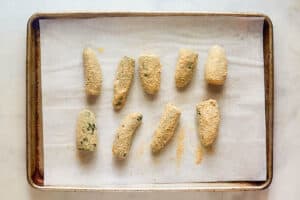 Fry in oil heated to 375°F.
Drain on paper towels and serve immediately.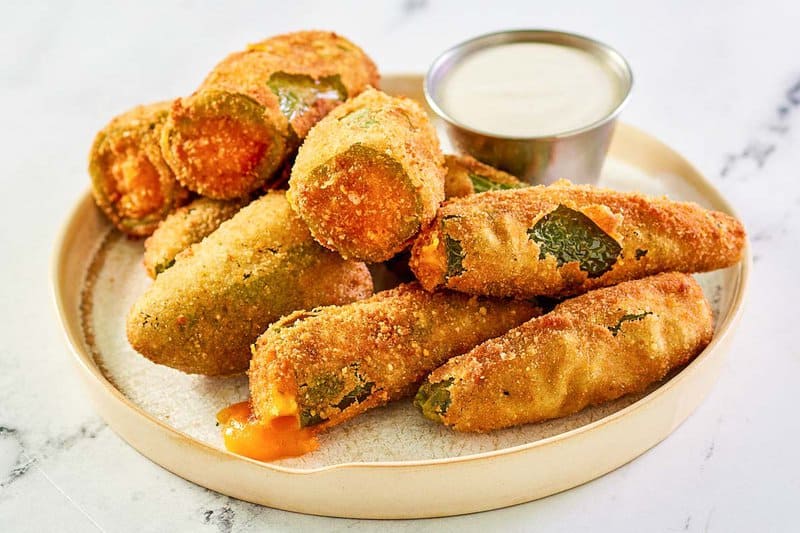 Recipe Tips
Starting with very cold ingredients will help prevent the cheese from running out of the peppers when frying.
Add about 5% cream cheese to the cheddar for better consistency,
To help keep the cheese in the pepper, when you cut off the stem end, leave enough to give you a solid end.
Why you need to wear disposable gloves when cutting your jalapeños. Jalapeños have a compound in them called capsaicin which is very irritating to the skin. If you've never had the misfortune of accidentally touching your eye after cutting into a hot pepper, be very thankful – it's awful!
Jalapeño Cheddar Poppers – Variations
You can vary your jalapeño poppers in different ways, including:
Mix up the peppers: – You can use jalapeños, mini sweet bell peppers, or a mixture of both.
Add some cream cheese: Mix the cheddar with a small amount of cream cheese for better consistency.
Cream cheese and bacon jalapeño poppers: A classic combination – the creaminess of the cheese pairs perfectly with salty crumbled bacon.
Cream cheese and cilantro jalapeño poppers: The freshness of the cilantro offsets the jalapeño heat.
Goat cheese and herb jalapeño poppers: The herby flavor pairs well with the slightly spicy peppers.
Cheddar and chive jalapeño poppers: The sharpness of the cheddar compliments the oniony flavor of the chives.
Extra spicy jalapeño poppers: Add a little cayenne pepper.
Keto jalapeño poppers: Replace the breadcrumbs with pork rind crumbs.
Cheesy jalapeño poppers: Instead of cheddar, fill them with another kind of cheese.
Ways to Serve Jalapeño Cheddar Poppers
Here are several suggestions for serving jalapeño poppers with cheddar cheese:
Arrange them on a platter with a stack of napkins and toothpicks and have everyone serve themselves – a great way to grab and mingle.
Opt for serving a few poppers on individual plates with a choice of dipping sauces, including marinara, ranch dressing, barbecue sauce, or even ketchup. For something a little different, serve them with sweet and sour sauce.
Serve them up with other appetizers for game nights, including:
Cheddar cheese Jalapeño peppers can be part of a delicious Mexican-style buffet. Serve them with tacos, guacamole, and white queso dip.
Jalapeño poppers with cheddar cheese are also great as an entrée, served with a side of rice and black beans.
Frequently Asked Questions
Are these pepper poppers spicy?
Scooping out the jalapeño seeds brings down the heat significantly. However, if you don't want any spice, go for mini sweet bell peppers instead.
Why did my breading fry right off?
The breading may have been too thin, or the oil temperature was too high – sometimes thermometers aren't accurate. Also, chilling the breaded (uncooked) jalapeño poppers in the refrigerator before frying will help the coating stick better.
How do you prevent cheese from running out of the peppers during cooking?
Starting with everything really cold should help. Also, when cutting off the stem end, leave enough to form a solid end.
Can you make these in an air fryer?
Probably not, because it's unlikely that they will brown in an air fryer. The peppers will cook, but the breading will remain dry and light brown.
Can you bake cheddar cheese jalapeño poppers?
Frying jalapeño poppers gives you the best results, but if you'd like to bake them, here's how to do it:
Preheat the oven to 400 degrees F.
Place the poppers on a lightly greased baking sheet and bake for about 20 minutes or until golden brown.
Storing and Reheating Leftover Cheddar Stuffed Jalapeños
Make Cheddar Cheese Jalapeño Poppers Ahead of Time: These jalapeño poppers with cheddar cheese are a great make-ahead appetizer. Assemble them completely and cover them in plastic wrap in the fridge until frying time.
Leftovers: These homemade cheddar jalapeño poppers are so tasty you are unlikely to have any leftovers. However, once completely cooled, you can store them in an airtight container in the fridge for up to 3 days. To reheat, just pop them in the oven or toaster oven to heat through. You can also reheat in the microwave.
Freezing cheddar jalapeño poppers: Stuff them and then arrange on a baking sheet lined with parchment paper. Freeze for several hours until solid. Once frozen, transfer the poppers to a freezer-safe bag or container.
Cooking from frozen: No need to thaw – deep fry them at 375°F until golden or pop them straight into the oven at 400°F on a wire rack over a baking sheet.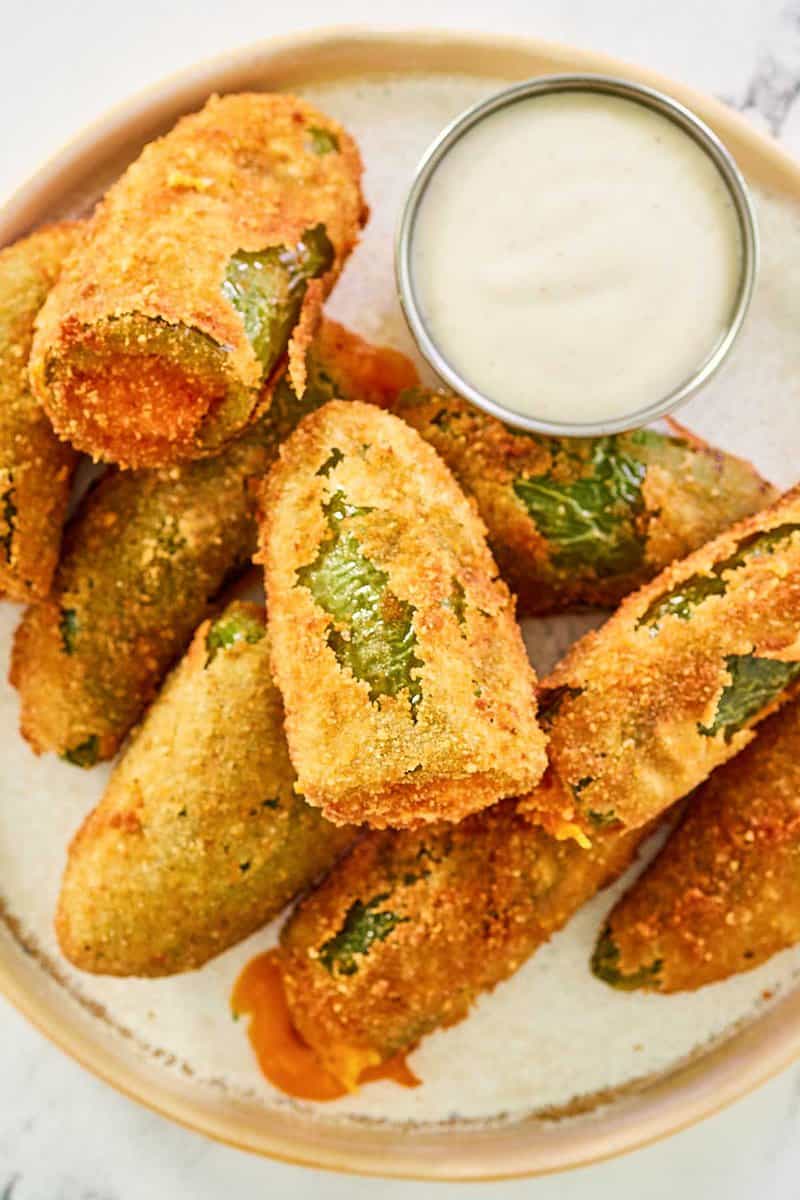 Love Jalapeno Peppers? Try these recipes!
Popular Appetizer Recipes
Check out more of my easy appetizer recipes and the best recipes for game day on CopyKat!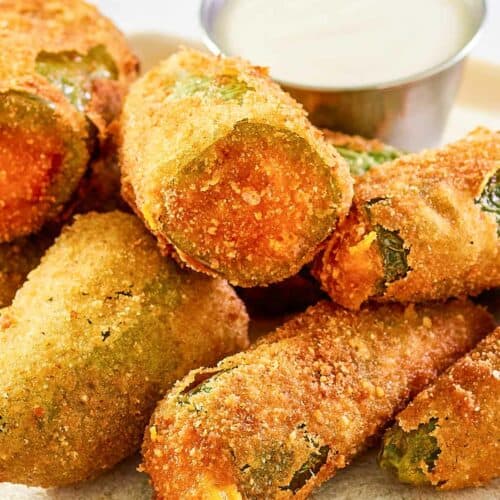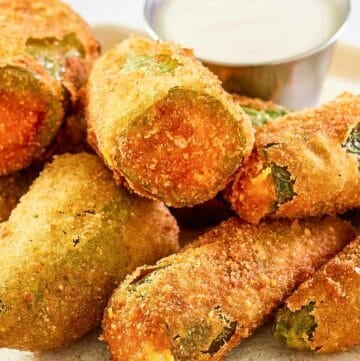 Ingredients
24

jalapeño peppers

(medium size)

1 1/2

cups

shredded cheddar cheese

3

eggs

slightly beaten

2

cups

bread crumbs

6

cups

vegetable oil

for frying
Instructions
Wearing plastic gloves, cut the stem end off of the peppers. Carefully remove the seeds and white membrane and stuff the peppers with cheese.

Heat the oil to 375°F in a deep fryer or large pot.

Create a breading station by placing the eggs in a small bowl and the bread crumbs in a shallow pan.

Drop 4 peppers into the eggs and toss to coat. Using a fork, lift 1 pepper at a time out of the eggs and shake off the excess. Drop the egg-coated pepper into the breadcrumbs and toss to coat. Place the breaded pepper on a sheet pan and repeat with the remaining peppers. When all the peppers are coated, let them sit to dry for 15 minutes.

With a slotted spoon, place the peppers, a few at a time, into the hot oil and fry for 2 to 3 minutes, until golden. Transfer the fried peppers to a platter lined with paper towels to drain. Repeat with the remaining peppers. Serve immediately.
Nutrition
Calories:
98
kcal
|
Carbohydrates:
8
g
|
Protein:
4
g
|
Fat:
6
g
|
Saturated Fat:
2
g
|
Polyunsaturated Fat:
2
g
|
Monounsaturated Fat:
1
g
|
Trans Fat:
0.02
g
|
Cholesterol:
28
mg
|
Sodium:
121
mg
|
Potassium:
76
mg
|
Fiber:
1
g
|
Sugar:
1
g
|
Vitamin A:
234
IU
|
Vitamin C:
20
mg
|
Calcium:
71
mg
|
Iron:
1
mg