Cracker Barrel Sawmill Gravy is delicious over biscuits and chicken fried steak. White sawmill gravy made with bacon grease and seasoned with black pepper is soul-satisfying southern comfort food.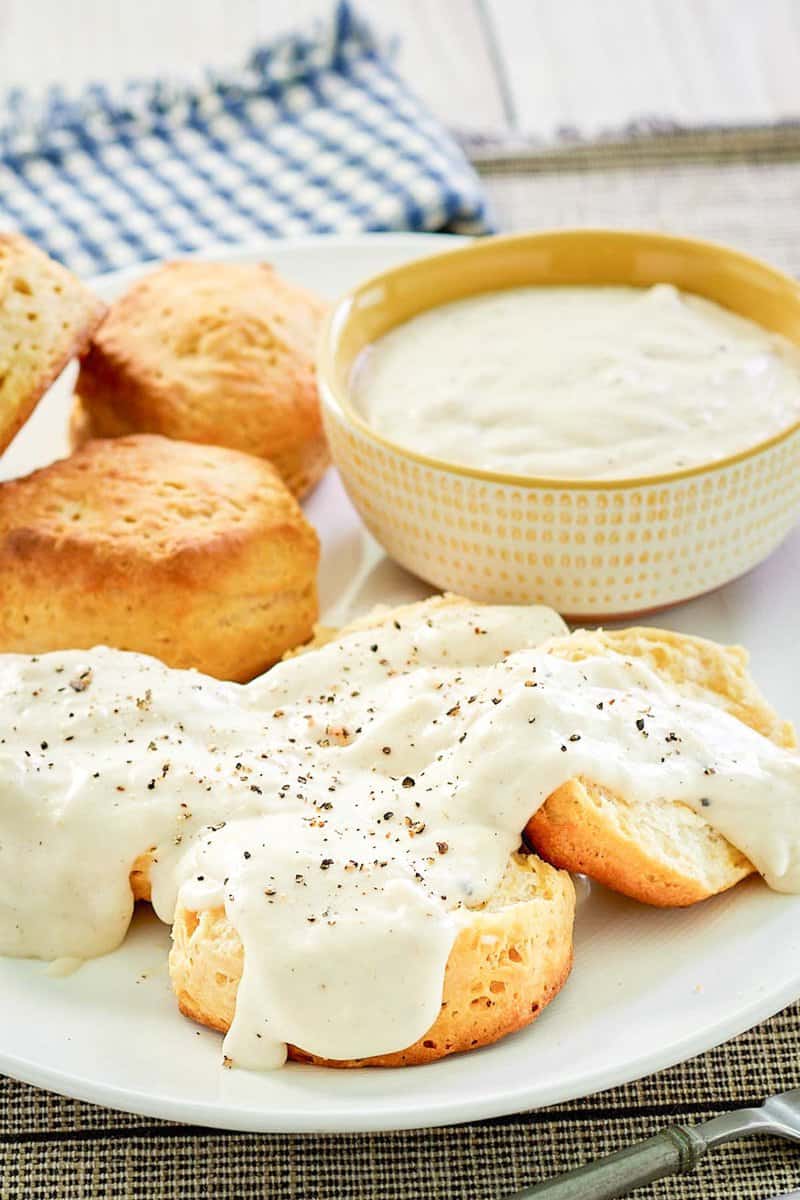 This post contains affiliate links. As an Amazon Associate, I earn from qualifying purchases.
What Is Sawmill Gravy?
Sawmill Gravy is a delicious comfort food dish with a Béchamel sauce that folks often serve on top of country-fried steak or biscuits. It consists of milk or cream, meat grease, flour, salt, and plenty of pepper. It can be either a white or light brown gravy, depending on the fat (butter or meat drippings).
Why Is It Called Sawmill Gravy?
As a hearty and cheap meal, Sawmill Gravy was popular for cooks to serve at logging camps and old-time sawmills during the 1800s. It was commonly made with cornmeal, bacon drippings, milk, and seasonings. Because it was gritty gravy, the workers would accuse the cooks of using sawdust because it looks like a somewhat gritty gravy.
What Makes This Sawmill Gravy So Good
This version of Sawmill Gravy uses bacon grease instead of the more common sausage drippings. Depending on the bacon you choose to use, that minor change can impart a lot of smokiness and other flavors to the sauce.
Cracker Barrel Sawmill Gravy Ingredients
To make Sawmill Gravy, you'll need:
Bacon grease
AP flour
Whole milk
Salt
Black pepper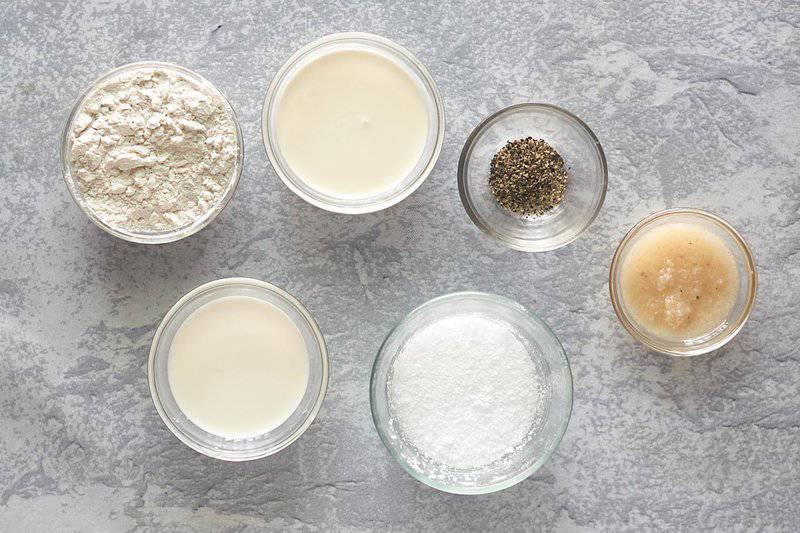 Ingredient Notes
Change up the flavor of the gravy by using the grease from different types of bacon. Bacon smoked with hickory wood offers the strongest smokiness, while sugar-cured bacon adds a little sweetness.
Always use the best and freshest black pepper for this recipe. Many people prefer large flakes of coarse-ground pepper to finely-ground pepper.
How To Make Sawmill Gravy From Scratch
To cook Sawmill Gravy:
Warm the bacon grease in a heavy large skillet over medium heat. A cast-iron skillet is best because it distributes the heat evenly, but any good skillet will do.
Sprinkle 1/4 cup flour into the skillet, and use a wooden spoon to mix the flour with the bacon drippings.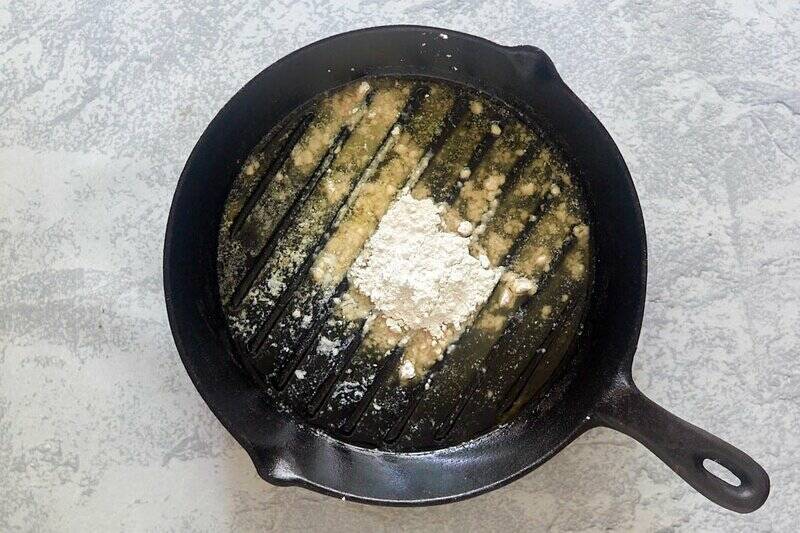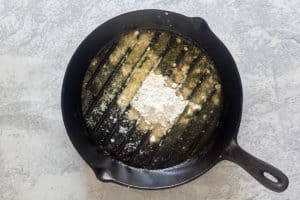 Cook for about a minute until the flour turns a pale tan, giving off the scent of cooked pie crust.
Slowly pour and whisk in 1 3/4 cups of milk to avoid lumps.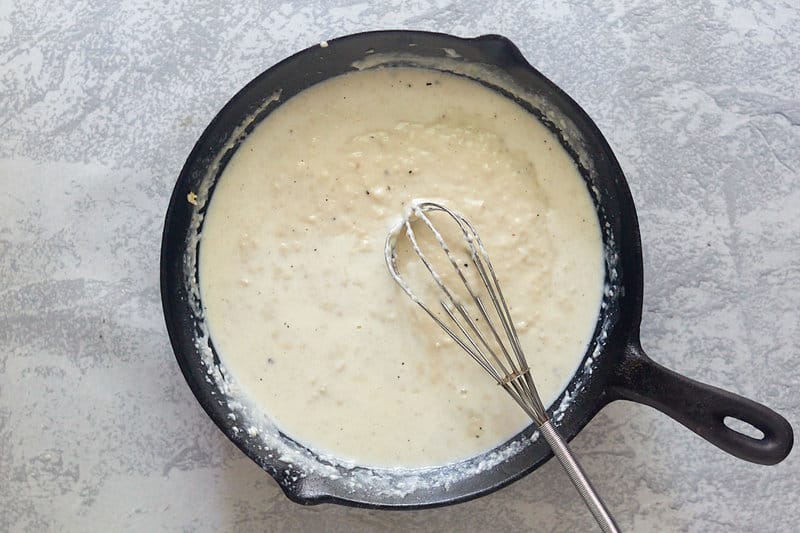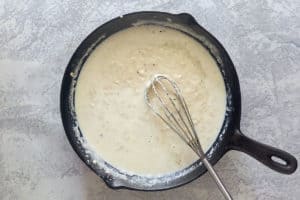 Reduce the heat to medium-low, and let the gravy thicken while stirring occasionally. Remember that the gravy will thicken once it cools to serving temperature. If you reduce the gravy too much, add a little milk for a liquid to thin it out.
Stir in salt and ground pepper and serve.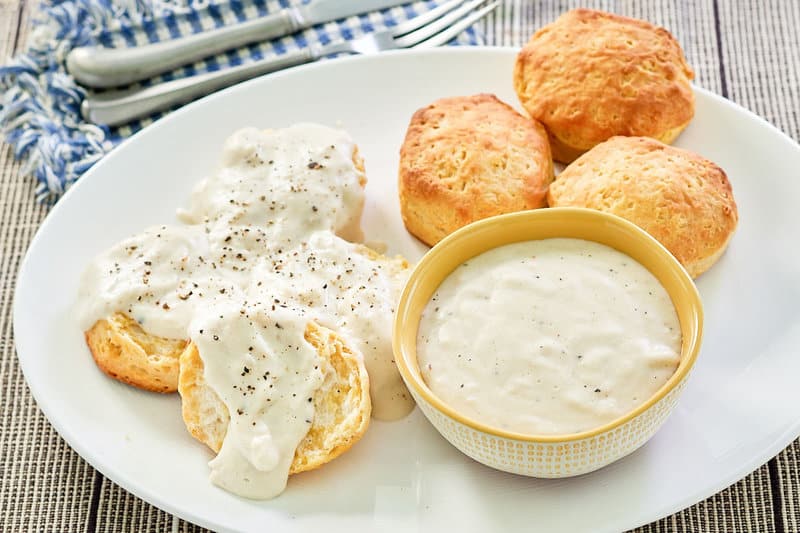 Variations You Will Want to Try
Everyone has a favorite version of this recipe, but White Sawmill Gravy and the famous Sausage Gravy are some of the more common varieties.
White Sawmill Gravy uses the same general recipe but substitutes butter for bacon drippings. Replacing the drippings with butter makes a white gravy that's not as heavy and much milder than the standard recipe.
To compensate, you may also want to add some spices like cayenne pepper, English mustard, or garlic powder for more flavor.
Sausage Gravy over biscuits may not be the healthiest way to start the morning, but it sure is delicious. As a bonus, it is super easy to make. Just cook a pound of bulk sausage in a pan until browned. After that, follow the recipe above, starting from Step 2.
What To Serve With Sawmill Gravy
Sawmill Gravy is most commonly served over Country Fried Steak or buttermilk biscuits. But it is also excellent on fried pork chops or even french-fried potatoes.
How To Store Sawmill Gravy
The best way to keep leftover Sawmill Gravy is in an airtight container in the fridge for up to three days.
How to Reheat Sawmill Gravy
Warm the gravy on the stove over low heat with a splash or two of milk to help thin it out.
Favorite Cracker Barrel Recipes
Popular Gravy and Sauce Recipes
Check out more of my easy sauce recipes and the best Cracker Barrel recipes here on CopyKat!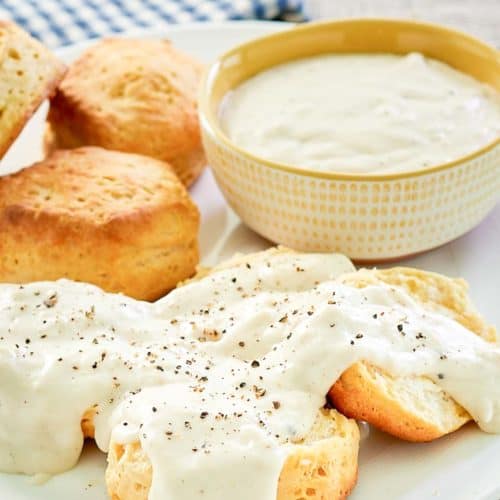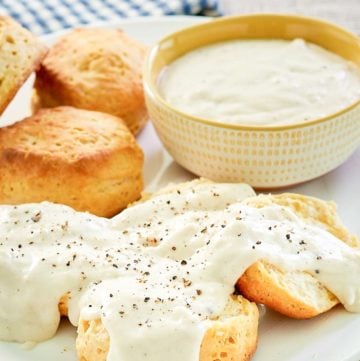 Ingredients
4

tablespoons

bacon grease

1/4

cup

all-purpose flour

1 3/4

cup

whole milk or heavy cream

1/2

teaspoon

salt

1/2 to 1

teaspoon

freshly ground black pepper
Instructions
When it melts, add the flour and cook for approximately 1 minute, until it becomes fragrant like pie dough.

Add the milk or heavy cream, and whisk until the gravy thickens.

Season with salt and black pepper, and serve with biscuits or chicken-fried steak.
Nutrition
Calories:
219
kcal
|
Carbohydrates:
11
g
|
Protein:
4
g
|
Fat:
17
g
|
Saturated Fat:
7
g
|
Polyunsaturated Fat:
2
g
|
Monounsaturated Fat:
7
g
|
Cholesterol:
26
mg
|
Sodium:
352
mg
|
Potassium:
172
mg
|
Fiber:
1
g
|
Sugar:
5
g
|
Vitamin A:
174
IU
|
Calcium:
134
mg
|
Iron:
1
mg