Why buy jarred sauce when you can make your own spaghetti sauce at home using simple ingredients? This homemade marinara sauce is great over pasta and tastes so much better than store-bought. It has a deliciously rich flavor, is easy to make, and uses real ingredients. If you make this sauce ahead of time, it is perfect for busy weeknights.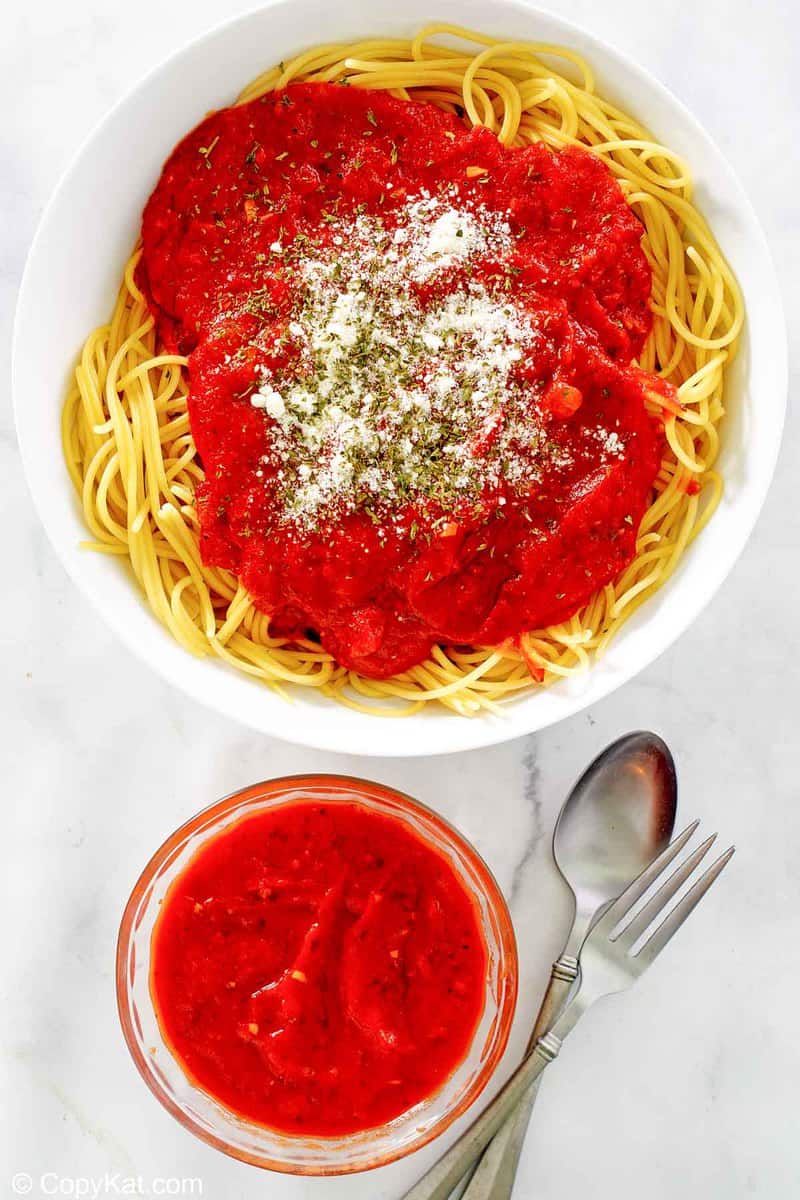 Easy Pasta Sauce Recipe
This easy pasta sauce recipe makes a wonderful tomato sauce. If you already have recipes for homemade sauce, you may want to get rid of them after trying this one! Give it a go, and you will see why I call it the best ever spaghetti sauce. You will never buy the jarred kind again!
Spaghetti sauce made from scratch makes an easy, delicious, filling, and economical meal when paired with pasta. The ingredients to make the best spaghetti sauce are tomatoes, onion, garlic, olive oil, sugar (yes sugar! – see notes below), and a mixture of herbs – basil, parsley, oregano. When you make this delicious sauce at home, you won't ever want to go to the grocery store to buy a jar of sauce.
Recipe Tips for the Cook
One of the secrets to the best spaghetti sauce is good quality tomatoes – Tuttorosso , Muir Glen , San Marzano , Pastene , Pomi are all good brands. In addition, Pomi tomatoes come in a box rather than a can, which is nice if you're looking to avoid BPA , which is still found in some canned foods.
Consider adding some fennel seed to take your spaghetti sauce recipe to a more authentic Italian level. If you're a bit apprehensive about adding it, start by adding 1/4 teaspoon and build up from there!
For meat sauce, add one pound of cooked ground chuck when the tomato products are added.
You could also use Italian sausage or part beef and part sausage.
If you don't want to use beef, try ground turkey – it adds a very different but dynamic flavor.
Sprinkle with freshly grated romano or parmesan cheese when serving this homemade spaghetti sauce recipe with your favorite pasta.
For a vegetarian "meat" sauce, add a plant-based meat product such as Beyond Beef or Beyond Sausage.
Should You Put Sugar in a Spaghetti Sauce Recipe?
Sugar is another secret to the easy spaghetti sauce recipe. Tomato sauce is quite acidic, and sugar serves to tone down the tartness of the tomatoes and balance the flavors. However, you can always cut back on the sugar if you choose.
If you don't want to use any sugar, a trick is to add a pinch of baking soda. It neutralizes the acid of the tomatoes without making the sauce too sweet.
What Type of Pasta Goes Best With This Homemade Spaghetti Sauce Recipe?
Generally, a thick, hearty cooked pasta shape is better suited to big, hearty sauces, whereas lighter and thinner noodles need to be treated with more finesse by pairing them with lighter style sauces.
Long, thin shapes are great for a tomato-based sauce. This homemade spaghetti sauce binds well with thin noodles like spaghetti, linguine, or angel hair.
If you add meat to this homemade spaghetti sauce recipe, the sauce will be more easily mopped up by tube-shaped kinds of pasta such as penne , rigatoni , or tortiglioni . The meat can enter the tubes, and the pasta acts as a great vehicle to carry the sauce.
If you want to understand more about pairing the right pasta shape with the right sauce, here's a good link for you.
Tips for Cooking Pasta
Add about a teaspoon of olive oil to your salted water when you cook your pasta. It helps to prevent the pasta shapes from sticking together.
Taste the pasta to find the "sweet spot."It's ready when it feels soft on the outside but has an inner, more solid core. This is called al dente (at the tooth), and it is the right way to cook pasta from an Italian perspective.
Side Dishes for Your Pasta With Homemade Pasta Sauce
Tips for Making in Advance and Freezing Homemade Spaghetti Sauce
This spaghetti sauce can easily be made in advance. It can be stored in your fridge for 3 to 4 days, or you can freeze it. Before freezing, allow the sauce to cool completely. Label a gallon freezer bag and fill it with the red sauce (or divide it into smaller portions). It's best placed on a flat surface, so it freezes in a flat shape for easy storage for up to 4-6 months. To use, simply place the frozen sauce in a pan and reheat it on the stove.
Best Spaghetti Sauce Recipe Ingredients
Here's a list of what you need:
Olive oil
Garlic
Onion – I recommend using white onion, the yellow onions tend to be too hot for this recipe.
Dried basil – the recipe is meant for dried herbs, but you can use fresh herbs. If you use fresh basil use twice the amount listed in the recipe card.
Dried parsley flakes – you can use fresh parsley use twice the amount listed in the recipe card.
Ground black pepper
Dried Oregano
Salt
Sugar
Canned crushed tomatoes – you do not need fresh tomatoes for this recipe, use a good quality brand of canned tomatoes.
Tomato puree – I think tomato paste is too thick and tastes too strong in this recipe.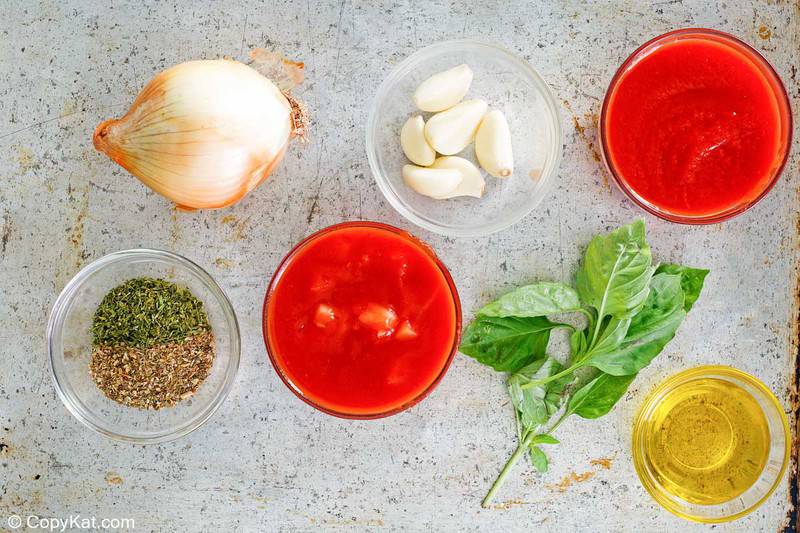 How to Make Spaghetti Sauce from Scratch
Heat oil in a large saucepan over medium-low heat.
Add garlic. Stir and cook until golden brown. Be careful not to burn the garlic.
Add onion and cook until soft and golden, stirring frequently.

Add basil, parsley, pepper, oregano, sugar, crushed tomatoes, and tomato puree. Stir to combine.

Increase heat to medium-high and bring the sauce to a boil, stirring frequently with a wooden spoon to prevent scorching.
Reduce heat to low, cover loosely, and simmer 30 minutes, stirring occasionally.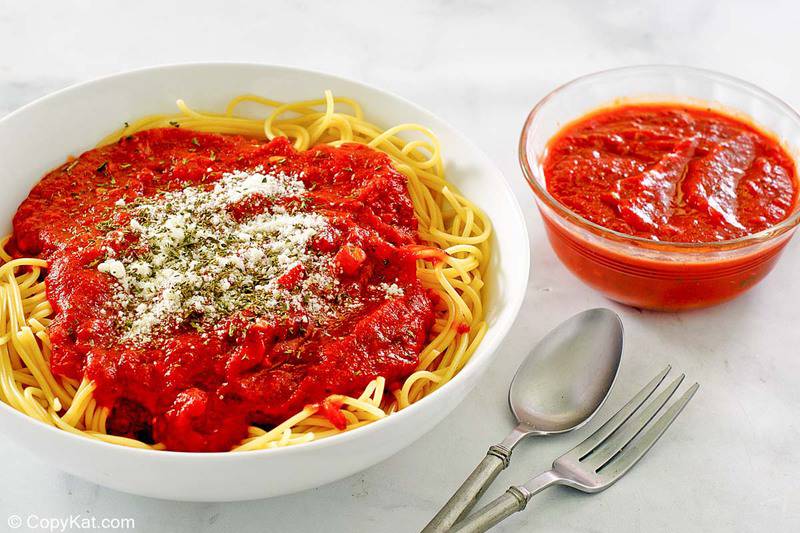 Turn this into your favorite meat sauce!
You always need to have a great recipe for spaghetti meat sauce, it's easy to turn this into a delicious sauce. Let's go over what you need to do.
Add 1 1/2 pounds of cooked seasoned ground meat to this recipe when you simmer it.
You could add 1 1/2 pounds of cooked Italian sausage to the sauce when you simmer it.
This Sauce is Perfect for Meal Prep
You can make this recipe ahead of time, and store it in an airtight container for use during the week. You can also freeze this sauce for up to three months in either freezer bags or airtight containers. I feel like this sauce tastes even better the next day. You could use this sauce in many casseroles, for spaghetti sauce, and it makes a great pizza sauce!
How to Store Leftover Spaghetti Sauce
You should store spaghetti sauce in the refrigerator for up to 5 days in an airtight container. You can freeze leftover spaghetti sauce for up to six months in either a ziplock bag or an airtight container. To defrost the sauce simply remove the sauce from the freezer and allow it to thaw in your refrigerator for about 12 hours.
I hope you give this easy recipe a try soon! I know you will find it the best sauce. It's so easy to make and so flavorful, I know after making this sauce just once you will want to make your own sauce from now on.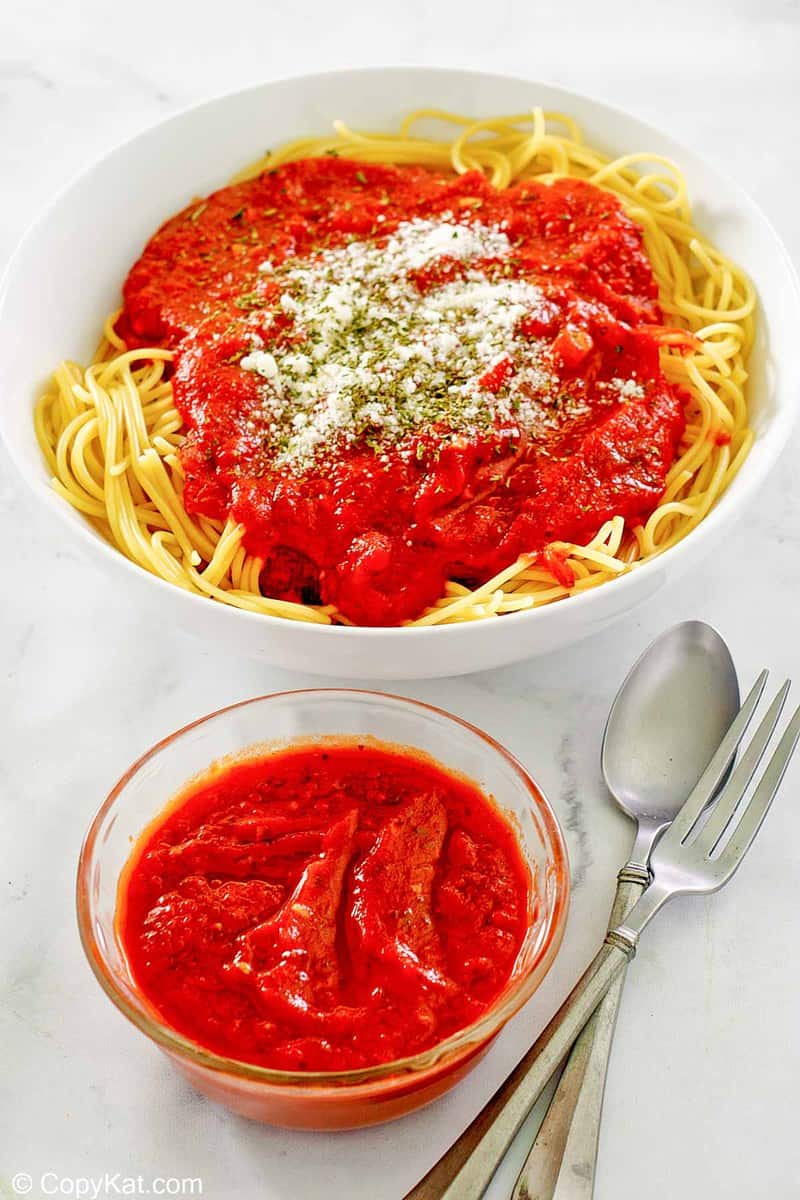 Love spaghetti? Try these recipes!
Favorite Italian Recipes
Check out more of my easy sauce recipes and the best Italian recipes here on CopyKat!
The recipe comes from Sue A. Mertens Minick from Hazelwood, MO. She actually found this site on the internet! And yes, she is family 🙂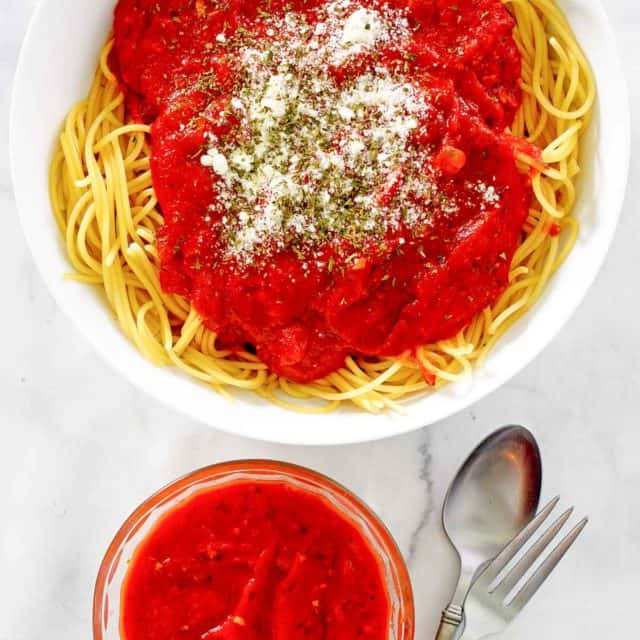 Ingredients
2

tablespoons

olive oil

1

tablespoon

minced garlic

1/2

cup

chopped onion

1

teaspoon

basil

1

teaspoon

parsley flakes

1/2

teaspoon

ground black pepper

1/2

teaspoon.

oregano

1

teaspoon

salt

4

tablespoons

sugar

28

ounces

crushed tomatoes

29

ounces

tomato puree

(2 14.5-ounce cans)
Instructions
Heat oil in a large saucepan over medium-low heat.

Add onion and cook until soft and golden, stirring frequently.

Add garlic. Stir and cook until golden brown. Be careful not to burn the garlic.

Add seasonings, tomato products, and sugar and bring to a boil over medium-high heat.

 Reduce heat to low,cover loosely, and simmer for 30 minutes, stirring occasionally.
Notes
For meat sauce, add one pound of cooked ground beef chuck when the tomato products are added.
Nutrition
Calories:
131
kcal
|
Carbohydrates:
24
g
|
Protein:
3
g
|
Fat:
4
g
|
Saturated Fat:
0
g
|
Cholesterol:
0
mg
|
Sodium:
451
mg
|
Potassium:
756
mg
|
Fiber:
4
g
|
Sugar:
15
g
|
Vitamin A:
735
IU
|
Vitamin C:
21
mg
|
Calcium:
61
mg
|
Iron:
3.2
mg