Indulge in the divine blend of creaminess and freshness with Creamy Avocado Dip! This culinary delight is a medley of buttery avocados, tangy sour cream, and crispy bacon creating a delicious dip that's perfect for chips, veggies, or as a delightful spread. You can make the best avocado dip with a symphony of flavors that will surprise and satisfy your taste buds.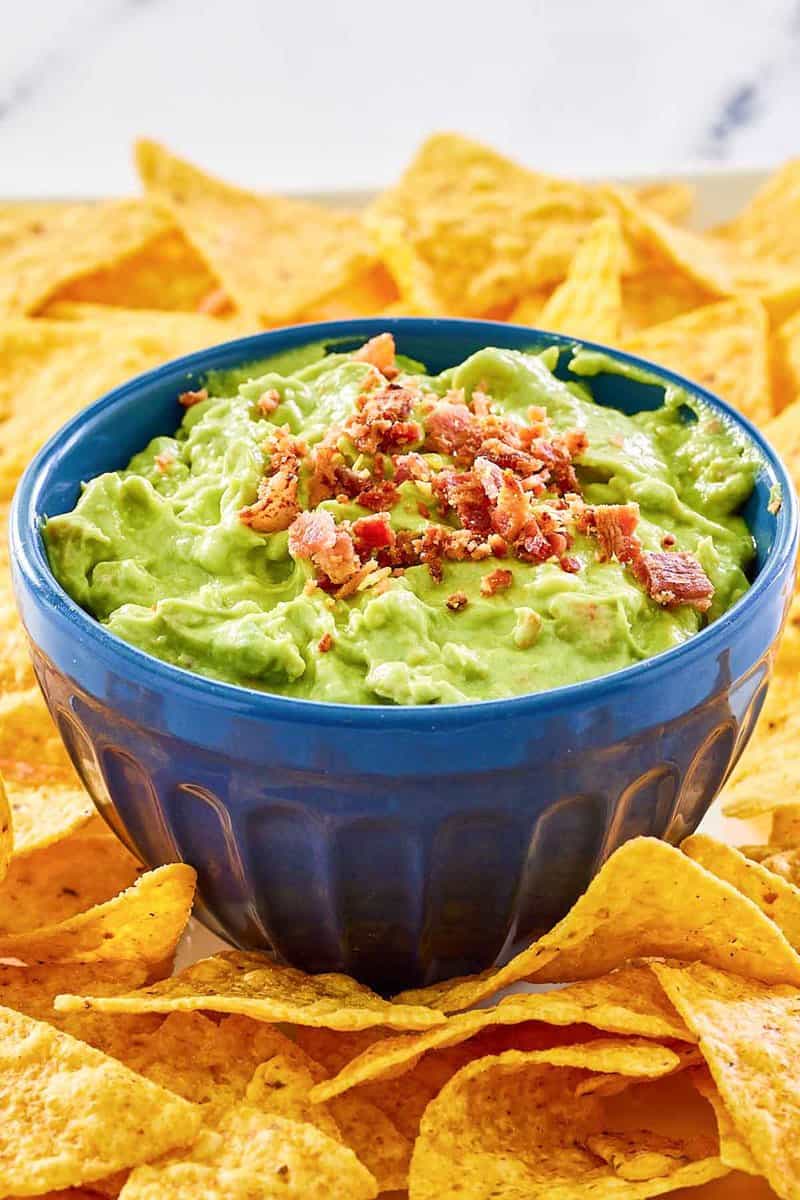 This post contains affiliate links. As an Amazon Associate, I earn from qualifying purchases.
Sour Cream Avocado Dip
Everyone loves guacamole, but sometimes you want something a little bit different, and this sour cream avocado dip fills the bill. It tastes super, and you can't buy it in stores. This avocado dip recipe is made very simply – avocados, sour cream, bacon, lemon juice, and a hint of onion.
Why You Should Try This Recipe for Avocado Dip
This avocado dip recipe gives you a great dip if you are on a low-carb or keto diet. Even if you are not following any particular diet, this sour cream avocado dip is a great change from guacamole!
This avocado bacon dip has everything that makes a delicious dip – all you need are chips!
It's so easy to make and you don't need a food processor. Just mash the avocado with a fork or potato masher and mix in the rest of the ingredients.
Ingredients for Avocado Dip
Here is a quick list of the ingredients you need to make this creamy avocado dip:
Avocados
Sour cream
Bacon
Onion
Lemon juice
Salt
Ingredient Additions and Substitutions
Add a teaspoon or two of chopped garlic.
Substitute lemon juice with lime juice.
Substitute sour cream with Greek yogurt.
Tips for Finding Ripe Avocados
We've all been there. We arrive home from the store eager to use our delicious avocados, only to find that we have fruits that aren't yet ripe, or we've got about thirty seconds to use them before they go bad! So, here are some tips for finding perfectly ripe avocados:
Texture: An avocado should give just a little bit when you push into it. If it pushes in a lot, it's too ripe; if there's no give to speak of, it's not yet ready for its big debut.
Color: A just green avocado is not yet ready for eating, while a very dark one is likely past its prime. Look for an avocado that is right in that sweet spot – dark green while not yet brown.
Timing: This is something you have control over. We all bought things at the store with the intent of using them that evening. However, then we fall asleep on the couch – too tired to cook what we planned. However, if you buy a perfectly ripe avocado, be sure to use it within two days.
How to Ripen an Avocado in the Microwave
Here's a trick for an avocado that you want to use but is under-ripe.
Place the avocado in the microwave and cook for 30 seconds on a 50% setting.
Remove the avocado from the microwave and give it a squeeze.
If the avocado remains hard, microwave for an extra 30 seconds. Once your avocado is soft, it's ready to use!
How to Make Avocado Dip
Here are the steps for making this recipe for avocado dip:
Mash the avocados with a fork in a bowl.
Add sour cream, lemon juice, onion, and salt.
Stir until everything is combined.
Cover and refrigerate until ready to serve.
Just before serving, stir in the bacon. Sprinkle a few pieces on top for garnish.
Serve with tortilla chips.
Other garnishes:
Chopped tomatoes and green onions
Cilantro and lemon or lime slices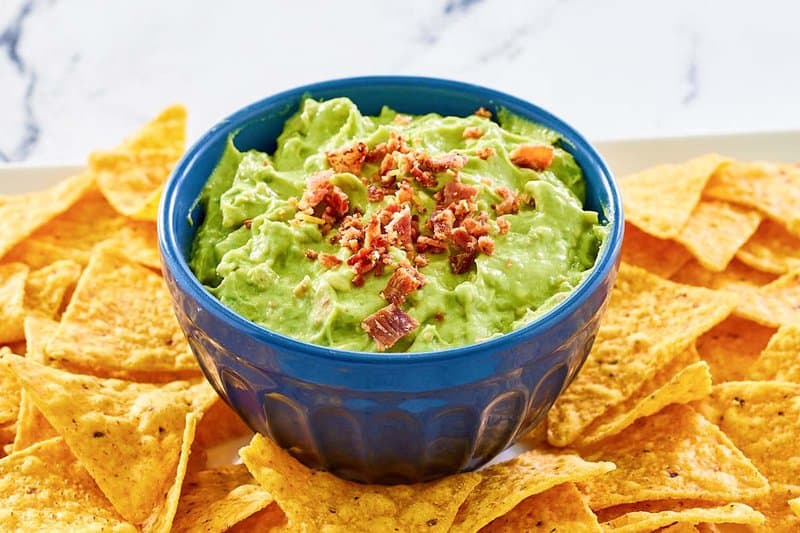 How to Serve Avocado Sour Cream Dip
This easy avocado dip for chips is a perfect game-day snack! It also works well as an appetizer. Here are some other delicious ways to use this avocado dip recipe:
Other ideas for dippers: Pita bread, homemade crackers, green bell peppers, carrots, celery, radishes, and aged Cheddar cheese.
Use it in or on top of burritos, nachos, tacos, enchiladas, or quesadillas with it.
Use in a sandwich with slices of smoked turkey and provolone.
This savory dip tastes really good on a burger or grilled chicken sandwich.
It's delicious spooned over a nice big taco salad.
How to Store Avocado Dip
Storing avocado anything tends to be tricky, but here's how to keep this recipe for avocado dip good in the fridge for up to 3 days.
Put the dip in an airtight container with a very tight-fitting lid – the less air you let into the container, the better. Press the dip with a spoon as much as possible to remove any air bubbles.
Add about 1/2-inch of lukewarm water on top of the dip.
Cover and store for up to 3 days. When you are ready to enjoy your dip, just pour out the water and give everything a good stir.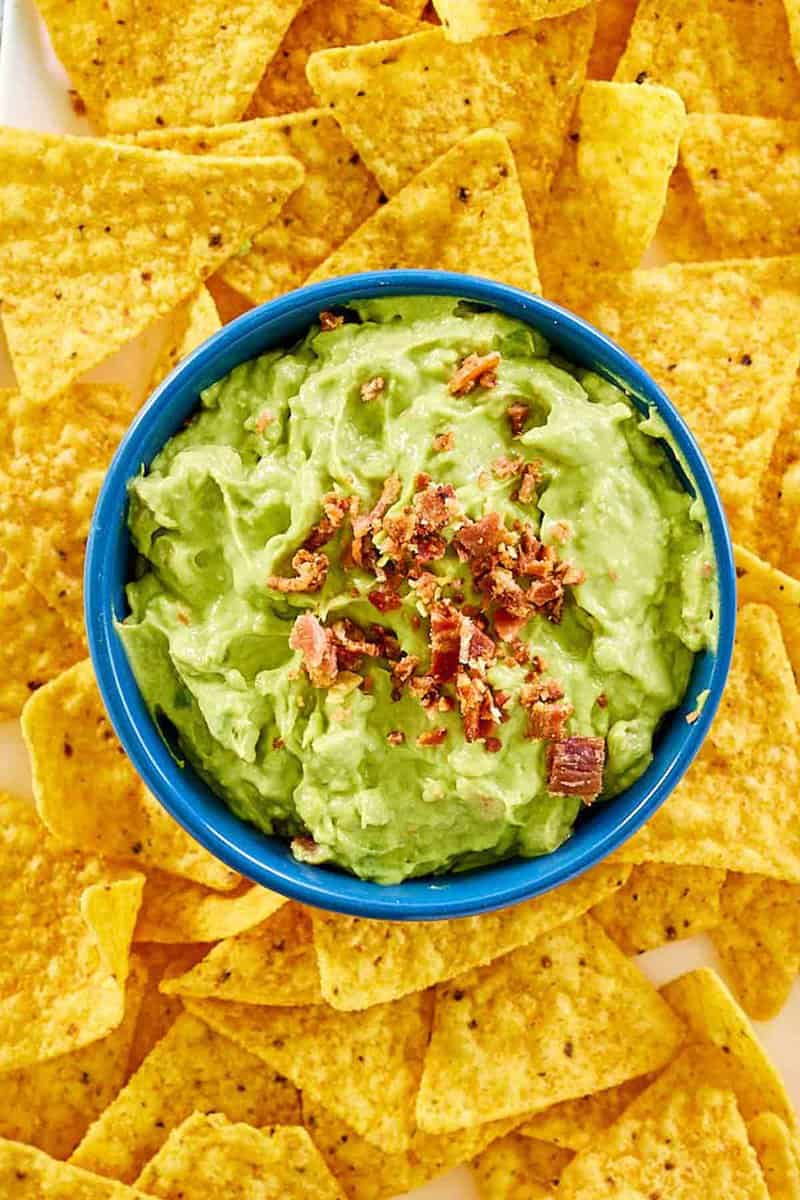 Favorite Avocado Recipes
Looking for more ways to use avocados? Here are some recipes with avocado for you to try:
Popular Low Carb Recipes
Check out more of my delicious and easy dip recipes and the best low carb recipes on CopyKat!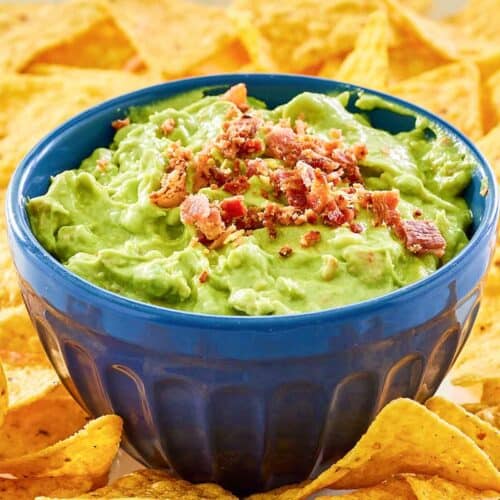 Ingredients
2

medium

avocados

peeled and pitted

1/2

cup

sour cream

2

tablespoons

lemon juice

1

teaspoon

grated onion

1

teaspoon

salt

2

ounces

bacon

cooked until crisp and crumbed

tortilla chips

to serve
Instructions
Mash the avocados with a fork. Add the sour cream, lemon juice, onion, and salt and stir to combine.

Cover and refrigerate until ready to serve.

Just before serving, stir in the bacon, sprinkling a few pieces on top for garnish.

Serve with tortilla chips.
Nutrition
Calories:
277
kcal
|
Carbohydrates:
10
g
|
Protein:
4
g
|
Fat:
26
g
|
Saturated Fat:
7
g
|
Cholesterol:
24
mg
|
Sodium:
705
mg
|
Potassium:
556
mg
|
Fiber:
6
g
|
Sugar:
1
g
|
Vitamin A:
325
IU
|
Vitamin C:
13.2
mg
|
Calcium:
44
mg
|
Iron:
0.7
mg