Whip up this hearty homemade spaghetti meat sauce and enjoy a comforting family dinner! Made with ground beef, Italian herbs, garlic, peppers, onions, stewed tomatoes, and tomato sauce, this sauce is brimming with bold, savory flavors. It's the ultimate meat sauce for any type of pasta or lasagna. Dive into this easy recipe and find out how to make the best meat spaghetti sauce right in your kitchen.
This post contains affiliate links. As an Amazon Associate, I earn from qualifying purchases.
Why This Meat Sauce for Spaghetti Is the Perfect Weeknight Dinner
Pasta is a quick and easy weekday dinner, but it isn't often a meal your family looks forward to eating. Even if you master how to cook pasta perfectly, most jarred sauces aren't that great, and that can lead to disappointment at the table.
With this incredible homemade meat sauce recipe, you can turn eating at home into a restaurant-worthy experience. Everyone in your family will love pasta night when you serve this perfectly balanced, rich, and meaty red sauce.
Why You Should Try This Recipe
Sure, you can splurge on a jar of so-called premium pasta sauce, but none of them will ever equal the wonderful flavor of a sauce you make in your own kitchen. This spaghetti meat sauce recipe is straightforward enough to prepare.
You'll be rewarded for the extra time and effort it takes with each bite. Keep plenty of extra on hand because it is going to be very popular!
Homemade Spaghetti Meat Sauce Ingredients
To make this recipe, you'll need:
Ground beef
Sweet onion
Green bell pepper
Tomato sauce
Stewed tomatoes, canned
Water
Chicken or beef bouillon cubes
Dried basil
Dried oregano
Chili powder
Parsley flakes
Garlic powder
Black pepper
Accent seasoning optional
Parmesan cheese
Salt, optional
Sugar, optional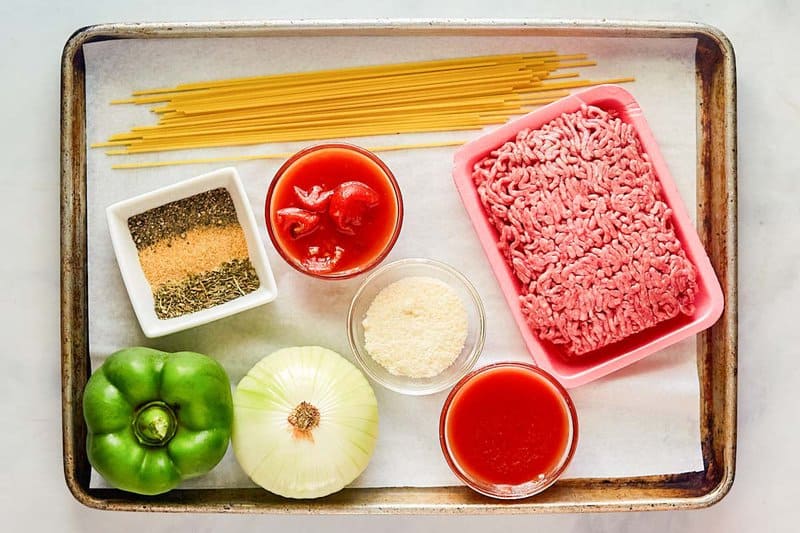 Ingredient Notes and Substitutions
In place of bouillon cubes, you can also use an alternative such as Better Than Bouillon.
MSG products like Accent sometimes get a bad reputation, but they add a lot of flavor. If you choose not to use Accent, a dash or two of soy or Worcestershire sauce is all it takes for an extra umami kick.
You can substitute ground beef with ground chicken or ground turkey. You can also substitute half of the meat with Italian sausage.
Add a kick of heat with a little red pepper flakes.
How to Make the Best Spaghetti Meat Sauce Recipe
To make this easy meat sauce for spaghetti:
Dice the sweet onions and green peppers. Reserve for later.
Heat a large saucepan over medium-high heat.
Add the ground beef to the saucepan and break it up with a wooden spoon or spatula. Cook the ground beef for a minute or two, then add the diced onions and green peppers. Brown the meat while stirring from time to time. If you want, you can drain any excess grease at this point.
Stir in the tomato sauce, stewed tomatoes, water, bouillon cubes, and all the herbs and spices. If you are using Accent, add it at this step as well.
Bring the sauce to a boil and reduce it to a simmer. Cook the meat sauce for 20 minutes, uncovered. Occasionally, stir the sauce and adjust the heat so it remains at a slow simmer.
Stir in the parmesan cheese.
Taste the sauce and adjust the flavor with additional sugar or salt if necessary.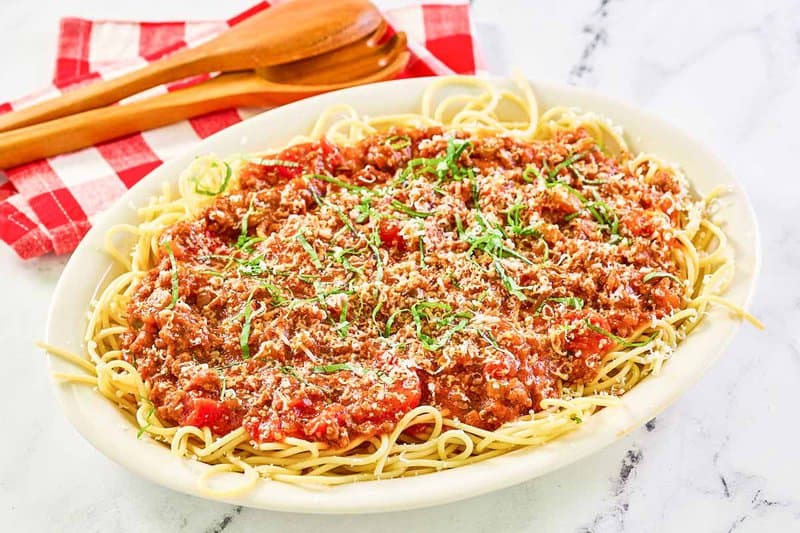 What to Serve With It?
Use spaghetti or another type of pasta that is on the thicker side, like tagliatelle or pappardelle. The wider noodles give the meat sauce more surface area to cling to and provide a toothier bite. You can also serve it over spaghetti squash.
Serve the pasta garnished with fresh parsley along with a soup or salad, and don't forget a crusty slice of Italian bread or garlic bread for mopping up any extra sauce.
Different Ways You Could Use This Meat Sauce
This homemade spaghetti sauce recipe makes enough sauce for a pound and a half of pasta. Since most packets of dried pasta are only a pound, you will have some leftovers. And that's a good thing. Sure, you can make more pasta tomorrow night, but there are so many more options for using this meat sauce. Here are just a few:
Vegetable Casserole: Layer various sliced vegetables, such as eggplant, zucchini, and tomatoes, in a casserole dish. Spread the pasta sauce between each layer. Cook in the oven at 400 degrees until the vegetables are soft. Sprinkle parmesan cheese on top and serve.
Hearty Vegetable Soup: Heat the leftover pasta sauce in a saucepan and thin it with chicken or beef stock. Simmer and serve with cooked egg noodles or cheese tortellini.
Meaty Baked Potato: Split a baked potato and top it with this homemade meat sauce. Sprinkle on your shredded cheese, and enjoy.
How to Store Easy Meat Sauce For Spaghetti
Cool the leftover spaghetti sauce to room temperature, then transfer it to an airtight container with a lid. Put it in the refrigerator or the freezer.
How Long Does The Meat Sauce Last?
The meat sauce will keep fresh for about three days in the fridge or around a month when frozen.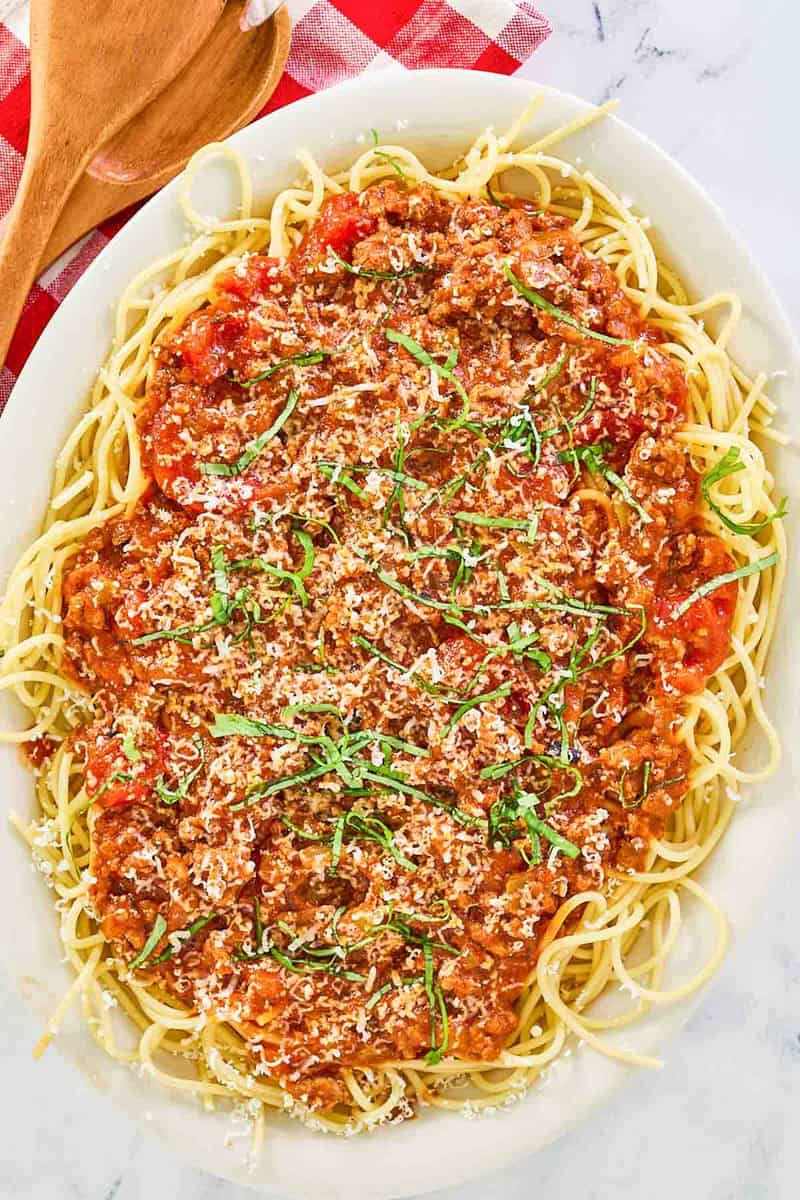 Favorite Sauce Recipes
Popular Spaghetti Recipes
Check out more of my easy sauce recipes and the best Italian recipes on CopyKat!
Thanks to Columbiamo for sharing this spaghetti recipe.
Ingredients
1

pound

ground beef

1

sweet onion

diced

1

green bell pepper

diced

24

ounces

tomato sauce

14.5

ounces

canned stewed tomatoes

14.5

ounces

water

4

chicken or beef bouillon cubes

1

tablespoon

dried basil

1

tablespoon

dried oregano

1

tablespoon

chili powder

1

tablespoon

parsley flakes

1

tablespoon

garlic powder

1

teaspoon

pepper

1

teaspoon

Accent seasoning

optional

1/4

cup

grated Parmesan cheese

1

pinch

salt

optional

1

pinch

sugar

optional

1 1/2

pounds

spaghetti noodles

to serve
Instructions
In a pot over medium-high heat, sauté the ground beef, onion, and bell pepper until the meat is browned. Add the tomato sauce, stewed tomatoes, water, bouillon cubes, and all the herbs and spices. Simmer for 20 minutes.

Add the Parmesan to the pot and stir. Taste the soup and add a bit of salt and/or sugar, if necessary.

To serve, boil 4 quarts of water. Add the spaghetti to the boiling water and stir until the water returns to a boil. Turn the heat down and simmer for 8 to 9 minutes, until the noodles reach the desired tenderness. Drain the spaghetti and serve alongside the sauce.
Notes
Because of the bouillon cubes make sure you taste the sauce before adding salt.
You may find some tomatoes and tomato sauce a little more acidic than others. This of course depends on the brand being used. If this turns out to be the case, add a wee bit of sugar or baking soda.
Nutrition
Calories:
518
kcal
|
Carbohydrates:
73
g
|
Protein:
24
g
|
Fat:
14
g
|
Saturated Fat:
5
g
|
Cholesterol:
43
mg
|
Sodium:
791
mg
|
Potassium:
789
mg
|
Fiber:
5
g
|
Sugar:
7
g
|
Vitamin A:
790
IU
|
Vitamin C:
10.3
mg
|
Calcium:
120
mg
|
Iron:
4.8
mg