No one can match the taste of Applebees Quesadilla. This CopyKat version of their quesadilla with bacon comes pretty close. Be sure to serve with your favorite guacamole, salsa, and sour cream.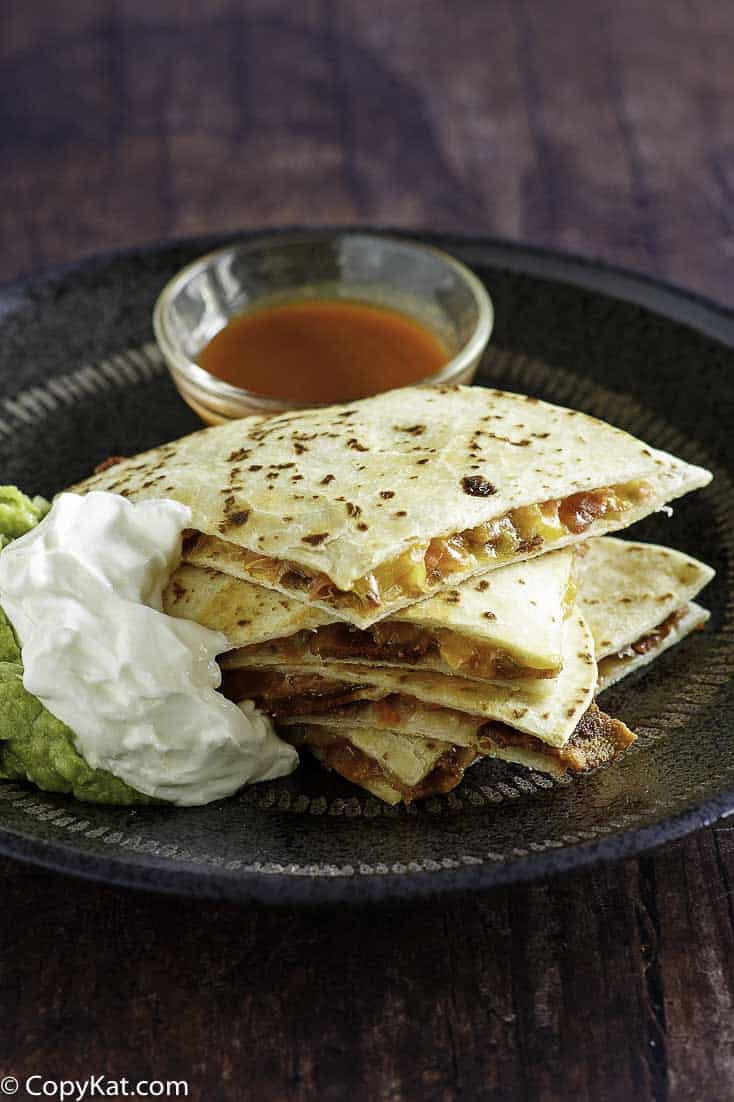 These cheesy, tortilla appetizers from Mexico, are easy to make and everyone will love them. What makes this simple dish special is the authentic ingredients that Applebee's uses. Now you can make authentic Applebee's Quesadillas because I've broken down all the ingredients for you.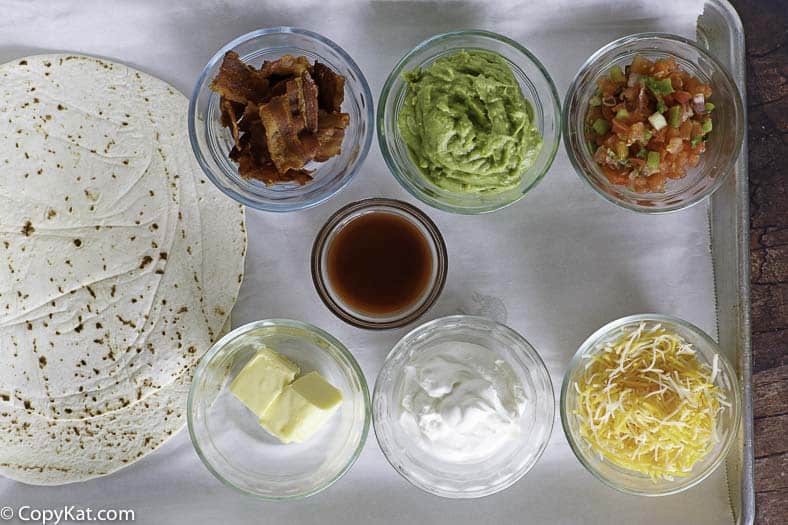 Pico de Gallo is actually a fresh, tomato salsa made by seeding and chopping tomatoes, chili peppers, onions, and cilantro. But I believe that Applebee's uses something similar to Goya's Pico de Gallo sauce, which you can find in the Mexican food section of your grocer.
If you want to rev up your 'dillas, then go for the fresh stuff. Most grocers have small containers of fresh Pico de Gallo available in the produce section. Or you can make it with my Pico de Gallo recipe. Since this quesadilla recipe only calls for a tablespoon of Pico de Gallo, try pouring leftovers over tuna steaks or serving it atop your favorite nachos.
Picante sauce comes in many forms and has many names but it's always red… and hot. When shopping for this ingredient, look for names like Picante, Sriracha, Hot Sauce or Hot Chili Sauce, and choose from mild to medium to hot-hot.
Colby and Monterey Jack cheeses are both American, cow's milk cheeses, named after the towns they come from: Colby Wisconsin and Monterey California. They are often compared to cheddar, though they are milder in flavor to cheddar. And they are often sold as Colby-Jack, in a marbled brick or combined with a shredded mix. You can use either one if that's what you've got in your fridge but I prefer the taste of both.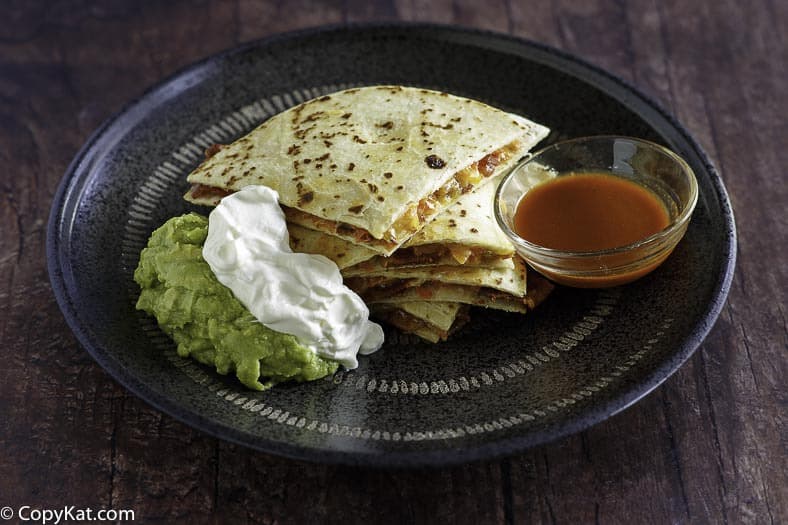 With this much knowledge, you can make Applebee's Quesadillas your signature dish.
Applebee's Quesadillas are the perfect go-to food when you're entertaining or filling a buffet table. Though no one can match the taste of Applebee's Quesadillas, this CopyKat version of their famous quesadillas comes pretty close. Be sure to serve them with your favorite guacamole, sour cream, and salsa or Picante sauce.
Get More Applebee's Copycat Recipes
Applebee's Fiesta Lime Chicken
Applebee's Maple Blondie
Applebee's French Onion Soup
Applebee's Queso Blanco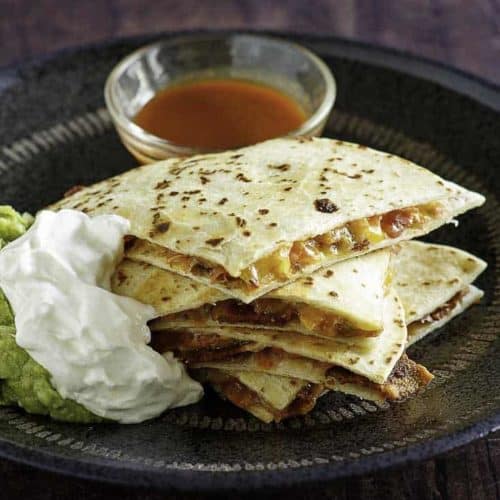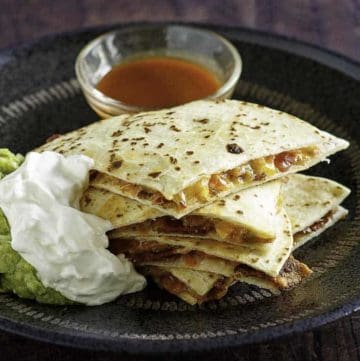 Ingredients
2

slices

bacon

cut into 1/2 inch pieces

2

tortillas

2

teaspoons

butter

1

tablespoon

Pico de Gallo

1/4

cup

colby jack cheese

shredded

1

tablespoon

sour cream

1

tablespoon

guacamole

1

tablespoon

picante sauce
Instructions
Slice bacon and fry until bacon starts to turn crisp but not hard and brittle. Remove from pan, drain bacon and set aside.

Spread butter lightly on one side of the flour tortilla shell. Place buttered side of the shell down, into a non-stick fry pan that has been preheated on medium heat.

Sprinkle 2 tablespoons of bacon over entire shell, then add 1 Tbs. Pico de Gallo, and 1/4 cup shredded Colby/Monterey Jack cheese over the bacon. Place the second flour shell on top of fixings, buttered side up.

Cook for about one-two minutes just long enough to heat the inside ingredients and then carefully flip the quesadilla on the other side and finish cooking.


The quesadilla should be heated through but not browned. Remove quesadilla and place on a serving dish and cut into individual triangle serving pieces. Serve quesadillas with your favorite guacamole, sour cream, and salsa or picante sauce.
Nutrition
Calories:
565
kcal
|
Carbohydrates:
36
g
|
Protein:
19
g
|
Fat:
38
g
|
Saturated Fat:
16
g
|
Cholesterol:
70
mg
|
Sodium:
1110
mg
|
Potassium:
341
mg
|
Fiber:
2
g
|
Sugar:
4
g
|
Vitamin A:
480
IU
|
Vitamin C:
1.6
mg
|
Calcium:
303
mg
|
Iron:
2.3
mg