Red Lobster Cajun Shrimp was featured in one of their unlimited shrimp feasts. These tasty shrimp are buttery, spicy, and great for an appetizer or main dish.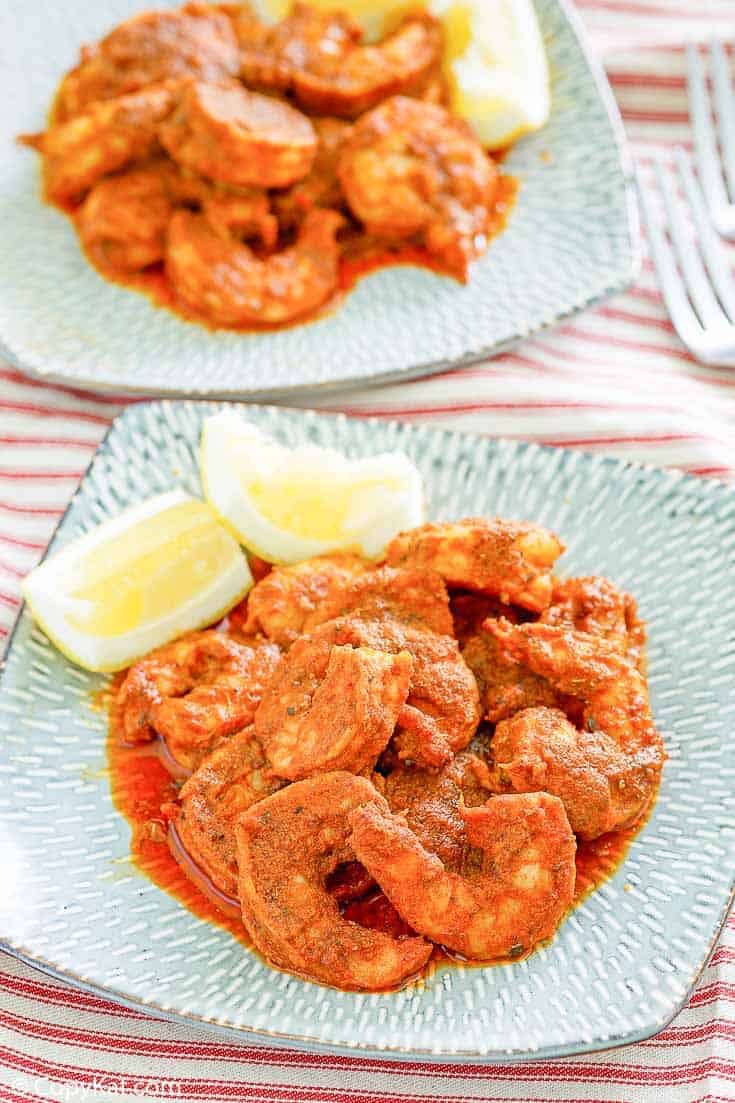 Red Lobster Shrimp
Red Lobster is one of the most popular chain restaurants in the US — and for a good reason! It serves up some of the best seafood around.
For shrimp lovers who like a lot of spice in their lives, a visit to Red Lobster isn't complete without at least one order of Cajun-style shrimp. If you find this spicy shrimp dish addicting, why wait until the next Endless Shrimp promo to indulge? Just make your own at home with this easy-to-follow Cajun shrimp recipe.
How to Make Cajun Shrimp
We will show you how to make the perfectly cajun spiced shrimp in no time at all.
Choosing Shrimp
There is a lot of shrimp in the sea, and not all are the same size. If you are unfamiliar with buying shrimp, choosing the right size can be confusing.
While you may be used to restaurants using terms like jumbo and extra-jumbo to describe the shrimp on their menus, grocery stores typically sell shrimp based on a number range that characterize the average number of shrimp that make up a pound.
While you can use any size shrimp you want, if you're going to copy the dish as closely as possible, use the same size shrimp that Red Lobster does and choose the 26/30 size. Expect to get generous portions per pound of shrimp.
Peeling and Deveining Shrimp
Some stores sell ready-to-cook with all the dirty work done for you, but do yourself a favor and don't buy them. Not only are ready-to-cook shrimp more expensive, but they are often not as fresh as the shrimp that require peeling and deveining. Don't worry, once you get over your initial queasiness, preparing shrimp for cooking is simple.
Peeling a shrimp is easy. First, decide whether you want to leave on the tail. It is a matter of choice, but many people think leaving the tail on looks more attractive. If you are keeping the tails on, lay the thumb of one hand over the last segment of the shell to prevent it from being removed and with the other hand reach underneath the shrimp where the legs are and gently peel off the rest of the shell. There is no need to be so careful.
Deveining a shrimp takes a little more skill. Hold the shrimp in your hand, using a sharp paring knife cut a shallow slit in the middle of the shrimp's back. Cut just deep enough to expose the black 'vein' and remove it with the tip of the knife. Avoid cutting through the 'vein' because it is actually the digestive tract of the shrimp. Give the shrimp a good rinse under the faucet before patting dry.
Ingredients
Here is what you need to make Cajun shrimp:
Raw Shrimp (medium size is best)
Margarine or Butter – butter gives the best flavor
Cayenne pepper – want a spicier version, add more
Salt – is needed to balance out the flavor
Black pepper – another layer of heat, fresh cracked black pepper is best
Paprika – this adds a tiny beat of heat and lots of color
Cumin – this adds some heat, but a nice middle note of flavor
Dry mustard – adds a tiny bit of tang
Dried thyme – adds a great herbal flavor
Dried oregano – adds a bit of herbal flavor
Onion powder – rounds out the flavor of the shrimp
Garlic powder – rounds out the Cajun spice flavor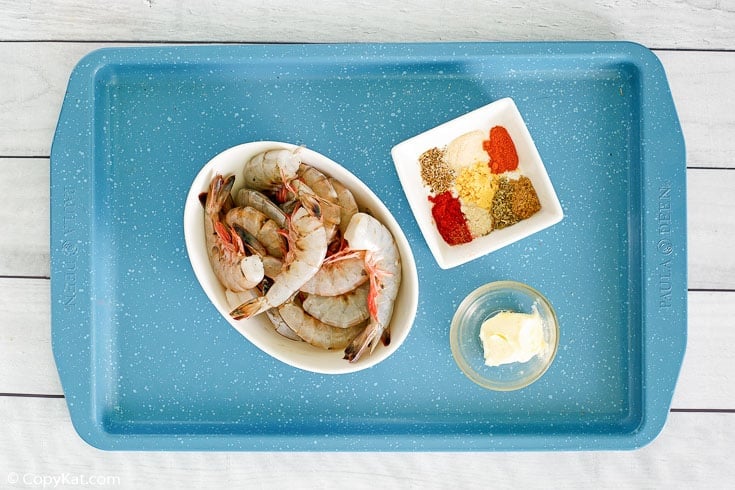 How to Make Red Lobster Cajun Shrimp
Heat oven to 400 degrees.
Peel and devein shrimp.
Mix together all the spices.
Place margarine in a baking dish. Put the baking dish in the oven until butter has melted.
Add shrimp to the baking dish.
Sprinkle the spice mix over shrimp and toss to coat shrimp in butter and spices.
Bake for approximately 15 minutes or until shrimp is done.
Serve with lemon wedges and enjoy!
You can also serve Red Lobster Cajun Shrimp with rice or plenty of bread so you can mop up the extra sauce.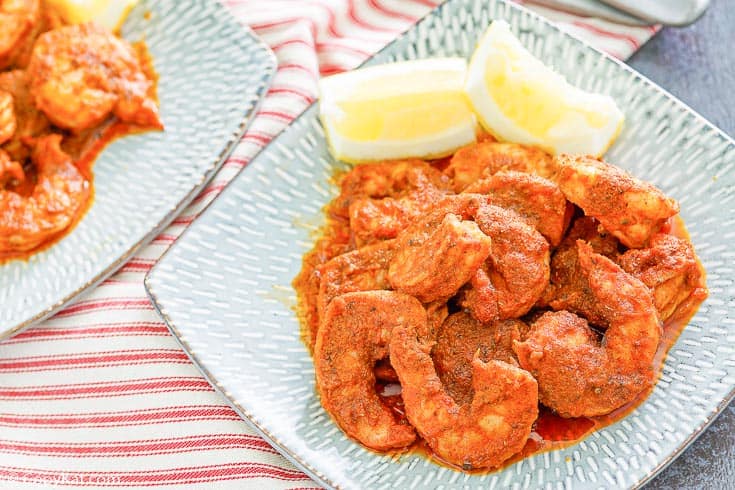 Tips for Making and Serving Cajun Style Shrimp
Don't be fooled. The Cajun shrimp seasoning is spicy. Feel free to reduce the level of cayenne pepper in the Cajun shrimp seasoning if you like spicy food.
Use a skewer to keep the shrimp from curling. Prevent shrimp from curling too tightly while baking by threading them on a bamboo skewer. Soak a bamboo skewer for thirty minutes in water to keep them from scorching in the oven. After coating a shrimp with the butter mixture, poke it with a skewer from the bottom to the top. Adjust the curl to your liking.
Serve with cheesy grits. Up your Cajun shrimp game by serving them on top of a big bowl of cheesy grits.
Don't forget to add us as a friend on Facebook to keep up-to-date with all of our new recipes!
Cajun Shrimp's spicy sauce is simply margarine or butter combined with a homemade cajun spice mix. The deep flavor comes from a variety of seasonings commonly found in Cajun cuisine.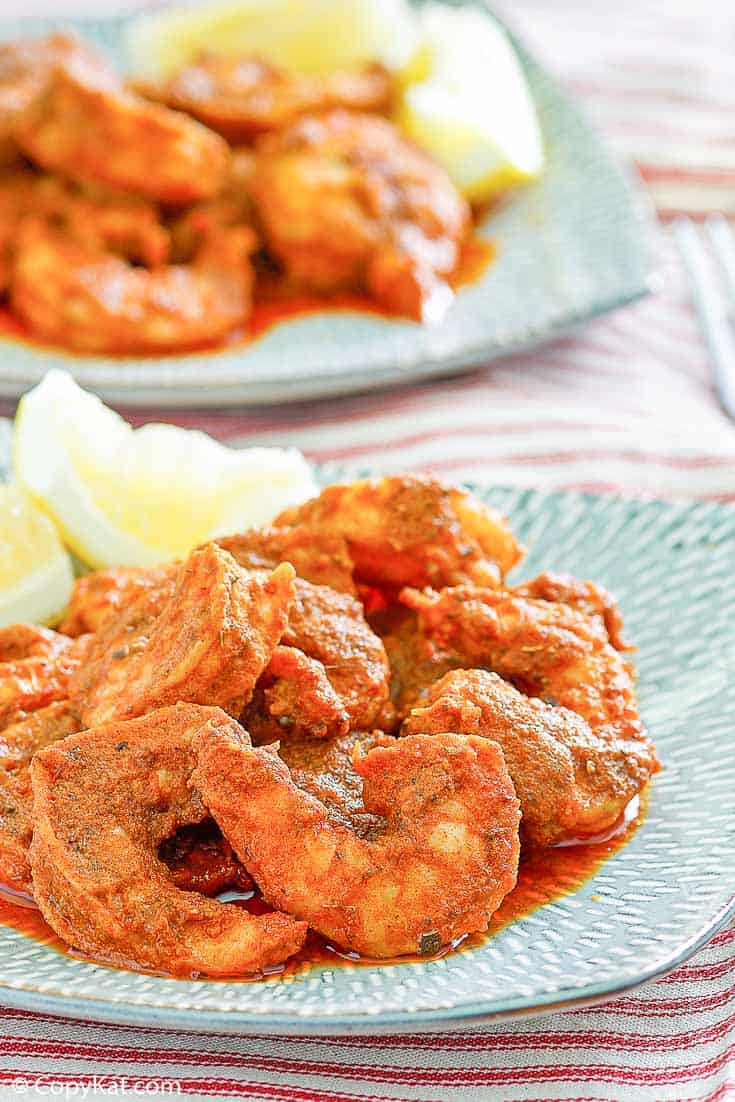 Love shrimp? Be sure to try these delicious recipes
More Cajun Recipes
Be sure to check out more of the best seafood recipes and my quick and easy recipes.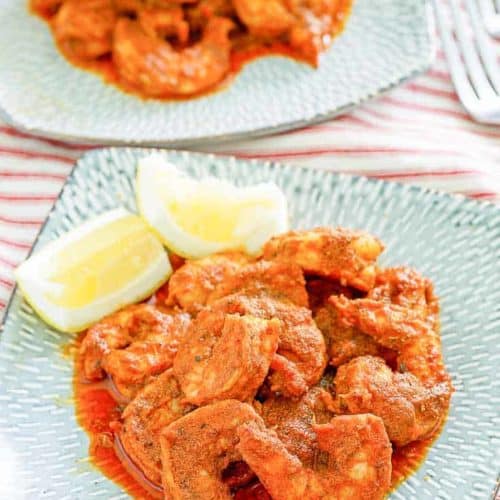 Ingredients
1

pound

shrimp

, use at least medium size

1/2

cup

margarine

or butter

4

teaspoons

cayenne pepper

3

teaspoons

salt

2

teaspoons

black pepper

2

teaspoons

paprika

2

teaspoons

cumin

2 1/4

teaspoon

dry mustard

1

teaspoon

dried thyme

1

teaspoon

dried oregano

2

teaspoons

onion powder

2

teaspoons

garlic powder
Instructions
Preheat your oven to 400 degrees.

Place the margarine in a 13 x 9 baking pan, and then place the pan in the oven. While the pan is in the oven wash and peel shrimp. Devein the shrimp. By the time you have finished prepping the shrimp, the margarine should be melted in the pan.

In a small bowl mix together the spices and blend well. Place shrimp into the pan, and then sprinkle on the seasonings you have just blended together on the shrimp. Mix the shrimp, margarine, and spices until the shrimp is coated well with margarine and shrimp. Bake for approximately 15 minutes, remove shrimp and check for doneness.

The shrimp should be pink when done. So, our recipe uses margarine, as most restaurants use margarine because it is less expensive than butter. If you really want to try to ramp up this recipe use butter instead of margarine. Be sure to serve the shrimp with fresh lemon wedges.
Nutrition
Calories:
343
kcal
|
Carbohydrates:
5
g
|
Protein:
24
g
|
Fat:
25
g
|
Saturated Fat:
5
g
|
Cholesterol:
285
mg
|
Sodium:
2897
mg
|
Potassium:
224
mg
|
Fiber:
1
g
|
Sugar:
0
g
|
Vitamin A:
2355
IU
|
Vitamin C:
6.4
mg
|
Calcium:
206
mg
|
Iron:
4.1
mg