Delight your tastebuds with delicious Applebee's Chicken Wonton Tacos! Crispy wonton taco shells are filled with tender, juicy chicken and topped with a tangy slaw, creating a flavor explosion with every bite. They're perfect for a quick weeknight dinner, party appetizer, or game-day snack. This is one of those delicious recipes your whole family will love.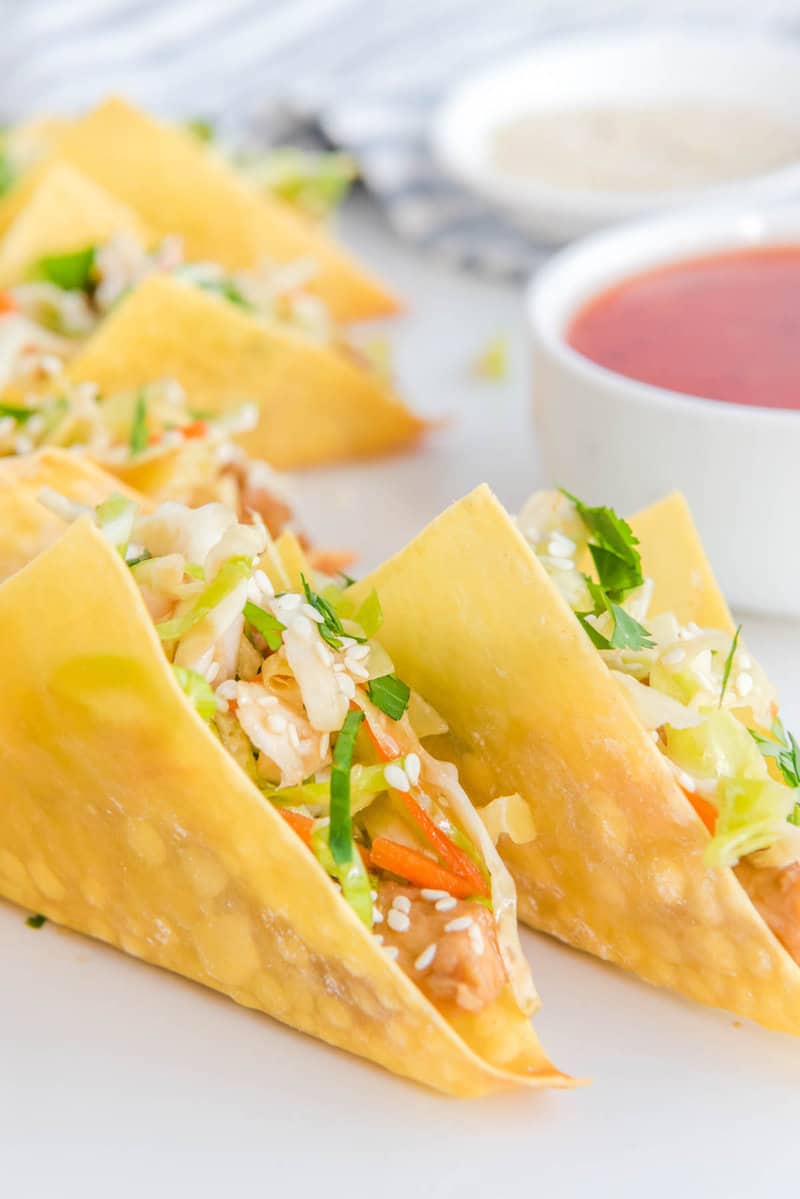 This post contains affiliate links. As an Amazon Associate, I earn from qualifying purchases.
What Makes the Applebees Wonton Tacos the Perfect Way to Start a Meal?
Are you looking for an innovative and great appetizer that will impress you? Look no further than Applebee's Chicken Wonton Tacos. These small but tasty bites are a great example of fusion cooking, combining traditional Asian flavors with a Tex-Mex presentation. This is the perfect copycat to make for when you want to enjoy some delicious appetizers. Your guests will love the flavor of this dish.
The sweet and salty chicken works amazingly well with the slightly tart Asian slaw, and the crunch of the crispy wonton shell makes these things addictive! Whether you have a few friends over for the big game or want to spice things up for your family meals, this is the appetizer you want to eat.
Why You Should Try This Recipe
Unlike other copycat Applebee's Wonton Tacos recipes, this one doesn't depend on prepackaged sauces for flavor. Instead, it uses fresh ingredients easily found at a well-stocked local supermarket or online.
If you love the Chicken Wonton Tacos at Applebee's, try making them at home!
Applebee's Chicken Wonton Tacos Ingredients
For the wonton taco shells, you'll need:
Wonton wrappers
Non-stick cooking spray
You will also need oven-safe taco stands to form the taco shells from the wonton wrappers.
For the Asian Slaw Mix, you'll need:
Coleslaw mix with carrots – You can use a bag of coleslaw mix you will find in the refrigerated section of the grocery store
Dried ramen noodles broken into small pieces
Green onions, chopped
Sesame oil
Apple cider vinegar
Soy sauce
Honey
For the Asian Chicken, you'll need:
Chicken breasts, skinless
Hoisin sauce
Sesame oil
Soy sauce
Garlic cloves, minced
Fresh ginger, grated
If you prefer dark meat, you can use boneless chicken thighs instead of chicken breasts. 
Use a light soy sauce if available.
To top the copycat Applebees Wonton Taco, you'll need:
Sweet chili sauce
Sesame seeds
Cilantro, shredded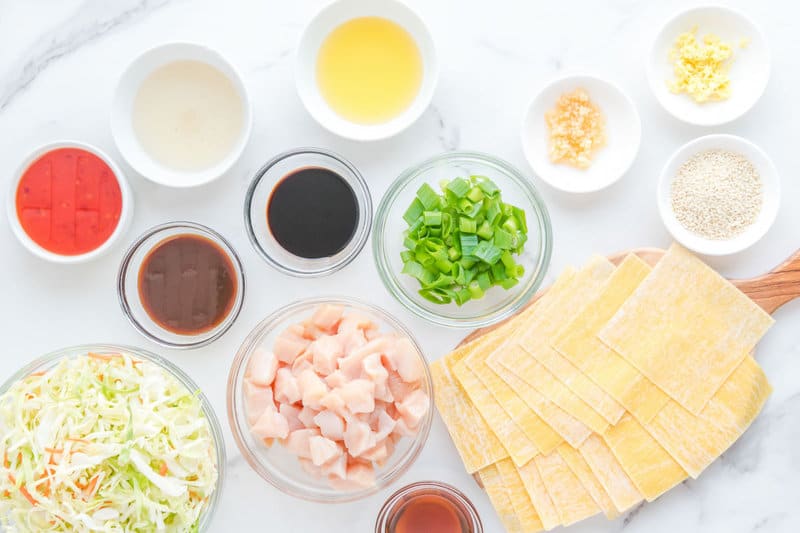 How to Make Chicken Wonton Taco
To make the wonton taco shells:
Preheat the oven to 375 degrees.
Lightly spray four stainless steel taco stands with cooking spray.
Put the taco stands on a baking sheet and drape one wonton wrapper over each top ridge of the stands with the corners of each square wrapper pointing downward.
Spray the wonton wrappers lightly with cooking spray and put the baking tray in the oven.
Bake in a preheated oven until the wonton wrappers are golden brown with a few darker spots.
Remove the baking tray from the oven and place it on a wire rack to cool.
Once the wonton wrappers are at room temperature, remove them from the taco stands and keep them for later.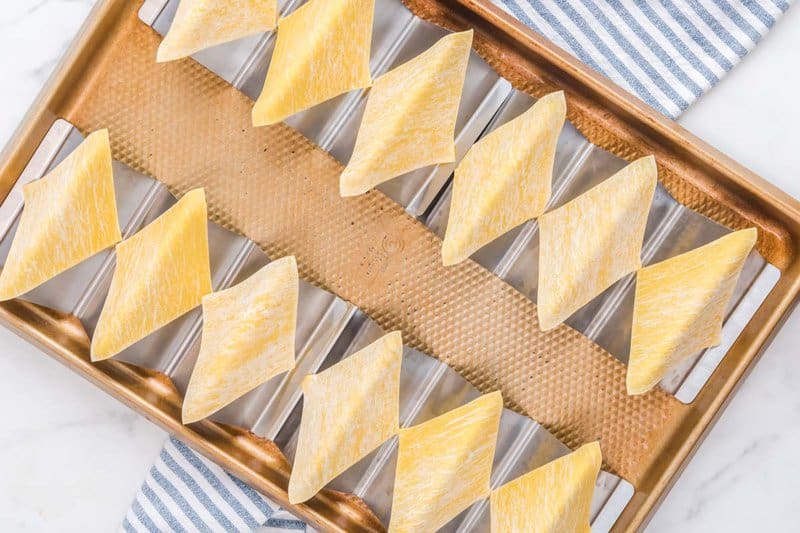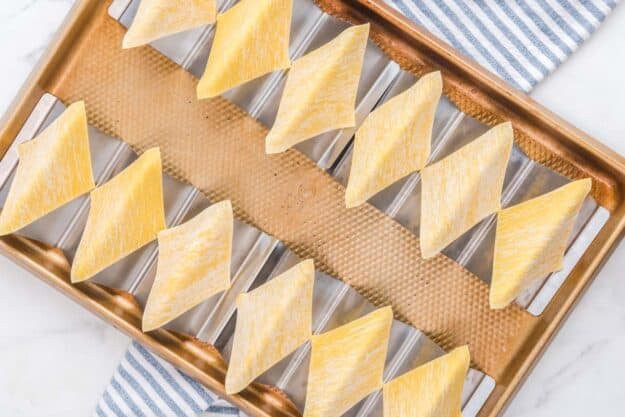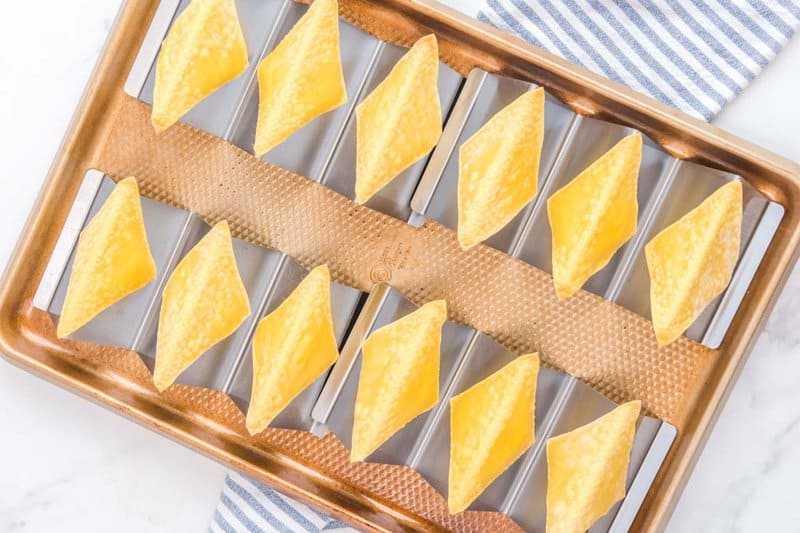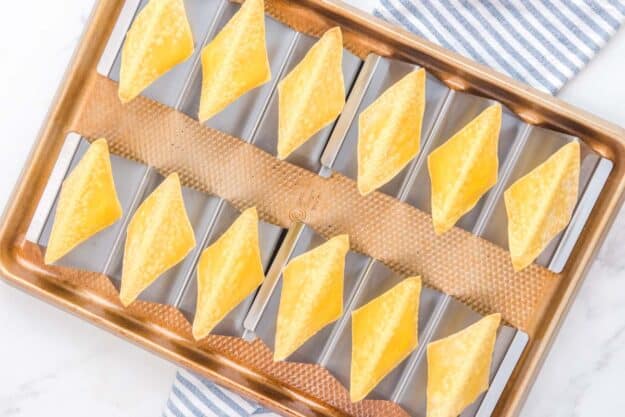 To make the Asian Slaw Mix:
Combine all the ingredients for the Asian Slaw Mix in a large bowl.
Mix well.
Cover the bowl and place it in the fridge until needed.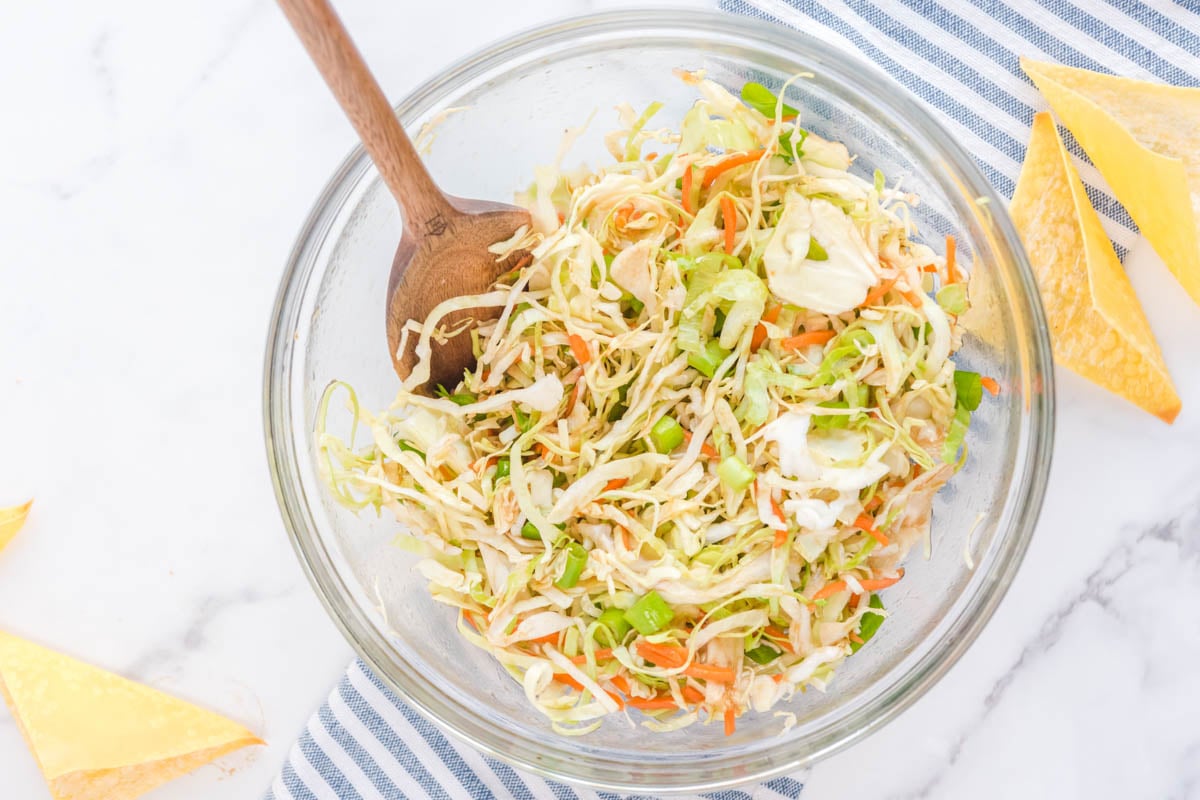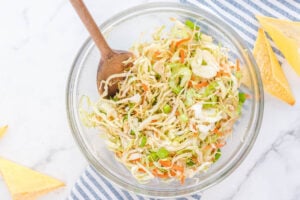 To cook the Asian chicken:
Dice chicken breasts into one-half-inch cubes.
Toss the diced chicken with the hoisin sauce, sesame oil, soy sauce, minced garlic, and grated ginger in a mixing bowl. Let the chicken sit for at least 10 minutes in the fridge. 
Warm a non-stick large skillet over medium heat.
Add the Asian chicken mixture to the hot pan. Cook until the chicken is done, about five to seven minutes. Stir occasionally to prevent the sauce from burning.
Remove the Asian chicken mixture, stir fry sauce from the heat, and transfer it to a bowl. Set aside until later.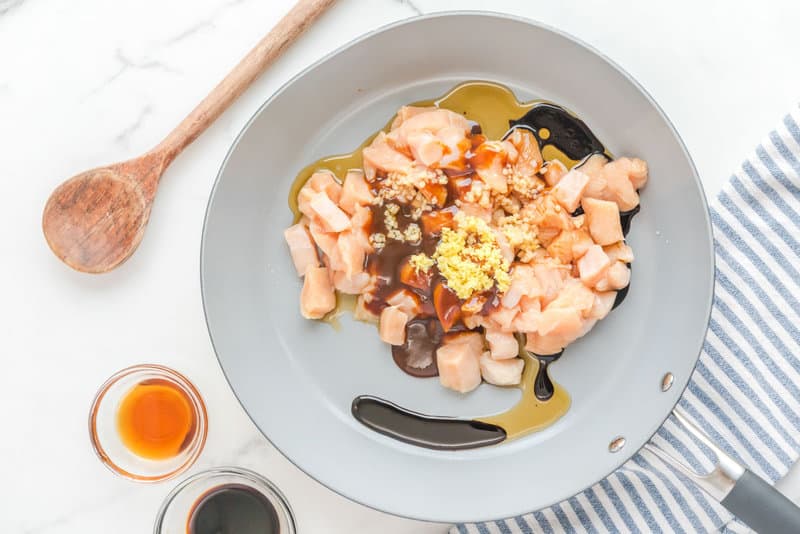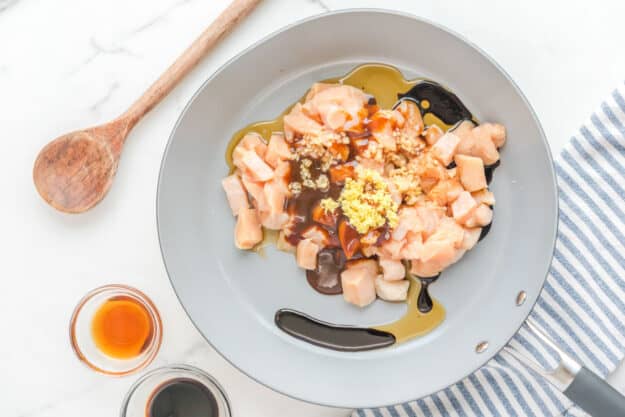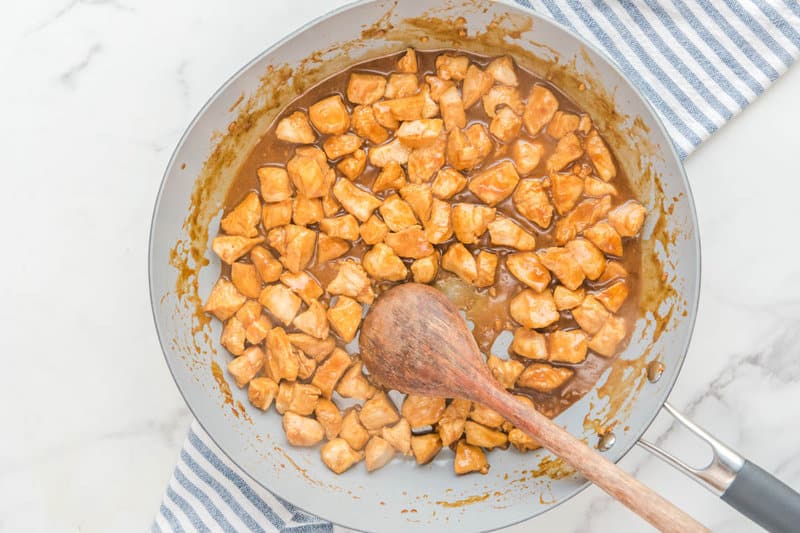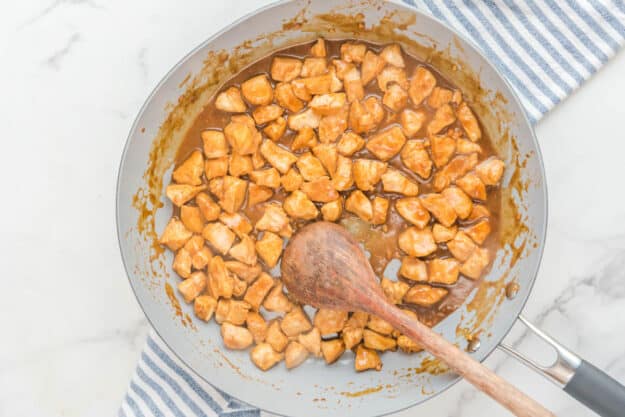 To assemble Applebee's wonton chicken tacos:
Place the empty crispy wonton shells in the taco stands with the opening facing up.
Spoon one or two tablespoons of the warm Asian chicken into each wonton shell.
Add an equal amount of the Asian coleslaw mixture to the chicken.
Garnish with a sprinkle of shredded fresh cilantro, sesame seeds, and a drizzle of sweet chili sauce.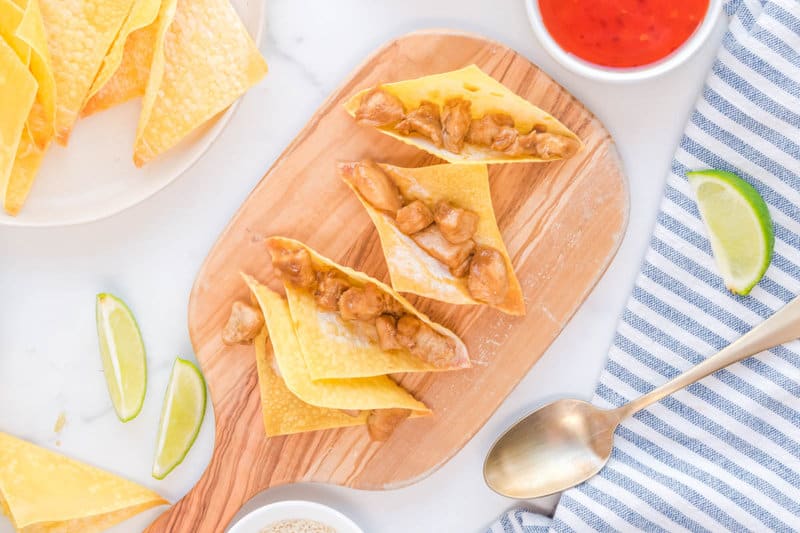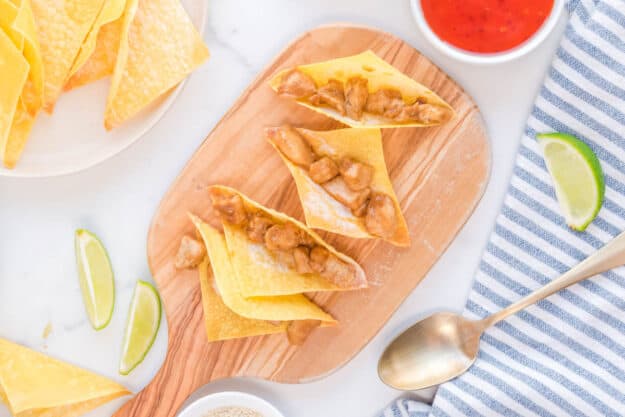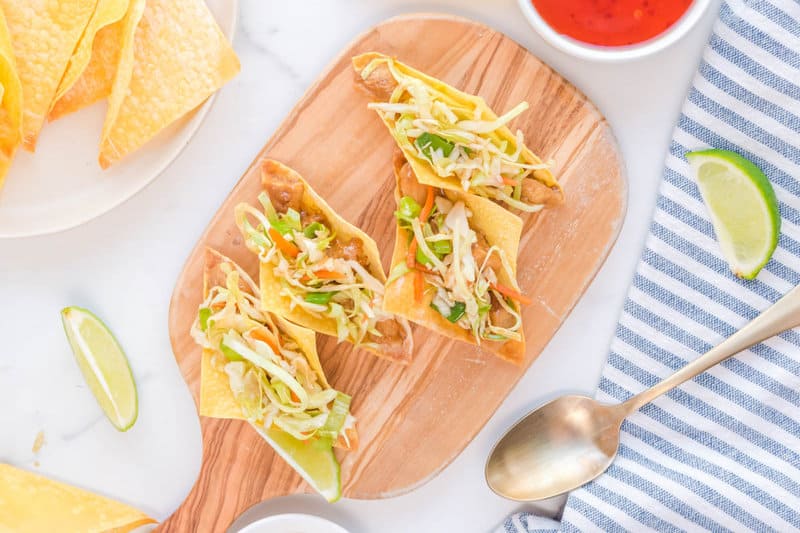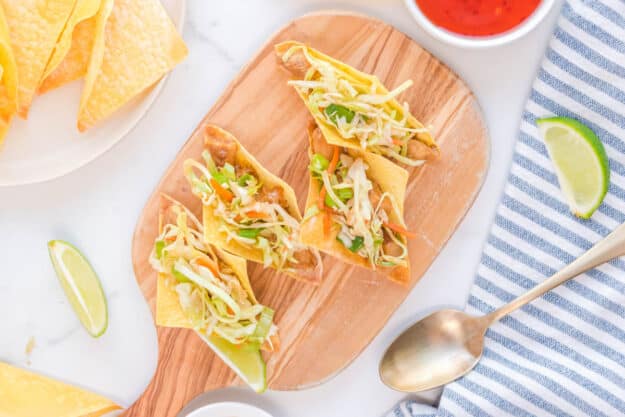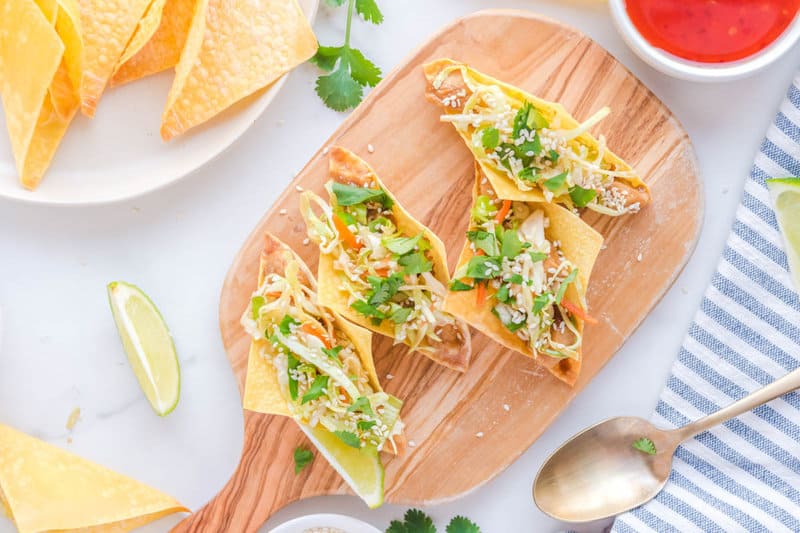 What to Serve With Applebee's Chicken Wonton Tacos
These tacos make great appetizers or snacks; you can serve them on their own or as part of a party platter with sweet chili sauce. These mini tacos would fit with other finger-friendly food like Asian chicken wings, pizza rolls, and sliders.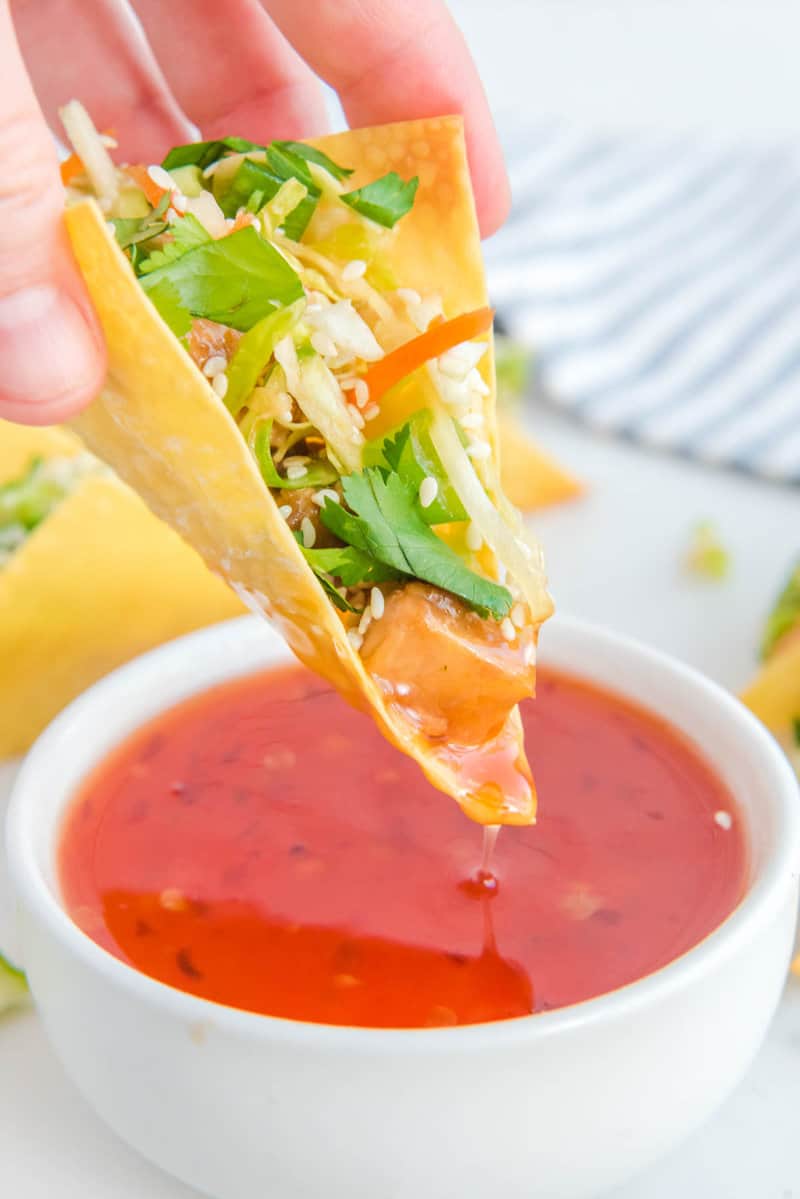 How to Store the Leftovers
Keep the cooked chicken and the Asian Slaw Mix in separate airtight containers in the fridge for up to three days. Store the wonton shells in an airtight container on the counter overnight. They will soften up, but see the next section for how to crisp them up again.
What's the Best Way to Reheat Chicken Wonton Tacos
To reheat copycat Applebees Wonton Tacos:
Preheat the oven to 375°F.
Put the wonton shells on a baking tray and heat them until crispy, about three to four minutes.
While the wonton shells are warming up, heat the Asian chicken on the stovetop over medium-low heat. You may want to add a few tablespoons of water or chicken stock to prevent the chicken from burning,
When the wonton taco and Asian chicken are warm, assemble the tacos as in the main recipe above.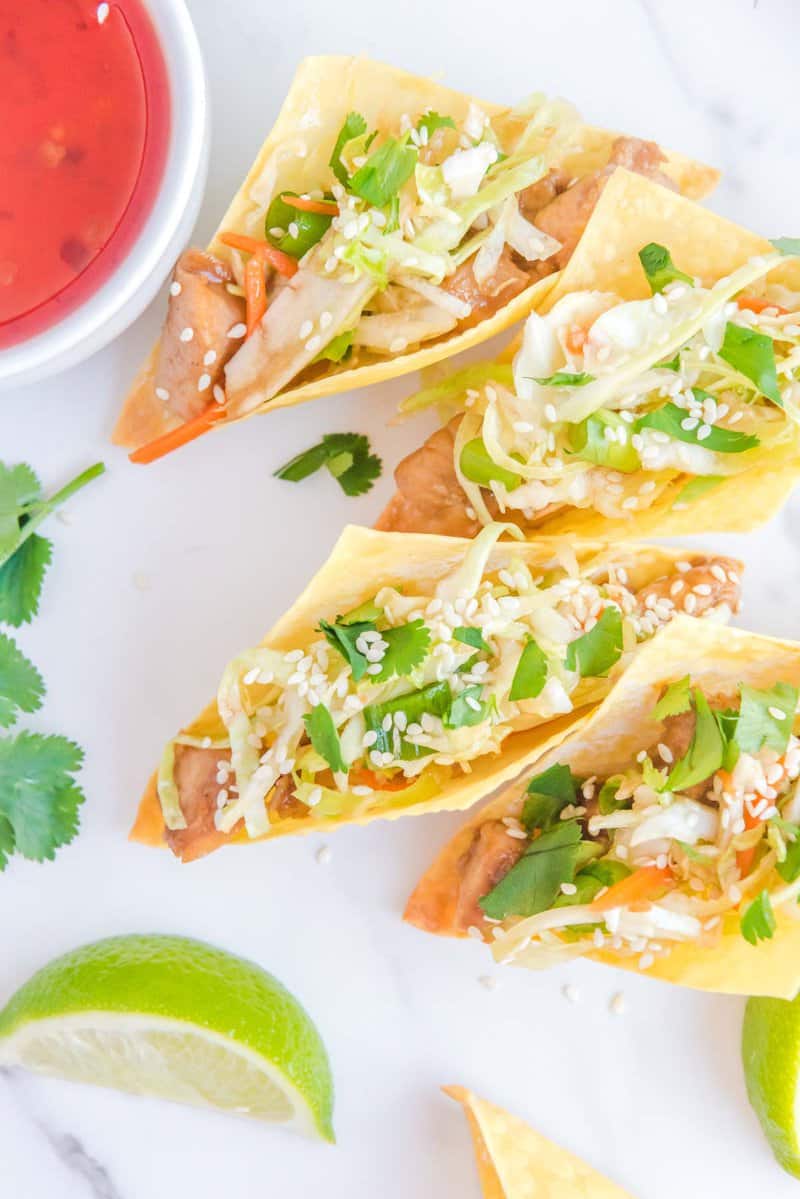 More Applebee's Copycat Recipes
Favorite Appetizer Recipes
Check out more of my easy appetizer recipes and the best copycat restaurant recipes on CopyKat!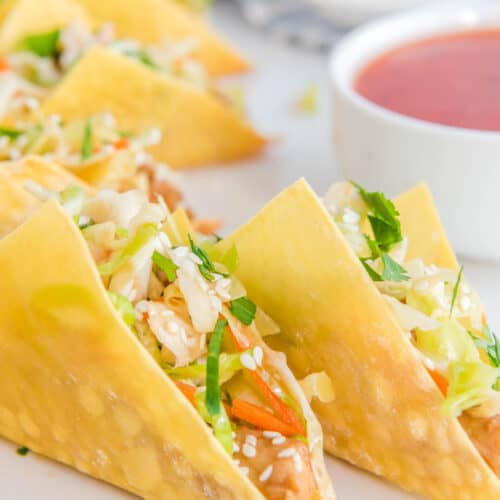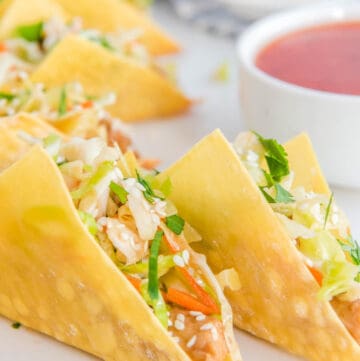 Ingredients
Wonton Taco Shells
16

wonton wrappers

nonstick cooking spray
Chicken
2

boneless skinless chicken breasts

diced into 1/2-inch cubes

1/4

cup

hoisin sauce

1

tablespoon

sesame oil

1

tablespoon

soy sauce

2

cloves

garlic

minced

1

teaspoon

fresh grated ginger
Asian Slaw
1/2

bag

coleslaw mix

1

cup

dry crumbled ramen noodles

3

green onions

chopped

1

tablespoon

sesame oil

1

tablespoon

apple cider vinegar

1

tablespoon

soy sauce

1

tablespoon

honey
Toppings
1

cup

sweet chili sauce

2

tablespoons

sesame seeds

1/2

cup

chopped cilantro
Instructions
Preheat the oven to 375°F and place 4 metal taco stands on a large baking sheet, with 3 corners of each stand pointing upright.

Drape the wonton wrappers over the taco stands so that each wonton forms a taco shape. Gently spray each wonton wrapper with nonstick cooking spray and place the baking sheet in the oven for 6 to 8 minutes, until the wonton wrappers are golden brown and have a bubbled crust.

In a medium skillet over medium heat, combine all the ingredients for the chicken. Toss well and cook for 5 to 7 minutes, until the chicken reaches an internal temperature of 165°F. Remove the chicken from the pan and discard any excess sauce.

Place all the ingredients for the Asian slaw into a large mixing bowl and toss to combine.

To assemble the tacos, place 1 or 2 spoonfuls of chicken into the bottom of each wonton shell. Top with the slaw mix. Add the sweet chili sauce, sesame seeds, chopped cilantro, and any other desired toppings before serving.
Nutrition
Serving:
1
taco
|
Calories:
172
kcal
|
Carbohydrates:
25
g
|
Protein:
6
g
|
Fat:
5
g
|
Saturated Fat:
2
g
|
Polyunsaturated Fat:
1
g
|
Monounsaturated Fat:
2
g
|
Trans Fat:
0.002
g
|
Cholesterol:
10
mg
|
Sodium:
624
mg
|
Potassium:
131
mg
|
Fiber:
1
g
|
Sugar:
10
g
|
Vitamin A:
77
IU
|
Vitamin C:
6
mg
|
Calcium:
28
mg
|
Iron:
1
mg