Starbucks Caramel Latte is a wonderful and creamy coffee drink with rich caramel flavor. No need to go to the coffee shop when you can make this delicious espresso drink at home with this easy copycat recipe.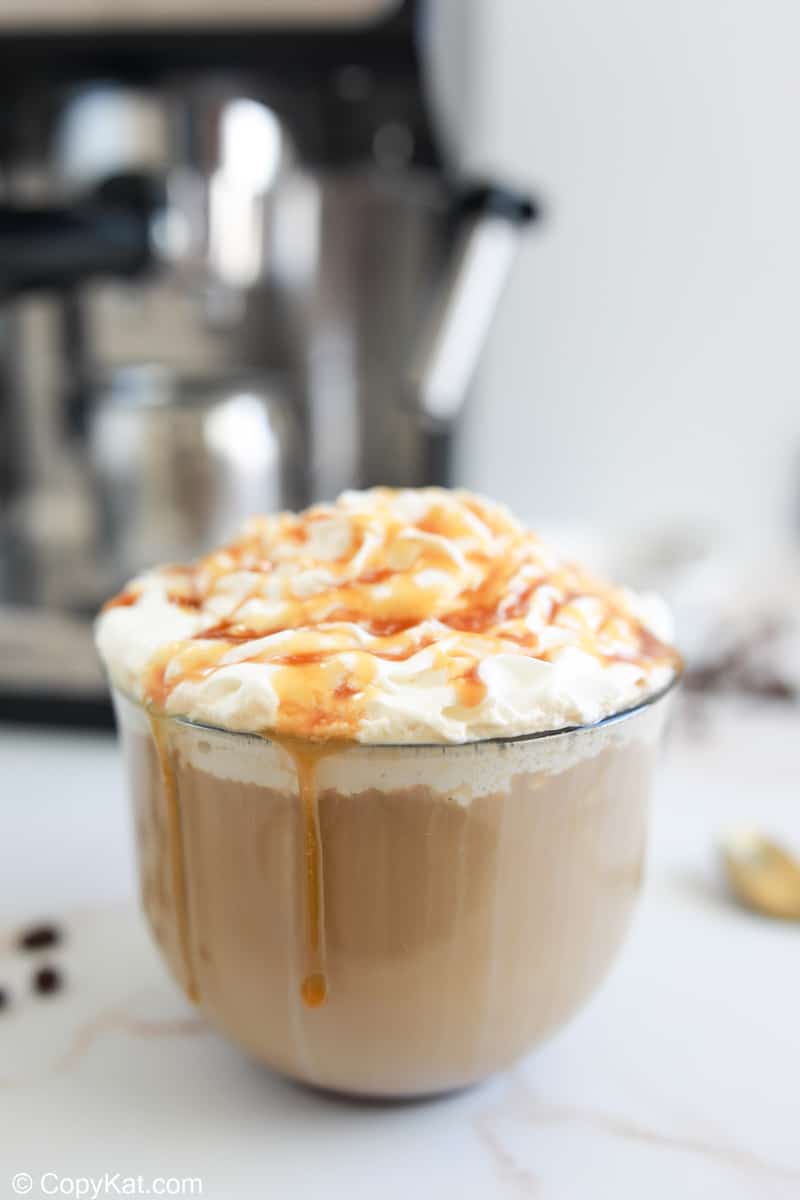 This post contains affiliate links. As an Amazon Associate, I earn from qualifying purchases.
Classic Starbucks Drink
A Starbucks Caramel Latte is one of the famous coffee shop's classic drinks. It's made with espresso, caramel syrup, and frothy steamed milk.
Lattes can either be sweet or not. A latte made with espresso and steamed milk is not a sweet drink, but you can make it sweet and more flavorful by adding syrups such as caramel or mocha.
Why This Starbucks Caramel Latte Recipe is the Best
This is the best Starbucks Caramel Latte recipe. It makes a drink that's warm, sweet, and smooth. It's the perfect coffee drink to warm up with during the cold winter months.
Make this comforting hot and sweet coffee on chilly fall and winter mornings, or sip it while watching your favorite movie at night. We walk you through exactly how to make it and even help you out if you don't have an espresso machine.
Caramel Latte Starbucks Copycat Recipe Ingredients
Save money and make this classic Starbucks coffee drink at home! So easy and delicious, and all you need are just four simple ingredients:
Espresso or strong brewed coffee
Milk – Starbuck's uses 2% milk, you can use whole milk, nonfat milk, or you may want to try a plant-based milk like oat milk
Whipped cream
Caramel Latte Ingredient Substitutions
Starbucks uses 2% milk for all of its latte recipes because it froths really well. However, you can use full-fat milk, skim milk, or your favorite non-dairy milk. Just be aware that your choice may not froth as well. I know that any milk you choose to make this copycat Starbucks caramel latte, you are going to love how good this tastes.
You can also go with sugar-free caramel syrup.
How to Make a Caramel Latte Starbucks Coffee
It's easy to make one of the tastiest Starbucks espresso-based beverages at home by following a few simple steps.
Make espresso or strong black coffee.
Steam milk.
Pour the espresso or coffee into a cup.
Add caramel syrup.
Add steamed milk and stir to combine.
Spoon on some whipped cream on top, if desired.
Can I make a latte without espresso?
Yes, you have a few different options to get coffee that's close to espresso.
Brew quite strong coffee in a standard coffee pot. It won't be exactly the same as espresso, but it will work (use a bigger ratio of coffee to milk).
A Moka Pot or an Aeropress coffee maker will get you pretty close to regular espresso (follow the same proportions of coffee to milk as in the recipe). The Italians swear by their Moka (or macchinetta). Watch this video on how to use a Bialetti Moka Express.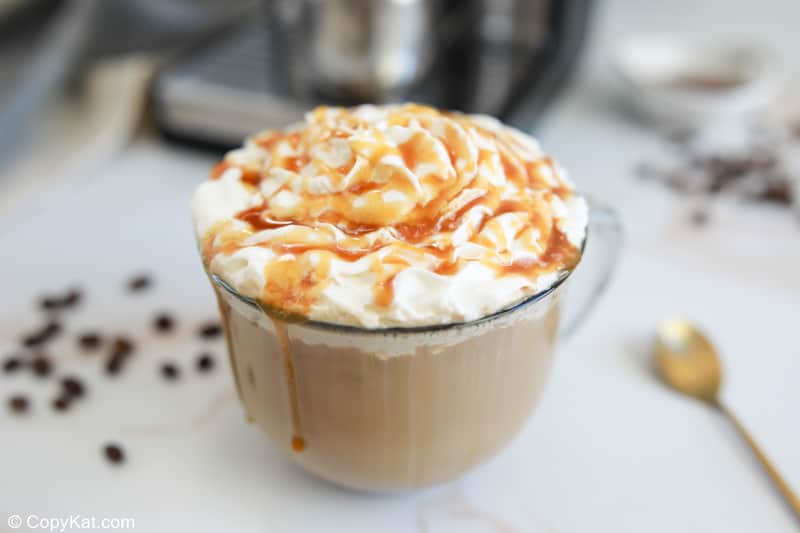 How to Steam Milk at Home
In a coffee shop, you get steamed, frothed milk in your latte. Here are some ways you can achieve a similar effect at home.
Caramel Latte Starbucks Recipe Variations
This caramel latte recipe is super versatile, and it's easy to make it with other flavors.
Caramel Mocha Latte: Add 1 ounce of mocha syrup.
Salted Caramel Latte: Add 1/4 teaspoon sea salt to the coffee, then sprinkle some sea salt onto the milk foam when serving.
Bourbon Salted Caramel Latte: For a fun spin, try making this recipe with bourbon salted caramel sauce.
Pumpkin Spice Latte: Is perfect for those cool fall days. See my Pumpkin Spice Latte recipe.
Toffee Nut Latte: Try something different with toffee nut syrup.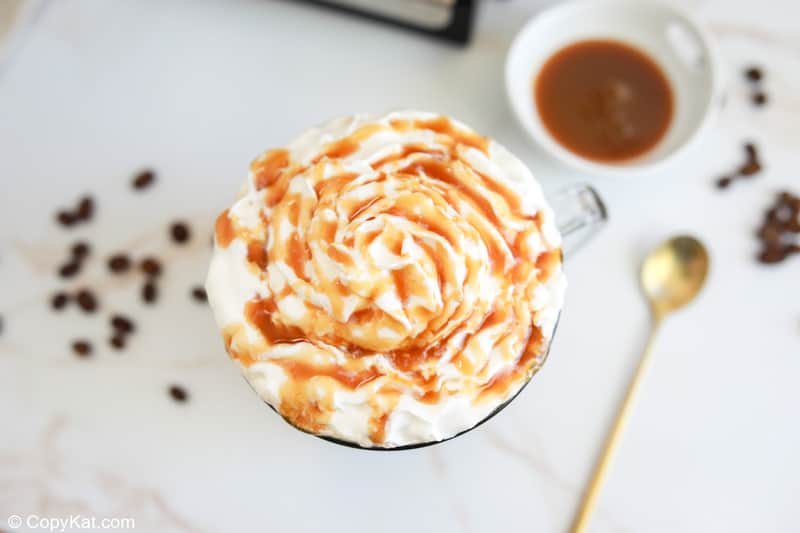 Turn This Hot Caramel Latte Recipe Into an Iced Latte
When the weather warms up, you don't necessarily want a hot coffee drink. Have no fear, this Starbucks Caramel Latte recipe is incredible when iced! Here's how to make it:
Begin with room temperature or cold coffee. Or, you can use cold brew coffee.
Place the coffee, milk, caramel syrup, and some ice in a large mason jar. Screw the lid on tightly and shake everything thoroughly to blend and dissolve the caramel.
Pour your mixture into a serving glass with plenty of ice. You score bonus points for using leftover coffee ice cubes, so your drink doesn't water down!
What is the difference between a caramel latte and a caramel macchiato?
The main difference is not so much in the ingredients but in how these two drinks are made.
A caramel latte is made by pouring steamed milk over a combination of espresso and caramel syrup.
A caramel macchiato is created by mixing together vanilla syrup and steamed milk. The espresso is then poured on top, leaving a dark mark on the milk foam (macchiato means marked in Italian). Finally, caramel sauce is drizzled on top of the drink.
What goes well with this caramel latte Starbucks recipe?
You need something delicious to go with your delicious beverage. You can recreate the Starbucks dining experience at home with these copycat recipes for food at Starbucks:
Popular Starbucks Drink Recipes
Can't get enough Starbucks drinks to make in your own home? Try these other copycat Starbucks coffee recipes:
And, if you want to branch out from Starbucks:
Why not make your own coffee creamers?
Check out more of my easy drink recipes and the best Starbucks recipes here on CopyKat!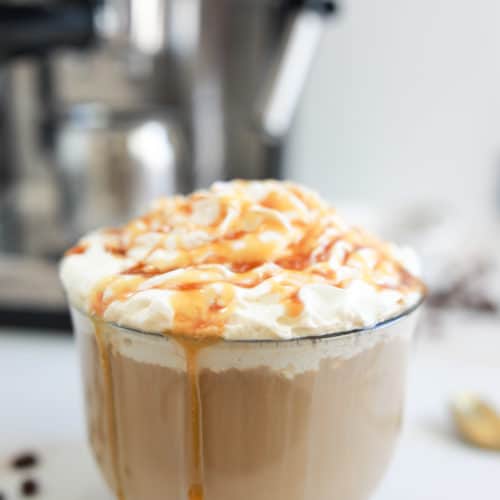 Ingredients
4

ounces

espresso or strong brewed coffee

2½

tablespoons

caramel syrup

divided use

4

ounces

milk

warmed and frothed. (2% recommended)

2

tablespoons

whipped cream.

optional
Instructions
Pour the espresso into a coffee cup.

Add some of the caramel syrup (adjust according to your desired sweetness level).

Add the milk.

Spoon whipped cream on top of the latte if desired.

Drizzle additional caramel syrup on top of the milk or whipped cream (if using).
Nutrition
Calories:
229
kcal
|
Carbohydrates:
41
g
|
Protein:
5
g
|
Fat:
6
g
|
Saturated Fat:
4
g
|
Polyunsaturated Fat:
1
g
|
Monounsaturated Fat:
2
g
|
Cholesterol:
19
mg
|
Sodium:
240
mg
|
Potassium:
335
mg
|
Fiber:
1
g
|
Sugar:
6
g
|
Vitamin A:
290
IU
|
Vitamin C:
1
mg
|
Calcium:
166
mg
|
Iron:
1
mg