A hearty dish that goes by many different names, but is delicious all the same! You will love this amazing dinner recipe for American chop suey.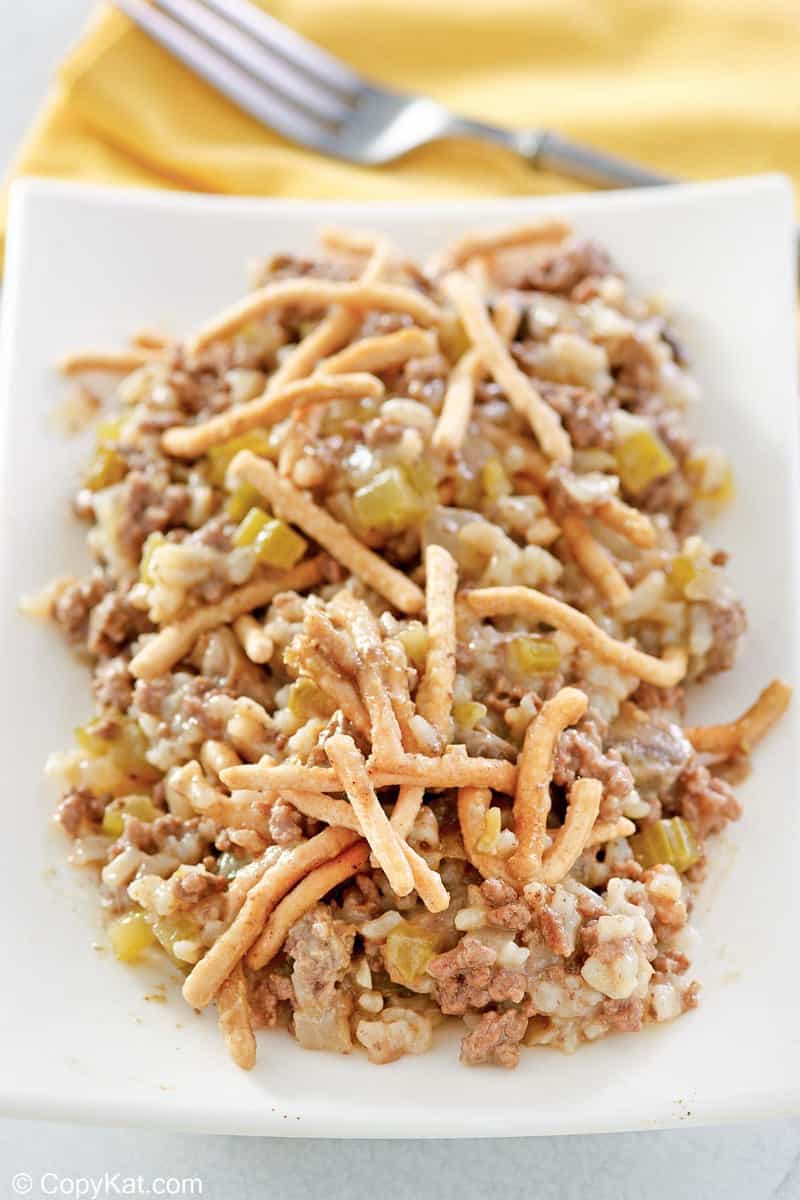 This post contains affiliate links. As an Amazon Associate, I earn from qualifying purchases.
What is American Chop Suey?
This American chop suey recipe can go by so many names. Some that you might have heard of before are either goulash or hamburger casserole. It honestly depends on what part of the country you live in.
But essentially American chop suey is a savory blend of pasta or rice, ground beef, a tomato-based sauce or creamy sauce, and anything else the cook wants to add in, sometimes even vegetables.
What is the Difference Between Chop Suey and American Chop Suey?
Chinese chop suey is generally known to be savory and spicy in flavor. It is a recipe that is filled with rice noodles, steamed rice or fried rice, vegetables like cabbage, bean sprouts, and carrots, along with protein like chicken, beef, or fish. It is served in a spicy sauce that is more clear or light in color.
American chop suey is vastly different, even though the name is not. For American chop suey, the sauce base will be more sweet and spicy and have an orange-like tomato base or cream of chicken or mushroom sauce. It is filled with rice or macaroni noodles (other noodles will work too!), and plenty of ground beef. This has been a comfort food for generations.
Why This Recipe is So Good
The very best reason this American chop suey recipe is so good is that it is so simple. You can make this recipe with items you already have at home and it will not take a long time to finish. You might even think of this dish as an American goulash.
Plus, whenever I make this recipe it brings back all of the nostalgia of when my mom would make family dinner and we would be able to sit around the dinner table and just enjoy being a family.
Easy On the Budget and a Great Way to Use Pantry Staples
One of the best things about American chop suey is that you can make this recipe generally with what you have in your pantry and it will always taste delicious. You can spice it up or leave it the way it is. Either way, it will taste great.
American Chop Suey Ingredients
To make this American chop suey recipe, you will need:
Ground beef – I like to use ground chuck.
Celery
Onion – you can use either a white onion or a yellow onion.
Mushrooms
Cream of Chicken Soup
Water
Soy sauce
Rice – cook according to package directions .
Chow Mein Noodles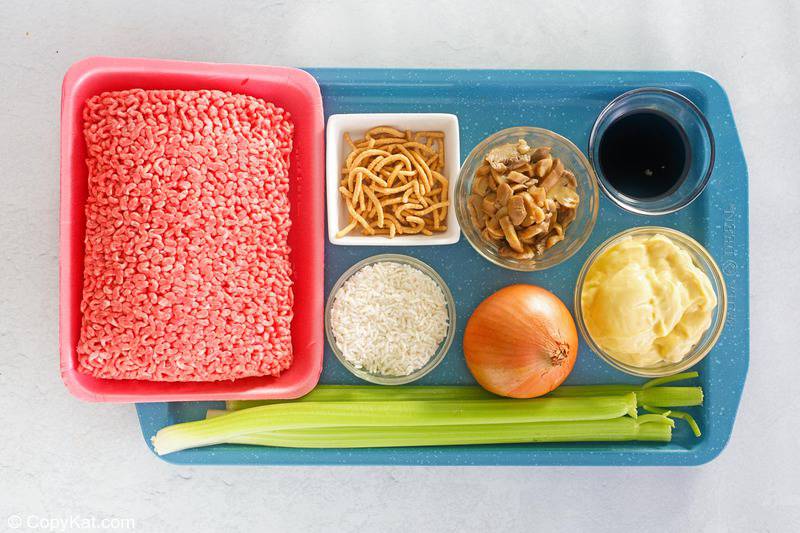 How to Make American Chop Suey
Making American chop suey is easy! Here are the recipe steps:
Brown beef over medium heat, then add celery and onion to simmer in a pan.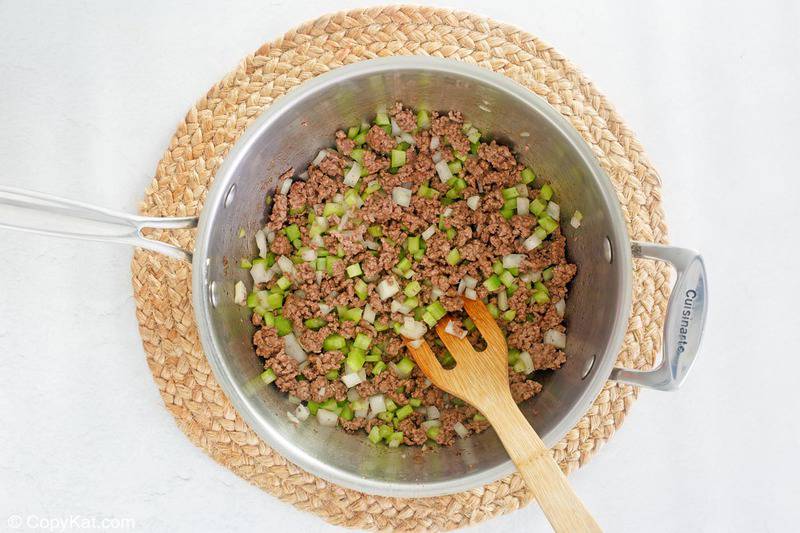 Stir in the mushrooms, soup, water, soy sauce, and rice.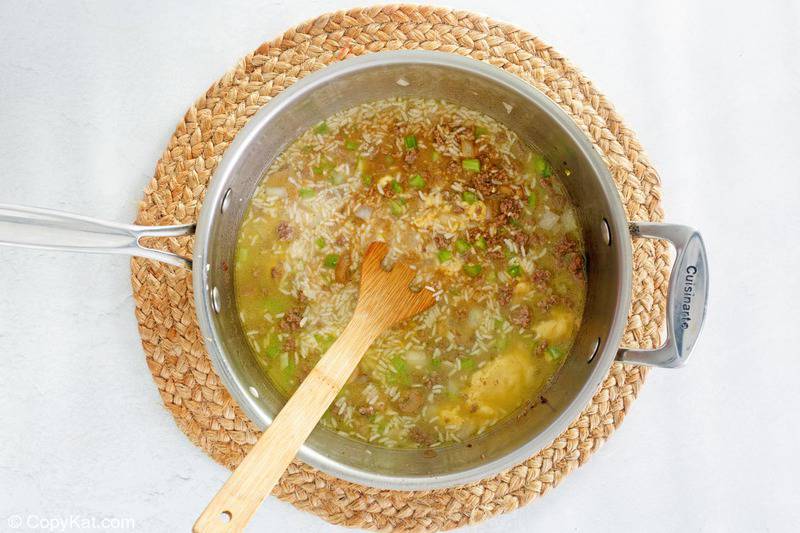 Pour the mixture into a casserole dish.
Bake at 350°F for an hour.
Remove the dish from the oven and sprinkle chow mein noodles on top.
Return the dish to the oven and bake for another 15 minutes.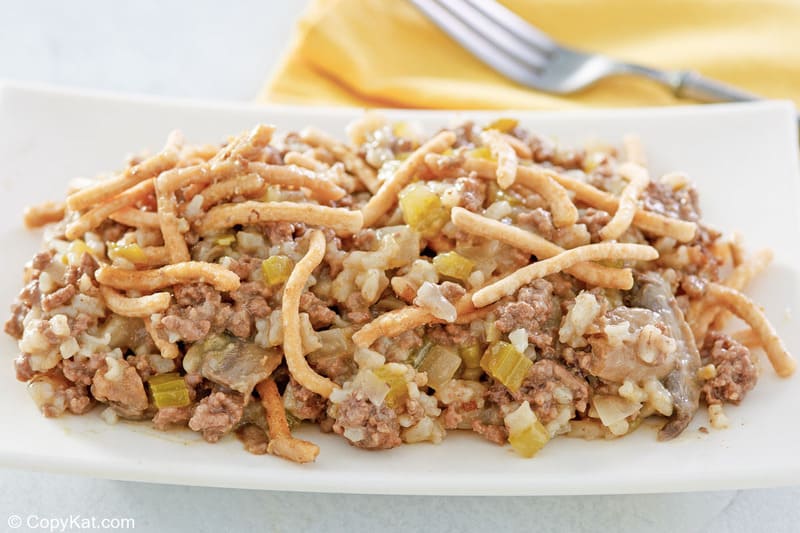 How to Modify This Recipe to Your Preferences or Diet
If you do not like celery, try replacing it with another vegetable like chopped carrots.
Instead of using soy sauce, you can always substitute it for coconut aminos to cut back on the sodium a little bit.
You can use frozen cauliflower rice in place of the actual rice and it will still taste just as delicious.
If you aren't a fan of cream of chicken soup you can always replace it with cream of mushroom soup.
Switch out the protein. Substitute ground chicken or ground turkey for the ground beef.
Add a teaspoon or two of Worcestershire sauce for a boost of flavor.
How to Store American Chop Suey
For this American chop suey, you will want to store it in an airtight container in the fridge. It will last up to 5 days in the fridge, so it's perfect for leftovers!
How to Freeze American Chop Suey
The American chop suey recipe might be a little tricky to freeze with the noodles already cooked. But, if you want to freeze it, store it in either a freezer-safe container or zip lock bag after it has cooled down.
This recipe will stay fresh for up to 2 months in the freezer.
Best Way to Reheat American Chop Suey
The best way to reheat this chop suey recipe is in the microwave. It is quick and simple and you will be ready to eat in no time.
When you reheat it in the oven it can dry it out a bit. Consider adding a little bit of chicken broth before you reheat it if you choose to use the oven.
Great Recipes with Rice
Favorite Ground Beef Recipes
Check out more of my easy dinner recipes and the best ground beef recipes here on CopyKat!
The recipe source is Lynn Ordorf, Pueblo, CO. This recipe was given to my mom back in 1976.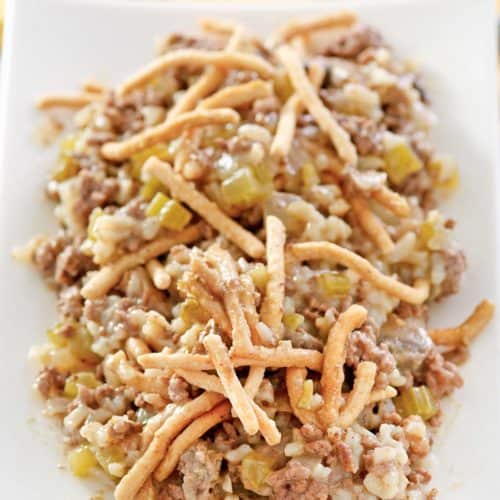 Ingredients
1

pound

ground beef

2

cups

chopped celery

1

small

onion

chopped

4

ounces

canned mushrooms

10

ounces

canned cream of chicken soup

1 1/2

cups

water

4

tablespoons

soy sauce

1/2

cup

rice

1

can

chow mein noodles
Instructions
Preheat the oven to 350°F

Brown the ground beef in a skillet over medium-high heat.

Add the celery and onion, and reduce heat to simmer.

Add mushrooms, soup, water, soy sauce, and rice.

Pour the chop suey into a casserole dish.

Bake at 350°F for 1 hour.

Top with chow mein noodles and bake for 15 minutes more.
Nutrition
Calories:
468
kcal
|
Carbohydrates:
28
g
|
Protein:
26
g
|
Fat:
27
g
|
Saturated Fat:
9
g
|
Cholesterol:
86
mg
|
Sodium:
1627
mg
|
Potassium:
652
mg
|
Fiber:
1
g
|
Sugar:
2
g
|
Vitamin A:
355
IU
|
Vitamin C:
3.5
mg
|
Calcium:
67
mg
|
Iron:
3.8
mg