Brown Sugar Meatloaf is one of those comfort foods that's easy to make and will satisfy your taste buds and more. With classic meatloaf baking on top of a layer of brown sugar and ketchup, it brings this meatloaf recipe to another level of deliciousness. You might even think it is the best meatloaf you have ever tried.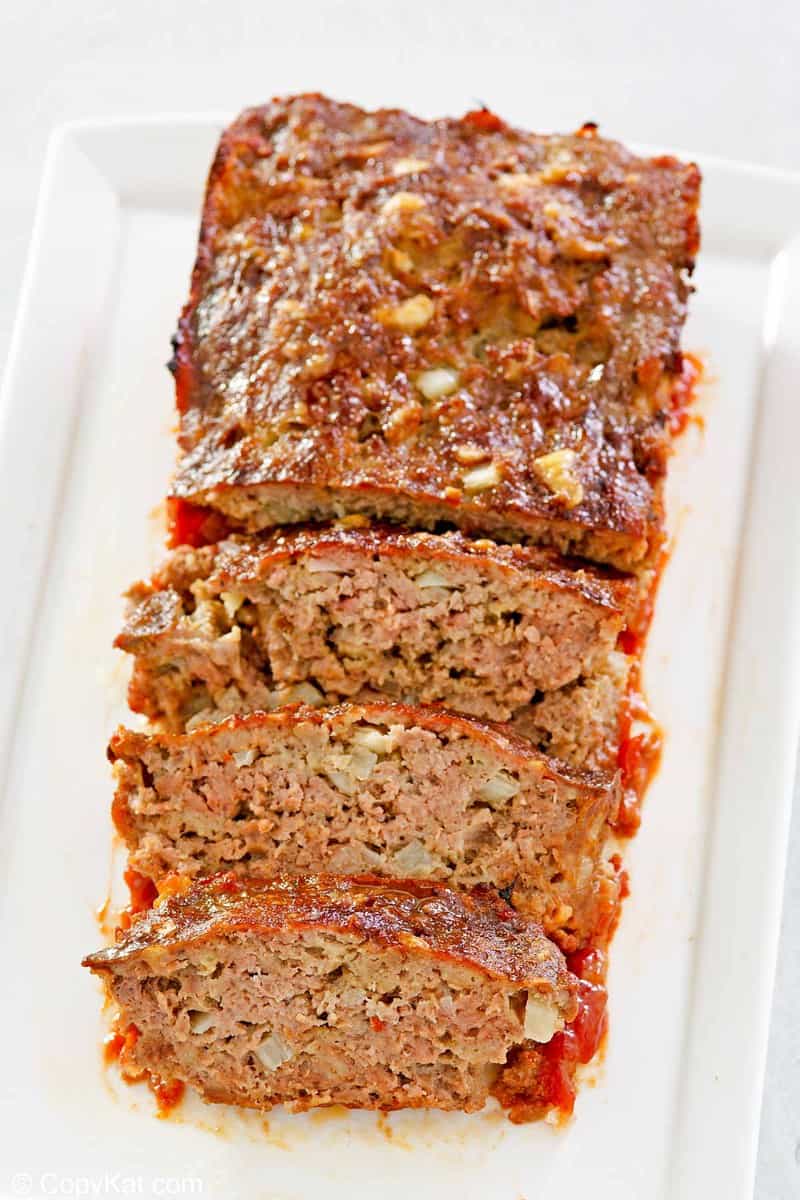 This post contains affiliate links. As an Amazon Associate, I earn from qualifying purchases.
Why This Recipe is the Best Meatloaf You Will Try!
Unlike most meatloaf recipes, this one includes brown sugar in the meat mixture. Brown sugar adds a nice rich taste to the meat but does not make it too sweet. Since brown sugar has molasses in it, it dials back the sweet and provides great flavor profiles.
It also has a special blend of spices, along with ketchup to give you one of the most delicious meatloaf with brown sugar that you've ever tasted.
What Type Of Meat Should You Use?
For this meatloaf with brown sugar recipe, it will be based on preference. I prefer to use ground chuck because it is a leaner meat, yet it has enough fat that you will still get great flavor.
There are a lot of different levels of lean/fat in ground beef that you can choose from. Here are the most common ones for ground beef you can find in grocery stores:
73/27
80/20 – Ground chuck
85/15 – Ground round
90/10 – Ground sirloin
93/7 – Lean
96/4 – Extra lean
Ground chuck is normally 80% lean and 20% fat. Allowing the meat to have some fat content provides essential flavor to the dish. So I would say away from the super lean meats.
You can also use a combination of beef, veal, pork, or lamb. The combo will give it a different flavor and texture.
You can always choose to use ground turkey or ground chicken in place of the ground beef. However, try to get one with at least 10 to 15% fat.
Brown Sugar Meatloaf Recipe Ingredients
For this recipe, you will need a few key ingredients and then you are good to go! Here's a quick list:
Brown sugar
Ketchup
Ground beef
Onion
Milk
Eggs
Salt
Ground black pepper
Ground ginger
Saltine cracker crumbs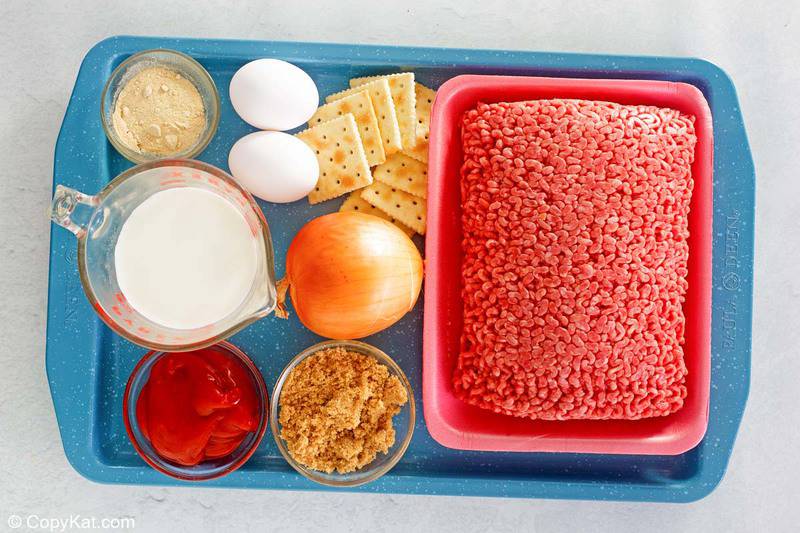 Ingredient Substitutions
If you do not have or like using ketchup you can always swap it out with either Heinz 57 sauce, tomato sauce, or even salsa!
Instead of using saltine cracker crumbs, you can use Ritz crackers or plain bread crumbs.
To make it gluten-free, using quick oats is a good option.
Recipe Variations
Meatloaf is quite versatile. Feel free to make this recipe your own by adding in some extra ingredients:
Chopped bell peppers
Diced Celery
Shredded Carrots
Shredded pepper jack cheese or mozzarella cheese
Have fun with it!
Tips for Cooking Meatloaf
Do not skimp on the fat content. Having a good amount of fat keeps your meatloaf moist and tender. Plus the flavor is amazing!
Finely chop up the onion and peppers. That way they are evenly distributed throughout the meatloaf, allowing it to hold its shape better and you don't get a huge chunk of onion in one bite.
Do not over-smush it together. You want meatloaf to hold its shape, but give it some room to breathe! Pushing it together too much can make for a very dense meatloaf.
How do you know when meatloaf is done cooking? The best way is to use a thermometer and make sure the internal temperature has reached 155 degrees Fahrenheit. It will also begin to pull away from the sides as the meat shrinks and the fat melts out.
How to Make Meatloaf with Brown Sugar
Lightly grease a 5×9-inch loaf pan.
Press the brown sugar in the bottom of the pan and spread ketchup over the sugar.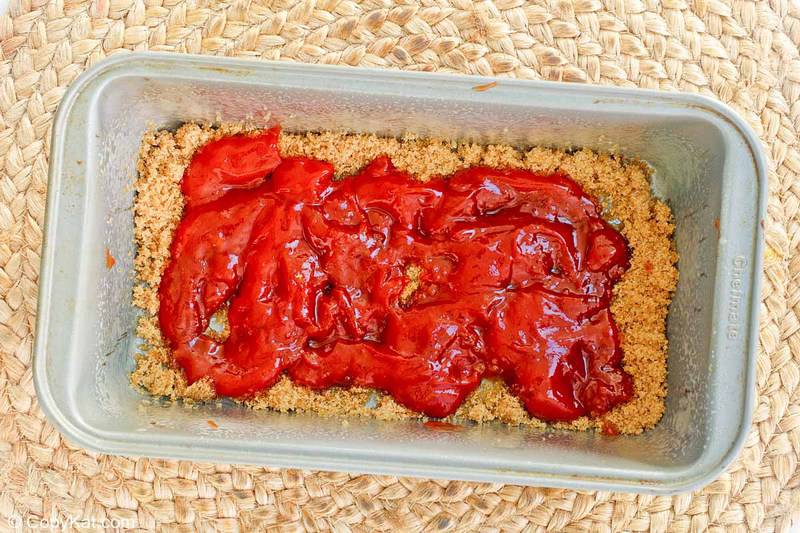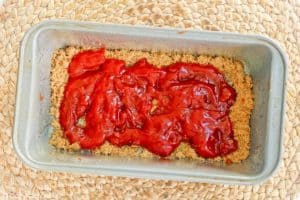 In a mixing bowl, combine all remaining ingredients until they are thoroughly mixed.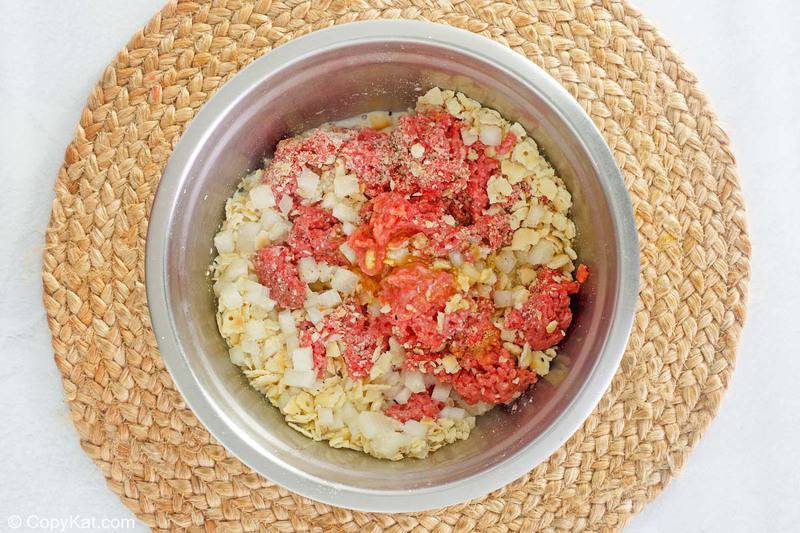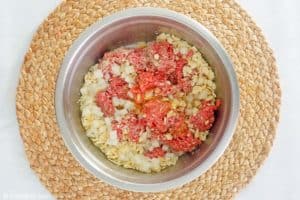 Shape the mixture into a loaf and place it on top of the ketchup in the pan.
Bake at 350°F for 1 hour or until the internal temperature is 155°F. Use a instant-read thermometer to check the internal temperature.
Be sure to heat up some biscuits or add in a dessert that needs to go into the oven at the same time. This way you get to make another dish without having to heat the oven up again.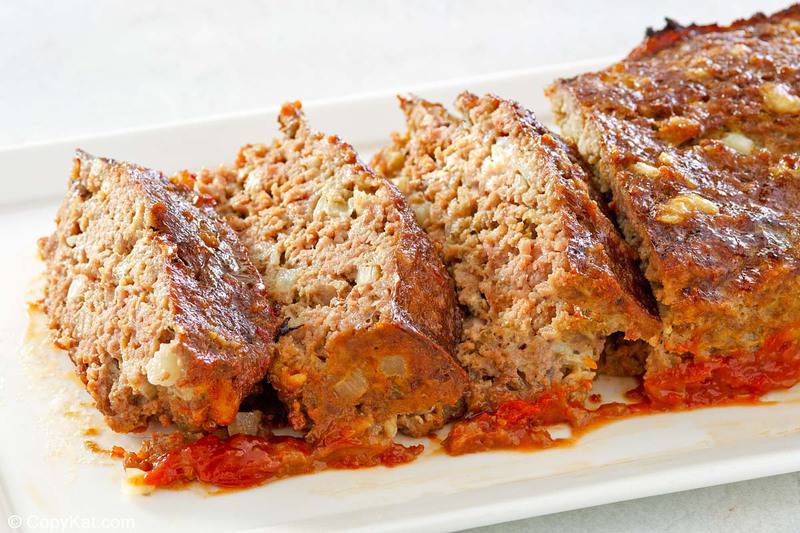 How to Serve Meatloaf
Once the meatloaf is done, let it rest for a few minutes.
Then pull it out of the baking dish, slice it, and serve with your favorite side dishes.
What side dishes go well with meatloaf?
Meatloaf is a very versatile entree! I love to pair this with buttermilk biscuits and baby carrots! You can also serve it with homemade mashed potatoes and steamed green beans!
How to Store Brown Sugar Meatloaf
Once the meatloaf has cooled down, store it in an airtight container and place it in the refrigerator. It will last up to 5 days in the fridge.
How to Freeze Meatloaf
If you want to freeze meatloaf, make sure to let it cool down first. Wrap it in aluminum foil and place it in a plastic freezer bag. Meatloaf will last in the freezer for up to 3 months.
How to Reheat Meatloaf
When you are ready to eat the leftovers, just pop a piece of meatloaf in the microwave for about 45 to 90 seconds depending on the size of the piece and you are good to go!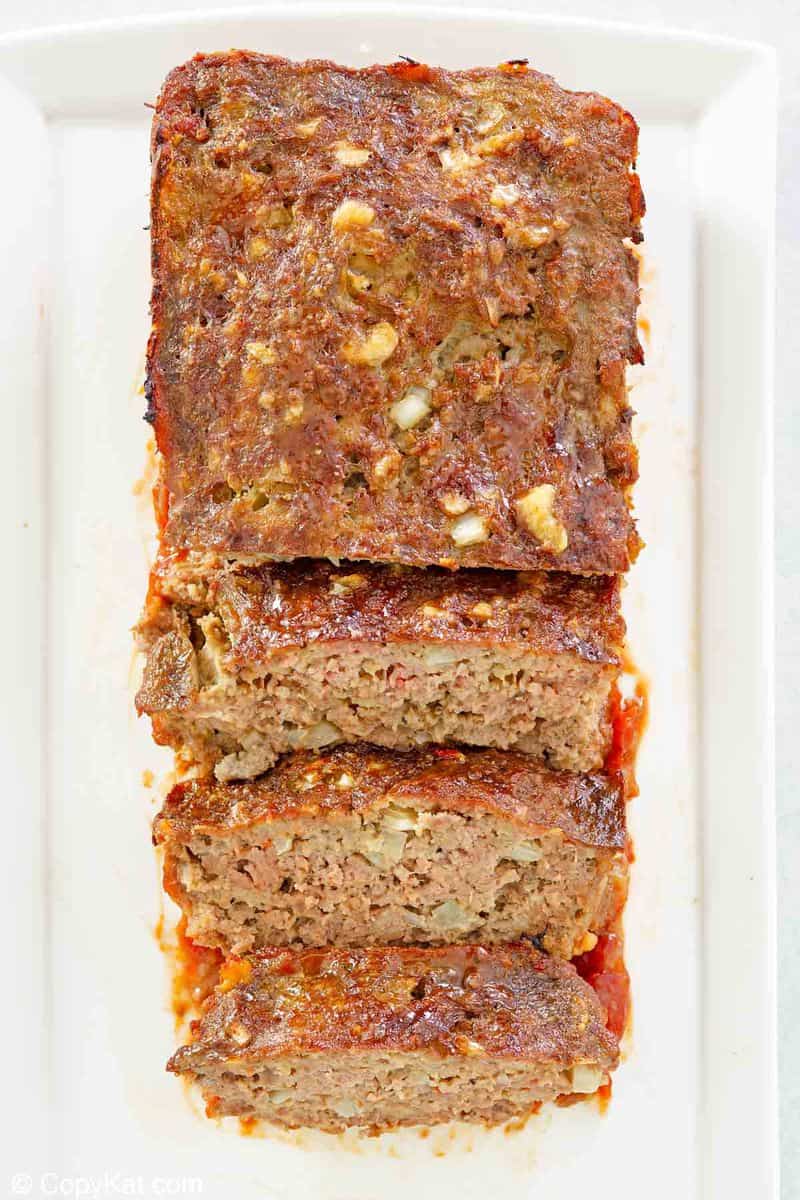 More Meatloaf Recipes
Favorite Ground Beef Recipes
Check out more of my easy comfort food recipes and the best ground beef recipes here on CopyKat!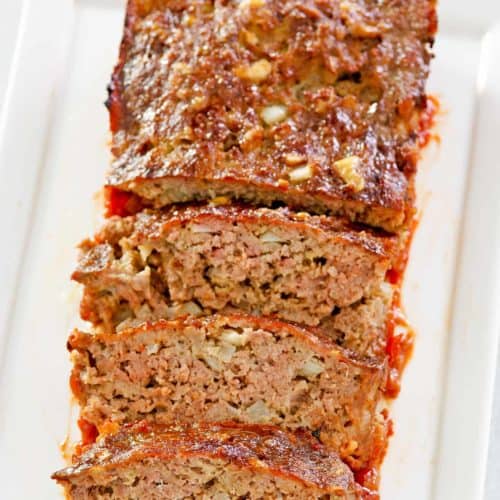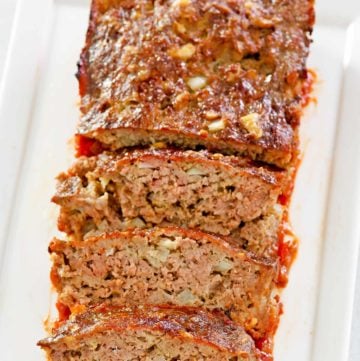 Ingredients
1/2

cup

packed brown sugar

1/2

cup

ketchup

1 1/2

pounds

ground beef

3/4

cup

milk

2

eggs

1 1/2

teaspoons

salt

1/4

teaspoon

ground black pepper

1/2

cup

chopped onion

1/4

teaspoon

ground ginger

3/4

cup

finely crushed saltine cracker crumbs
Instructions
Preheat the oven to 350°F and lightly grease a 5×9-inch loaf pan.

Press the brown sugar into the bottom of the loaf pan.

Spread the ketchup over the sugar.

In a mixing bowl, combine all the remaining ingredients, mix thoroughly, and shape the mixture into a loaf.

Place the loaf on top of the ketchup.

Bake for 1 hour or until the juices run clear and the internal temperature is 155°F.
Nutrition
Calories:
116
kcal
|
Carbohydrates:
21
g
|
Protein:
2
g
|
Fat:
2
g
|
Saturated Fat:
0
g
|
Cholesterol:
38
mg
|
Sodium:
594
mg
|
Potassium:
120
mg
|
Fiber:
0
g
|
Sugar:
16
g
|
Vitamin A:
155
IU
|
Vitamin C:
1.2
mg
|
Calcium:
44
mg
|
Iron:
0.6
mg