Everything is better when you make it at home; chocolate syrup is no exception. This essential and delicious syrup doesn't have to come from a bottle; it can come directly from your stovetop.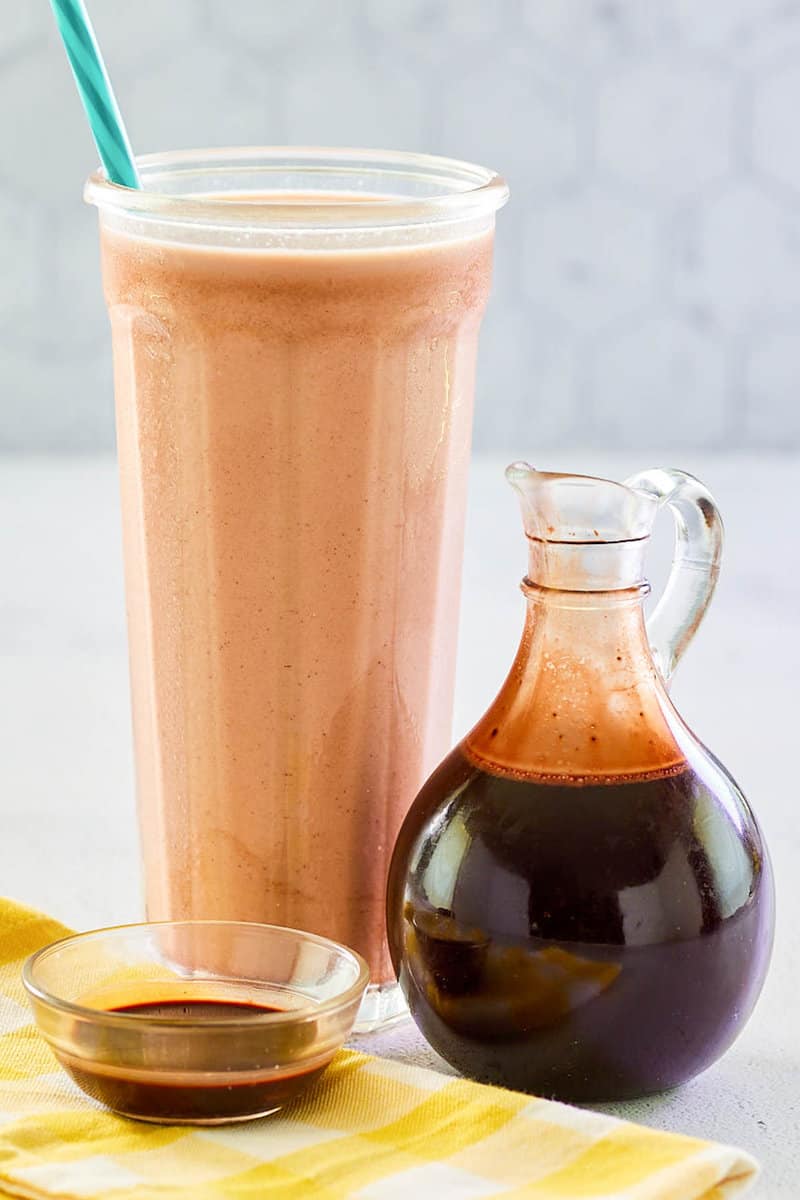 This post contains affiliate links. As an Amazon Associate, I earn from qualifying purchases.
Why you will love this homemade chocolate syrup
Savor the joy of homemade chocolate syrup as you drizzle it over ice cream, pancakes, or hot cocoa. Its rich aroma and velvety texture are unbeatable, with each spoonful offering a lovingly crafted treat. By making it yourself, you can select the finest ingredients and adjust the sweetness to create a chocolatey heaven that caters to your taste buds. Indulging in your own creation, you'll feel proud of elevating your desserts to new heights. So, give homemade chocolate syrup a try – it's a delightful experience that will bring smiles and pure joy.
Benefits of Making Your Own Chocolate Syrup
Homemade chocolate syrup is so much better than the store-bought stuff. There are no mystery ingredients to puzzle over when you know exactly what goes into it. This best chocolate syrup recipe will give you a syrup that tastes better than any store-bought – smooth, sweet, and incredibly chocolatey!
If you are a family that goes through a ton of chocolate syrup, this DIY chocolate syrup recipe will come in handy! You will have a healthier chocolate syrup – regular granulated sugar adds sweetness; no high fructose corn syrup in sight! You will also save money when you don't need to keep buying expensive bottles from the store.
Bottles of your homemade chocolate syrup make perfect gifts. Dress them up with decorative ribbons and beautiful gift tags.
Dark Chocolate Syrup – Ingredients You Will Need
You can easily make this chocolate syrup recipe with just four ingredients (plus water). You probably already have them in your pantry.
Unsweetened Cocoa Powder
White Granulated Sugar
Salt (table salt or kosher salt)
Vanilla Extract
How to Make Chocolate Syrup
This best chocolate syrup recipe is so easy to make – it will probably take you about 10 minutes. Here's what you do:
Whisk together the cocoa powder, sugar, and salt with water over medium heat.
Bring to a boil for 1 minute.
Remove from the heat and add the vanilla.
DIY Chocolate Syrup – Recipe Variations
Black chocolate syrup: Substitute black cocoa powder for the regular kind. It tastes like Oreo sauce – delicious!
Low-sugar chocolate syrup: If you want low-sugar or no-sugar chocolate syrup, you could use mostly or no substitute sweeteners. Honey or agave is not recommended because it will make the syrup too thick.
Mexican chocolate syrup: Add 1/2 teaspoon cinnamon to your chocolate sauce for a lovely spice flavor.
Peanut butter chocolate syrup: Stir in 2 tablespoons of peanut butter until it melts.
Mint chocolate syrup: Add 1/4 teaspoon peppermint extract instead of the vanilla.
Boozy chocolate syrup: Stir in 1 ounce of a coffee liqueur, such as Kahlua, for an alcoholic kick.
3 Tips and Tricks for a Perfect Chocolate Syrup
Choose high-quality cocoa powder. 100% unsweetened cocoa (or cacao) powder makes the best chocolate syrup. A top-of-the-line cocoa powder like Ghirardelli will give you an extremely decadent syrup. However, if you want to try emulating Hershey's chocolate syrup, you may want to use the Hershey brand of cocoa powder.
Sift your cocoa powder. Sift the cocoa powder before you begin to help along the smoothness of your syrup and prevent clumps.
Chill your syrup. Your freshly made syrup may seem runnier than you'd like. However, it will thicken as it cools and then chills in the fridge. Upon chilling, the texture and taste develop even more, giving you a thicker, drizzle-worthy syrup that shines with rich, decadent chocolate and has a wonderful flavor. And remember, you're not aiming to make hot fudge; you want something that remains syrup-like and not overly thick.
Chocolate Syrup vs. Chocolate Sauce and Ganache
Sometimes the terms chocolate syrup and chocolate sauce are used interchangeably, but they are different. Here's how to tell the difference:
Chocolate Syrup: Made with just water – no fat (like butter or cream). It's thinner than chocolate sauce making it easy to pour and mix into drinks.
Chocolate Sauce: Usually made with milk, cream, or butter, giving it a thicker consistency. Hot fudge falls into the chocolate sauce category.
Chocolate Ganache: The thickest of all three because it's simply chocolate and cream – no added sugar. It works best as a dip or frosting.
Serving Suggestions and Uses for DIY Chocolate Syrup
Chocolate syrup is so versatile. You can use this chocolate syrup recipe in many different ways, so you must always have some on hand. Here are some ideas:
Stir Chocolate Syrup Into Beverages
Chocolate milk: Add it to milk to make decadent and rich chocolate milk. Use 2 to 3 tablespoons to 8 ounces of cold milk. Heat it up for the perfect hot chocolate.
Milkshakes: Use it to liven up any milkshake or smoothie.
Coffee: Chocolate syrup is a perfect addition to coffee drinks like a homemade iced mocha. Also, squirt a little tower of whipped cream on top of your iced coffee and drizzle some chocolatey goodness. Add a little cinnamon, too, if that's what you like.
Mocha: Use it to make a homemade mocha. Add mint syrup or extract for a peppermint mocha.
Cocktails: Perfect for making chocolate cocktails, such as a chocolate white Russian, chocolate martini, or chocolate mint julep. You can even add it to beer, e.g., to create a fun Guinness chocolate float.
How to Store Homemade Chocolate Syrup
The best way to store your dark chocolate syrup is in small bottles, a glass jar, or a Mason jar. This makes it easy to pour and measure. The most important thing is that your containers should be airtight. Store your dark chocolate syrup in the refrigerator for up to 3 months.
Can you freeze DIY chocolate syrup? Put it into freezer-safe sealable plastic bags and remove as much air as possible. It should last about six months in your freezer. Allow it to thaw in the refrigerator. You can also thaw on defrost in the microwave.
Tip: Try freezing chocolate syrup in an ice cube tray or, even better, use Souper Cubes.
Favorite DIY Recipes
Popular Chocolate Recipes
Other Recipes in the Learn to Cook Series
Check out more of my easy DIY recipes and the best beginner cook recipes on CopyKat!
Have you made any recipes in the Learn to Cook Series? Let me know your favorite in the comments below. Remember to follow CopyKat on Facebook and Instagram so you never miss a recipe. And sign up for the newsletter too!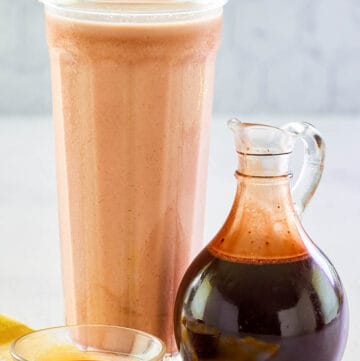 Ingredients
1/2

cup

Hershey's cocoa powder

1

cup

sugar

1/8

teaspoon

salt

1

cup

water

1

teaspoon

vanilla extract
Instructions
Combine the cocoa powder, sugar, and salt in a saucepan. Add the water and mix until smooth.

Bring the mixture to a boil. Allow it to boil for one minute, being careful not to let it boil over. Then remove the saucepan from the heat and allow the chocolate syrup to cool.

Add the vanilla extract and stir to combine.
Notes
Store the homemade chocolate sauce in your refrigerator for up to 10 days in an airtight container. 
Nutrition
Calories:
98
kcal
|
Carbohydrates:
25
g
|
Protein:
1
g
|
Fat:
1
g
|
Saturated Fat:
0
g
|
Cholesterol:
0
mg
|
Sodium:
61
mg
|
Potassium:
131
mg
|
Fiber:
2
g
|
Sugar:
20
g
|
Calcium:
11
mg
|
Iron:
1.2
mg