This chocolate pudding cake is easy to make with cake mix and pudding mix. It's incredibly rich and fudgy. Chocolate chips give it a wonderful topping so there's no need for frosting.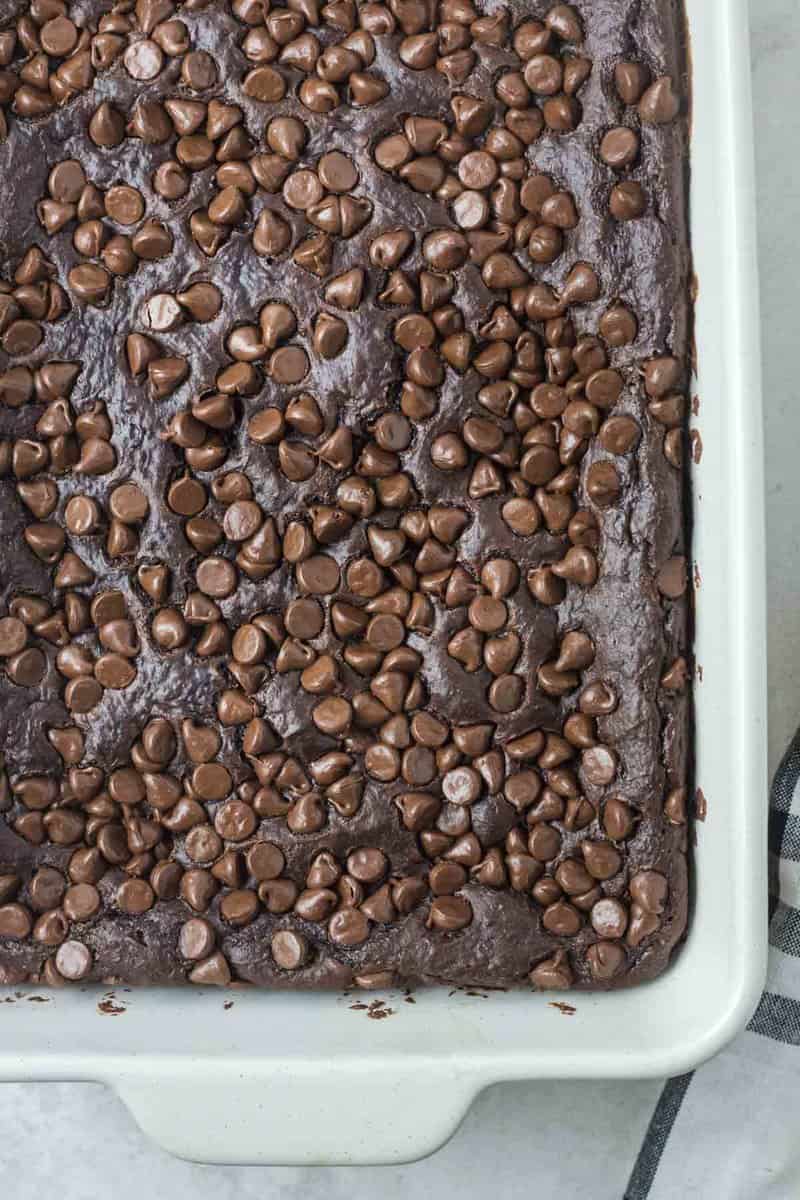 This post contains affiliate links. As an Amazon Associate, I earn from qualifying purchases.
Chocolate Cake with Chocolate Pudding
This is a delicious and easy-to-make chocolate cake using a box of cake mix and a box of chocolate cook and serve pudding (not the instant kind). The final touch is a topping of chocolate chips to give you a wonderfully rich, chocolatey cake.
When served warm, this chocolate pudding cake recipe with cake mix is absolutely perfect because of the wonderful melty chocolate on top. This recipe is for you if you absolutely can't resist decadent chocolate cakes.
What is a Pudding Cake?
A pudding cake is a chocolate cake that is self-saucing – no frosting needed! When the cake is baking, a fudgy pudding-like sauce is formed beneath the cake layer.
It's actually two desserts in one – a chocolate cake on top with a rich chocolate pudding underneath.
What Makes This the Best Chocolate Cake With Pudding Mix
The triple layers of chocolate really set this cake apart from other chocolate cakes. This chocolate pudding cake recipe is probably the easiest way to make chocolate cake there is.
Using only four ingredients, you'll get the best-tasting chocolate cake you've ever had. This gooey chocolate pudding cake is so simple to make and so moist it will just melt in your mouth. You don't even need a mixing bowl!
It's not exaggerating to claim that this chocolate pudding cake recipe will give you the best chocolate cake ever. You get a chocolate cake that's rich and perfectly moist, like a hot fudge pudding cake. Your friends and family will beg you for the recipe, and, if you don't let on, they'll never know that it's actually an easy cake mix hack!
Ingredients You Need to Make Chocolate Cake With Pudding
This chocolate pudding cake recipe is very easy to make with four very simple ingredients:
Chocolate Pudding Mix (Cook and Serve)
Chocolate Cake Mix
Milk
Semi-sweet Chocolate Chips
You can use Duncan Hines to make Duncan Hines chocolate pudding cake or your favorite chocolate cake mix.
For a gluten-free version, use a boxed cake mix with gluten free flour to make the batter.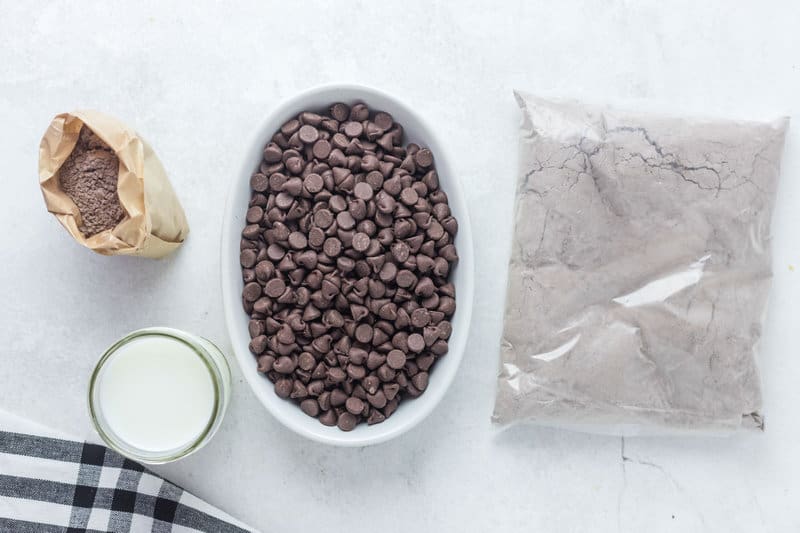 How to Make This Chocolate Pudding Cake Recipe With Cake Mix
This chocolate cake recipe with pudding mix couldn't be easier to make. Here are the steps to follow:
Combine the milk and pudding and cook and stir or whisk occasionally until thick.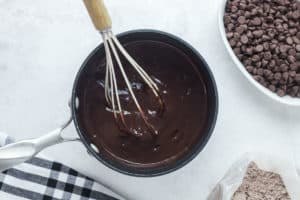 Add the cake mix to the pudding mixture and mix well with a whisk or spoon.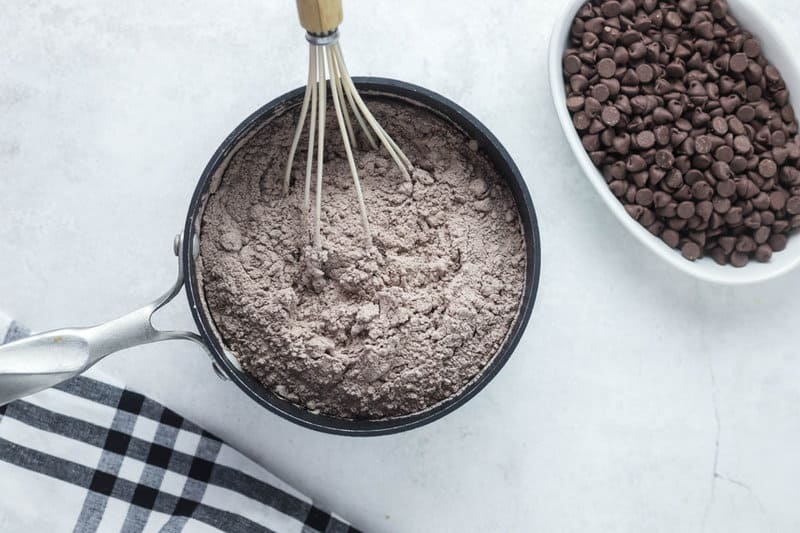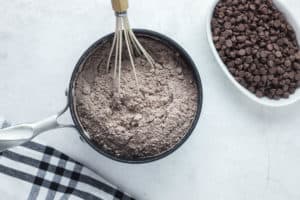 Pour the cake batter into a 13 x 9-inch baking dish.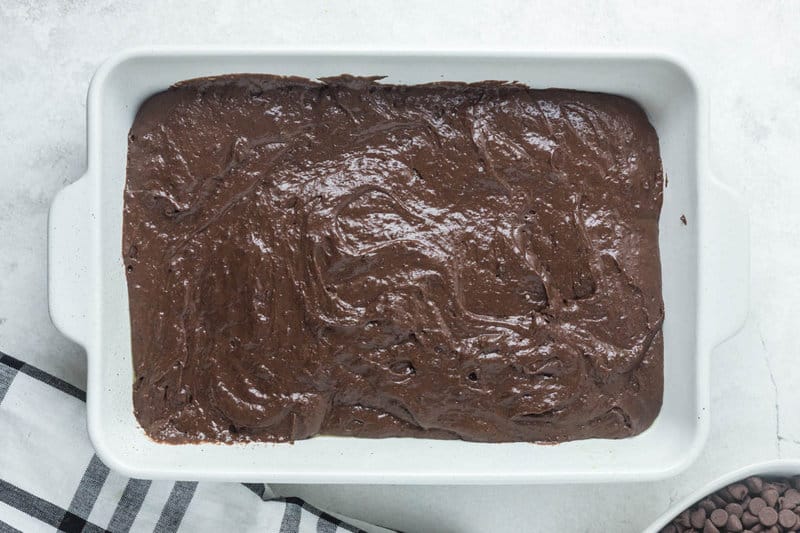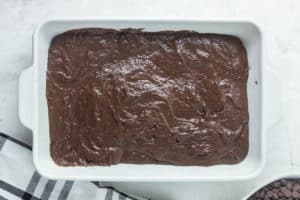 Sprinkle chocolate chips over the batter.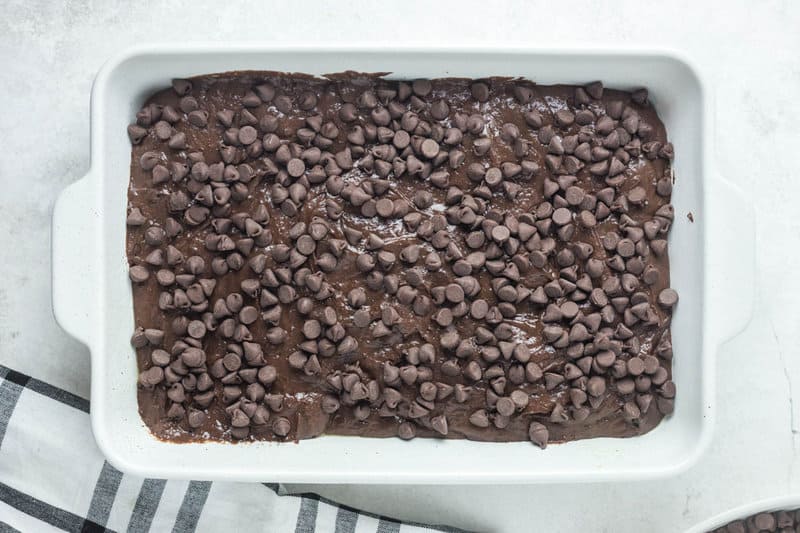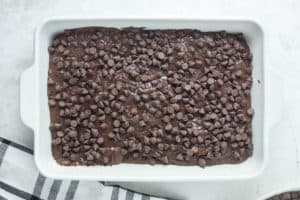 Bake for approximately 20 minutes in a 350°F oven.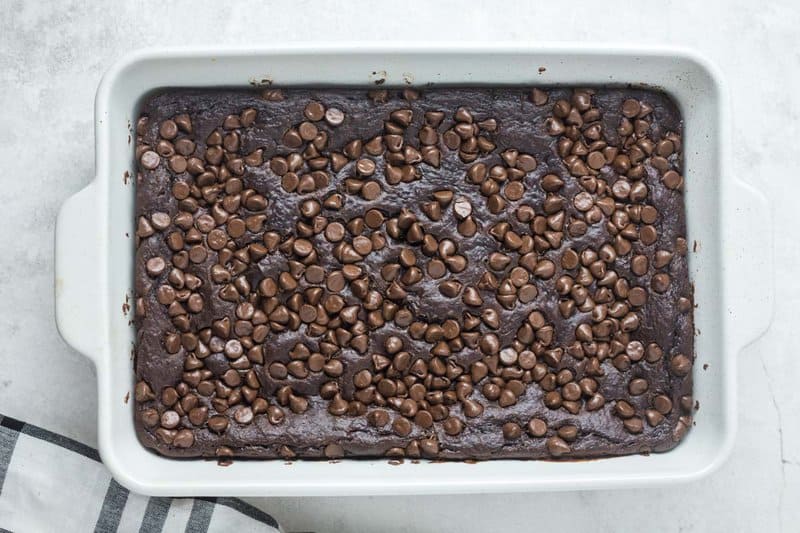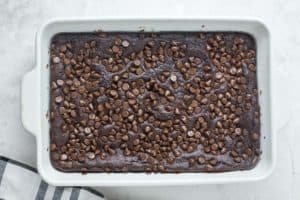 CopyKat Tip: Lining the sides and bottom of pan with aluminum foil makes removing the baked cake from the pan easier.
How to Serve Chocolate Pudding Cake
When this cake comes out of the oven, you will want to serve it on plates or in dessert dishes with either a scoop of vanilla ice cream, whipped cream, or in a pinch, Cool Whip will work. Either topping will work just fine.
If for some reason you do not finish this cake in one sitting, I suggest that you warm the cake in the microwave the second time you serve this cake.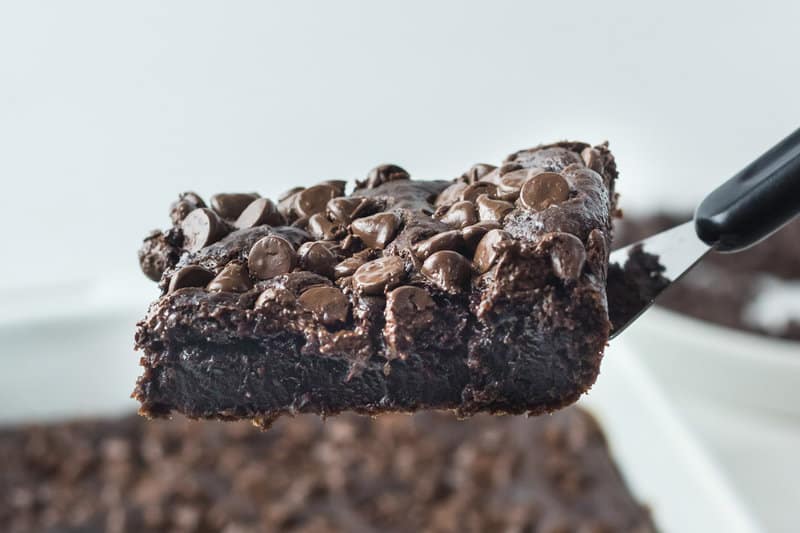 Recipe Variations
This recipe is for a rich, moist chocolate cake with pudding. However, you can try some variations if you want. Here are a few ideas:
Add a teaspoon of vanilla extract to the batter for an extra rich flavor.
If you like nuts on your cake, add some finely chopped pecans or walnuts to the chocolate chips.
Drizzle hot fudge sauce over the top.
Sprinkle brown sugar on top of the batter for a slight caramel flavor on top.
Dust lightly with some unsweetened cocoa powder for garnish.
Dress your chocolate cake up by adding a few berries or some sprinkles on top.
Substitute peanut butter chips for the chocolate chips (or mix them up).
Try it with vanilla pudding and a lemon or orange cake mix with white chocolate chips.
Make it with a yellow cake mix with butterscotch pudding and butterscotch chips.
If you want, you can make the recipe as cupcakes. Be sure to use cupcake liners.
Want to use a square baking pan? You'll need to use two 8-inch ones.
How to Store Gooey Chocolate Pudding Cake
Store leftover cake in the refrigerator in an airtight container – it will be good for 3 to 4 days. This chocolate cake with pudding is delicious when served cold. But if you want to reheat, simply pop a slice or two in the microwave for about 30 seconds, and it'll be nice and gooey again.
Freezing can extend the storage life of your pudding cake for up to 3months. However, be aware that the texture of the cake may change somewhat once it has thawed.
I hope you enjoy this delicious chocolate dessert! Now if you have read this far, be sure to subscribe to my free newsletter and don't miss out on the next recipe.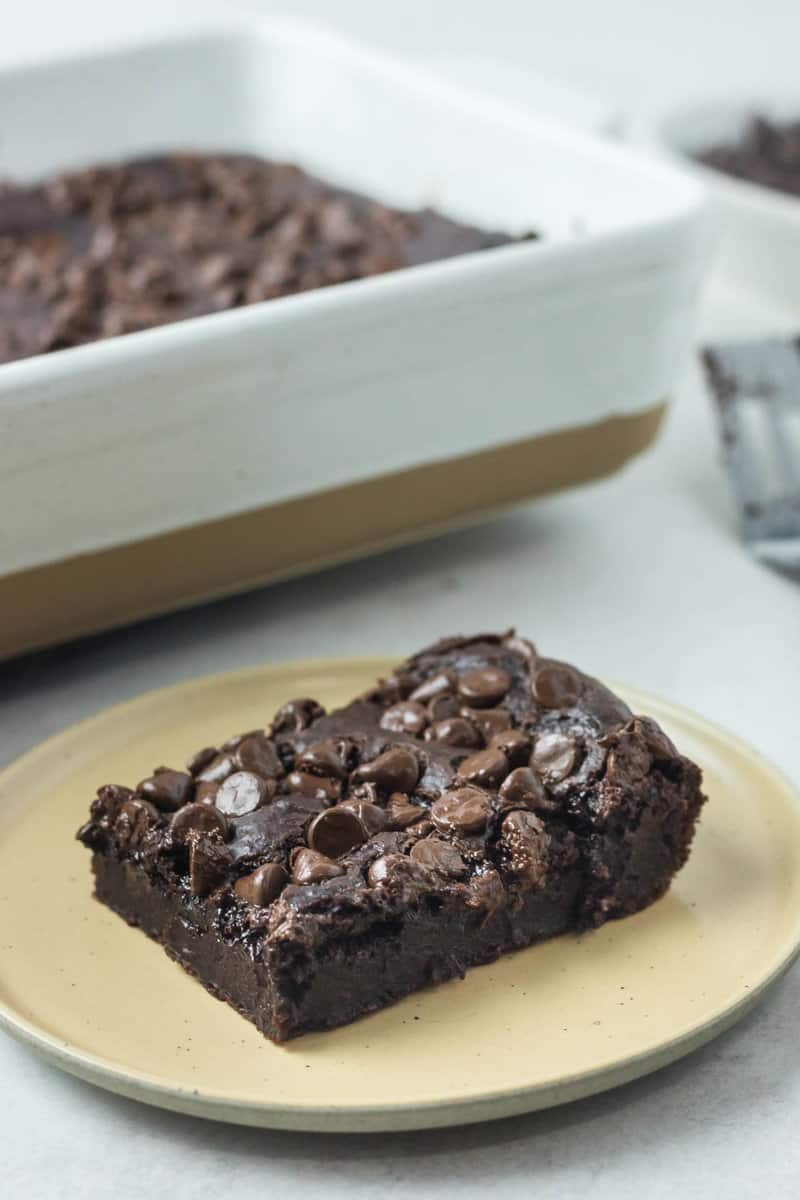 Love Chocolate Desserts? Try These Recipes!
Favorite Cake Recipes
Check out more of my easy cake recipes and the best Christmas desserts on CopyKat!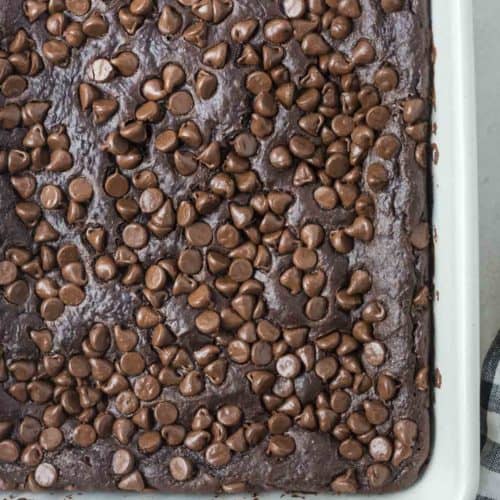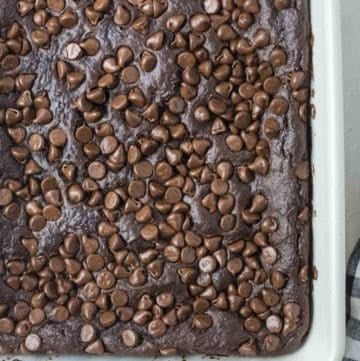 Ingredients
1

5-ounce box

cook & serve chocolate pudding

2

cups

milk

1

15.25 ounce box

chocolate cake mix

12

ounces

semi-sweet chocolate chips
Instructions
Preheat oven to 350°F.

In a 3-quart saucepan over medium-low heat, combine milk and pudding cook until thick, stirring frequently to prevent scorching.

Add cake mix and mix well.

Pour the batter into a 9×13-inch pan.

Sprinkle chocolate chips over the batter.

Bake for approximately 20 minutes. When it's done the cake will be shiny and will pull away from sides of pan.
Notes
Serve with whipped cream or ice cream.
Nutrition
Calories:
476
kcal
|
Carbohydrates:
66
g
|
Protein:
6
g
|
Fat:
21
g
|
Saturated Fat:
9
g
|
Cholesterol:
6
mg
|
Sodium:
624
mg
|
Potassium:
440
mg
|
Fiber:
4
g
|
Sugar:
43
g
|
Vitamin A:
95
IU
|
Calcium:
143
mg
|
Iron:
4.3
mg