Bacardi rum cake is some of the best cake you'll have ever had. It is so flavorful and buttery. You don't even need frosting for this cake to taste great.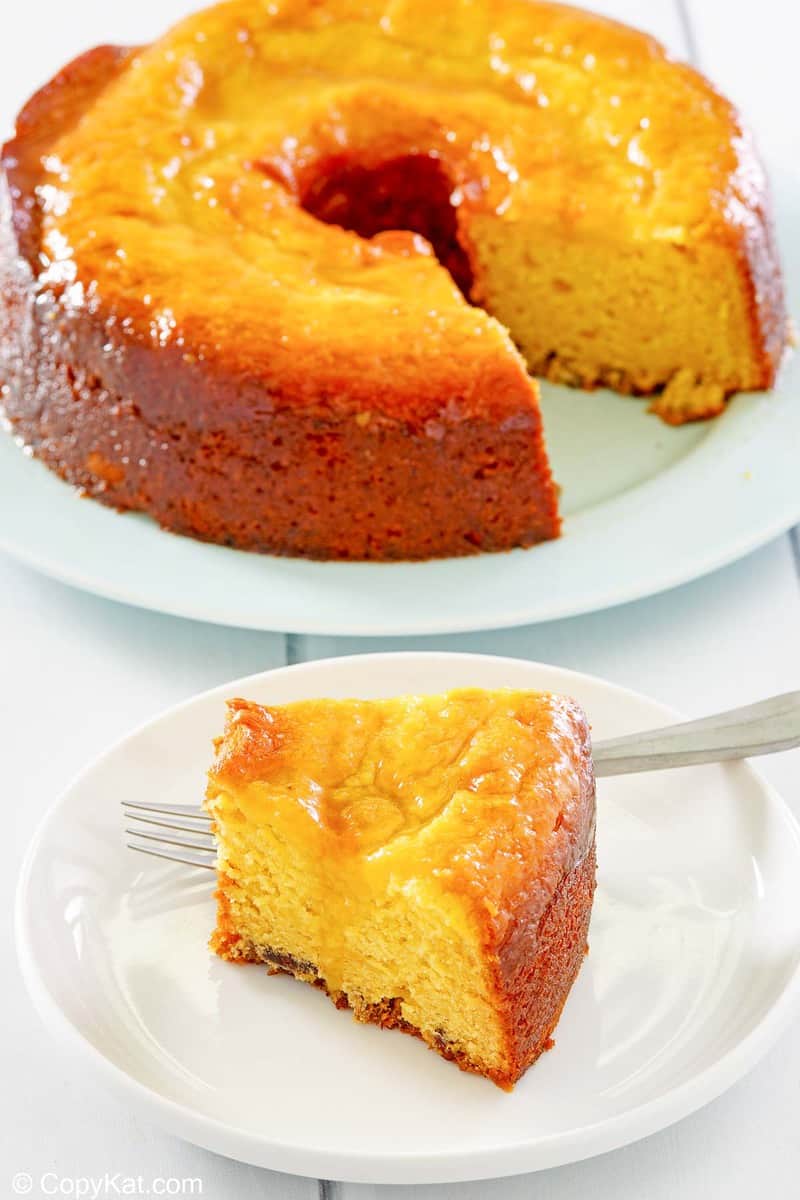 Why This Rum Cake Recipe is the Best
Well first off, the key ingredient as to why this cake is to die for is right in the name, Bacardi rum. You will not taste a better rum soaked cake. The rum in the cake is not to get you buzzed, but rather to provide a depth of flavor and moistness to the cake unlike any other.
This rum cake from scratch is also like a fine wine, it gets even better with time. It's as if the rum settles into the cake and allows the cake to just melt into your mouth.
Bacardi Rum Cake Recipe Ingredients
Take a look at everything you will need for this rum-soaked cake recipe. And of course, make sure to stop at the liquor store to grab yourself a bottle of Bacardi white rum!
Here's a list of what you need for the cake:
Yellow cake mix
Vanilla instant pudding
Chopped pecans
Eggs
Vegetable oil
Water
Rum
Butter
Sugar
Ingredient Substitutions
One of the most frequently asked questions is: What can I use instead of rum in a Bacardi Rum Cake Recipe?
Rum does play a big role in flavoring this cake, so if you are not a big fan of using alcohol for baking then you can replace the rum with water and buy some rum extract to create your own rum flavor. I would suggest using 1½ teaspoons with each ½ cup of water.
Also, if you are allergic or just not a huge fan of pecans, those can always be omitted and maybe even replaced with chocolate chips!
What is the best rum for rum cake?
I may be a little biased, but I feel like the Bacardi rum does a great job in this recipe. It provides a great amount of flavor and is smooth.
However, feel free to use your favorite kind and let me know how it turns out.
How to Make Bacardi Rum Cake
Begin by making the rum-soaked cake by sprinkling the chopped pecans into the bottom of a tube or bundt pan. Also preheat the oven to 325 degrees.
Then place the remaining ingredients into a large mixing bowl and cream them together until they are well combined.
Next, pour the cake batter into the pan and place it in a preheated 325-degree oven to bake for 1 hour.
You'll know the cake is done when the cake begins to pull away from the sides of the pan.
Then make up the glaze by boiling everything except the rum in a saucepan and let it boil for 5 minutes while stirring it.
Once that is done, add in the rum and bring the liquid back to a boil for another couple of minutes.
Then just spoon or pour the glaze over top of the warm cake and enjoy.
Can you make Bacardi Rum Cake without a bundt pan?
You definitely can make this without a bundt pan. As you can see, I use a tube pan. You will have to adjust the baking time based on what type of pan you choose to use.
Just watch it carefully while it bakes in order to not overbake it and dry out the cake.
Should rum cake be refrigerated?
While it can be refrigerated, it is not necessary. I actually prefer the cake to be left at room temperature. I think it helps the flavor of the cake to deepen, whereas the cold air from the fridge might hinder the development of flavor.
Does rum cake taste like alcohol?
Not at all! Actually, all of the alcohol is either baked or boiled out of the cake and glaze and you are just left with the flavor and spices in the rum itself.
Why did my rum cake fail?
I know we live in the Pinterest world with all of the pretty desserts, but sometimes they don't turn out how you want, especially when it is your first time making the recipe.
When you are grabbing the ingredients, make sure you're getting the right thing and double checking how much of each ingredient to use.
Sometimes when you're moving too fast you can make a small mistake that can have a big effect on the outcome of the dessert.
So make sure to check these things:
Right amount of yellow cake mix
Right amount of vanilla pudding
The right number of eggs
Measured the oil correctly
Enough water
Enough rum
Using the right kind of sugar
Love to bake cakes? Try these recipes!
Favorite Christmas Recipes
Check out more of my easy cake recipes and the best Christmas dessert recipes here on CopyKat!
Ingredients
Cake
1

cup

chopped pecans

1

15.25-ounce box

yellow cake mix

1

3.4-ounce box

vanilla instant pudding mix

4

eggs

1/2

cup

vegetable oil

1/2

cup

water

1/2

cup

rum
Glaze
1/2

cup

butter

1

cup

sugar

1/4

cup

water

1/2

cup

rum
Instructions
Cake
Preheat oven to 325°F.

Sprinkle the pecans into a tube pan.

Place the remaining ingredients in a large

mixer

bowl and blend on low speed. Then beat for 4 minutes at medium speed.

Pour the batter into the tube pan and bake for 1 hour, until the cake begins to pull away from the pan. Do not underbake.

Cool the cake for 10 minutes in the pan. Then invert it onto a serving plate and poke holes into the top of the cake with a long wooden skewer. Glaze while the cake is still warm.
Glaze
Mix butter, sugar, and water in a saucepan over medium-high heat and stir until the mixture comes to a boil. Boil for 5 minutes, stirring constantly. Then stir in the rum and return to a boil. Keep warm.

Spoon and brush the warm glaze evenly over the warm cake. Allow the cake to absorb the glaze, and repeat until all the glaze is used up.
Nutrition
Calories:
499
kcal
|
Carbohydrates:
54
g
|
Protein:
4
g
|
Fat:
26
g
|
Saturated Fat:
14
g
|
Polyunsaturated Fat:
3
g
|
Monounsaturated Fat:
8
g
|
Trans Fat:
1
g
|
Cholesterol:
75
mg
|
Sodium:
404
mg
|
Potassium:
81
mg
|
Fiber:
1
g
|
Sugar:
36
g
|
Vitamin A:
321
IU
|
Vitamin C:
1
mg
|
Calcium:
108
mg
|
Iron:
1
mg