Homemade mac and cheese with bread crumbs is creamy, cheesy, and topped with crunchy bread crumbs that add an extra layer of flavor and texture. With just a few simple ingredients and some easy steps, you can whip up a delicious and satisfying side dish that everyone will love. Get ready to dig into the best mac and cheese with bread crumb topping you've ever tasted!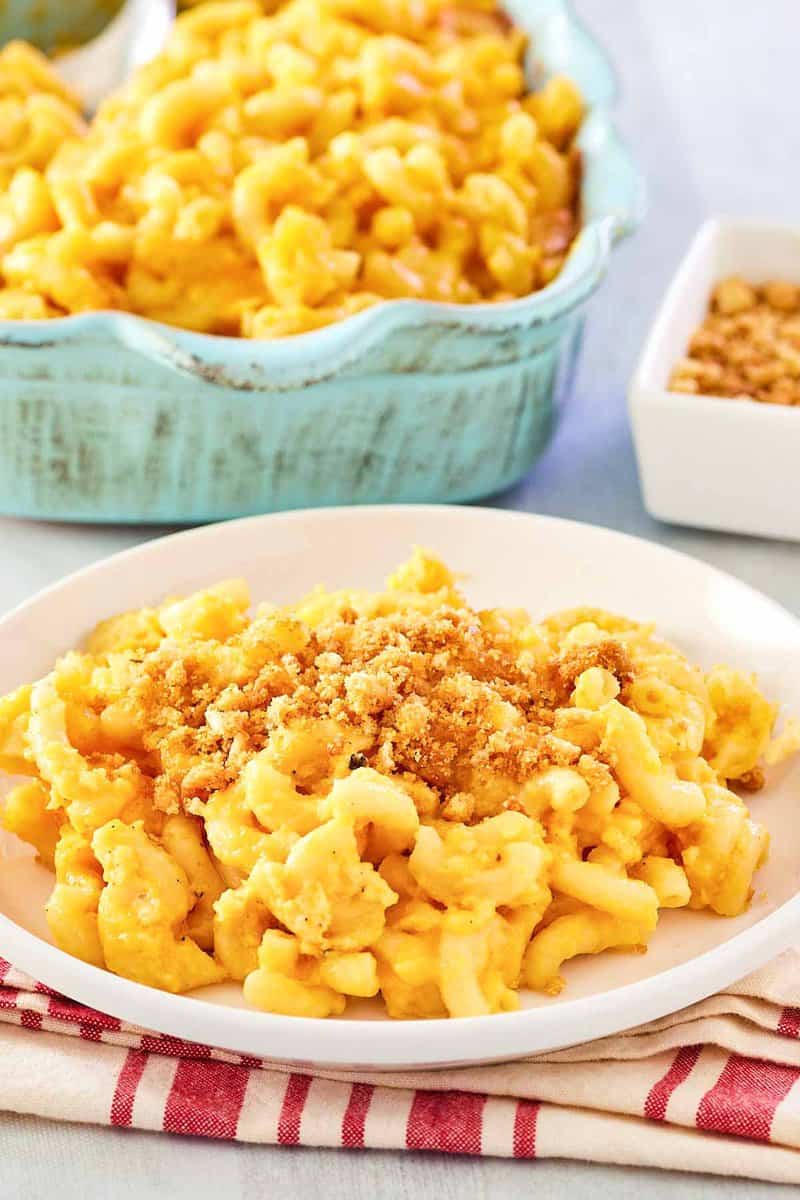 This post contains affiliate links. As an Amazon Associate, I earn from qualifying purchases.
Baked Mac and Cheese
Evaporated milk and dry mustard make this baked mac and cheese with breadcrumbs an extra special dish. This is truly the ultimate in macaroni and cheese, and the addition of eggs turns the dish into a southern baked mac and cheese with evaporated milk. The eggs also make the dish a little firmer than a straight cheese sauce macaroni and cheese.
Why You Should Try This Recipe for Baked Macaroni and Cheese With Bread Crumbs
Macaroni and cheese is a staple in most households with children. The reason you absolutely have to try this mac and cheese with breadcrumbs is simple. It's the most satisfying homemade mac and cheese your family will ever enjoy. You will find that it's really a challenge to beat this macaroni and cheese that is finished off with a satisfying crunchy breadcrumb topping.
If the only mac and cheese you are familiar with is out of a box, you'll never make it that way again. And this mac and cheese recipe is really not that much more work! This from-scratch baked macaroni and cheese with breadcrumbs recipe will become a staple in your dinner rotation.
Baked Mac and Cheese With Bread Crumbs – Ingredients You Will Need
Very basic ingredients are all you need for this southern baked mac and cheese with evaporated milk.
Macaroni
Cheese
Eggs
Evaporated milk
Butter
Bread crumbs
Hot red pepper sauce
Dry mustard
Salt and pepper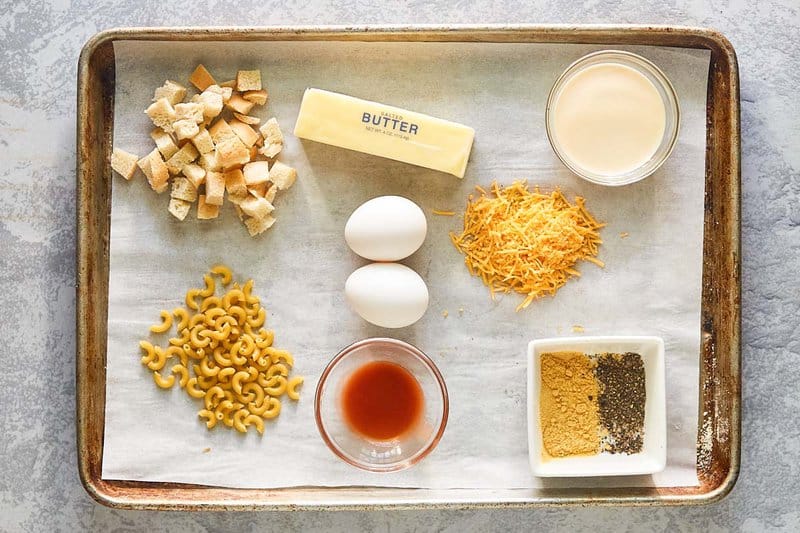 Ingredient Notes
Using fresh breadcrumbs rather than breadcrumbs out of a can will definitely work better. Learn how to make bread crumbs.
Use block cheese and shred it yourself. Pre-shredded cheese is coated with anti-caking agents to prevent clumping and won't melt properly and smoothly.
Equipment Needed
How to Make Baked Macaroni and Cheese With Evaporated Milk
This baked mac and cheese with breadcrumbs recipe is very easy to make. Here's what you do in brief:
Mix together the breadcrumbs and butter and toast.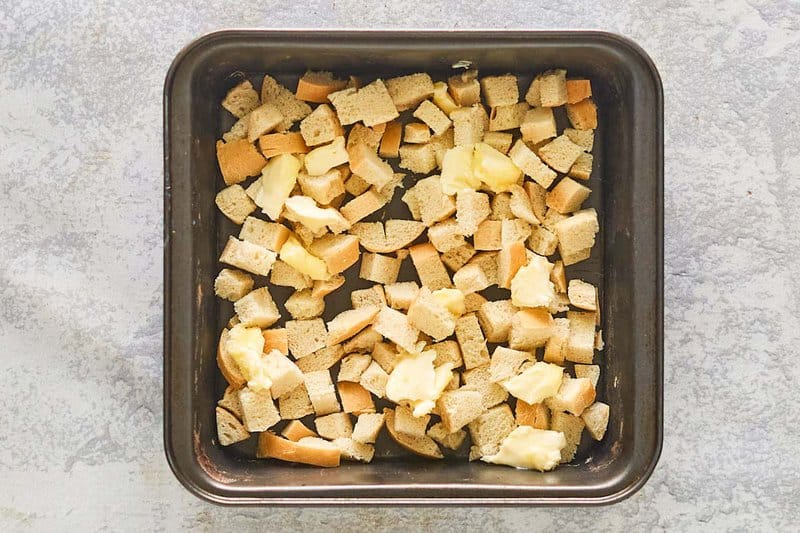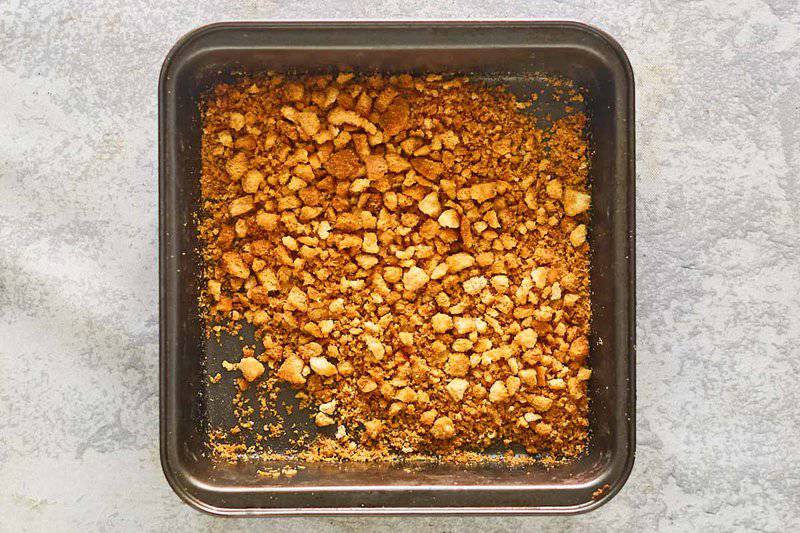 Cook the macaroni until al dente and stir in some butter.
Place the eggs, evaporated milk, pepper sauce, a little salt, pepper, and mustard in a small bowl. Whisk to combine.
Pour the mixture over the macaroni.
Add 3/4 of the cheese and bake for 5 minutes at 350°F.
Remove from the oven and thoroughly stir, adding a little more milk and cheese. Bake for an additional 5 minutes.
Remove from the oven again and stir so that everything cooks evenly, adding additional milk and cheese if necessary.
Bake for 20 minutes.
Remove from the oven and stir in the remaining milk and cheese.
Serve topped with toasted breadcrumbs.
Baked Macaroni and Cheese With Breadcrumbs – Variations
Mac and cheese easily lends itself to variations. Here are some suggestions:
Pasta: For mac and cheese, you want a pasta shape with grooves that can hold onto the cheese sauce. Elbow macaroni is classic, but shells, fusilli, penne, or cavatappi would also be great.
See this guide to pasta shapes and how best to use them.
Cheese: Switch up the cheese or use a combination of different cheeses. Sharp Cheddar cheese and gruyere are wonderful together. If you can't find gruyere, Swiss or Jarlsberg is the best substitute. Other cheeses that work well are mozzarella cheese, Monterey jack, sharp white cheddar, or pepper jack (for a bit of zip).
Seasoning: Add some nutmeg, cayenne pepper, or Dijon mustard to the sauce.
Mac and cheese with vegetables: Add some veggie mix-ins – this is a great way to use up any leftover veggies lurking in your refrigerator. Also, a good way to sneak in some veggies for your kid who loudly proclaims that he hates them! Try sautéed broccoli, mushrooms, or peppers for some added nutrition.
Meaty mac and cheese: Add cooked ground beef, chicken, turkey, ham, or sausage.
Breadcrumb Topping Variations:
Add some parmesan cheese, garlic powder, onion powder, dried herbs, or crushed red pepper to add extra flavor to the breadcrumb topping.
Use panko bread crumbs mixed with butter and parmesan.
Try crushed saltines or croutons and crispy bacon.
How to Serve Macaroni and Cheese With Bread Crumbs
This macaroni and cheese with evaporated milk works beautifully as a side dish for a small lunch or dinner party.
Serve this comfort food baked mac and cheese with breadcrumbs with any grilled meat, fried chicken, sloppy joes, or just with a salad for a meatless meal.
How to Store and Reheat Mac and Cheese
Refrigerator: Allow any leftovers to cool completely. Then transfer to an airtight container and store in the fridge for up to 4 days.
Freezer: For longer storage, place serving-size portions of leftovers in zip-top freezer bags. Wrap each bag separately in foil and then freeze flat. They will be good for up to 3 months. When ready to use, thaw in the refrigerator overnight. Note that freezing may cause the milk to separate or the pasta to become mushy when thawed and reheated.
Reheat: Place mac and cheese in a baking dish and cover with aluminum foil. Heat at 350°F until warmed through, about 20 minutes. Or microwave individual portions for 1 to 2 minutes until warm. To prevent drying out, stir in a tablespoon or two of milk.
Make ahead: Baked macaroni and cheese is a great side dish to make in advance. Assemble the dish minus the topping, cover it with foil, and refrigerate it for up to 2 days before baking. When ready to bake, allow it to reach room temperature, add the topping, and bake as directed.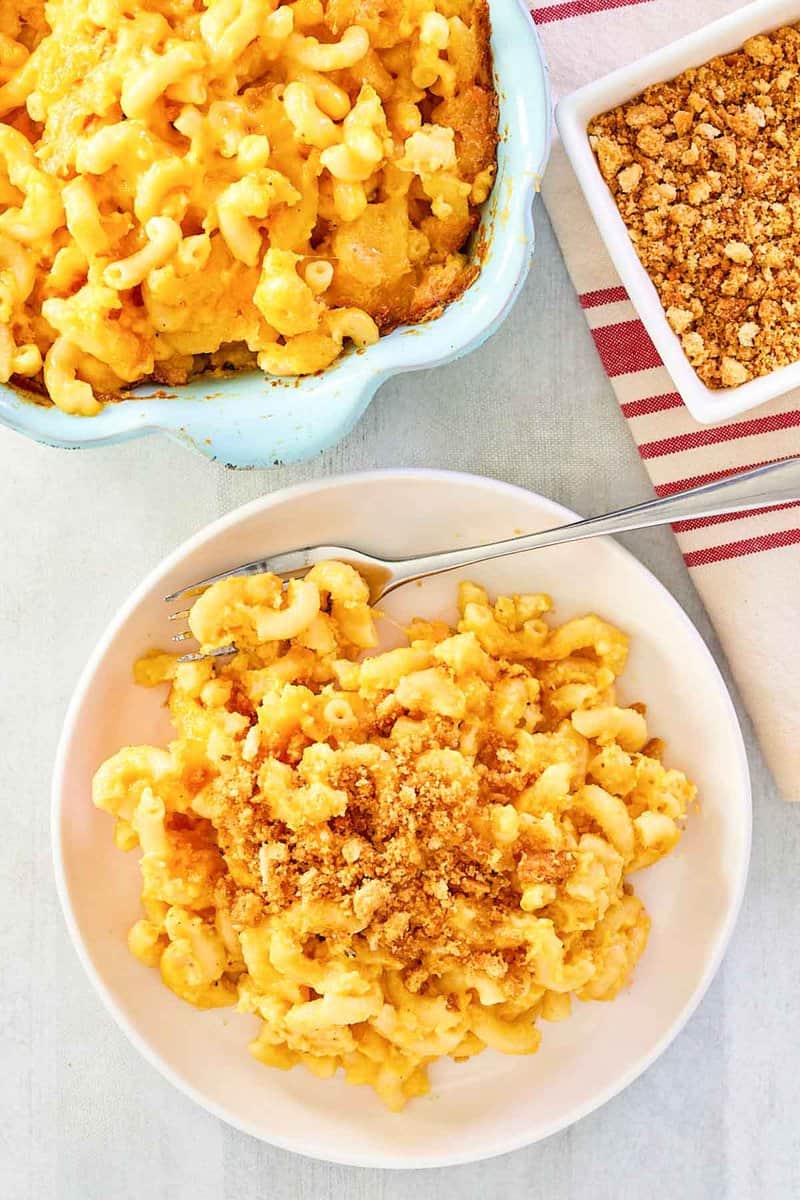 More Yummy Mac and Cheese Recipes
Copycat Mac and Cheese Recipes
Maybe one of these from a famous food chain is your favorite? If so, this collection of copycat mac and cheese recipes is especially for you:
Check out more of my easy side dish recipes and the best comfort food recipes on CopyKat!
Recipe adapted from The Perfect Recipe cookbook.
Ingredients
2

cups

fresh bread crumbs

5 1/2

tablespoons

butter

melted, divided use

2

teaspoons

salt

divided use

1/2

pound

dry elbow macaroni

2

eggs

12

ounces

evaporated milk

heated until warm, divided use

1/4

teaspoon

hot red pepper sauce

ground black pepper

to taste

1

teaspoon

dry mustard

12

ounces

mild cheddar

American, or Monterey Jack cheese, divided use
Instructions
Preheat the oven to 350°F and set a 1 1/2–quart heatproof dish, such as a souffle pan in the oven to warm.

Mix the bread crumbs and 1 1/2 tablespoons of butter together in a small baking pan and set aside.

Bring 2 quarts of water to a boil in a large pot. Add 1 1/2 teaspoons salt followed by the macaroni. Cook until almost tender, but still a little firm to the bite. Drain the macaroni, transfer it to the preheated dish, and stir in 4 tablespoons of butter.

Meanwhile, mix the eggs, red pepper sauce, 1 cup of evaporated milk, 1/2 teaspoon salt (or less if you are using American cheese) 1/4 teaspoon pepper, and mustard in a small bowl.

Pour the egg mixture over the noodles along with 9 ounces of cheese. Stir until thoroughly combined and the cheese starts to melt.

Place the bread crumbs in the oven to toast until golden brown, about 10 to 15 minutes. Remove from oven and set aside.

Place the pan of macaroni and cheese in the oven and bake for a total of 30 minutes, removing the pan 3 times throughout the cooking process to stir the macaroni and add additional evaporated milk and cheese.

Serve immediately, sprinkled with the prepared bread crumbs.
Nutrition
Calories:
525
kcal
|
Carbohydrates:
45
g
|
Protein:
22
g
|
Fat:
28
g
|
Saturated Fat:
16
g
|
Cholesterol:
118
mg
|
Sodium:
596
mg
|
Potassium:
301
mg
|
Fiber:
2
g
|
Sugar:
6
g
|
Vitamin A:
830
IU
|
Vitamin C:
0.8
mg
|
Calcium:
481
mg
|
Iron:
2.2
mg