Dive into the world of cheesy delights with Pasta House Company Garlic Cheese Bread. With French bread as its canvas, it's painted with garlic butter and adorned with a generous layer of cheese before being baked in the oven to toasted perfection. Get the easy copycat recipe and find out how to make the best homemade cheesy garlic bread with sliced bread, garlic butter, and provolone or mozzarella cheese.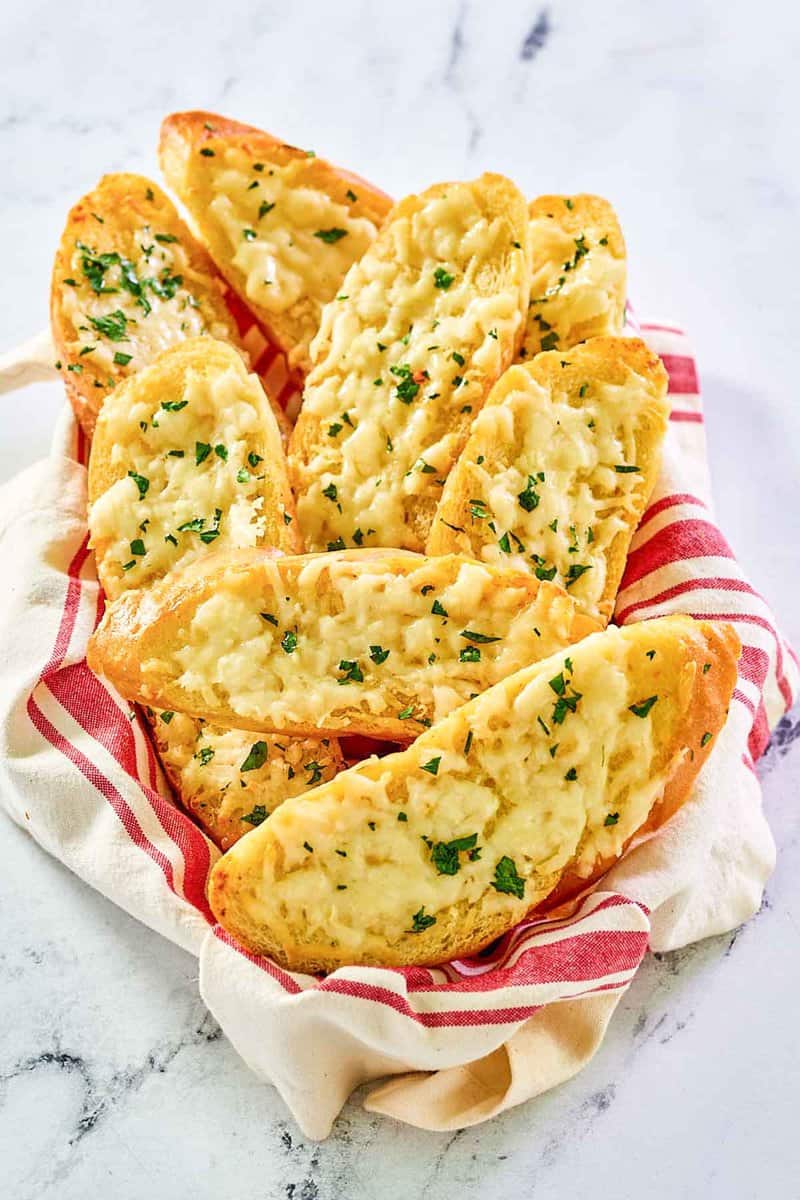 This post contains affiliate links. As an Amazon Associate, I earn from qualifying purchases.
What Makes This Cheesy Garlic Bread So Good?
Bread is good, but add some cheese, and you have something better. Dip the bread in a butter-garlic sauce, sprinkle it with shredded Provolone, and toast it until hot and bubbly, and you have something utterly irresistible.
Cheese garlic bread from the Pasta House Company will satisfy your craving for a savory snack anytime.
Why You Should Try This Recipe for Garlic Cheese Bread
Cheesy garlic bread is one of those dishes that is deceptively simple to make. Although it requires only a few ingredients, it is vital to use the best quality you can find. Don't be afraid to spend a little more than usual for good bread and cheese because it will make a huge difference in the taste.
This cheesy garlic bread recipe will surely become one of your go-tos since you can serve it as a standalone appetizer or pair it with your favorite main course.
Garlic Cheese Bread Ingredients
For this Garlic Cheese Bread recipe, you'll need:
Loaf of French bread or Italian bread
Unsalted butter
Garlic powder
Provolone cheese, shredded
Ingredient Notes
Light and airy baguettes are not a good choice for this recipe. Hoagie-style bread is acceptable, but your best choice is a boule or Tuscan bread.
Since most brands of pre-shredded cheese contain anti-clumping agents that can affect how they melt, your best bet is buying a block of Provolone cheese and shredding it yourself. Feel free to substitute a different type of cheese if you prefer.
How to Make Garlic Cheese Bread
To prepare garlic bread with cheese:
Preheat the oven to 375°F. Line a baking sheet with parchment paper.
Slice the bread into half-inch pieces. If you are using long and narrow bread, cut the bread on a bias to increase the length of the slice. Reserve the slices for later.
Gently melt the unsalted butter in a skillet over medium-low heat. Whisk to prevent the butter from burning.
Turn off the heat and whisk in garlic powder.
Dip one side of each slice in the butter mixture.
Place the dipped bread slices butter side up on a baking sheet.
Sprinkle the shredded provolone cheese on top of each slice.
Bake the bread in the oven until the cheese begins to brown.
Remove the bread from the oven and serve it hot.
Possible Cheesy Garlic Bread Recipe Variations
There are so many ways that you can change up this recipe to suit your preferences. Here are a few suggestions, but feel free to experiment and leave your best ideas in the comments below.
Use focaccia bread. Focaccia is already loaded with flavor, and it is perfect to use as a base for cheesy garlic bread. Since focaccia is so thick, cut each slice in half horizontally before topping.
Replace the garlic powder with real crushed garlic. Either finely chop garlic cloves or keep things easy by using cubes of frozen minced garlic like the ones from Dorot.
Use a different cheese. Shredded mozzarella, cheddar cheese, or colby jack cheese.
Add some other toppings. There are endless toppings you can add. Try pepperonis or cooked pieces of sausages. A few slices of vegetables like mushrooms, diced tomatoes, sliced green onion, or caramelized onions would be a delicious addition. Sprinkling fresh herbs such as parsley, thyme, rosemary, or torn basil over the bread when it comes out of the oven will go a long way toward enhancing the flavor.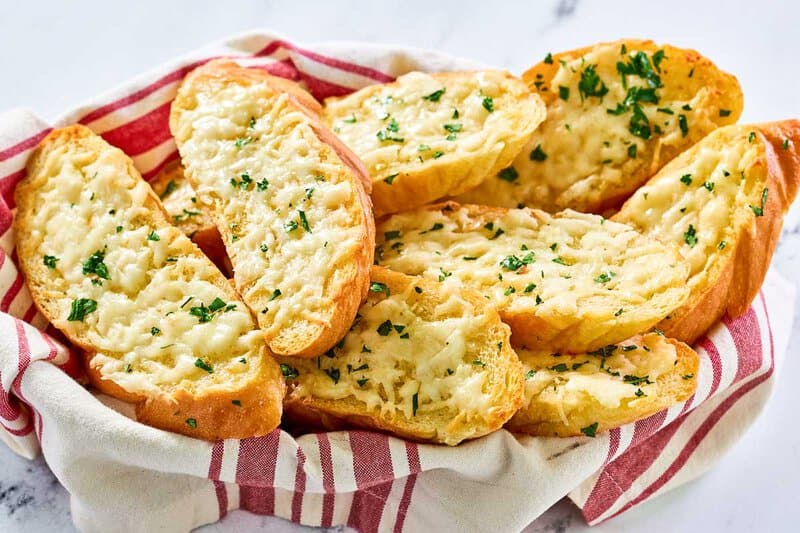 What to Serve It With
Garlic bread with cheese is the perfect side dish that goes with almost any Italian-style meal. Here are a few suggestions where it really shines:
Pasta e Fagioli. Already a healthy and hearty soup on its own, serving with a piece or two of cheesy garlic bread turns this soup into a filling main course.
Eggplant Parmesan. Forget the overbreaded processed discs of eggplant and try this traditional Eggplant Parm recipe instead. The tangy tomato sauce and fresh mozzarella will make you think of the old country.
Italian Chopped Salad. Although this chopped salad from Cucina! Cucina! is chockfull of chicken, chickpeas, and two different kinds of cheese and makes a pretty good entree salad on its own; cheese garlic bread helps to round out the meal.
How to Store the Leftovers
You can keep leftover pieces of Garlic Cheese Bread in the fridge. Place the slices of bread in an airtight container, and if you need to stack them, place a sheet of wax paper between each layer. The bread should stay fresh for about 2-3 days.
How to Reheat
To rewarm the bread in the oven:
Preheat the oven to 350°F.
Wrap the slices of cheesy garlic bread in aluminum foil and place them on a baking tray.
Heat the bread for about 10 minutes or until the cheese melts.
More Pasta House Company Recipes
Favorite Bread Recipes
Check out more of my easy bread recipes and the best restaurant copycat recipes here on CopyKat!
Many thanks to Cheryl for this recipe!
Ingredients
1

loaf

French bread

1/2

cup

butter

1

teaspoon

garlic powder

1

pound

provolone cheese

shredded (or substitute with any other cheese)
Instructions
Cut the bread on the bias into slices.

Place the butter and garlic powder in a skillet over medium heat and allow the butter to melt.

Dip one side of each slice of bread into the garlic butter.

Sprinkle generously with cheese.

Bake at 375°F until the cheese is melted and just beginning to brown.
Nutrition
Calories:
223
kcal
|
Carbohydrates:
14
g
|
Protein:
10
g
|
Fat:
13
g
|
Saturated Fat:
8
g
|
Cholesterol:
34
mg
|
Sodium:
427
mg
|
Potassium:
73
mg
|
Fiber:
0
g
|
Sugar:
0
g
|
Vitamin A:
425
IU
|
Calcium:
227
mg
|
Iron:
1.1
mg