Ruby Tuesday White Chicken Chili is a popular soup on the restaurant's menu. This flavorful, hearty, and delicious white chicken chili has chicken, beans, jalapenos, onion, garlic, salsa, spices, and more. I know that with one bite this will become one of your favorite white chicken chili recipes.
This post contains affiliate links. As an Amazon Associate, I earn from qualifying purchases.
White Bean Chicken Chili
Ruby Tuesday has a giant menu. Hidden among the burgers, steaks, ribs, and seafood, you can find one of the chain's most popular dishes, White Chicken Chili. If you have never tried it before, you don't know what you're missing.
While the white bean chicken chili may be lighter than the beefy version, it is still perfect for warming you up after a long day. This recipe stores wonderfully, so don't be afraid to make a big batch for those times when you just need a quick and satisfying meal.
Why This is the Best Recipe For Ruby Tuesday's White Chicken Chili
This is one of my favorite Ruby Tuesday copycat recipes. The mildness of the creamy white beans and shredded chicken provide the perfect balance to the chili peppers and spices.
While this chili recipe is not overly spicy, there is some heat. However, you can easily control the heat level by carefully choosing which chili peppers and salsa you use.
Recipe Ingredients for Ruby Tuesday White Chicken Chili recipe
To make white chicken chili, you will need:
Dried great northern beans
Yellow onions
Garlic
Chicken stock or chicken broth
Jalapeno peppers
Chili peppers
Dried oregano
Ground cumin
Cayenne pepper
Vegetable oil
Cooked chicken you may want to use chicken breast meat only
Salsa
Salt and pepper
Sour cream
Shredded Monterey Jack cheese
Ingredient Notes
When it comes to the chili peppers, choose your favorite, but be careful. The jalapeno peppers already bring a lot of heat, so you may want to select something lower on the heat meter.
Aji Habaneros are a great choice because they are not as spicy as regular habaneros but still have a nice smoky and fruity flavor.
You can eliminate a lot of prep work by buying a pre-cooked rotisserie chicken at the supermarket. Many grocery stores sell them for a discount a few minutes before closing.
Ingredient Substitutions
Although most people use a tomato-based salsa for this recipe, opting for a Salsa Verde may be even better. The tomatillos, mild green chilies, garlic, and cilantro add a ton of flavor to this recipe.
For a thicker, smoother texture to your chili, you can try using cannellini beans instead of the Great Northern. Navy beans are good if you prefer your beans a little firmer.
How to Make White Chicken Chili
Start the night before by soaking the beans in a pot on the counter overnight. Use cool, not cold water, and make sure that it is at least an inch above the beans. Or do a quick soak by boiling them in water for a few minutes, removing from the heat, and soaking them for an hour. Drain the beans before using them.
In a large covered soup or stockpot, simmer the soaked beans, 3/4 cup onions, and 1/2 teaspoon of garlic in the chicken stock for about 2 hours, or until the beans soften. Stir the beans every 5 to 10 minutes and adjust the heat to prevent the chicken stock from coming to a boil.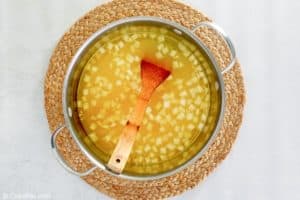 Heat the spices in a dry pan until they are fragrant. Carefully add the vegetable oil to the pan. Sauté the chili peppers, the rest of the onions, and the garlic.
Add the sautéed peppers and onions mixture to the chili. Use some chicken stock to rinse out the pan to ensure you get every last bit of flavor into the chili.
Stir the shredded chicken and salsa into the pot.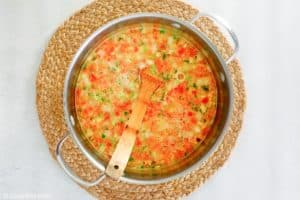 Cover, reduce the burner to low, and simmer for one more hour. Taste and add salt or black pepper if needed.
To serve, ladle the chili into the serving bowls and top with a dollop of sour cream and shredded Monterey Jack cheese.
What to Serve With This Famous White Chicken Chili
This White Bean Chicken Chili recipe makes a great light meal on its own, but if you are really hungry, try adding a few of these sides to your table:
How to Store Chili
Keep any Ruby Tuesday's chicken chili leftovers in a covered container in the refrigerator for up to four days. If you want to store the chili for longer, try freezing it.
How to Freeze White Bean Chili
You can store the chili in the freezer for three to four months.
Let the chili cool completely.
Pour the chili into a freezer-safe container. It is best to divide large amounts of leftovers into more than one container because once you defrost the chili, you can't refreeze it.
How to Reheat Chili
The best way to reheat White Bean Chicken Chili is to let it thaw overnight in the fridge. Then warm over medium-low heat in a pan on the stove.
You can also warm the thawed chili in the microwave if you want. Try nuking it on high for two to three minutes, stir it, and then heat for another one to two minutes until hot.
Copycat Ruby Tuesday Recipes
If you are looking for something to wash down the chili, here are some great Ruby Tuesday drinks:
Favorite Chili, Soup, and Stew Recipes
Check out more of my easy soup recipes and the best copycat recipes for casual dining restaurants here on CopyKat!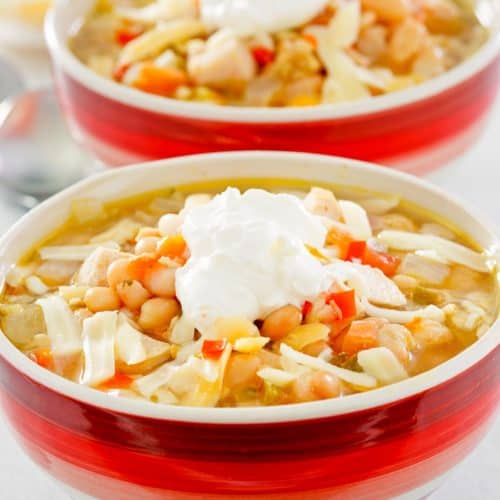 Ingredients
1

pound

great northern beans

soaked in water

1 1/2

cups

chopped Spanish onion

divided

2

teaspoons

minced garlic

divided

6

cups

chicken stock

2

jalapeno peppers

chopped

2

chili peppers

diced

1 1/2

teaspoons

oregano

2

teaspoon

cumin

1/2

teaspoon

cayenne pepper

1

tablespoon

vegetable oil

6

cups

diced cooked chicken

1

cup

salsa

salt and pepper to taste

Sour cream

(garnish)

shredded Monterey Jack cheese

(garnish)
Instructions
Simmer the beans, 3/4 cup onions, and 1/2 teaspoon garlic in the chicken stock for 2 hours, or until the beans soften, stirring frequently.

Sauté the peppers, spices, and the remaining onions and garlic in the oil.

Add the sauteed peppers and onions to the chili.

Add the chicken and salsa to the chili. Stir to combine.

Simmer for one more hour, and season with salt and pepper to taste.

Garnish each bowl with sour cream and shredded Monterey Jack cheese.
Notes
Please note this is not my recipe it came from Tissman, a fellow viewer of the website. 
Nutrition
Calories:
224
kcal
|
Carbohydrates:
25
g
|
Protein:
18
g
|
Fat:
5
g
|
Saturated Fat:
2
g
|
Cholesterol:
29
mg
|
Sodium:
537
mg
|
Potassium:
796
mg
|
Fiber:
4
g
|
Sugar:
6
g
|
Vitamin A:
275
IU
|
Vitamin C:
7.7
mg
|
Calcium:
81
mg
|
Iron:
3.2
mg