Looking for a delicious and easy meal that will please the whole family? Try this tasty Frito Taco Salad with Catalina Dressing! This flavorful salad combines all your favorite taco ingredients with the satisfying crunch of Fritos corn chips, and the tangy sweetness of Catalina dressing. It's perfect for busy weeknights or a fun potluck gathering.
Taco Salad with Fritos Corn Chips
Frito Taco Salad has been a recipe that has been on my mind for a while now. The first time I had this recipe I when I was six years old. I had this Taco Salad with Fritos corn chips at Girl Scout Day Camp, in Pueblo, Colorado.
I found this Taco Salad almost magical, my Mom never fixed anything like this at home. It may scare some people, but I could prepare this recipe myself at the age of 6.
While this style of Taco Salad isn't a recipe that I would make too often anymore, I was craving the nuttiness of Fritos combined with lettuce, cheese, and a sweet and slightly spicy salad dressing.
While this taco salad may be one of those guilty pleasures that I have, and honestly it isn't what I would call a dish I would make for company, I will admit that I still enjoy this salad. For me, some dishes are completely nostalgic and the nostalgia is what makes a particular dish taste so good.
What Makes the Classic Frito Taco Salad So Good?
Taco Salad may not be very sophisticated, but this is a go-to recipe for taco fans craving something a bit different. Over the years, the combination of flavors, textures, and temperatures has made this salad a real crowd-pleaser.
While most restaurants serve Taco Salads in edible corn chip bowls, this version uses Fritos instead to make preparation easier but keeps the salad every bit as delicious.
Why You Should Try This Recipe
If you grew up during a certain era (from about the 60s to the 80s), nostalgia alone should be enough to want to try making a Taco Salad recipe at home.
Even if you don't remember being thrilled on the days your school cafeterias or summer camp served Taco Salad, you should still give this dish a shot. It's easy, cheap, and has everything you love about tacos packed into a salad bowl.
Taco Frito Salad Ingredients
For taco salad with Frito chips, you'll need:
Ground beef
Taco seasoning mix
Water
Shredded lettuce
Fritos corn chips
Cheddar cheese, shredded
Tomatoes
Red onions
Olives, sliced
Kraft Catalina Dressing or Kraft French Dressing
Salsa
Ingredient Notes
You can use a can of pre-sliced black olives, but jarred whole olives in brine are much more flavorful. If you don't like olives, you can leave them out.
For the shredded lettuce, you can use iceberg lettuce, romaine lettuce, or a combination of them.
Catalina and French dressing are similar in flavor but not the same. Catalina dressing tends to be sweet with a thin consistency, while French dressing has more of a bite. Choose whichever you prefer or have on hand.
Note: This recipe can be made Gluten Free if you use this taco seasoning mix recipe.
How to Make Taco Salad With Frito Chips
To cook the ground beef:
Warm a large skillet over medium heat.
Cook the ground beef in the skillet until it is no longer pink. Drain any excess liquid.
Stir the taco season into the ground beef and follow the instructions on the packet for how much water to add and how to finish cooking the taco meat.
Cover the cooked and seasoned ground beef and set to the side.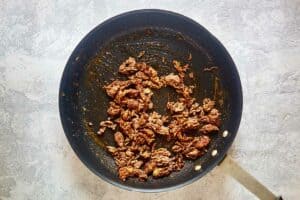 To prep the vegetables for the Frito Taco Salad recipe:
Peel off the first few outer leaves of the head of lettuce and cut it in half. Finely shred half, and save the other half of the lettuce for something else. Place the shredded lettuce in a colander and rinse well. Use a salad spinner to dry the lettuce well.
Slice the tomatoes in half and use a spoon to scoop out all the seeds. Discard the seeds and chop the tomatoes into small dice. Reserve diced tomatoes for later.
Dice the red onions into small pieces. Place them in a small bowl.
If using whole olives, drain and slice them into thin rounds. Save for later.
To assemble a Taco Salad:
When the meat is cooked, drain any excess liquid from the skillet.
Use a fork to mix the salsa and salad dressing in a small bowl.
In a large bowl, toss the shredded lettuce, diced tomatoes, onions, sliced olives, and the prepared dressing and salsa mixture.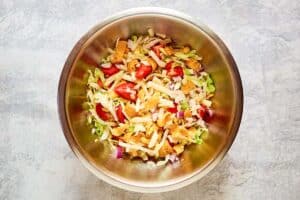 Right before plating, toss the salad with the warm ground beef.
Plate and garnish the taco salad with Fritos and shredded cheddar cheese.
Recipe Variations
Feel free to swap out the ground beef for something else. Ground turkey is a good alternative if you are trying to avoid red meat. You can also try making Frito Taco Salad with chicken strips for more of a fajita vibe.
Make this salad vegetarian using vegetable crumble or canned beans instead of meat.
What to Serve With Taco Frito Salad
You can go a little wild when adding toppings to this salad. Here are a few that would be a delicious addition to Frito Taco Salad with Catalina dressing:
Guacamole or slices of avocado would add a lot of creaminess to this recipe.
Sour cream or Mexican Crema gives the salad a little more zing.
Swap the cheddar for queso fresco or another type of cheese.
Black beans are tasty and add a lot of extra protein.
Corn salsa adds a lot of sweetness with a touch of heat.
Pickled jalapenos really kick up the heat level for folks who like it hot.
How to Store the Leftovers
Keep each salad component separated into airtight containers in the fridge to extend how long they will last. Eating a mixed and dressed Taco Salad as soon as possible is best.
More Recipes that Bring Back Memories
Karo Pecan Pie – This is my Grandmother's Pecan Pie recipe
Marbled Brownies – these have cream cheese inside that remind you of cheesecake
Cheeseburger Casserole – this name doesn't do my Grandmother's casserole justice, provolone and cheddar cheese, bacon, macaroni and more!
Favorite Taco Recipes
Popular Mexican Salad Recipes
Check out more of my easy salad recipes and the best family favorite recipes on CopyKat!
Ingredients
1

pound

ground beef

1

package

taco seasoning mix

1/2

head

lettuce

shredded

1/2

cup

chopped tomatoes

1/4

cup

diced red onion

1/2

cup

shredded cheddar cheese

1

cup

Frito corn chips

1/4

cup

Catalina or French dressing

1/4

cup

salsa

sliced olives

optional
Instructions
In a skillet over medium heat, brown the ground beef. When the beef is almost browned, drain the fat, and add the taco seasoning mix along with the amount of water recommended on the package. Let the meat simmer until fully cooked. Remove from the heat and allow the meat to cool slightly.

In a mixing bowl, toss together the lettuce, tomatoes, red onions, shredded cheddar cheese, and corn chips.

In a small bowl, combine the salad dressing and the salsa. Mix well.

Add the salad dressing and the prepared beef to the salad and toss. Garnish with sliced black olives, if desired. Serve immediately.
Notes
Once the ground beef and salad dressing have been added to the salad mix, the salad does not hold well. If you do not plan to eat the salad in one sitting, keep the beef, dressing, and salad mix in separate containers and combine in portions when ready to serve.
Nutrition
Calories:
266
kcal
|
Carbohydrates:
12
g
|
Protein:
12
g
|
Fat:
18
g
|
Saturated Fat:
6
g
|
Cholesterol:
47
mg
|
Sodium:
649
mg
|
Potassium:
287
mg
|
Fiber:
2
g
|
Sugar:
3
g
|
Vitamin A:
705
IU
|
Vitamin C:
4.9
mg
|
Calcium:
92
mg
|
Iron:
1.9
mg