Champ, if you have never had it is a style of Irish mashed potatoes, and these mashed potatoes aren't for St. Patrick's day only. These are basic mashed potatoes but we are adding sliced green onions to this dish for an amazing punch of flavor.

I know for St. Patrick's day, we all love serving up our corned beef and cabbage. Sometimes we wonder what to serve with it. A lot of us serve up cabbage and potatoes, here is a new way to make those mashed potatoes. You might even wonder what type of potato makes the best-mashed potato.
The better potato to use is a Russet, these can also be known as an Idaho baker. These potatoes produce light and fluffy mashed potatoes because of their moisture and their high starch content. You can use red potatoes or even the yellow ones, they will also make good mashed potatoes, but for the fluffiest mashed potatoes so with the Russets if you have a choice.
How to make Champ – Irish Mashed Potatoes
This recipe also requires cream, butter, salt, pepper, and green onions also known as scallions. I don't like to substitute margarine when making mashed potatoes. The only advantage margarine seems to have over butter is the price. If you catch butter when it is on sale, you can do well. I also recommend using heavy cream for this recipe. The flavor is rich, but it will also help those mashed potatoes reheat should you need to do that. I personally think these mashed potatoes would make some killer potato pancakes.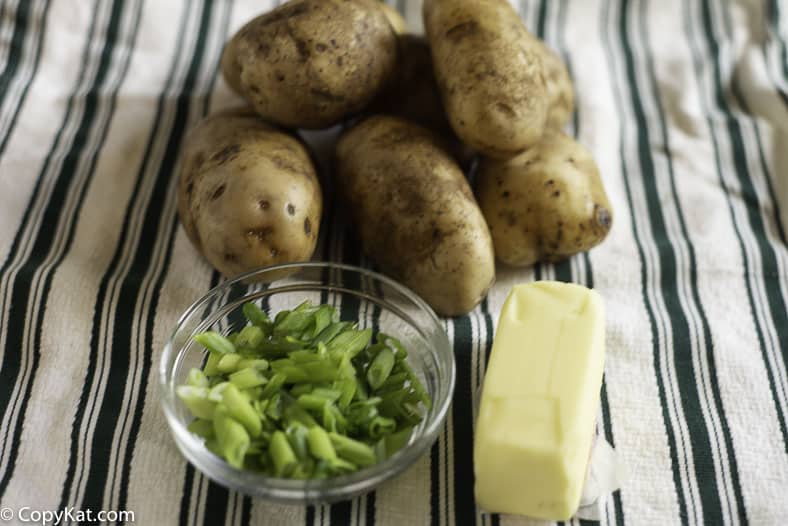 First, you need to boil the potatoes, cut the potatoes into small pieces, and place them into a pot, add just enough water to cover the potatoes. Do this so potatoes do not become waterlogged.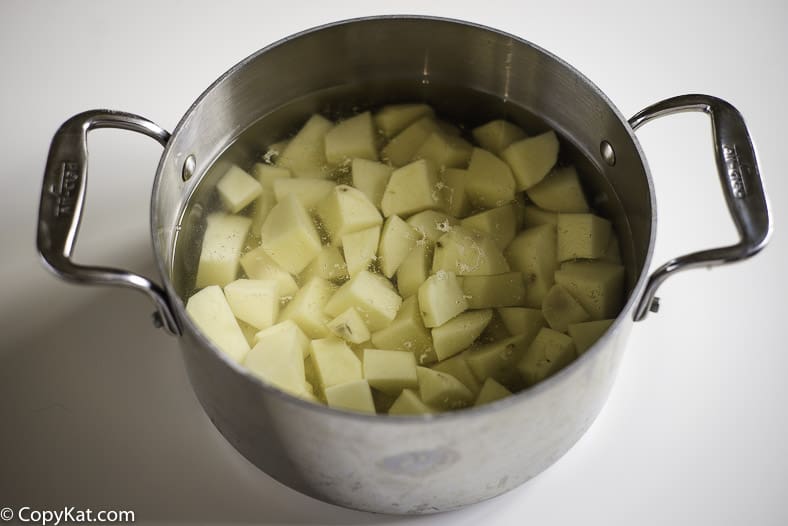 After the potatoes cooked until tender, you will want to mash them add butter and cream. I like to use a manual potato masher. The potatoes mash up tenderly, but they do not get gummy this way.
Once the potatoes are mashed up, I then sprinkle in the green onions, and add another small pat of butter, and serve up these delicious mashed potatoes.
Champ – Irish Mashed Potatoes are a great way to serve potatoes. Just one additional ingredient turns these potatoes into Irish mashed potatoes.
Love potatoes? Check out these potato recipes
Buttery mashed potatoes
Roasted Potatoes and Leeks
Mini Hasselback Potatoes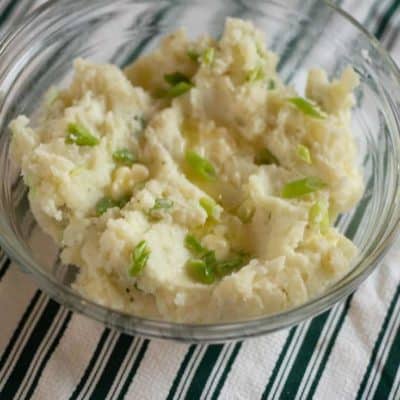 Ingredients
2

pounds

potatoes

peeled and diced

4

tablespoons

heavy cream

3

tablespoons

butter

1

teaspoon

salt

1/2

teaspoon

black pepper

1/3

cup

sliced green onions

2

tablespoons

butter

for serving
Instructions
Place potatoes into a medium-sized pot. Add enough water to cover the potatoes. Place the pot on the stove, turn the burner on high, once the potatoes boil turns down the temperature to medium. Cook the potatoes for 15 to 20 minutes or until the potatoes are tender when pierced with a fork. D

Drain potatoes and return to the pot. Add heavy cream, butter, salt, and pepper. You can either mash the potatoes manually with a potato masher, or you can use an electric mixer. Do not blend the potatoes past once they have become smooth. Over blending may make for gummy mashed potatoes. Add green onions, and stir them in with a spoon. Place potatoes into a serving dish, make a well in the mashed potatoes. Add the butter to the well in the mashed potatoes. Serve once the butter has melted.
Video
https://youtube.com/watch?v=B1r-po8taZ8%22
Nutrition
Calories:
208
kcal
|
Carbohydrates:
19
g
|
Protein:
4
g
|
Fat:
13
g
|
Saturated Fat:
8
g
|
Cholesterol:
38
mg
|
Sodium:
490
mg
|
Potassium:
647
mg
|
Fiber:
3
g
|
Sugar:
0
g
|
Vitamin A:
495
IU
|
Vitamin C:
18.3
mg
|
Calcium:
58
mg
|
Iron:
5
mg