Indulge in the delight of Marinated Mozzarella Balls! Bite-sized mozzarella balls are soaked with olives, onion, garlic, and tomatoes in a flavorful balsamic marinade. This mozzarella salad is perfect for party appetizers, a tasty snack, and many other uses. Enjoy the creamy soft texture of fresh mozzarella cheese pearls infused with Mediterranean flavors.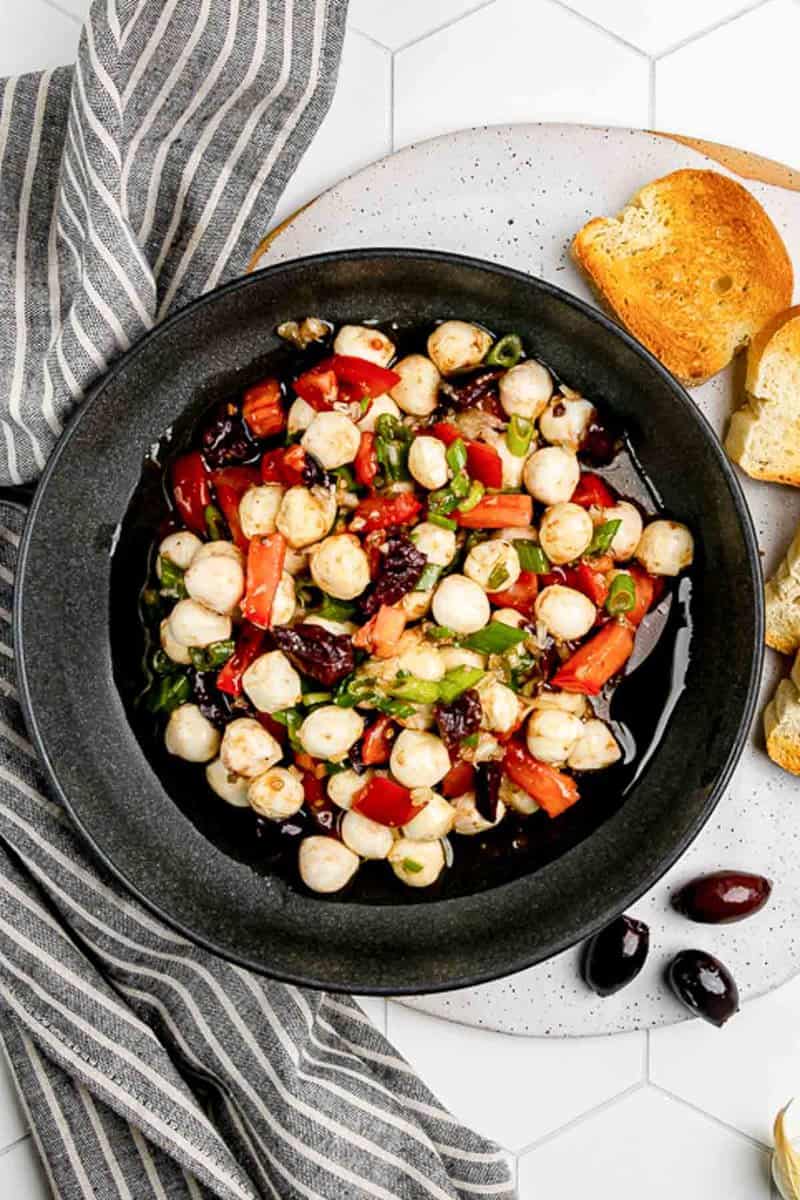 This post contains affiliate links. As an Amazon Associate, I earn from qualifying purchases.
Why Marinated Mozzarella Balls Are the Perfect Addition to Your Next Party
Are you looking for an easy-to-make and delicious party platter? Your search is over. This recipe for Marinated Mozzarella Balls is bursting with classic Mediterranean flavors.
The combination of tangy tomatoes, garlic, kalamata olives, and mozzarella lightly marinated in rich extra virgin olive oil and balsamic vinegar is addictive. It's like a kicked-up Caprese salad. Serve this dish as either an appetizer or a side.
Why You Should Try This Recipe
Marinated Mozzarella is a fantastic make-ahead snack that can save you a ton of time and headaches when hosting a gathering at your house. Since this dish tastes better when prepared beforehand, you'll have one less thing to think about on the day of the party.
And because the Marinated Mozzarella Balls recipe is pretty forgiving, you can adjust the quantities or change up the ingredients to suit your taste. Check out the Recipe Variation section below for a few ideas.
Marinated Mozzarella Ingredients
For this recipe for Marinated Mozzarella Balls, you'll need:
Kalamata olives
Red onion
Fresh Garlic
Tomatoes, regular or cherry tomatoes
Extra virgin olive oil
Balsamic vinegar
Small fresh mozzarella balls, aka pearls, bocconcini, or ciliegine mozzarella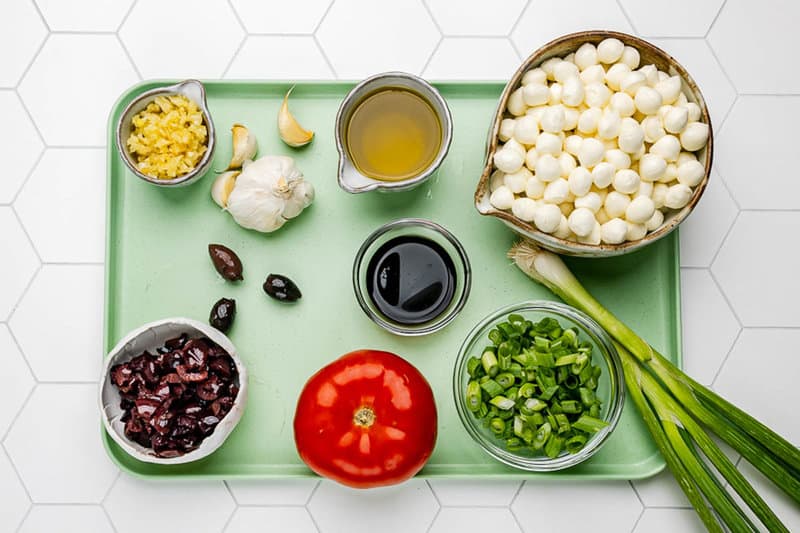 Ingredient Notes
Fresh mozzarella pearls are about the size of a cherry. If you can't find the little balls, you can use the regular fresh mozzarella cheese balls and cut them into bite-sized pieces.
Red onions add the right amount of acidity to this dish, but you can also go with white or green onions if you prefer.
Choose a denser tomato in this dish that won't fall apart while marinating.
You can substitute the mozzarella pearls with Buffalo mozzarella, or mozzarella di bufala, which is made from buffalo milk and has a distinct flavor. Buffalo mozzarella is sometimes available in a regular grocery store. You may need to cut the large buffalo mozzarella into bite-sized pieces.
How to Make Marinated Mozzarella Balls
To marinate the mozzarella balls:
If you use large balls of mozzarella, cut them so they are easier to eat. Place the mozzarella in a large bowl.
Quarter the kalamata olives, cut the tomatoes into medium dice, finely dice the onion, and roughly cut the garlic. Place them in a mixing bowl.
Pour in the extra virgin olive oil and balsamic vinegar.
Stir all the ingredients well and cover the bowl. Put it in the fridge for at least four hours. The longer you marinate the cheese, the stronger the flavors will be.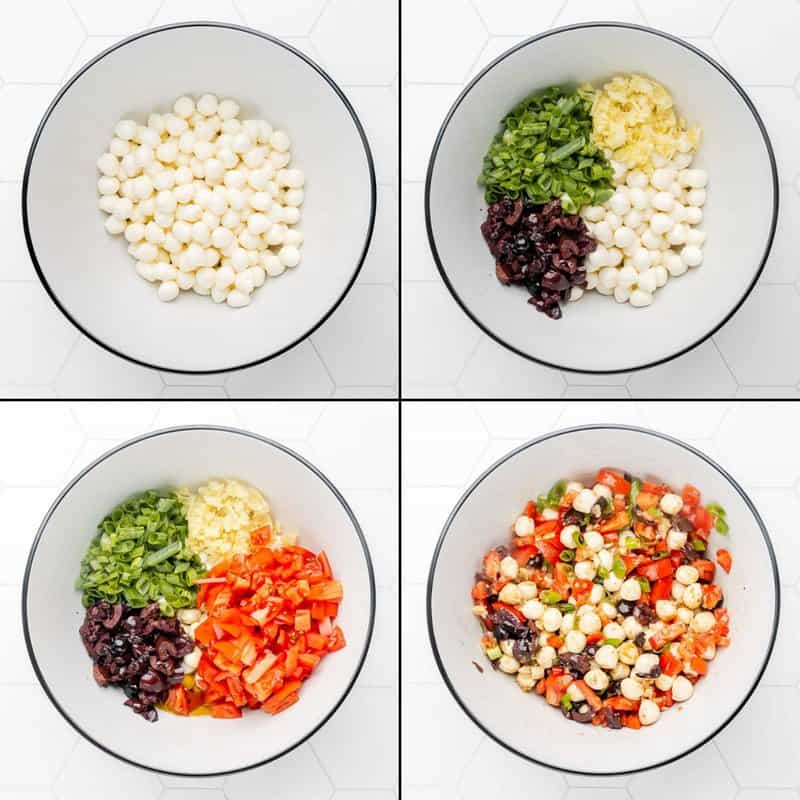 What to Serve This With
You can definitely enjoy this dish as a salad with hot crusty bread or add it to an antipasto platter or charcuterie board, but there are other ways you can use it, too:
Fill an omelet or crepe with marinated mozzarella and vegetables for a savory meal.
Rub a garlic clove on thinly sliced and toasted Italian bread or crostini. Finely chop the ball mixture and spread it on top.
Spread the marinated mozzarella recipe on flatbread and bake it in the oven for a quick and tasty pizza.
Toss the marinated mozzarella and veggies with pasta.
Use it to make a unique homemade pizza.
Possible Recipe Variations
There are almost endless options for making this recipe for marinated mozzarella balls your own. Here are a few to help get you thinking:
Spice things up. Sprinkle in fresh cracked pepper and a pinch of salt. A few hot red pepper flakes will add a bit of heat.
Woody fresh herbs like oregano and fresh thyme bring out the tomatoes' freshness and the kalamata olives' brininess. Fresh basil is a natural pairing for any Mediterranean dish. Fresh parsley or fresh rosemary are also great options.
Arugula adds extra bulk and a fantastic peppery flavor that can help cut the richness of the cheese and oil.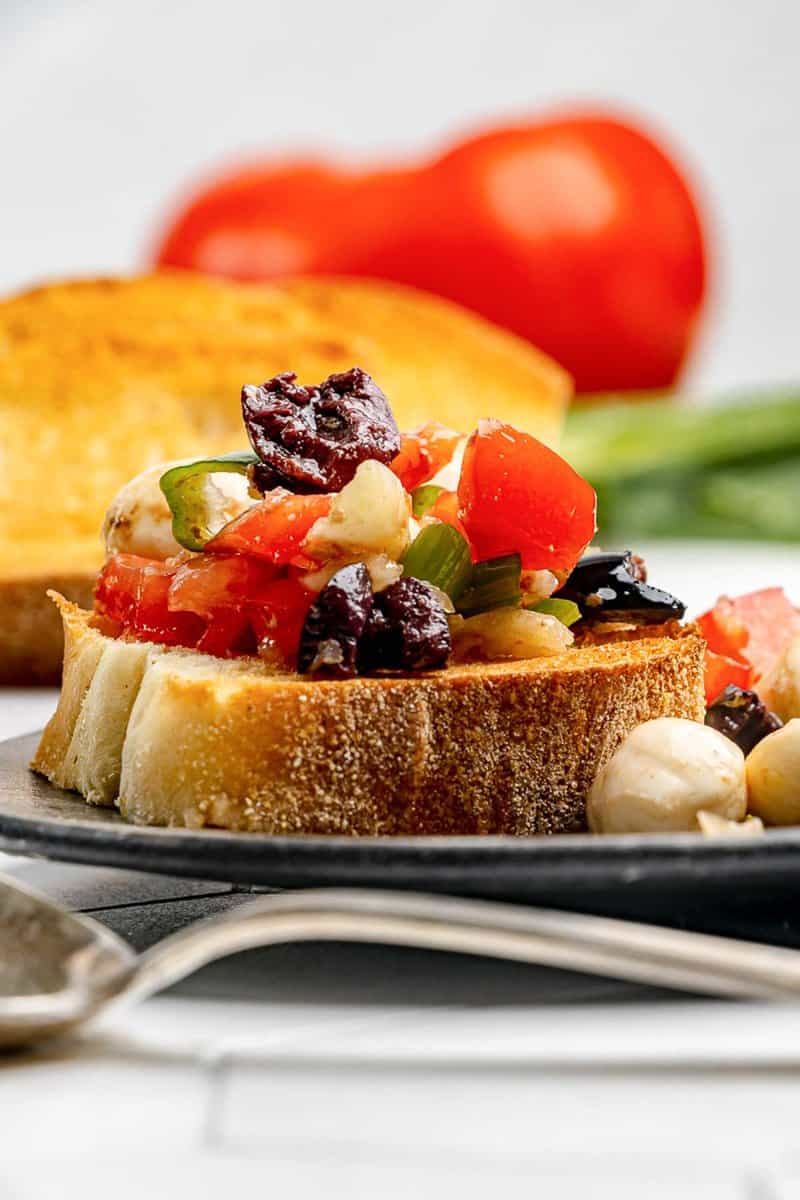 How to Store Marinated Mozzarella Balls
Place any leftovers in an airtight container and put the container in the fridge. The longer the mozzarella balls sit in the marinade, the more flavors they pick up.
For the best flavor, take the dish out of the fridge about 30 minutes before serving to allow it to return to room temperature. If the food sits out for more than an hour, do not save it.
How Long Does It Last?
Stored in an airtight container in the fridge, marinated mozzarella balls should last up to three days. If you are worried about the cheese balls soaking up all the liquid, you can keep them in a separate container.
Love Cheesy Appetizers? Try These Recipes!
Favorite DIY Recipes
Check out more of my easy appetizer recipes and the best DIY recipes on CopyKat!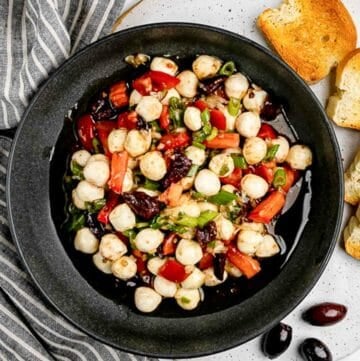 Ingredients
1

pound

small mozzarella balls (pearls)

you can use any size

1/3

cup

chopped kalamata olives

1/2

cup

chopped red onion

or green onions

6

cloves

garlic

chopped

1

cup

chopped tomatoes

1/3

cup

olive oil

2

tablespoons

balsamic vinegar
Instructions
Place the mozzarella in a medium bowl.

Add remaining ingredients in no particular order. Stir to combine.

Taste for seasoning, you may want to add additional balsamic vinegar.

Cover and refrigerate for at least 4 hours before serving.
Nutrition
Calories:
218
kcal
|
Carbohydrates:
4
g
|
Protein:
10
g
|
Fat:
18
g
|
Saturated Fat:
7
g
|
Polyunsaturated Fat:
1
g
|
Monounsaturated Fat:
9
g
|
Cholesterol:
36
mg
|
Sodium:
357
mg
|
Potassium:
94
mg
|
Fiber:
1
g
|
Sugar:
2
g
|
Vitamin A:
449
IU
|
Vitamin C:
3
mg
|
Calcium:
239
mg
|
Iron:
0.4
mg