If you haven't tried chess pie you don't know what you have been missing. This chess pie is filled with raisins, nuts, and so much more. Why not try my grandmother's recipe for chess pie?
This post contains affiliate links. As an Amazon Associate, I earn from qualifying purchases.
Chess Pie with Nuts and Raisins
Chess pie is a pie that simply isn't made enough. If you haven't tried it, you don't know what you've been missing.
This old-fashioned chess pie recipe from the archives of my grandmother is filled with raisins, nuts, and so much more. This is a nostalgic pie – simple, sweet, and satisfying.
What Is Chess Pie?
Chess Pie has a long history. It's been around since the 1700s, so there's been plenty of time for variations.
The basic pie comprises flour, sugar, butter, and eggs… and maybe some cornmeal or a few chopped pecans.
This easy chess pie recipe is a creamy chess pie without cornmeal that uses nuts, raisins, and spices. It's a wonderful pie for any festive occasion and makes a great alternative to pecan pie for your Thanksgiving feast.
Why Is It Called Chess Pie?
The origin of the name chess pie is nebulous and undefined.
Some people insist that at some point in history when asked what kind of pie was being served, a waitress answered, jes' pie (with a southern accent!).
Another explanation replaces the waitress with a plantation cook who coined the name chess pie because chestnut meal was once used in place of cornmeal.
Yet another idea is that the pies were stored in pie chests (maybe pronounced chess!).
Take your pick! If you want to, you can take a deeper dive into the origin of the name for chess pie.
What Makes This Homemade Chess Pie Recipe So Good
If you like rich desserts, this easy chess pie is divine! This recipe for chess pie is the best because it includes nuts, raisins, and spices. You get a creamy chess pie that's sweet and milky with a touch of vanilla – all other chess pies will never taste as good!
This is a very addictive homemade chess pie, and you may be in trouble if there isn't enough for everyone to have seconds! You may also find yourself cutting just a sliver off every time you walk by – dangerously good!
Recipe Ingredients
This simple dessert truly is as easy as pie to prepare with basic ingredients you probably have on hand. And, if you don't happen to have cornmeal in your pantry, this is an old fashioned chess pie without cornmeal.
Butter
Sugar
Cornstarch
Salt
Ground cinnamon
Ground cloves
Allspice
Eggs
Vanilla extract
Milk
Raisins
Chopped nuts – pecans or walnuts
Unbaked pie shell – homemade pie crust or refrigerated
Ingredient Substitutions
If you are watching your sugar intake, you can substitute Splenda Baking Sugar in place of regular sugar.
Believe it or not, it is possible to make a similar pie for vegan eaters. Get the vegan chess pie recipe.
How to Make Chess Pie with Nuts and Raisins
No need to carve out hours of preparation time for this fabulous chess pie recipe. Here are simple steps:
Place the butter, cornstarch, sugar, salt, cinnamon, cloves, and allspice in a large bowl. Use a mixer to cream them together.
Add eggs and vanilla and beat well.
Add milk, raisins, and nuts. Stir or whisk to combine.
Place the pie shell in a pie plate and form the edges as desired.
Pour the filling mixture into the unbaked pie shell.
Bake at 375°F for about 35 minutes or until the filling thickens.
Let the pie cool to room temperature before slicing and serving.
How Do You Know When Chess Pie Is Done?
Your pie is done when the center of the pie no longer wobbles. You can also use an instant-read thermometer. The pie is ready when the center reaches 200°F.
Old Fashioned Chess Pie – Recipe Variations
If you like a touch of alcohol, add 3/4 cup (6 ounces) of dark rum.
Make your pie even more decadent with the addition of dates.
How to Serve Chess Pie
Serve this homemade chess pie as a dessert with a dollop of whipped cream or vanilla ice cream. Fresh berries are always a hit as well. And, a piece of chess pie goes great with a cup of coffee.
What Chess Pie Goes With for Dinner
This recipe for chess pie is the perfect dessert to top off the savory delight of a robust main dinner course such as:
How to Store Chess Pie
The high amount of sugar in this chess pie means it will keep well. You can store it covered on the pie plate or in a container in the fridge for about 3 to 5 days.
How to Freeze Chess Pie
This recipe for chess pie freezes well. Slice the pie into individual servings and place in an airtight container, using pieces of parchment paper to separate the slices and prevent them from freezing to each other.
To thaw, just set it out on the counter and let it come to room temperature. You could also place it in the microwave for a few seconds to warm it up!
Popular Pie Recipes
Favorite Old-Fashioned Cakes
Check out more of my easy pie recipes and the best dessert recipes here on CopyKat!
This is from the archives of my grandmother, Ethel Eynard. Jefferson City, MO. 1952.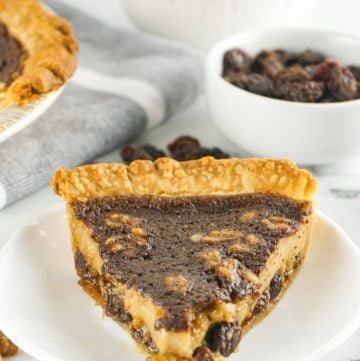 Ingredients
1

tablespoon

butter

3/4

cup

sugar

1/4

teaspoon

salt

1

teaspoon

cinnamon

1/2

teaspoon

cloves

1/2

teaspoon

allspice

2

eggs

1

teaspoon

vanilla extract

1 1/2

cups

milk

1 1/2

tablespoons

cornstarch

1

cup

raisins

1/4

cup

chopped nuts

1

unbaked pie shell
Instructions
Preheat the oven to 375°F.

Cream the butter with the sugar, salt, and spices.

Add the eggs and vanilla and beat well.

Add the milk, cornstarch, raisins, and nuts and mix until combined.

Pour the mixture into an unbaked pie shell.

Bake for about 35 minutes or until the filling thickens.
Nutrition
Calories:
312
kcal
|
Carbohydrates:
48
g
|
Protein:
5
g
|
Fat:
12
g
|
Saturated Fat:
4
g
|
Polyunsaturated Fat:
3
g
|
Monounsaturated Fat:
4
g
|
Trans Fat:
1
g
|
Cholesterol:
49
mg
|
Sodium:
213
mg
|
Potassium:
267
mg
|
Fiber:
2
g
|
Sugar:
21
g
|
Vitamin A:
180
IU
|
Vitamin C:
1
mg
|
Calcium:
75
mg
|
Iron:
1
mg