Starbucks Classic Syrup is the best sweetener for coffee and tea. This homemade simple syrup is much less expensive than store-bought so making this sweet syrup will save money. This syrup will improve the taste of so many coffee drinks and more!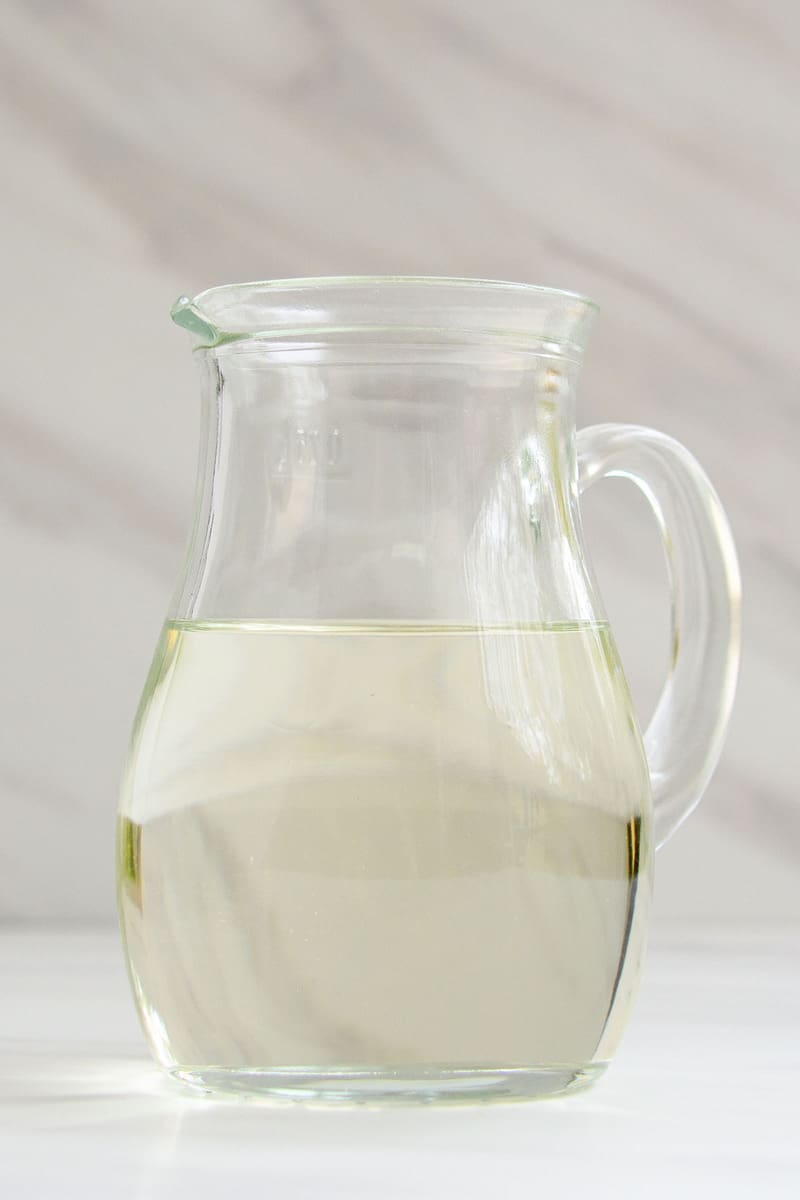 This post contains affiliate links. As an Amazon Associate, I earn from qualifying purchases.
What is Starbucks Classic Syrup?
Have you ever tried to dissolve sugar in an iced drink? No matter how hard or long you stir, you always seem to end up with sugar granules on the bottom of the glass. But this easy Starbucks Classic Syrup recipe makes a thick simple syrup that blends easily into any hot or cold beverage, leaving you with a sludge-fire drinking experience.
Why This is the Best Recipe
Making this sugar syrup is not difficult at all. In fact, the classic syrup at Starbucks is nothing more than a regular simple syrup with twice the amount of sugar. This recipe does not call for equal parts of sugar and water.
But before you skip this recipe and go back to using your old simple syrup, there are benefits to this richer version. The extra sugar means that you don't have to use as much, keeping your drink from getting watered down. This ratio of sugar is perfect, you may want to think of this as liquid sugar.
How Many Calories Are in a Pump of Starbucks Classic Syrup
There are about 20 calories in each pump of the classic syrup at Starbucks. Homemade rich simple syrup has about 90 calories per ounce.
Starbucks Classic Syrup Ingredients
To make this Starbucks Classic Syrup recipe, you'll need:
You can make any amount of rich simple syrup as long as you keep the same ratio of two parts sugar to one part water.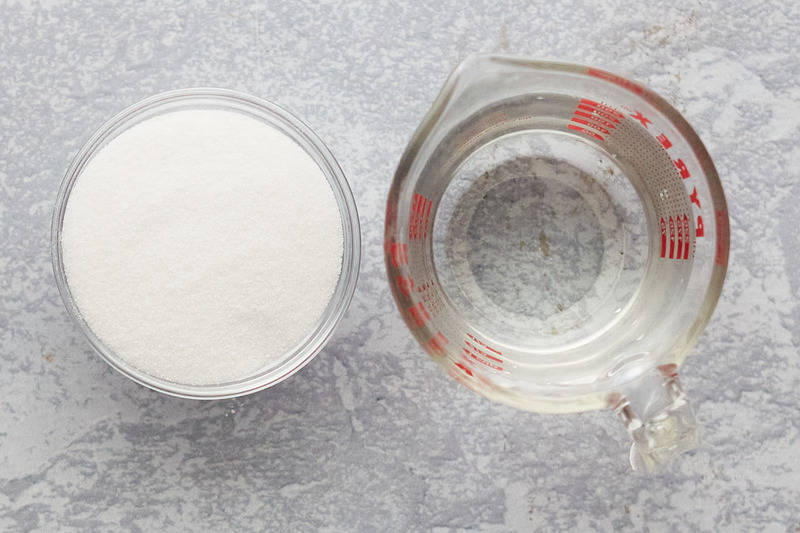 How to Make Starbucks Classic Syrup
Most people make simple syrup on the stove, but you can make a cold version of it as well. Although it takes more time to make the cold version, you can use it immediately without waiting for it to cool off.
To make Starbucks Classic Syrup on the stovetop:
Combine two parts of sugar with one part of water in a saucepan.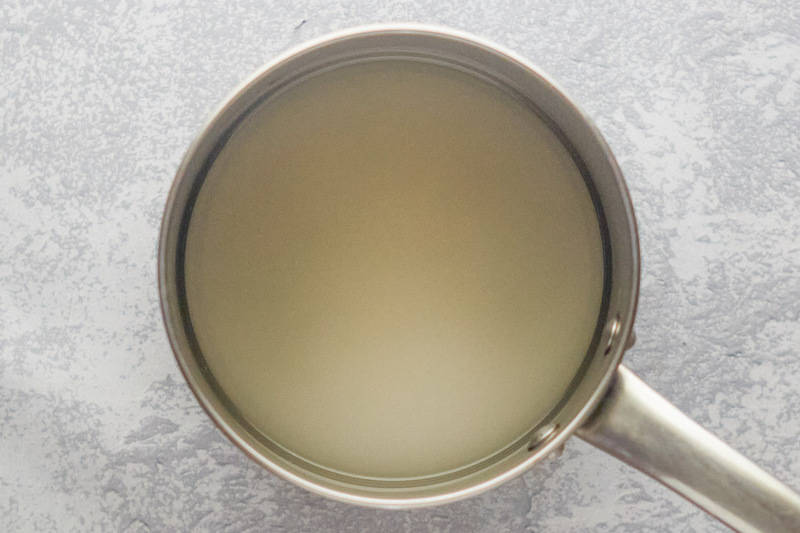 Heat over medium-high heat, occasionally stirring, until the water comes to a simmer.
Continue to stir until the sugar dissolves completely.
Remove the pan from the heat and let the syrup cool to room temperature.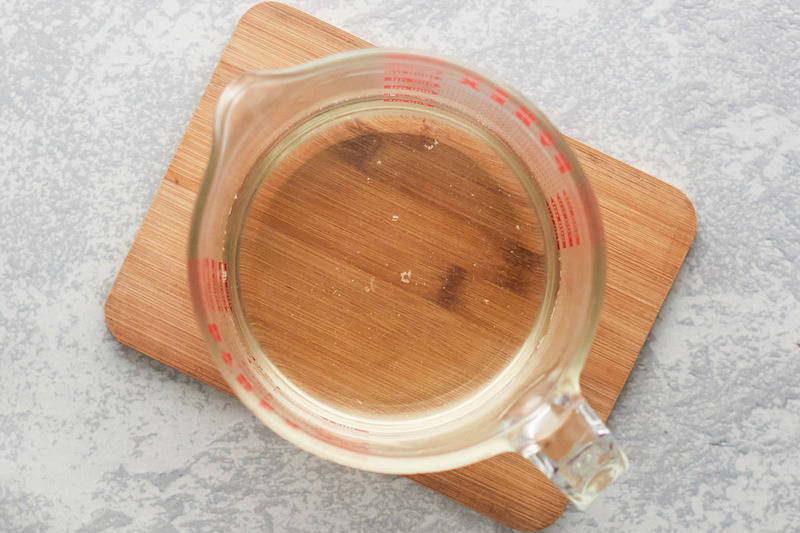 Transfer the syrup to a jar or container for liquids.
To make rich simple syrup using the cold method:
Slowly stir a few tablespoons of sugar into room-temperature water at a time. Allow the sugar to dissolve before adding more.
Alternatively, you can add the sugar and the water to a blender. Blend on high for one minute, and allow the water to settle. Continue to blend in one-minute increments until the sugar dissolves completely.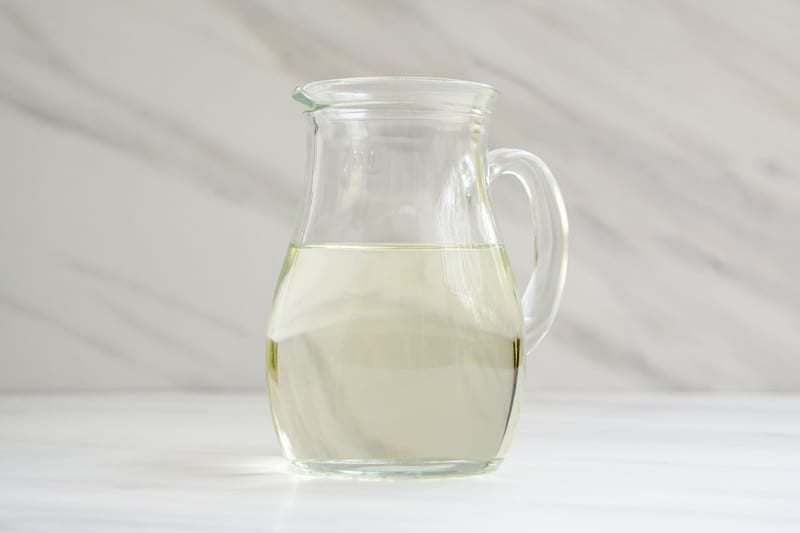 Recipe Variations
If you are wondering what flavor is Starbucks classic syrup, the answer is it has no flavor. But it's simple to make your favorite variety of coffee syrup at home. Try these recipes to get you started:
Cinnamon Syrup: Simmer four sticks of cinnamon in a cup and a half of water for ten minutes. Strain out the cinnamon sticks and follow the main recipe.
Vanilla Syrup: Make the recipe as written, but after removing the simple syrup from the heat, stir in two teaspoons of vanilla extract per cup of water.
Ginger Syrup: Peel and chop an inch of fresh ginger. Add the chopped ginger to the water and make the Starbucks syrup as written. Let the syrup cool, and then strain the ginger using a fine-mesh strainer.
How to Store Starbucks Syrup
Store unflavored rich simple syrup on the counter for up to a week or in the fridge for up to a month. I recommend using an airtight container to store the syrup in. Keep flavored syrups in the refrigerator for as long as two weeks. Try to use any simple syrup you make using the cold method as soon as possible since the sugar can quickly come out of solution.
How to Use Classic Syrup for Coffee
Rich simple syrup is sweeter than sugar, so you only need half a teaspoon or less per serving. So you can use less syrup and this helps you not to dilute the drink with excess water. You are going to love the amount of sweetness this will bring to your drinks.
Other Uses for Starbucks Classic Syrup
Making iced coffee with classic syrup may be one of the most common uses for this recipe, but it is not the only one. Use this rich simple syrup in iced tea, mixed cocktails, or sweetening fruit salad.
You have even more options when you make flavored rich simple syrups, such as making homemade shaved ice or drizzling it over a pound cake.
Favorite Starbucks Recipes
Great DIY Coffee Creamers and Syrup
Check out more of my easy DIY recipes and the best Starbucks recipes here on CopyKat!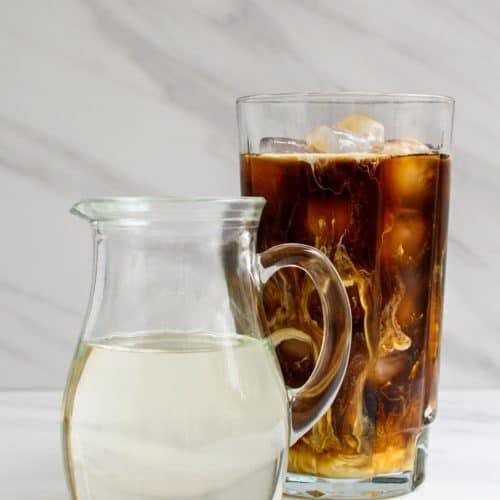 Ingredients
2

cups

white granulated sugar

1

cup

water
Instructions
Combine the sugar and water in a small saucepan over high heat. Stir constantly until the sugar completely dissolves.

Remove the pan from the stove, allow the syrup to cool completely.

Store it in a jar.
Nutrition
Calories:
48
kcal
|
Carbohydrates:
12
g
|
Fat:
1
g
|
Sodium:
1
mg
|
Potassium:
1
mg
|
Sugar:
12
g
|
Calcium:
1
mg
|
Iron:
1
mg