Baked Cauliflower Gratin with Pepper Jack Cheese is an easy to make savory side dish. You can put together a fantastic side dish with tiny effort.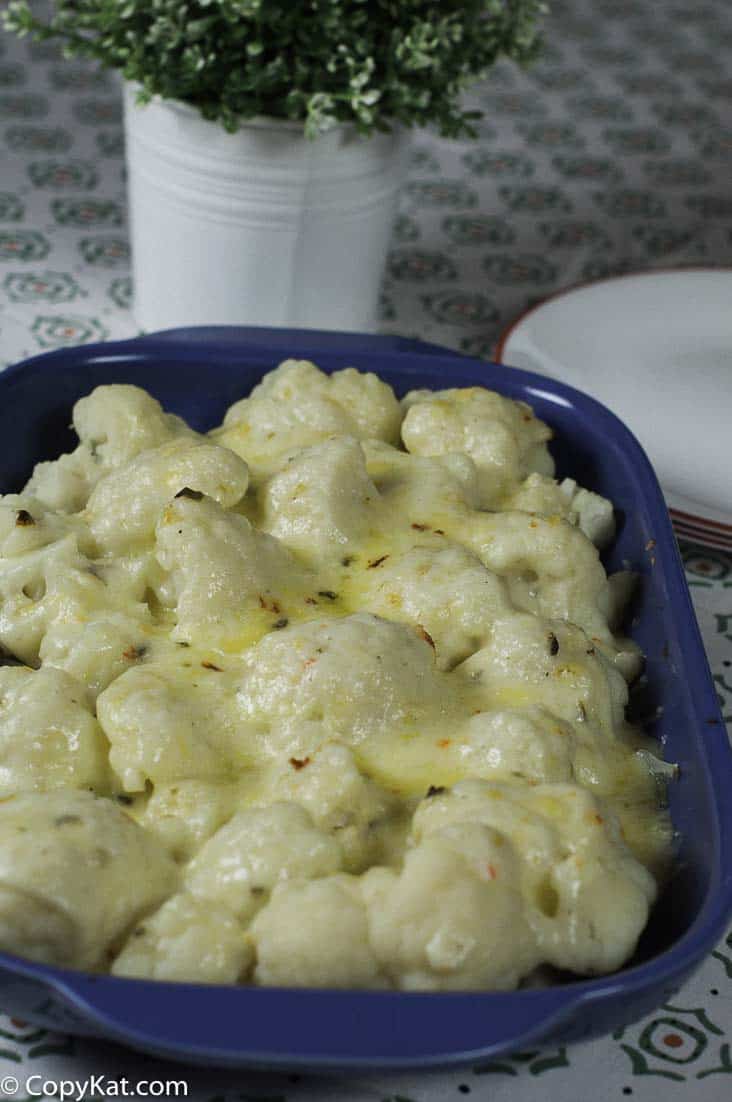 Cauliflower is an excellent vegetable that is hearty and one that most everyone loves. I have been taking classes to become a chef this spring. Gratins are a dish that we make a lot of. I wanted to update a classic French dish and make it with just a bit of spice. Pepper Jack cheese adds just a little bit of heat with the peppers that are in the cheese.
If you do not like Pepper Jack cheese you could use cheddar or Swiss cheese as either will work very well. I like to make this baked cauliflower gratin and serve it with a roast. I also use it as a side dish with chicken, pork, turkey, or ham. I think it holds up well to a hearty meat dish.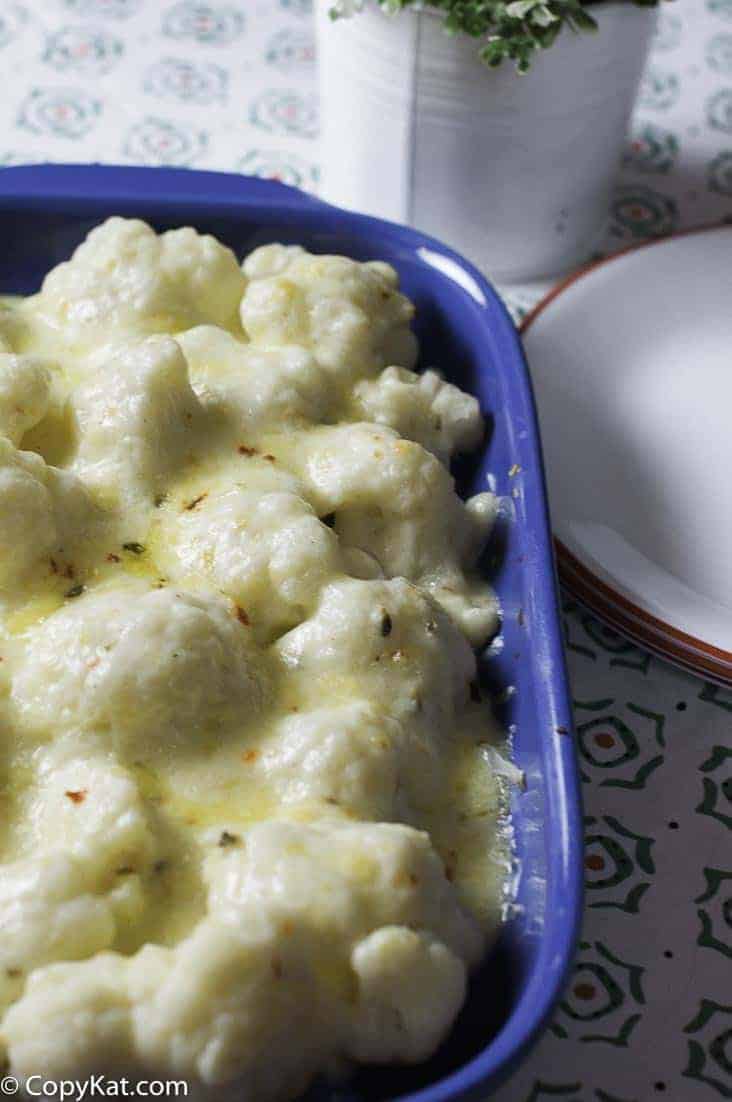 If you have never made a gratin before they are a very easy dish to make. For this recipe, I cook the cauliflower in salted boiling water to make sure they are done, and then I pour the cauliflower into the baking dish, and pour the cheese sauce over the top. Before placing this dish into the oven, I sprinkle more cheese on top.
Baked Cauliflower Gratin is Easy to Make
I think you will be amazed at how easy it is to make this easy side dish. You could use this same technique to make potato gratin or any other vegetable side dish.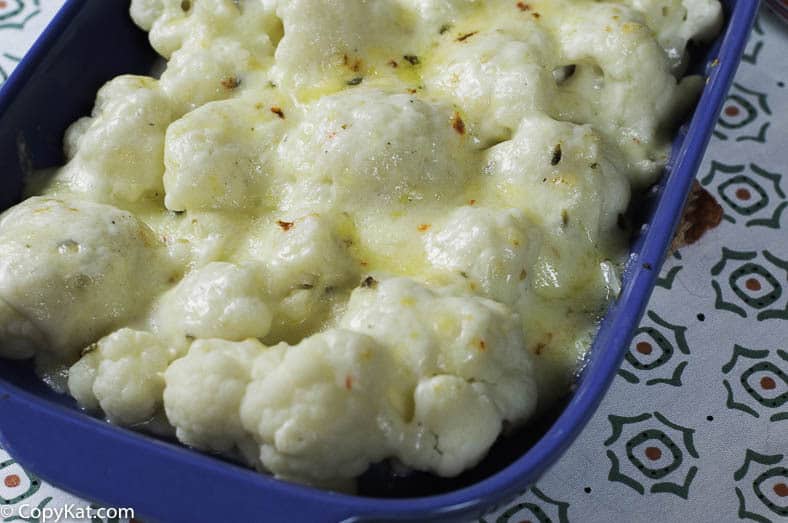 Enjoy Cauliflower? Try these cauliflower recipes.
Roasted Cauliflower with Coconut Oil
Cheddar Cheese Cauliflower Bake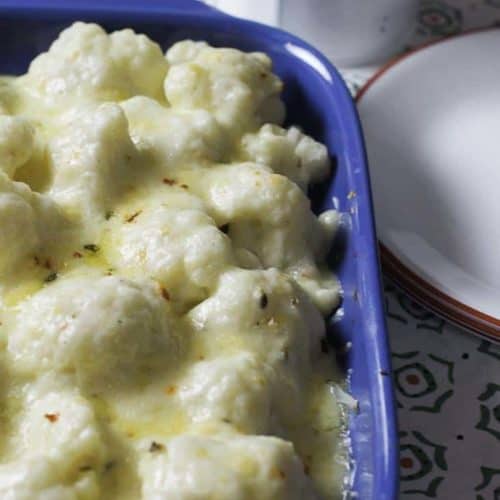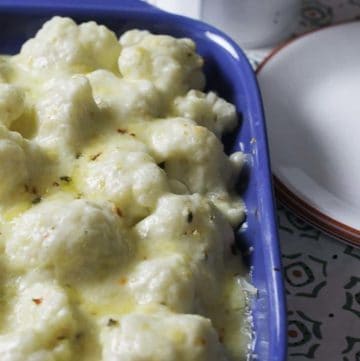 Ingredients
3

pounds

cauliflower

cut into florets

salt for cooking cauliflower

2

tablespoons

butter

2

tablespoons

flour

1

cup

milk

8

ounces

Pepper Jack cheese

(divided use)
Instructions
Preheat oven to 350 degrees. Cook cauliflower in a large pot of salted water. The cauliflower should be tender, but firm. The cooking time should be 5 to 6 minutes.

While the cauliflower is cooking, start the cheese sauce. Melt two tablespoons of butter in a small saucepan. When the butter has melted completely add the flour. Cook flour for 1 to 2 minutes. Slowly begin to add milk, which each addition of milk the sauce should thicken. When all of the milk is added add 4 ounces of cheese. Stir in the cheese until it melts completely.

Place cooked cauliflower into a large casserole dish. Pour cheese sauce over the cauliflower. Sprinkle remaining 4 ounces of cheese over the cauliflower. Place the cauliflower into the oven and bake for another 15 minutes. When the cheese should begin to brown slightly the gratin is done.
Nutrition
Calories:
198
kcal
|
Carbohydrates:
11
g
|
Protein:
11
g
|
Fat:
12
g
|
Saturated Fat:
7
g
|
Cholesterol:
35
mg
|
Sodium:
241
mg
|
Potassium:
571
mg
|
Fiber:
3
g
|
Sugar:
4
g
|
Vitamin A:
355
IU
|
Vitamin C:
82
mg
|
Calcium:
283
mg
|
Iron:
1
mg