Experience true Southern comfort with Cracker Barrel Fried Chicken Tenders! Hand-breaded with love, each chicken tenderloin is coated in rich buttermilk batter and then fried to crispy perfection. Crunchy on the outside and juicy within, every bite transports you to a homestyle haven. Dip into dill pickle ranch or your favorite sauce for an extra layer of deliciousness.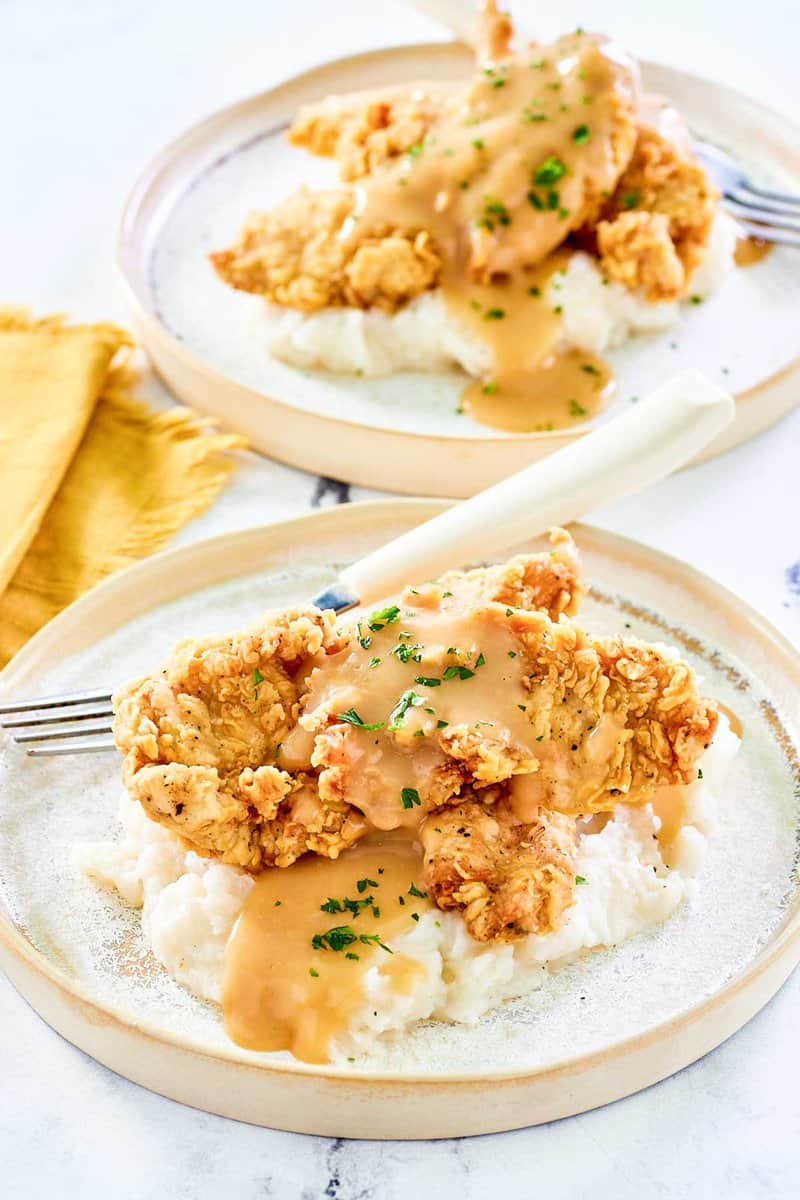 This post contains affiliate links. As an Amazon Associate, I earn from qualifying purchases.
What Makes Cracker Barrel's Deep Fried Chicken Tenders So Good?
Do you think you're too old for fried chicken fingers? Think again. These authentic-tasting Southern fried chicken tenders aren't some kid's meal. They are real food and really delicious to boot.
The buttermilk and seasoned flour coating is seriously crunchy and lets the chicken thoroughly cook while remaining wonderfully tender inside. It's the best Southern fried chicken recipe especially for those who prefer chicken strips over bone-in fried chicken.
Make a bunch for dinner or your next get-together!
Why You Should Try This Cracker Barrel Fried Chicken Tender Recipe
This is the kind of recipe that is easy to scale up and feed a lot of people, and that is a good thing because these tenders are a real crowd-pleaser. Cracker Barrel hand breaded chicken tenders are not only perfect for serving buffet-style with a variety of dipping, but you can use them in many other ways.
Check the "What to Serve With Fried Chicken Tenders" section below for more ideas.
Chicken Tender Ingredients
For a copycat version of the Fried Chicken Tenders from Cracker Barrel, you'll need:
All-purpose flour
Salt
Freshly ground black pepper
Buttermilk
Water
Chicken tenderloins
Neutral oil such as vegetable oil or peanut oil
If you want to add more spices to the breading, you can sprinkle in some onion powder, garlic powder, or cayenne pepper. Some dried herbs such as oregano and thyme will also work.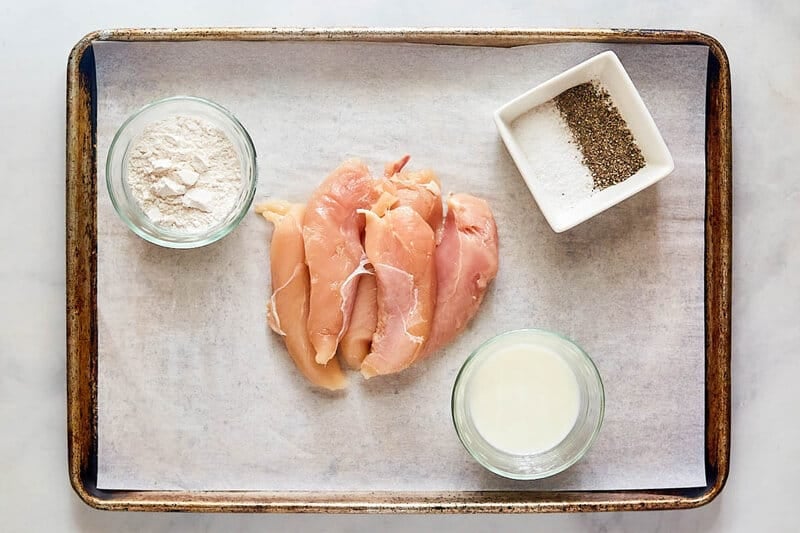 How to Make This Cracker Barrel Fried Chicken Tenders Recipe
To set up for breading the chicken tenders:
Create a breading station by placing two wide shallow containers (pie tins work well) side by side. Line a rimmed baking tray with parchment paper or set a wire rack on top and place it next to the containers.
Fill the first container with the flour, salt, and freshly ground pepper. Whisk to combine the flour with the spices.
Fill the other container with the buttermilk and water. Stir.
To bread the chicken tenders:
Use one hand to coat a chicken tender in the seasoned flour mixture and shake off the excess.
Drop the floured chicken into the buttermilk mixture.
Use your other to remove the chicken tender and drop it back in the seasoned flour. With your dry hand, transfer the breaded chicken tender to the baking tray.
Repeat with the remaining chicken tenders. Let the chicken tenders rest on the wire rack for at least 20 minutes before frying.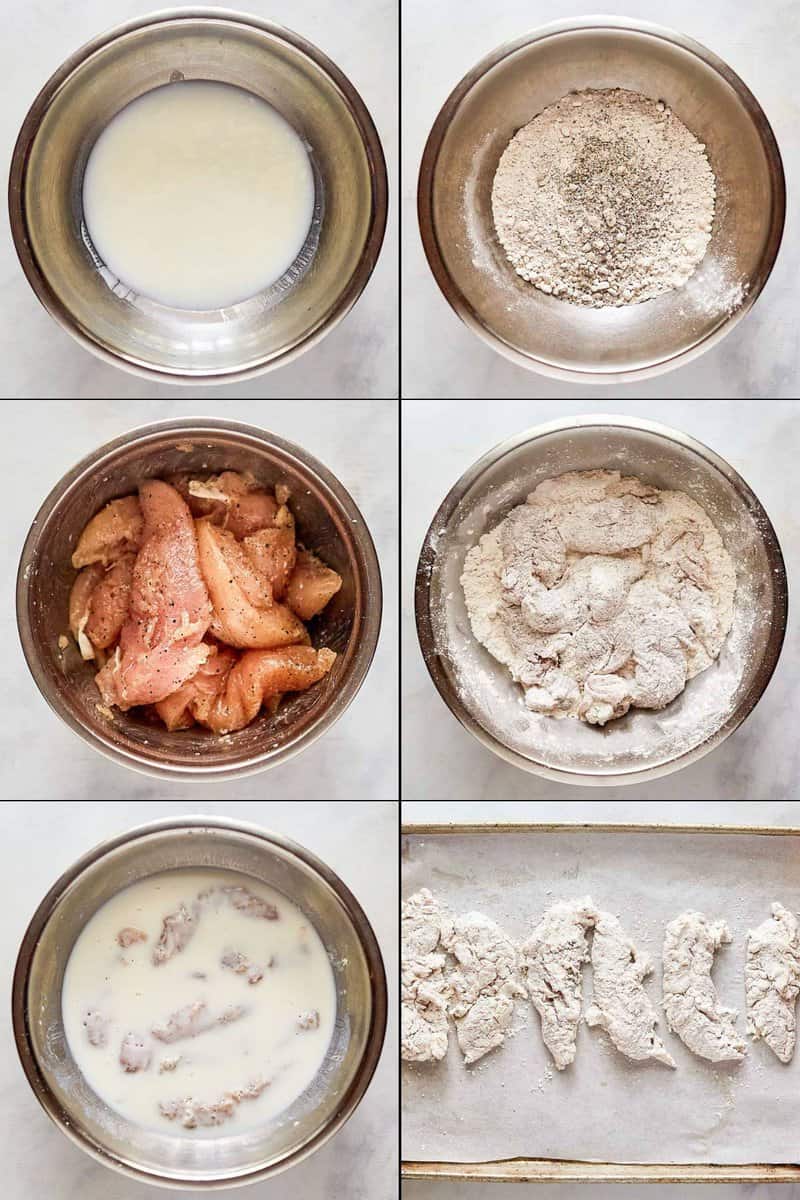 To fry the chicken tenders:
Pour the oil into a heavy-bottom pot. If you have a deep-fryer, now is the perfect time to use it.
Heat the oil over medium-high heat to 350 degrees F. Use an attachable deep-fry thermometer to ensure you are at the proper temp.
To prevent the oil from lowering too much, deep fry the chicken in batches for four to six minutes, depending on the size of your tenders. Flip the tenders after about three minutes.
Drain the excess oil from fried chicken by placing the fried tenders on a clean wire rack over a baking sheet. Use an instant-read thermometer to check if the chicken is at least 165 degrees F.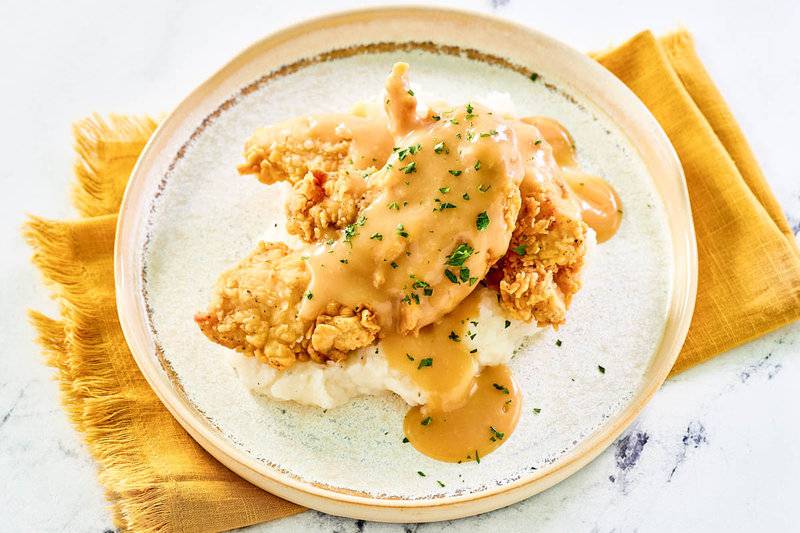 What to Dunk Your Fried Chicken Tenders Into
Cracker Barrel hand breaded chicken tenders are good on their own but better when dipped. Use your favorite sauce or try one of these tasty opinions:
What to Serve With Fried Chicken Tenders
French fries are the most common side dish for chicken tenders, but there are many more options.
How to Store Southern Fried Chicken Tenders
You can keep extras in the fridge for up to three days. Once the tenders are cool, layer them on paper towels and put them in a food-safe bag or wrap them with several layers of plastic wrap and store them in the refrigerator.
For longer storage, lay the cooled chicken tender in a single layer on a lightly greased baking tray and freeze. Once the chicken is frozen, transfer the tenders to a freezer bag and store them for up to a month. Thaw the tenders overnight in the fridge before reheating.
What Is the Best Way to Reheat Them
An air fryer is ideal for reheating deep fried chicken tenders. If you don't have an air fryer, you can use your regular oven:
Preheat the air fryer or oven to 350°F.
Place the chicken tenders into the air fryer. If you use an oven, lay the chicken on a wire rack over a baking tray before reheating.
Heat the chicken for about 7 minutes (15 minutes if using a regular oven). Flip the chicken tenders halfway through the cooking time.
Serve hot.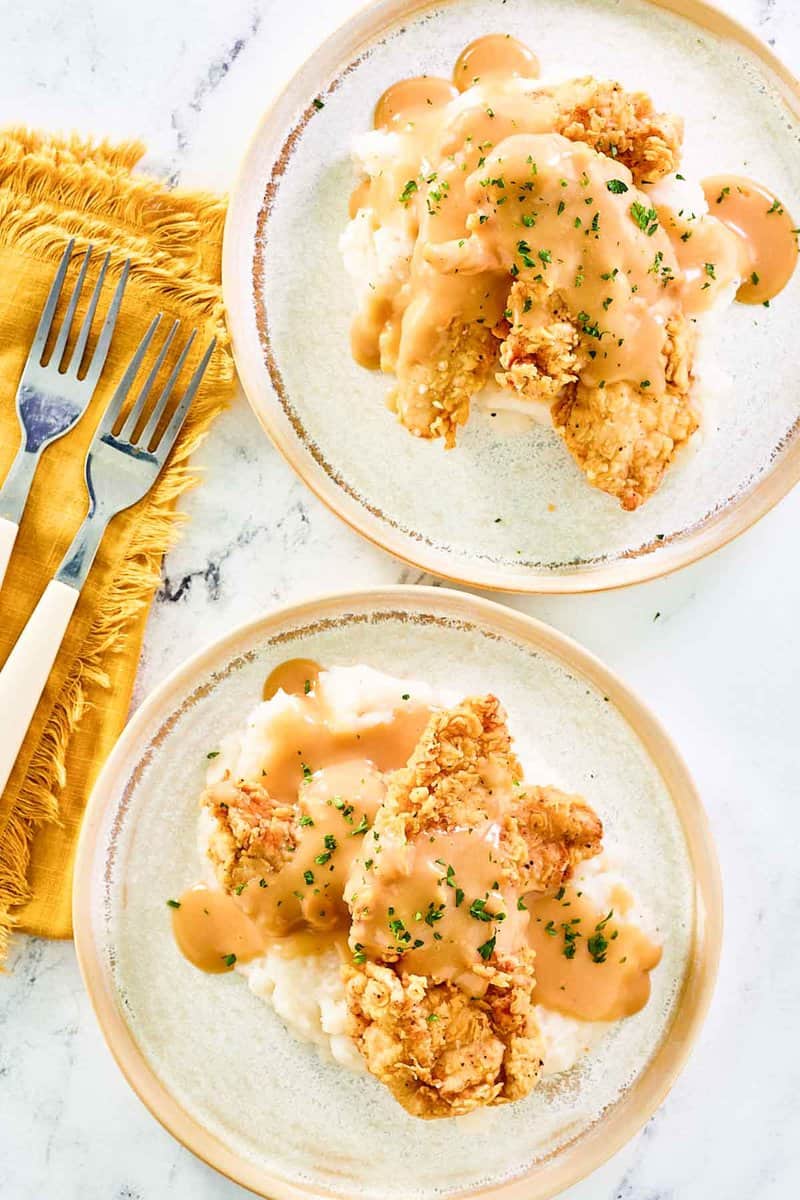 Love Cracker Barrel? Try these copycat recipes!
Favorite Chicken Recipes
Check out more of my easy chicken dinner recipes and the best copycat Cracker Barrel recipes on CopyKat!
Ingredients
oil

for frying

2

cups

all-purpose flour

2

teaspoons

salt

2

teaspoons

ground black pepper

1

cup

buttermilk

1/2

cup

water

1

pound

chicken tenders
Instructions
Pour 3 to 4 inches of oil into a deep fryer or large pot and heat the oil to 350°F.

Set up a dredging station: Combine the flour, salt, and pepper in one bowl and the buttermilk and water in another.

Pat the chicken tenders dry with a paper towel and season with salt and pepper.

Dredge the chicken tenders in the seasoned flour, dip them in the buttermilk mixture, and dredge again in the seasoned flour.

Deep-fry the chicken tenders in the hot oil until done, about 7 to 8 minutes. Flip once while frying to make sure both sides are golden brown. Remove the chicken from the oil and drain on a wire rack over a rimmed baking sheet.
Nutrition
Calories:
325
kcal
|
Carbohydrates:
26
g
|
Protein:
28
g
|
Fat:
11
g
|
Saturated Fat:
2
g
|
Polyunsaturated Fat:
3
g
|
Monounsaturated Fat:
6
g
|
Trans Fat:
0.04
g
|
Cholesterol:
76
mg
|
Sodium:
746
mg
|
Potassium:
500
mg
|
Fiber:
1
g
|
Sugar:
2
g
|
Vitamin A:
86
IU
|
Vitamin C:
1
mg
|
Calcium:
48
mg
|
Iron:
2
mg