Indulge in a refreshing twist on a classic with Fruity Chicken Salad. Succulent chicken meets sweet mandarin oranges and grapes, balanced with crunchy celery and almonds. They're all brought together with a simple mayonnaise dressing. It's a delightful fusion that promises a burst of flavors with every bite.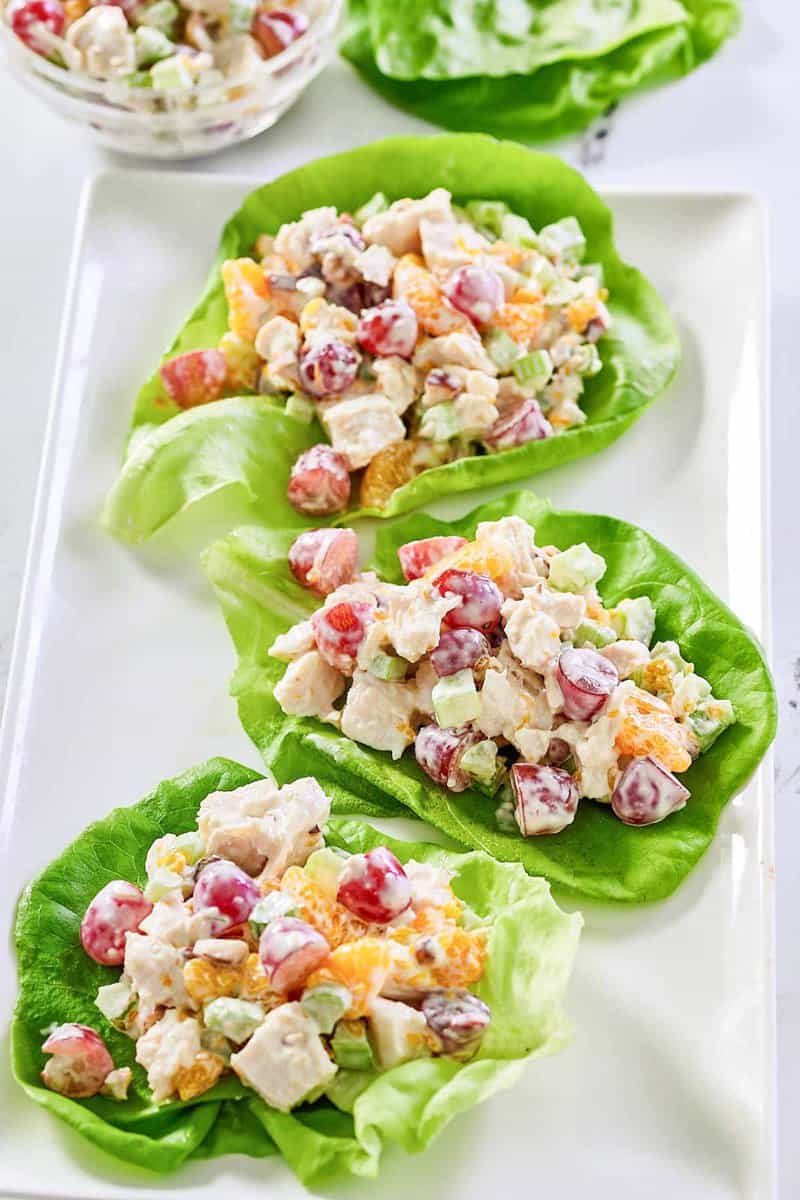 This post contains affiliate links. As an Amazon Associate, I earn from qualifying purchases.
What Makes Fruity Chicken Salad So Good
Be honest, when was the last time you had a really good chicken salad? You know, one that was more than just dried-out pieces of chicken swimming in a sea of mayonnaise.
This Fruity Chicken Salad recipe is intense and perfect for anyone fearless about overloading their taste buds with flavor. It starts with the ideal ratio of chicken to mayo, then adds white onions and celery for that traditional crunch.
The recipe then surprises by including grapes and mandarin orange segments for sweetness and toasted almonds for extra texture! Say goodbye to boring chicken salad, and make the best chicken salad recipe for your next gathering.
Why You Should Try This Fruity Chicken Salad Recipe
Easy to make and unique ingredients are good enough reasons to make this chicken fruit salad recipe, but throw in the fact that the salad you serve the salad on lettuce leaves, and you wind up with something really fascinating. Your guests will want to try at least one, so make sure to prepare enough!
Fruity Chicken Salad Ingredients
For a chicken salad with grapes and celery, you'll need:
Cooked chicken breasts, cold
Celery
Red Seedless grapes
Mandarin oranges, canned
Mayonnaise
White onion, grated
Toasted almonds pieces
Salt
Butter or romaine lettuce leaves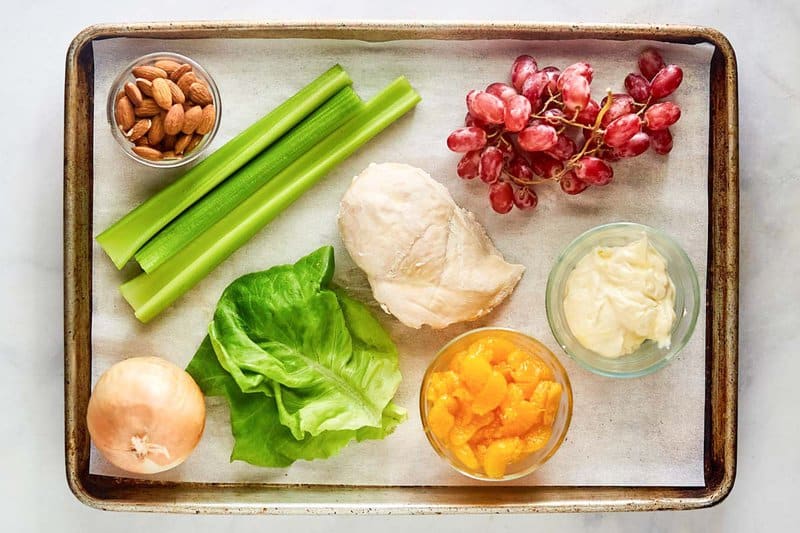 Ingredient Notes and Substitutions
You can use any cooked chicken in this recipe. Store-bought rotisserie chicken makes things very easy. If cooking from scratch, try poaching the chicken breasts in broth for tender meat and extra flavor.
You swap out the almonds with pecans or walnuts.
Not a fan of mayonnaise? Substitute it with plain Greek yogurt which will also add a little tang to the salad.
How to Make Chicken Salad With Grapes
To prepare chicken salad with grapes and almonds:
Dice the cold, cooked chicken into medium pieces. Place the diced chicken into a large bowl.
Wash and dry the celery. Cut into fine pieces and add them to the bowl with the chicken.
Rinse and dry the grapes. Slice them in half and toss them in the bowl.
Peel the white onion and grate it onto a clean kitchen towel. Use the towel to pat the onions dry and then add to the rest of the chicken salad.
Add the toasted almond pieces and season with salt to taste. Stir. Cover and allow the chicken salad to chill in the fridge for at least an hour.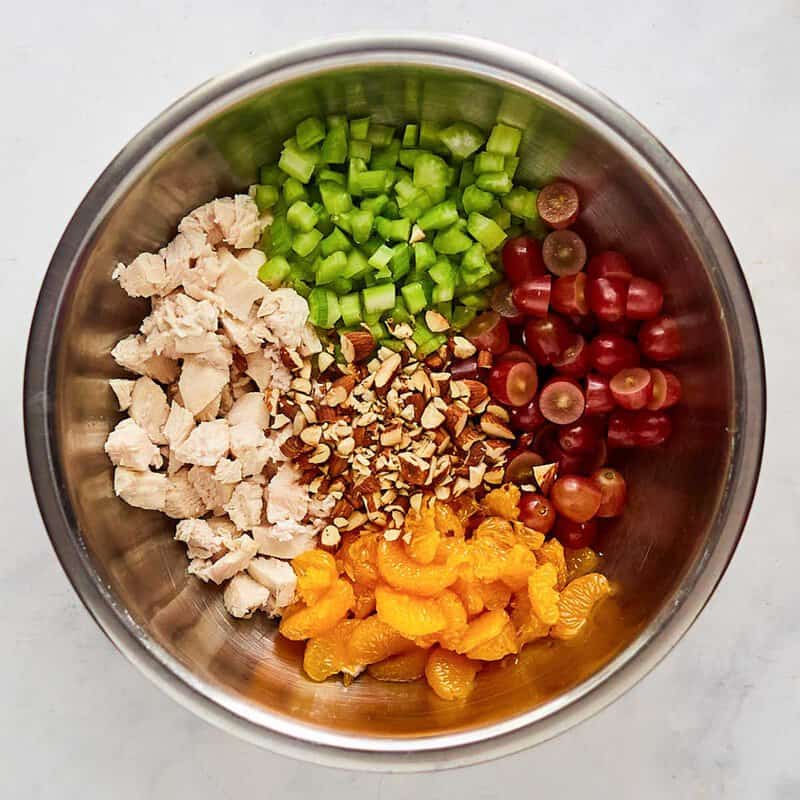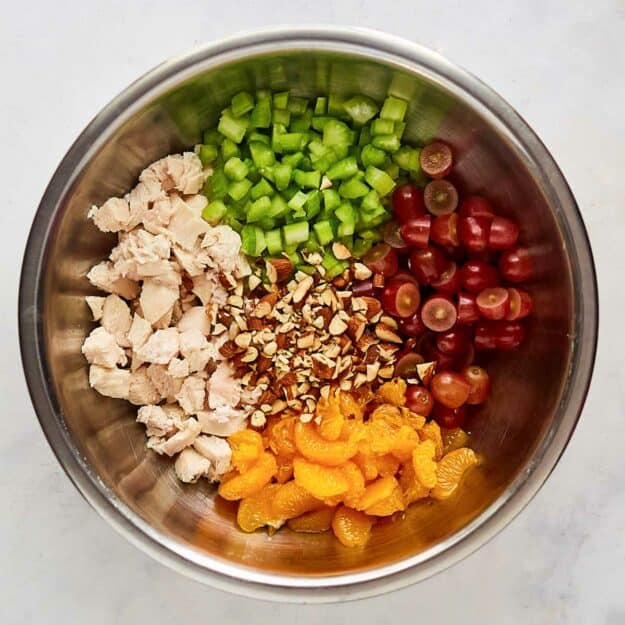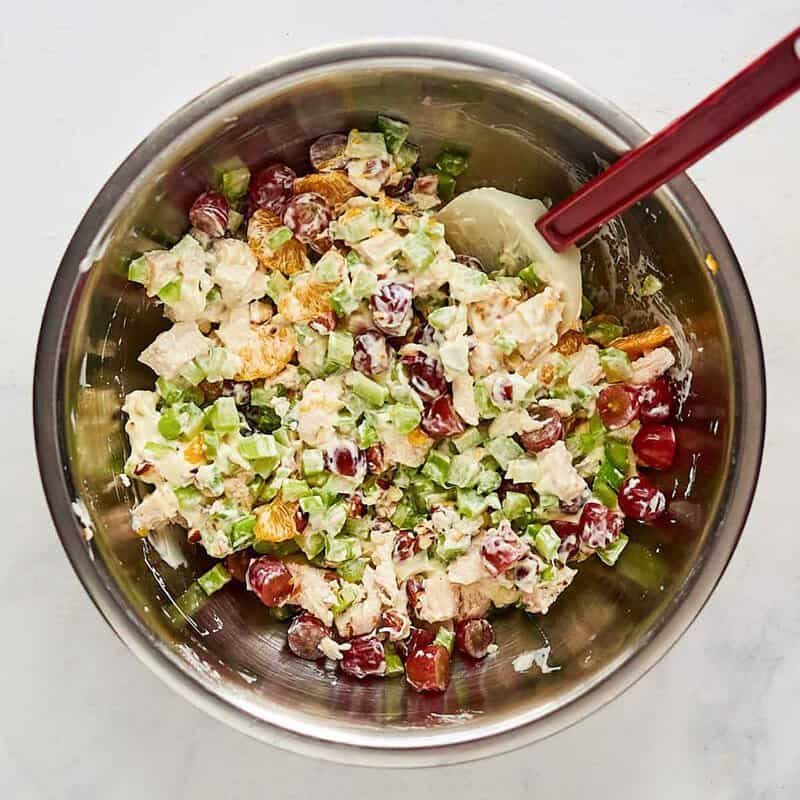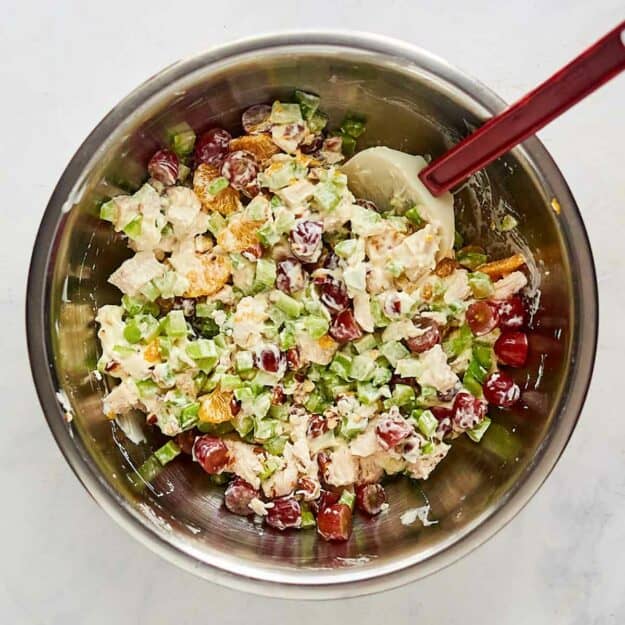 To serve:
Rinse and completely dry the lettuce leaves.
Lay the leaves over the serving platter.
Spoon a heaping tablespoon of the chilled Fruity Chicken Salad onto the middle of each leaf to make lettuce cups.
If you prefer, you can roll the chicken salad to resemble a mini burrito. Use a skewer to poke two holes where the leaves overlap, and use a carrot cut into a matchstick to keep the bundles secured.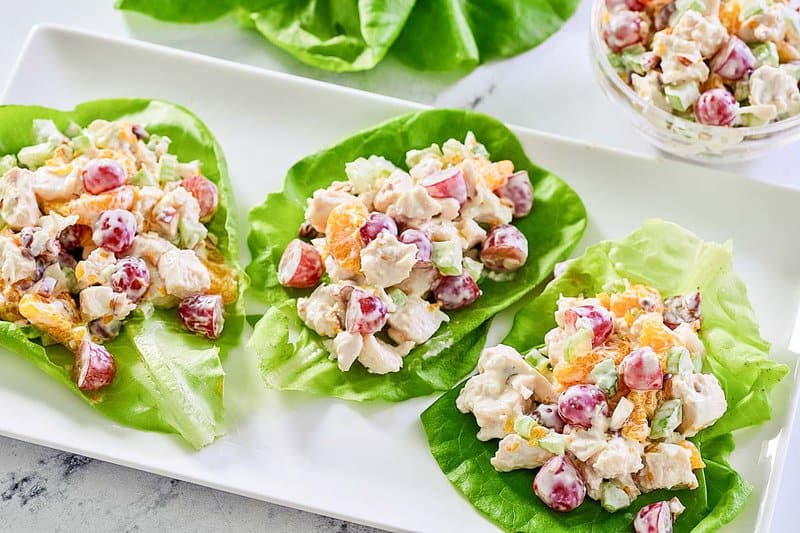 What to Serve Chicken Salad With
Fruity Chicken Salad works excellent as a light appetizer and goes well with a variety of others like:
Cool Whip Fruit Dip. Airy with a touch of sweetness, this creamy fruit dip is a healthier option for more decadent sweets.
Goat Cheese Crostini Canapes. Crostini with goat cheese is easy to make and has more panache than just serving a dip.
Classic Deviled Eggs. This version of Deviled Eggs isn't spicy, but it has enough going on to prevent your guests from being bored.
Different Ways You Can Serve Fruity Chicken Salad
This recipe is a real blessing when it is time to get creative with meals. Sure, you can spread it on thinly sliced, crustless walnut-raisin bread for the main course of a sophisticated luncheon or slather it on a Kaiser roll and add shredded lettuce for a hardier version, but you have other options as well:
It's a wrap. Save carbs and calories by using a large wrap instead of bread. If you are sensitive to gluten, you can find some very tasty gluten-free wraps these days.
Serve on toast rounds or crackers as an appetizer. To make the hor devours a little fancier, leave out the grapes, mandarin oranges, and chopped almonds. Spread the chicken salad on the base and add one grape half and one mandarin orange segment. Sprinkle with the chopped almonds.
Turn into a pasta salad. Combine cooked and cooled pasta (fusilli, farfalle, or another short variety) with an equal amount of chicken salad. Mix well and cover. Chill for at least an hour to allow the flavors to meld before serving.
How to Store Chicken Salad With Grapes and Celery
Transfer the chicken salad to an airtight container and put it in the fridge. Do not keep any chicken salad that you left out for more than a few minutes.
Chicken salad with mandarin oranges won't freeze well.
How Long Does It Last
You can keep the chicken salad in the refrigerator for up to three days, although the fruit will release some liquid, and the almonds will soften. Stir well before using.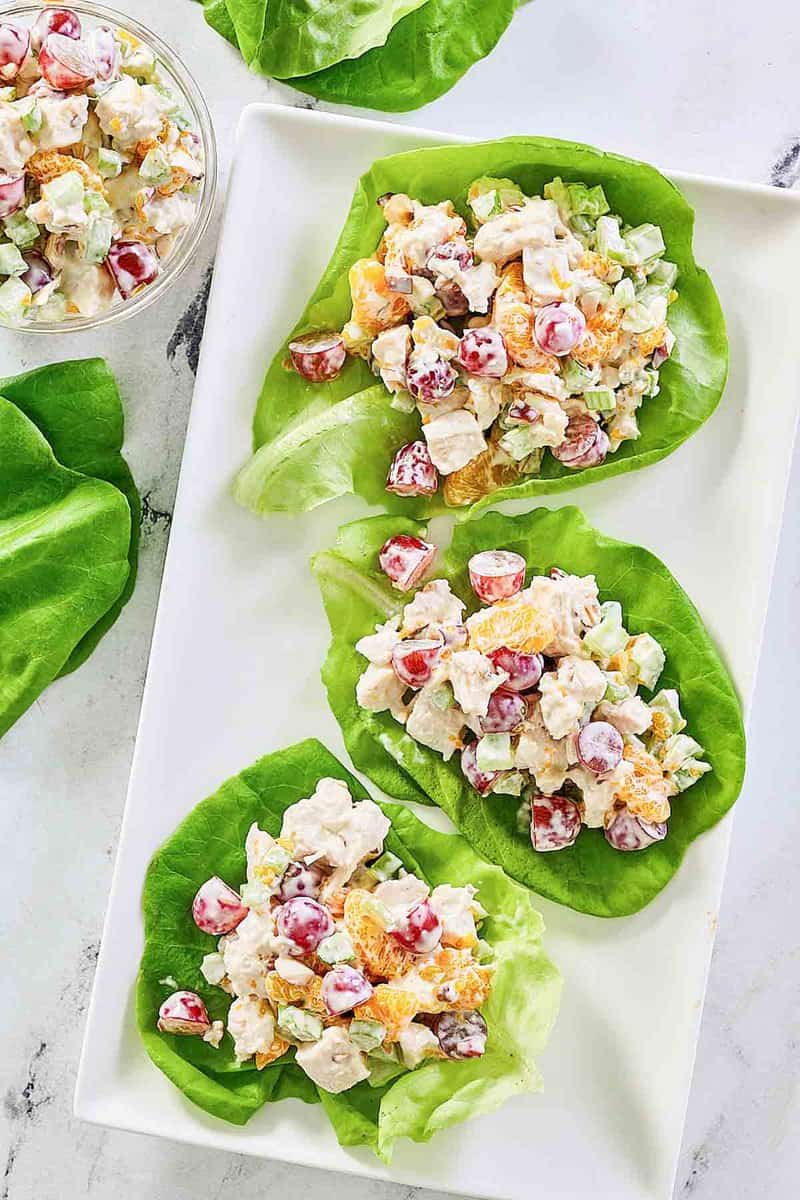 More Chicken Salad Recipes
Favorite Salads with Chicken
Check out more of my easy salad recipes and the best chicken recipes on CopyKat!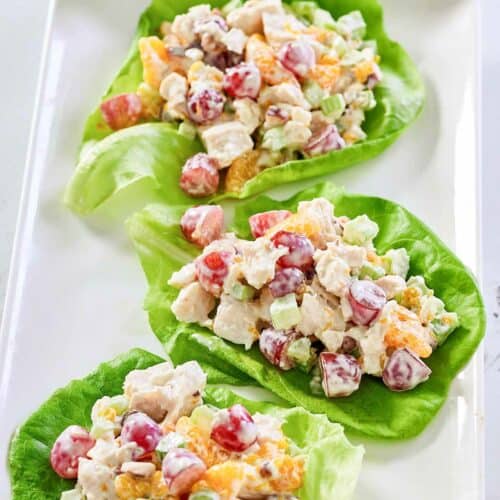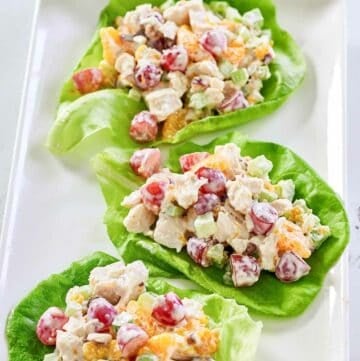 Ingredients
2

cups

chopped cooked chicken

1

cup

chopped celery

1

cup

halved seedless grapes

1/2

cup

chopped toasted almonds

11

ounces

mandarin oranges

drained

1/2

cup

mayonnaise

1

teaspoon

grated onion

1/4

teaspoon

salt

butter lettuce or romaine leaves
Instructions
Combine the first five ingredients in a mixing bowl.

In a smaller bowl, combine the mayonnaise, grated onion, and salt. Mix well.

Add the mayonnaise to the chicken mixture and gently stir to incorporate.

Spoon the chicken salad onto lettuce leaves to serve.
Nutrition
Calories:
262
kcal
|
Carbohydrates:
14
g
|
Protein:
6
g
|
Fat:
20
g
|
Saturated Fat:
2
g
|
Cholesterol:
18
mg
|
Sodium:
249
mg
|
Potassium:
323
mg
|
Fiber:
2
g
|
Sugar:
10
g
|
Vitamin A:
460
IU
|
Vitamin C:
15.4
mg
|
Calcium:
60
mg
|
Iron:
0.7
mg