Experience a burst of flavor with Curried Chicken Salad, combining tender cooked chicken, crisp red bell pepper, white onion, and celery with crunchy almond slivers. It's all tossed in an exotic dressing of mango chutney, curry powder, and creamy mayonnaise. Perfect in a sandwich, as a wrap filling, or served with crackers for a delightful twist on classic chicken salad.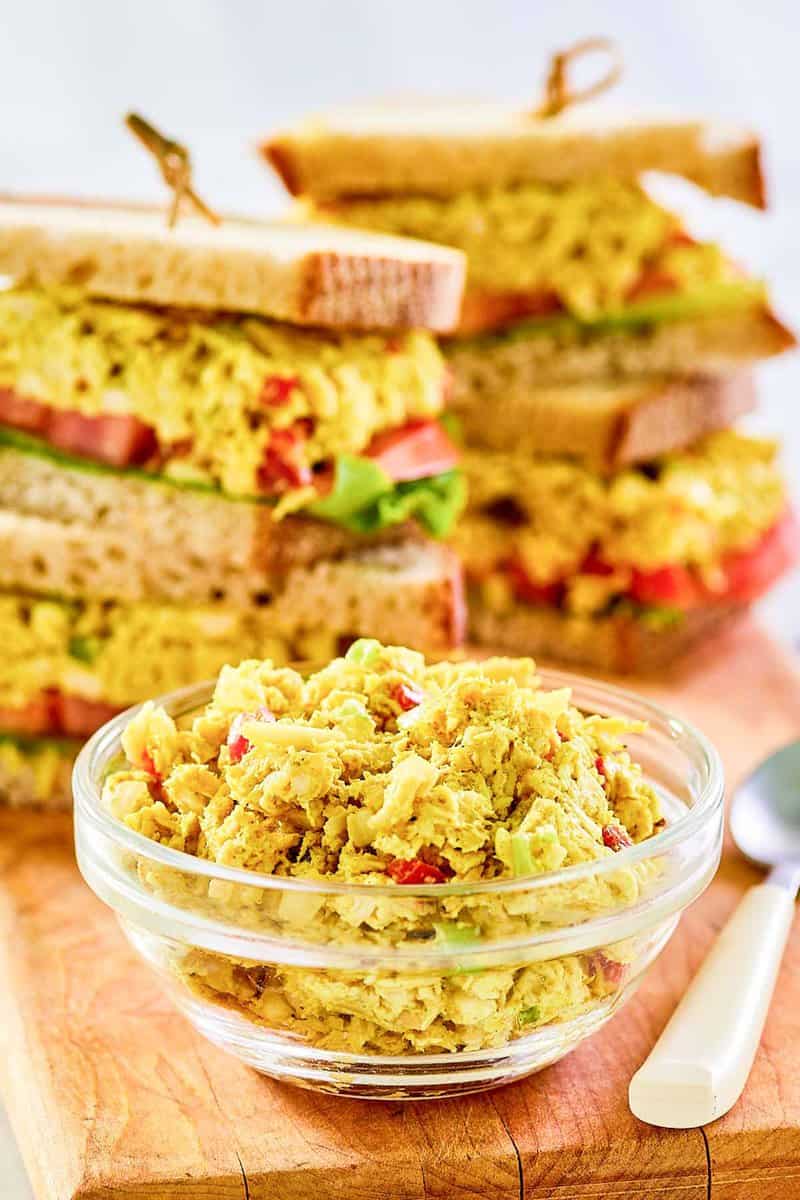 This post contains affiliate links. As an Amazon Associate, I earn from qualifying purchases.
What Makes Curried Chicken Salad the Perfect Lunch
Never had Curried Chicken Salad before? It's a delicious twist on a classic chicken salad. It's quite a popular dish in the UK, where it is known most widely as Coronation Chicken, and the recipe has even crossed over to some areas of the US.
But it is not an everyday recipe nationwide, and depending on where you live, the thought of adding curry powder and mango chutney to chicken salad may seem a little unusual. Don't be put off. The combination of sweetness and mild spice elevates what can be a bland dish into something exceptional.
Why You'll Love This Curried Chicken Salad Recipe
Making Curried Chicken Salad is a great way to switch things up when it comes to chicken salad. It's easy and inexpensive to make, yet it can be refined and impressive depending on how you serve it.
It's a wonderful gluten-free option for those with gluten intolerance. It makes a big batch that's perfect for gatherings and potlucks.
Check out some of the different ways you can serve this chicken salad recipe and a few of the additions you can make to transform this recipe in the sections below.
Easy Curried Chicken Salad Ingredients
For the chicken, you'll need:
Chicken breast, cooked
Red bell pepper
White onion
Celery
Almond slivers
For the Curry Dressing, you'll need:
Mango chutney
Yellow curry powder
Mayonnaise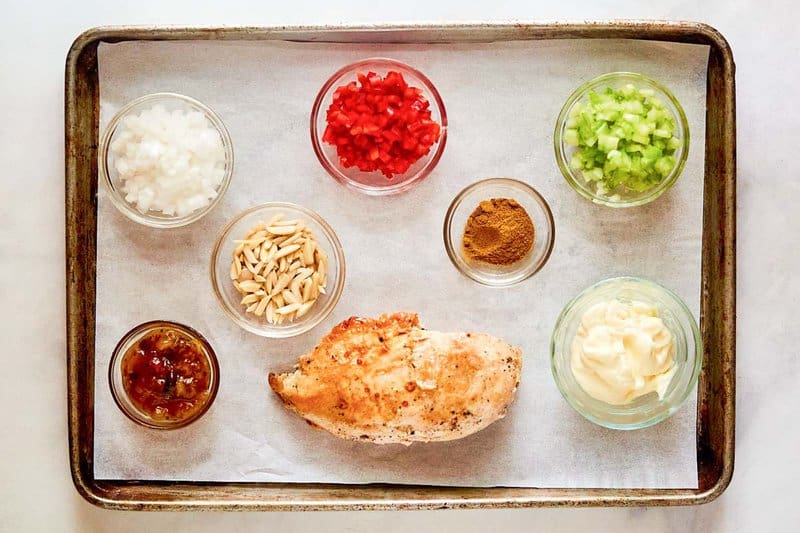 Ingredient Notes
Grilled, sauteed, poached, or roasted chicken works well in this recipe. Rotisserie chicken can be used but note it may be seasoned and it's best to use plain chicken.
Keep the seasoning to salt and pepper to avoid changing the flavor of the chicken salad.
You can find various mango chutneys in stores and online. There are countless types of mango chutney, ranging from sweet to spicy. If you don't have a preference, the mild and fruity variety marketed as Major Grey's Chutney is a good choice for this recipe.
Use your favorite yellow curry powder, or opt for a British-style version of curry powder. You don't want to go too traditional Indian here.
You can swap out the almonds with cashews, pecans, or walnuts.
You can substitute the mayo with plain Greek yogurt.
How to Make the Best Curried Chicken Salad
To prepare the chicken salad:
Chop the cooked chicken into large chunks and place them in the bowl of a food processor. Pulse the chicken a few times until it reaches a fine texture, and transfer it to a large bowl. You can finely chop the chicken with a knife if you don't have a food processor.
Finely chop the red bell pepper, white onion, and celery. Add the vegetables to the mixing bowl with the chicken.
Sprinkle in the slivered almonds.
Add the curry-mango chutney dressing ingredients (chutney, mayo, and curry) to the chicken mixture and stir to combine.
Cover and chill the mixed Curried Chicken Salad for at least 30 minutes before serving.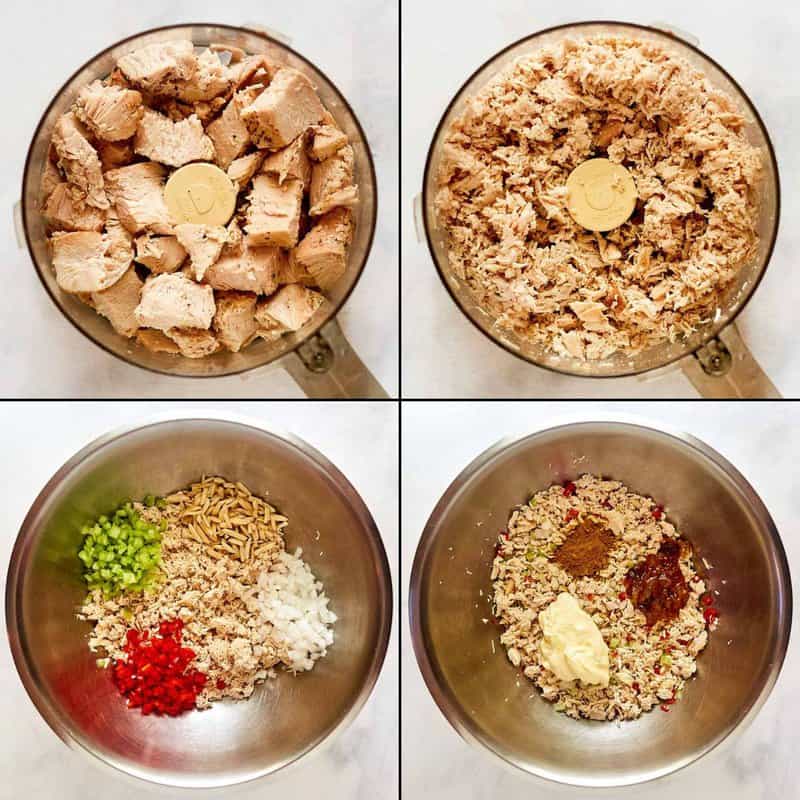 If you don't have a food processor, chop the chicken into small pieces. This will make the chicken salad with a different texture. You'll have a delicious salad with tender chicken, crunchy celery and bell pepper, creamy mayo, fruity mango, and rich curry flavor.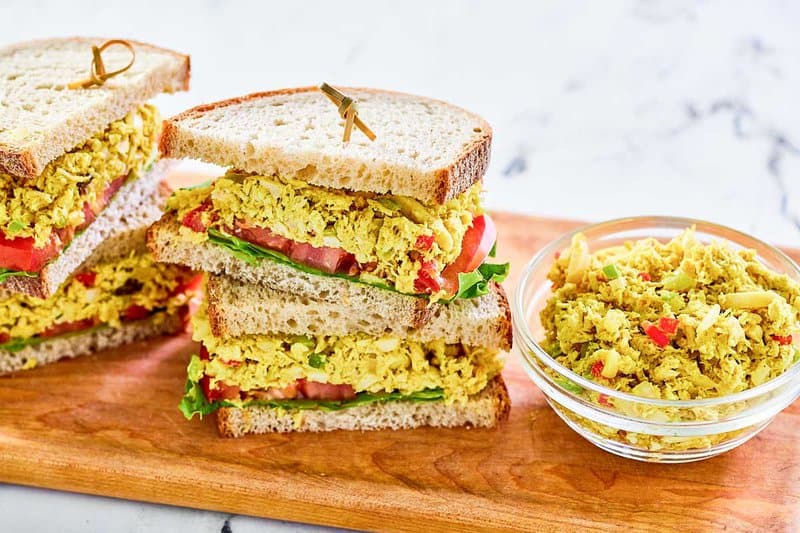 The Best Curried Chicken Salad Recipe Variations
One reason Curried Chicken Salad is such a great recipe to master is because it provides a basis for countless other creations. Here are four variations that you may want to try, but please share your own ideas in the comment section:
Curried Chicken Salad With Grapes. Cut half a cup of red seedless grapes in half lengthwise and stir into the chicken salad.
Curried Chicken Salad With Cranberries. Mix half a cup of roughly chopped dried cranberries with the chicken salad.
Curried Chicken Salad With Raisins. Combine a half cup of raisins with the chicken salad.
Curried Chicken Salad With Apples. Dice half of a green apple (like Granny Smith) into small pieces and add to the Curried Chicken Salad.
How to Serve This Curried Chicken Salad Recipe
This dish is super versatile. Sure, it makes a great sandwich or tortilla wrap, but it is also a quick way to turn a simple salad of mixed greens, chopped tomatoes, and cucumber slices into something tasty.
Some people like to place a few spoons of curried chicken salad on a lettuce leaf and roll it into a bundle to make a lettuce wrap.
You can garnish the salad with sliced green onions or drizzle a little lemon juice over it.
What to Serve Easy Curried Chicken Salad With
The right side dish can really make the meal. Here are three sides that are perfect for serving with a Curried Chicken Salad sandwich or wrap:
Quality potato chips. Thick-cut kettle chips offer the one thing missing from this recipe: crunch!
Fried pickle chips. While they may not be as crunchy as potato chips, fried pickle chips provide a bit of tang that complements the chicken salad.
Fresh fruit. Whether you serve it as a side or a dessert, fresh fruit like grapes, melon balls, and strawberries taste even better with a bit of fruit dip.
How to Store Curried Chicken Salad
You can make this salad ahead of time, and to prevent the vegetables from getting soggy, store the chicken mixture separately from the curry-mango chutney dressing in the refrigerator. You can keep both the chicken and dressing for up to three days.
Put any unserved leftover Chicken Curry Salad in an airtight container in the fridge for up to three days.
This chicken salad doesn't freeze well.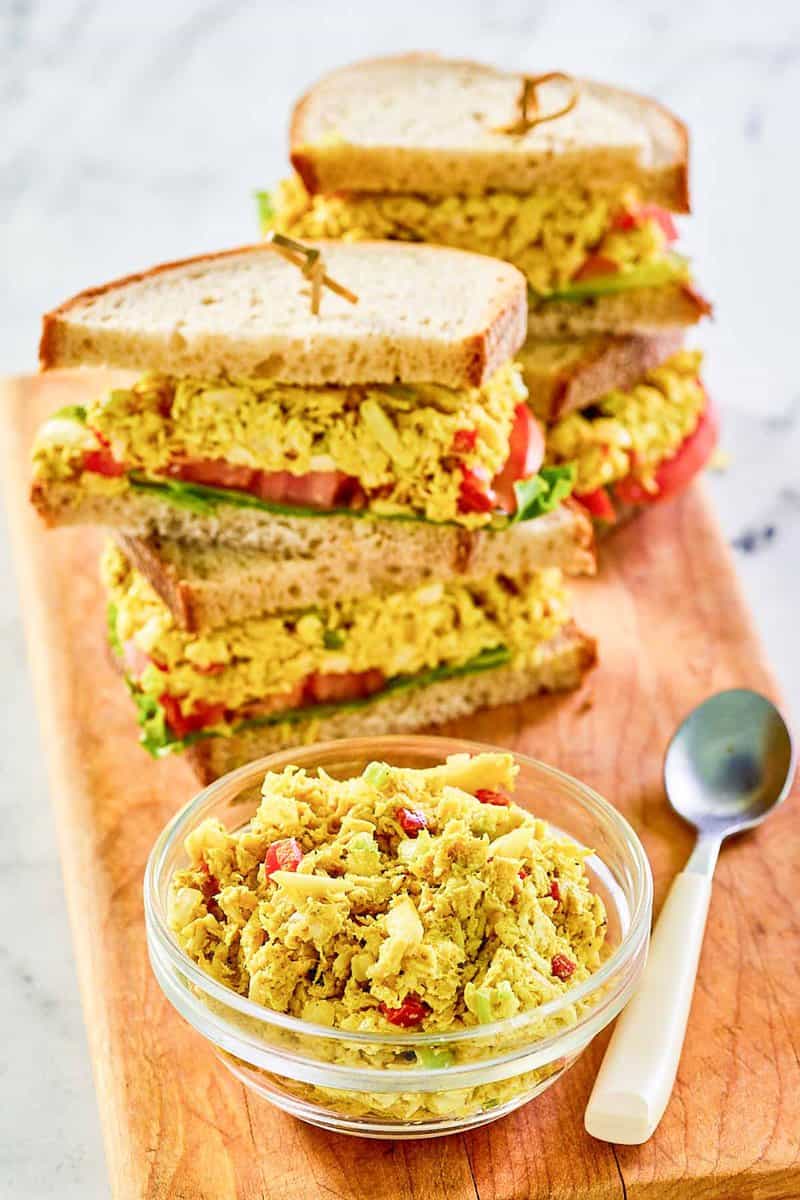 Love Chicken salad? Try these recipes!
Favorite Salads with Chicken
Check out more of my easy salad recipes and the best chicken recipes on CopyKat!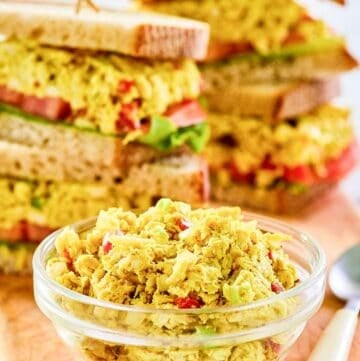 Ingredients
Salad
2

pounds

cooked chicken breast

1/2

cup

finely diced red bell pepper

1/4

cup

finely diced white onion

1/4

cup

finely diced celery

2

tablespoons

almond slivers
Dressing
1/4

cup

mango chutney

1 1/2

tablespoons

curry powder

3/4

cup

mayonnaise
Instructions
Pulse the chicken in a food processor until finely shredded.

In a medium bowl, combine the chicken, red bell pepper, white onion, celery, and almonds. Mix gently.

Add the mango chutney, curry powder, and mayonnaise. Mix well. Store in an airtight container for about 1 hour before serving so the flavors can marry.
Nutrition
Calories:
287
kcal
|
Carbohydrates:
7
g
|
Protein:
24
g
|
Fat:
18
g
|
Saturated Fat:
3
g
|
Polyunsaturated Fat:
9
g
|
Monounsaturated Fat:
5
g
|
Trans Fat:
0.03
g
|
Cholesterol:
72
mg
|
Sodium:
179
mg
|
Potassium:
250
mg
|
Fiber:
1
g
|
Sugar:
4
g
|
Vitamin A:
239
IU
|
Vitamin C:
9
mg
|
Calcium:
24
mg
|
Iron:
1
mg