This restaurant style chicken salad is made from dark meat. Packed full of flavor this chicken salad recipe, is perfect for sandwiches.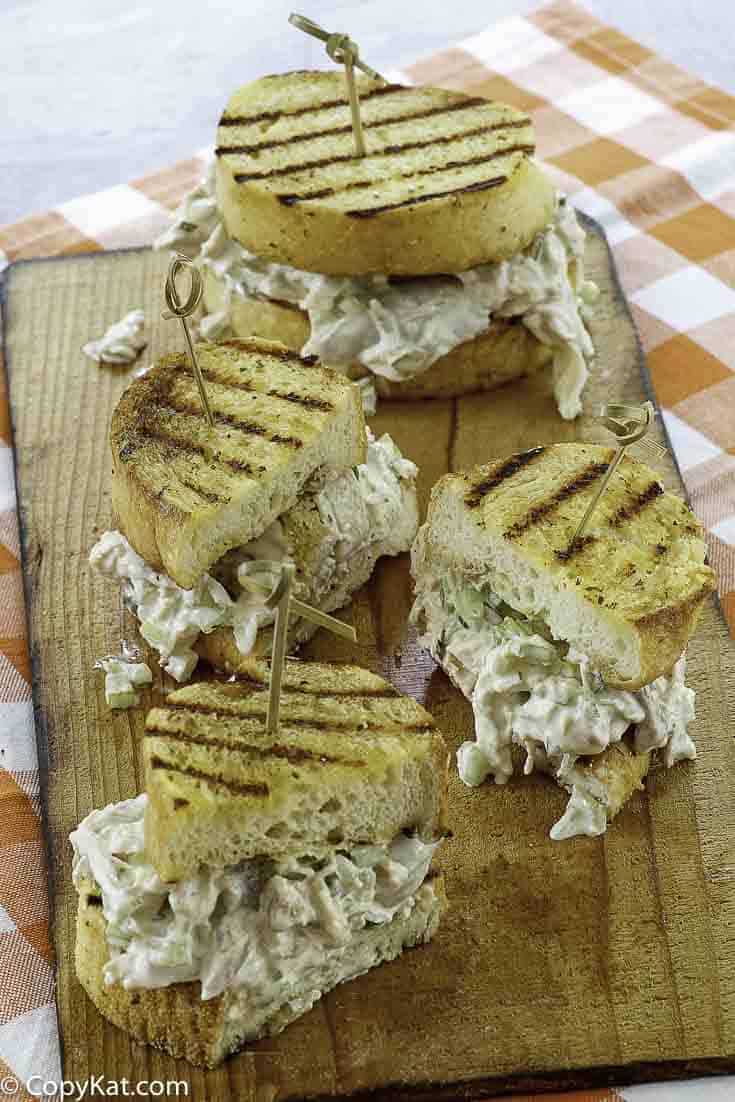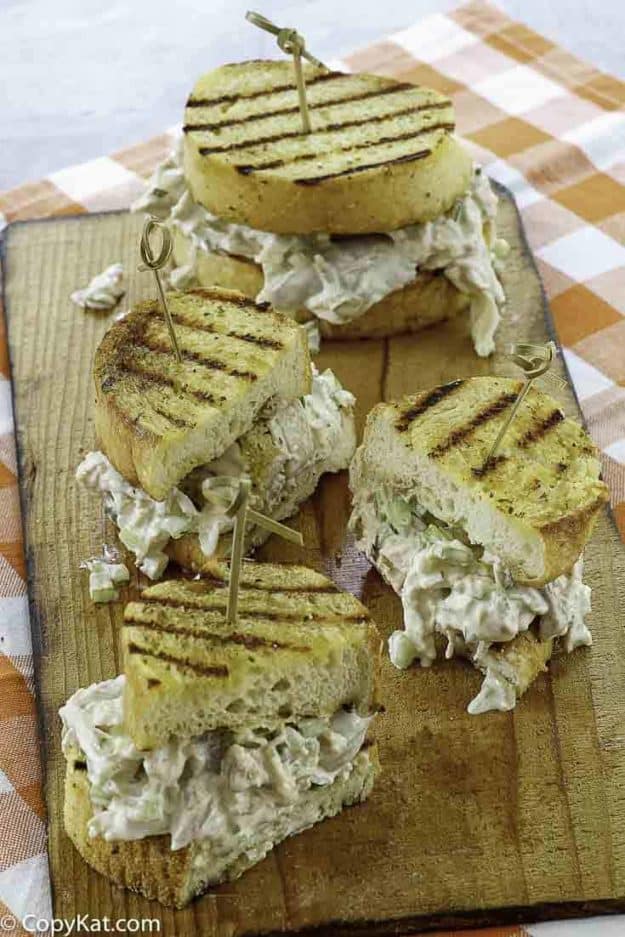 This is a classic chicken salad sandwich recipe that you can find in many restaurants and delis. The chicken salad makes for the best lunches, and this chicken salad will turn your lunch from ordinary to spectacular!
It's full of flavor and couldn't be quicker or easier to make. In a very short space of time, you can be enjoying a chicken salad sandwich between thick slices of bread, in a tortilla wrap, or even a lettuce wrap. And, you can always have it for dinner on top of a green salad with some crunchy bread on the side when you don't feel like cooking.
This salad belongs in the category of traditional chicken salad sandwich recipes. The celery adds some crunch to the savory chicken and mayo, and some tangy sweetness comes from the sweet pickle relish.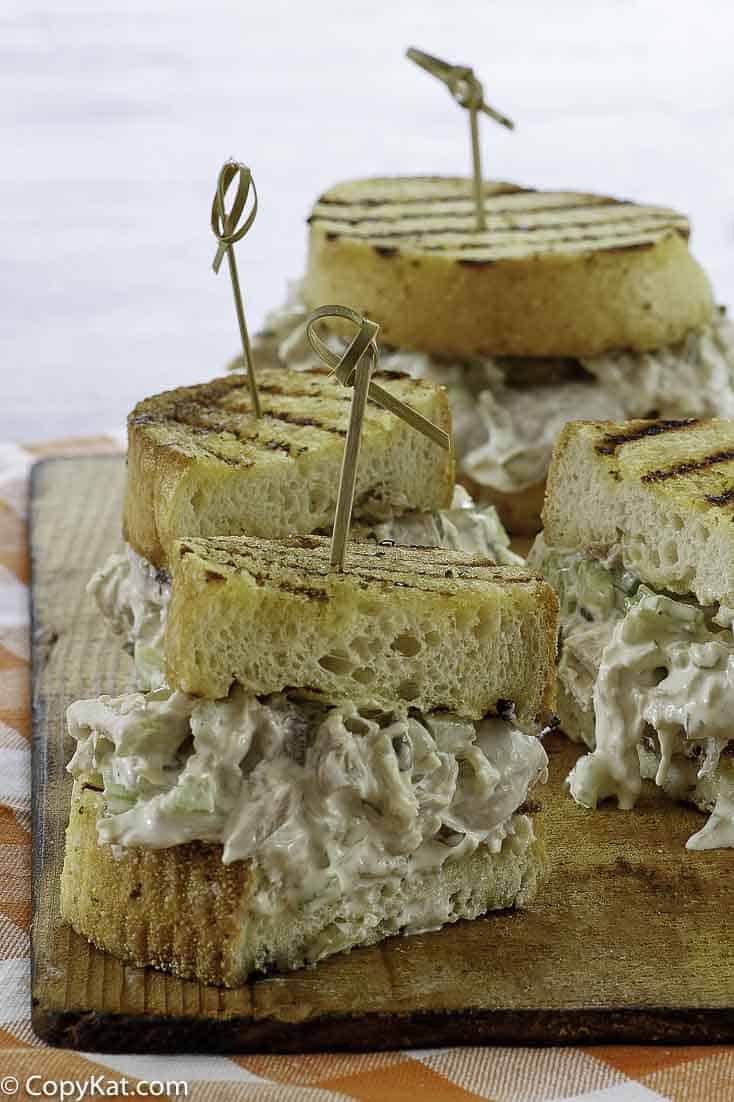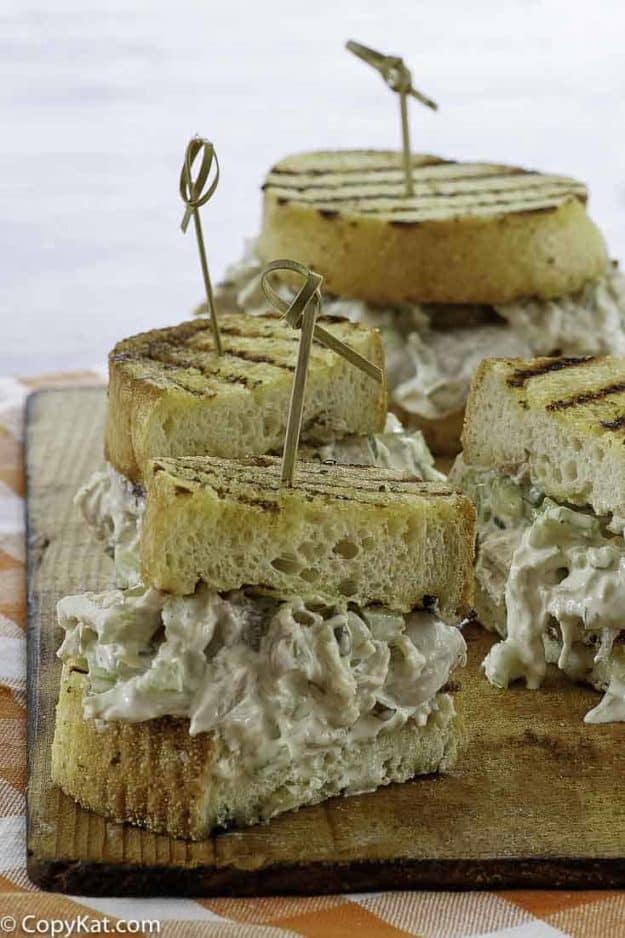 Optional Ideas:
Add some extra crunch with some chopped walnuts or cashews.
Swap out the relish and substitute a sweet little hit with some grapes or raisins.
Use some dry dill instead of the relish to add some texture and a new flavor.
Of course, homemade mayonnaise puts this salad over the top. But again, a good quality store-bought mayo works perfectly well, too.
One thing to bear in mind, homemade mayo contains raw egg, which could be an issue with the elderly, the very young, or anyone with a compromised immune system. Click here for a recipe for homemade mayo from the New York Times.
Note: You can make homemade mayonnaise without eggs. Click here for my copykat recipe for homemade garlic mayonnaise.
HOW FAR IN ADVANCE CAN THIS CHICKEN SALAD BE MADE?
I recommend serving soon after the salad is assembled. However, you can prepare the chicken and the dressing up to several days in advance. I do think that this salad becomes even tastier after it has sat in the refrigerator for two or three hours. However, my preference would be to bring the salad back to room temperature before serving.
Can you freeze chicken salad?
Store your chicken salad in an airtight container in your refrigerator – it's good for three to five days. You can also freeze it for up to one month, but it must be stored in small batches in airtight containers.
Can't enough of this restaurant style chicken salad? Try these other restaurant-inspired chicken salad recipes.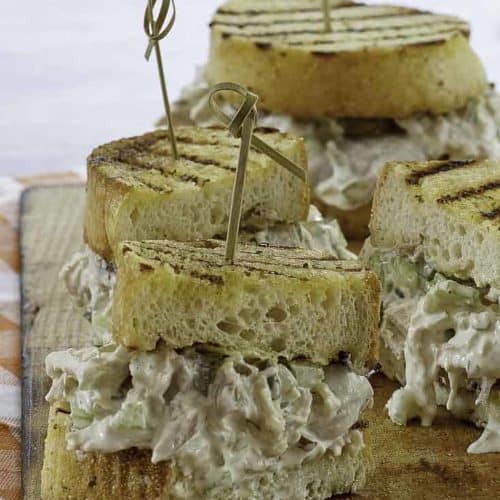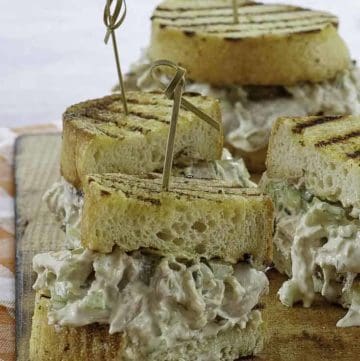 Ingredients
2

cups

cooked chicken

dark meat

1/3

cup

finely diced celery

1/4

teaspoon

salt

1/2

teaspoon

sugar

1/4

teaspoon

freshly ground black pepper

1/3

cup

sweet pickle relis

1

cup

mayonnaise

8

slices

Texas Toast or Thick Cut Sandwich Bread
Instructions
Boil dark meat until completely cooked. Remove from water and cool meat. You can save the chicken broth, seal and refrigerate no more than a week. After chicken is cool, cut into tiny pieces. Place in a mixing bowl and add all other ingredients and mix well. Butter one side of sandwich bread and grill. Place salad in between grilled bread slices and serve.
Notes
If you wanted you could use left over chicken, like rotisserie chicken, while this restaurant used dark meat, you could use chicken breast.  Addtional mixins you could use would be
slivered almonds 
mandarin oranges 
green onions 
fresh dill
Nutrition
Calories:
683
kcal
|
Carbohydrates:
36
g
|
Protein:
16
g
|
Fat:
52
g
|
Saturated Fat:
9
g
|
Cholesterol:
65
mg
|
Sodium:
1003
mg
|
Potassium:
241
mg
|
Fiber:
2
g
|
Sugar:
11
g
|
Vitamin A:
400
IU
|
Vitamin C:
1.2
mg
|
Calcium:
91
mg
|
Iron:
2.8
mg