One of my favorite places to go is the Melting Pot. It is a whole restaurant that you enjoy every course by having fondue. My favorite cheese fondue is their Melting Pot Wisconsin Trio. It has a combination of cheeses that is heavenly.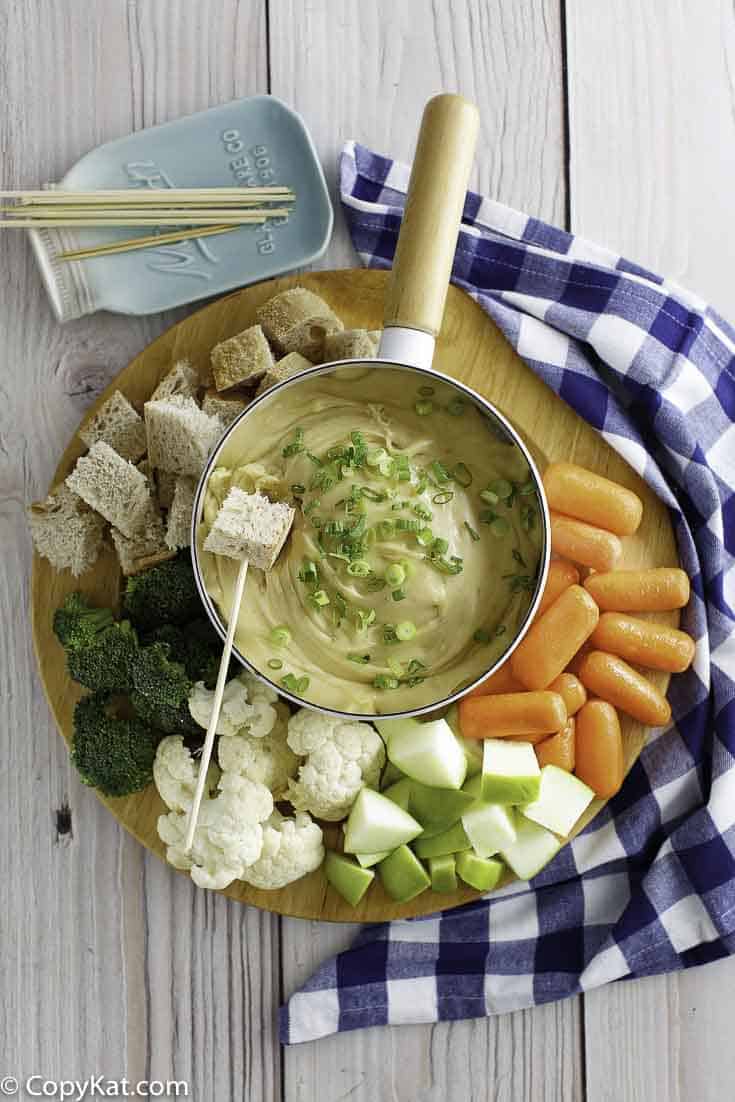 While you may not get to go to the Melting Pot every day, there's no reason why you can't enjoy fondue at home with this Melting Pot recipe.
If you don't have a fondue pot, don't let that stop from making my Melting Pot Wisconsin Trio, you can use a double boiler. A double boiler is a heatproof bowl resting in a pot of boiling water. Or you can have some fun and check out some garage sales, or a second-hand thrift store, and there is generally a fondue pot showing up. I personally love my Cuisinart CFO-3SS Electric Fondue Maker
.
What Kinds of Cheeses are in this Fondue Recipe?
This Melting Pot Wisconsin Trio recipe has butterkäse, fontina, and blue cheeses. I can usually find these cheeses at the deli counter in my grocery store. A reader substituted Havarti for butterkäse (because she couldn't find it) and said that it worked well.
Butterkäse is a German word that literally means butter cheese. It's a cheese that's mild enough so your kids will love it – it makes a killer mac and cheese – yet sophisticated enough to serve with fine wines at your next wine and cheese party.
Fontina originated in the Italian Alps where cows graze lush meadows to provide the rich and creamy milk needed to produce fontina. The flavors of this cheese are pungently sweet, unveiling tones of roasted nuts and butter as this fine cheese lingers on your palate.
What Kind of Wine is in this Fondue Recipe?
This Melting Pot Wisconsin Trio recipe requires a dry white wine – a Chablis or Chardonnay will work. If you don't have either, pick something white and dry (not sweet), and use that. A reader said she used Pinot Grigio (because she could not find butterkäse) and it worked well. My suggestion is never to use cooking wine, but a wine that you will also enjoy drinking. A good recipe that includes wine needs a good wine.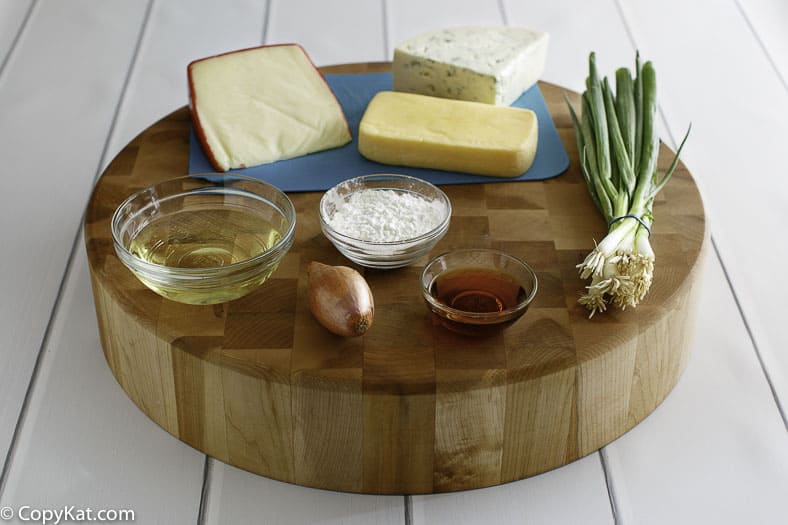 What to do if your Fondue gets Lumpy
Fondue can become lumpy if it is overheated, but you can rescue it. What to do? Add a couple of tablespoons of warm alcohol, stir, and turn down the heat to low – cold alcohol will result in more lumps. If the alcohol and the cheese continue to be separate from each other, you can add about 1/2 a teaspoon of cornstarch and stir. The cornstarch is a last resort because it can change the texture of the fondue, but it will help bind the cheese and the alcohol together.
Do you love fondue? Try these cheese fondue recipes.
Bacon Cheddar Cheese Fondue
The Melting Pot – Traditional Swiss Fondue
Melting Pot Chocolate Fondue Recipe
Melting Pot Cheddar Cheese Fondue Recipe
Ingredients
8

ounces

butterkase cheese

shredded

8

ounces

fontina cheese

shredded

1/4

cup

cornstarch

1

cup

Chablis

Chardonnay or other dry white wine

1/4

cup

dy sherry

1

tablespoon

chopped shallots

1

teaspoon

freshly ground black pepper

4

tablespoons

crumbled blue cheese

2

tablespoons

chopped green onions

Items

to

dip:

sliced

Granny

Smith apples

raw

broccoli

florets

raw

cauliflower

pieces

baby-cut

carrots

hearty

bread

cut into bite sized pieces
Instructions
In a bowl, stir the butterkase and fontina cheeses and the cornstarch together so that he cheese is coated with the cornstarch; this is what will help the fondue thicken.

in either a double boiler over simmering water or a fondue pot, heat the wine, sherry, and shallots together for a minute or two. Add approximately half the cheese mixture and whisk constantly until the cheese is melting. Add the remaining cheese by handfuls, whisking until everything is incorporated. Finally, stir in the blue cheese and pepper.

Just before serving, top the melted cheese with the green onions. Offer the green apple slices, broccoli, cauliflower, carrots, and bread for dipping into the fondue.
Nutrition
Calories:
1106
kcal
|
Carbohydrates:
22
g
|
Protein:
60
g
|
Fat:
73
g
|
Saturated Fat:
46
g
|
Cholesterol:
242
mg
|
Sodium:
1720
mg
|
Potassium:
313
mg
|
Fiber:
0
g
|
Sugar:
4
g
|
Vitamin A:
2075
IU
|
Vitamin C:
1.2
mg
|
Calcium:
1554
mg
|
Iron:
1.6
mg