Traditional Swiss Fondue like The Melting Pot is a dish that reminds you of one of the most romantic restaurants you can go to. You can recreate this fondue at home.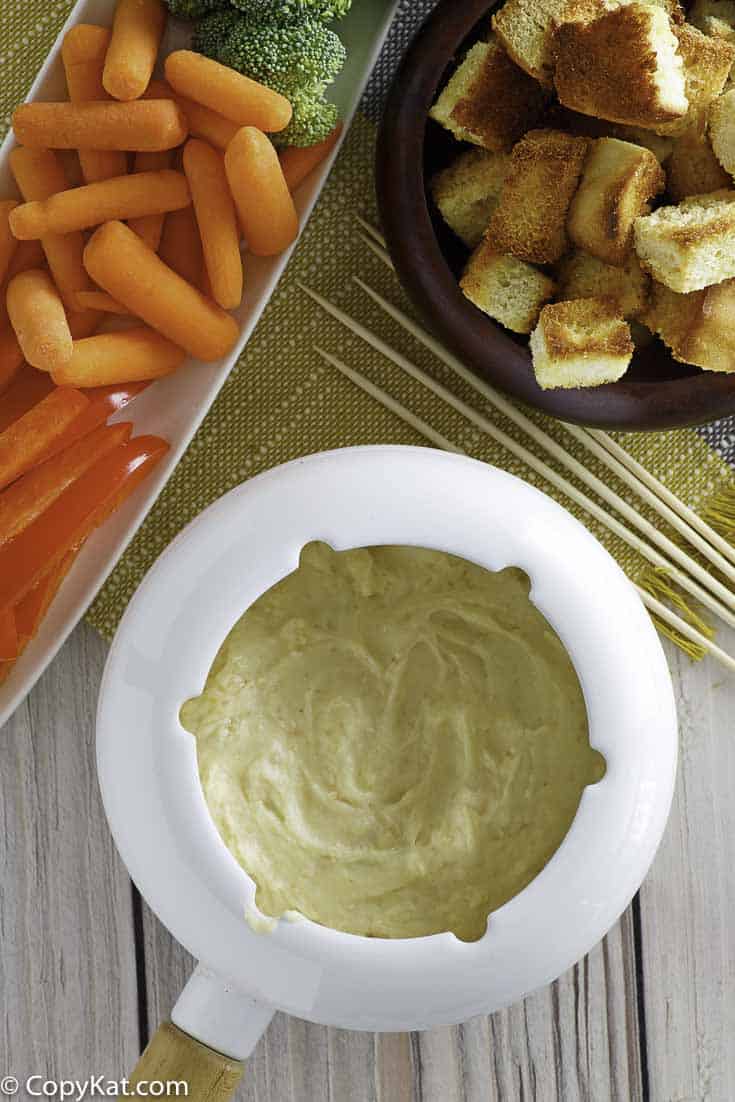 This post contains affiliate links. As an Amazon Associate, I earn from qualifying purchases.
Classic Swiss Fondue
If you are fortunate enough to live in an area where you can go to The Melting Pot, I can't recommend it enough. It is one of those fancy places you go when you want to impress someone, or really treat those that you love.
If you are like many of us, these are hard to get to, and well honestly they may be quite impossible. You can enjoy fondue just like they make it.
You don't even need a fondue pot. You could use a double boiler or cook the fondue in a small pan over low heat and keep it warm in a mini crockpot.
I personally love my Cuisinart CFO-3SS Electric Fondue Maker
, I have made a lot of fondue in this pot.
What I didn't know is that fondue has its origins as a peasant food of the people of the Alpine Swiss. Fondue is now very well known and made in a wide variety of styles and with many different ingredients.
The traditional version which this recipe uses is made with Emmenthaler and Gruyere cheese.
Ingredients
Here's a list of what you need:
Dry white wine
Garlic
Emmenthaler Swiss cheese
Gruyere cheese
Cornstarch
Fresh lemon juice
Fresh ground black pepper
Cherry liqueur (optional)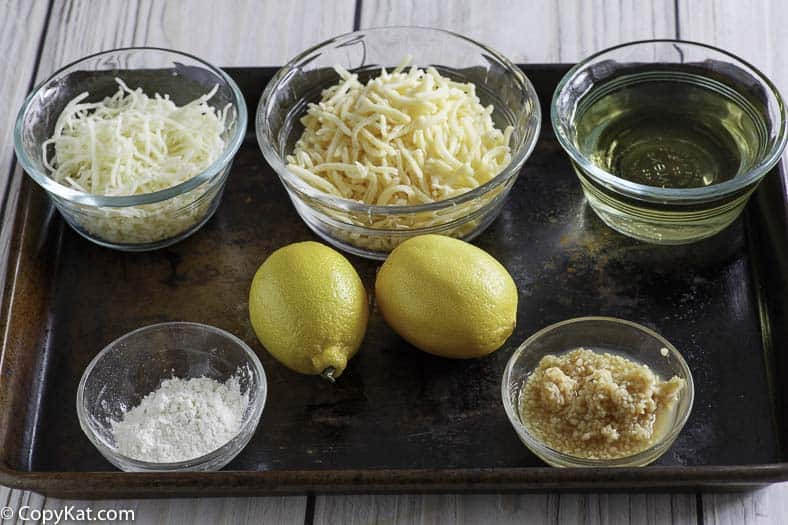 Ingredient Notes
You could experiment with any type of cheese that you desire. You can typically find these two types of cheeses in the deli section of your grocery store.
Emmenthaler has a piquant flavor, but it isn't very sharp. Gruyere has a sweet and slightly salty flavor that becomes more complex with age.
We will use white wine for this fondue.
What Wine is Best for Cheese Fondue
When choosing the type of wine to use, I suggest a dry white wine. You do not want to use something sweet because it is going to change the flavor of this fondue. If you have never had fondue before it has a soft texture that is a little nutty, and savory.
I would suggest using a wine that is drinkable. It doesn't have to be the best bottle of white wine you will ever consume, but it needs to be ok.
Please, don't buy the stuff labeled "Cooking Wine". I am not sure what it is for, but it isn't drinkable as wine and it shouldn't be for cooking.
If you need help, most grocery stores and wine shops can help you with suggestions. I wouldn't pay over 10 dollars a bottle for this recipe. The Trader Joe's "Two Buck Chuck" would be perfect.
How to Make Swiss Cheese Fondue
Whether it is Swiss Fondue or any other type, there is a basic preparation that you should follow. You always want to begin by heating your liquid, most often this liquid is a form of alcohol.
Add in your aromatics and heat thoroughly. Next, you will add some of the cheese and cook until stir until the cheese has melted.
Finally, you will add the remaining cheese, stirring constantly in a circular motion. The fondue should end up with the consistency of honey.
Here are the steps to make cheese fondue:
In your fondue pot, heat together the wine and garlic.
In a large bowl, combine cheeses and cornstarch.
Add lemon juice to the wine mixture in the fondue pot.
When the garlic becomes fragrant, add a third of the cheese to the fondue pot and stir until the cheese is melted.
Add an additional third of the cheese and stir until it is melted.
Add remaining cheese. Stir until the cheese is melted.
Just before serving, add black pepper and cherry liqueur. Stir to combine.
What to do if Fondue Gets Lumpy
Fondue can become lumpy if it is overheated. You can rescue it. When cheese is heated in the presence of acid you need to be extra careful. Cornstarch helps to buffer this reaction.
What to do? Add a couple of tablespoons of warm alcohol. Stir, and turn down the heat to low.
If the alcohol and the cheese continue to be separate from each other, you can add about 1/2 a teaspoon of cornstarch and stir. This should make the fondue texture much more seamless.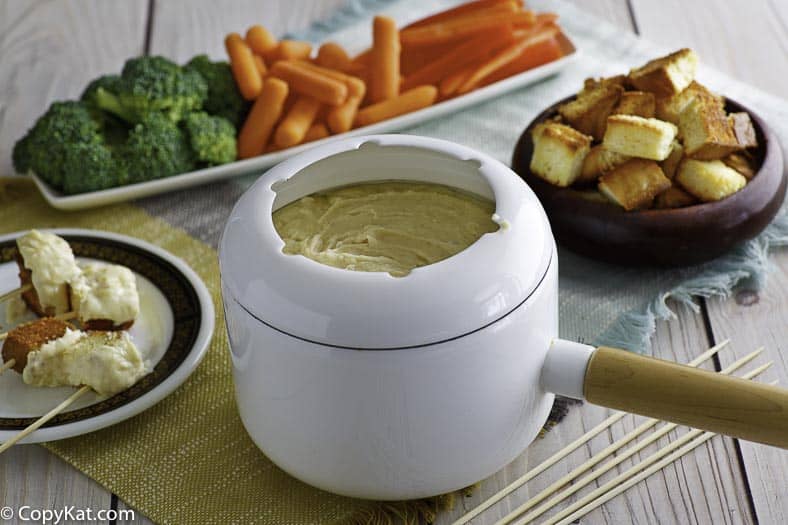 Love Fondue? Try these favorite fondue recipes!
Favorite Cheesy Appetizers and Dips
Check out more of my easy appetizer recipes and the best copycat recipes for casual dining restaurants here on CopyKat!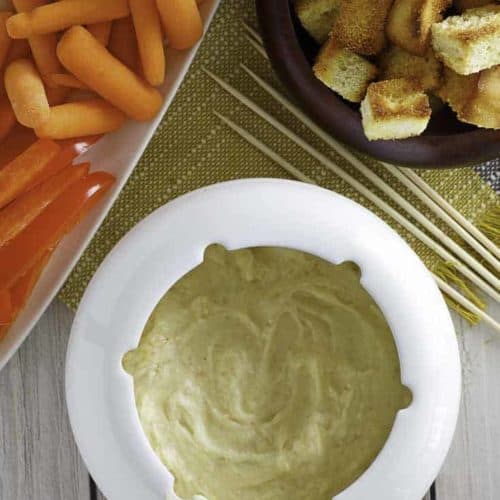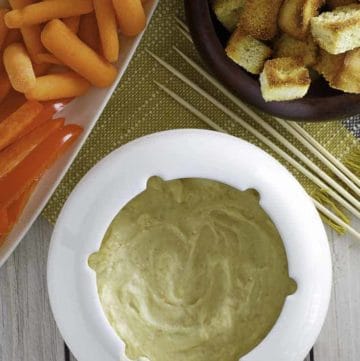 Ingredients
4

ounces

dry white wine

3

tablespoons

chopped garlic

½

pound

Emmenthaler Swiss cheese

grated

½

pound

Gruyere cheese

grated

1

tablespoon

cornstarch

¼

cup

fresh lemon juice

1

ounce

cherry liqueur

like Kirshwasser (optional)

¼

teaspoon

fresh ground black pepper

or to taste
Instructions
In your fondue pot, heat together dry white wine and garlic.

In a large bowl, combine cheeses and sprinkle 2 tablespoons of cornstarch over the cheese and mix together.

Add lemon juice to the white wine mixture in the fondue pot.

When the garlic becomes fragrant, add ⅓ of the cheese to the fondue pot and stir in cheese. Continue to stir until the cheese has melted.

Add an additional ⅓ of the cheese and stir until the cheese has melted.

Add the remaining cheese. Stir and blend until the cheese has the texture of honey.

Before serving, add freshly ground black pepper and cherry liqueur.

Serve with crusty bread, raw broccoli florets, raw baby carrots, apple slices, or anything else you might like to dip in cheese fondue.
Notes
It is important to watch the temperature of your fondue pot. Overheating the mixture may make the cheese clump. Should your cheese start to clump, add a splash of warm wine, and reduce the temperature of the fondue pot.
Nutrition
Calories:
524
kcal
|
Carbohydrates:
12
g
|
Protein:
33
g
|
Fat:
34
g
|
Saturated Fat:
20
g
|
Cholesterol:
114
mg
|
Sodium:
302
mg
|
Potassium:
149
mg
|
Fiber:
0
g
|
Sugar:
4
g
|
Vitamin A:
1010
IU
|
Vitamin C:
7.8
mg
|
Calcium:
1035
mg
|
Iron:
0.6
mg